What If You Don't Get a Return Offer From Your Investment Banking Summer Internship?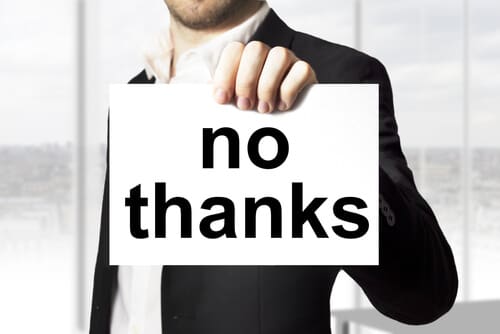 So it wasn't exactly a great year for return offers from summer internships.
At some banks, the conversion rate was under 50%.
At others, the rate was a little higher, but it was still far below the 80-90% you might see in "good years."
So if you didn't get a return offer, are you screwed?
Sort of.
It's not the end of the world, but failing to get a return offer from an internship can make it a lot harder to start a career in finance.
And it's incredibly frustrating because your return offer, or lack thereof, often relates more to office politics or deal activity than your performance.
But if you handle it correctly, "no return offer" just means you might have to delay your real career a bit – not give up on it entirely.
Here's what you can do to get back on track ASAP and win a full-time role:
Why Does a Return Offer Matter So Much?
An "internship" is an 8-week or 10-week-long interview.
It gives bankers far more data than they could ever collect in normal interviews, assessment centers, or case studies, and it lets them make more informed decisions.
So all investment banks prefer to hire full-time Analysts and Associates exclusively from their summer intern classes – which means that you need an internship for the best chance of winning a full-time offer.
However, not all banks and groups can do this.
Some interns perform poorly; some groups don't hire the right number of people; and some interns decide against banking and decline their return offers.
So certain groups recruit for full-time roles by "poaching" interns from other banks or by conducting real full-time interviews.
But in markets with poor or declining deal activity, banks rarely go far outside their summer intern classes.
Why "Network A Lot and Win an Offer Elsewhere" is Not the Real Answer
A long time ago, I used to recommend networking around and winning an offer elsewhere if you don't get a return offer from your internship.
But if you didn't get a return offer because of market conditions, few other banks will be hiring for full-time roles.
Also, while some banks use accelerated recruiting to lure in summer interns from other places, you typically find out about your offer status too late to participate in that process.
You might get lucky and find a group that has full-time hiring needs even after internships are over, but it's not terribly likely.
If you want to do this, you have a better chance of finding open roles at regional/satellite offices (anything outside of New York in the U.S.) and also at smaller banks (anything outside the bulge brackets; even elite boutiques).
That's because summer intern retention tends to be worse in those places, so if you've already know people there, by all means reach out and ask.
My Suggested Plan of Attack
…But like I said, your chances aren't great in a market with declining deal activity, so here's what I recommend instead.
First off, if you do get a full-time return offer, accept it immediately.
There's almost no point in "shopping around" your offer right as internships are ending, especially when deal activity and hiring are down.
If you do not get a return offer, or you're "on hold," or you don't know your status yet, you need to take an honest look at your situation and figure out why.
For example, did your group hire almost no one because deal activity fell dramatically?
Did you screw up by making loud and politically incorrect comments in the beginning?
Did poor accounting or Excel skills sink your chances?
Did other interns have more deal experience?
Once you know which category you fall into, you can prepare for the next steps:
Figuring out where you'll recruit next; and
Figuring out how you'll explain why you didn't get a return offer.
Step 1: Select from Your Three Main Options: Go Smaller, Go Outside Investment Banking, or Delay Graduation and Try Again
If your inquiries about full-time openings elsewhere don't result in any hits, you're left with three main strategies:
Go Smaller – By "smaller," I mean regional boutiques. Specifically, pounding the pavement with cold calls and cold emails until you win an offer there.
Go Outside Investment Banking – Aim for roles in a Big 4 valuation group or at an independent valuation firm. Potentially, you could also aim for buy-side roles if you've had previous buy-side internship experience.
Delay Graduation, or do a Master's Program, and Go for Summer Internships All Over Again – This scenario might be one of the few cases where it makes sense to delay your graduation.
The best option depends on why you didn't receive the return offer.
EXAMPLE: If you performed well and have great references, but the group wasn't hiring or hired only 1 / 20 interns because of poor market conditions, then options #1 and #2 might be better.
You're taking a big risk if you delay your graduation because the market might get even worse next year.
On the other hand, if market conditions were fine and the bank hired a lot of interns, but something outside your control sunk your chances, then option #3 would make more sense.
Option #1 – cold calling and cold emailing hundreds of tiny firms – can work, but there are also some big drawbacks.
For one thing, the process is repetitive and soul-crushing.
Also, it's very random and almost completely a numbers game.
Finally, these offers at very small firms sometimes "don't work out": the firm collapses, deal flow dries up, they force you out, and so on.
My Recommendation: In most cases, you're better off going outside of pure IB roles (option #2).
Yes, there are many cold calling and cold emailing success stories on the site, but it's far less painful to work in a related field for a year or two and then make a lateral move.
Examples: Valuation advisory to investment banking, and regional audit to business valuation to investment banking.
It's 100% because of timing: people quit randomly all the time, and when that happens, banks need to fill those roles quickly.
By contrast, the end of summer internships might be the worst time to win offers at other firms because so many interns are trying to move around.
Step 2: Explain Why You Did Not Get a Return Offer
While interviews will be similar this time around, you need to prepare for one new question that will almost always come up:
"Did you get a return offer? / Why didn't you get a return offer?"
There are only four good ways of answering it:
1) Say That You Don't Know Whether or Not You've Received a Return Offer or That You're On Hold
This is a legitimate answer because a lot of banks do like putting interns on hold or not giving definitive answers right away.
Of course, the follow-up question will then become: "So why didn't you do well enough to get a return offer? Did any other interns receive return offers?"
2) Say the Group Sharply Reduced Its Hiring, or Didn't Hire Anyone at All, and Offer References to Prove Yourself
This response will be your most likely answer to that follow-up question about how many interns received full-time offers.
But then you'll face another follow-up question: "So the group didn't hire anyone at all?"
If you can legitimately say, "Correct, they gave out no full-time offers" or "The group was shutting down" or "The firm was shutting down," then those responses should end this line of questioning.
But if the group did, in fact, hire a few people, then you should NOT lie about it because you could be caught very easily.
You could respond with: "I believe a few interns did receive offers, but the percentage receiving offers was very low due to reduced deal activity."
The interviewer will then follow up and ask why you did not get an offer.
You could say, "I'm not sure. I performed well, and I have references from several senior bankers I worked with if you'd like to speak with them. I think there were many qualified interns, and the group wanted people with more deal experience from past internships."
If that is true, and you have real senior banker references, then that's a legitimate answer.
If not, then there are only two responses left:
3) Say You Didn't Fit in with the Culture, or That Banking Was Not for You
This one works best if you apply for roles outside of investment banking, such as Big 4 TAS or valuation ones.
You can say that you liked the work and performed well, but didn't fit in with the culture of banking, and now you want to do similar work elsewhere.
Given the massive cultural differences between Big 4 firms and investment banks, they should understand.
This explanation doesn't work if you apply for "high finance" roles, like private equity, so don't even bother with it there.
And it really doesn't work if you apply to other banks because most banks have very similar cultures.
I've seen interviewees say, "I didn't fit in with the culture" and then get grilled on exactly what that means for 10-15 minutes.
So unless you have an exceptionally good reason (e.g., the bank you're interviewing with has mostly non-traditional bankers), you should not use this response.
Instead, you might just have to tell them something close to the truth:
4) Tell Them Something Closer to the Truth
So if you've made it this far, and they're not buying any of your other excuses, you might just admit that you screwed up in the beginning.
You realized your mistakes and fixed them, but it wasn't enough.
For example, you could say something like: "Sure. In the first week or two, I made the mistake of asking senior bankers questions that should have gone to analysts. I fixed that quickly once I realized my mistake, but it wasn't enough, and the senior bankers had a negative impression of me from the start."
This isn't the ideal response, but if nothing else above works, admitting your mistakes (partially) is still better than saying, "I don't know. Really, I don't know."
Choose Your Own Adventure: So What Should You Say?
Ideally, you won't get into an extended back-and-forth discussion over why you didn't get a return offer.
It's better to answer it simply and cleanly and avoid follow-up questions altogether.
To do this, you need to match your story to the types of roles you're applying to.
If you're focusing on non-IB opportunities, the "I didn't fit in with the culture and decided against banking" story is the best one.
If you're applying to other banks or you're delaying graduation to apply to summer internships again, the "My group wasn't hiring (much)" story is best (if it is true).
If it's easy to disprove that claim, then some version of the truth might be best.
No Return Offer: Time to Panic?
The world won't end if you fail to get a return offer, but yes, your life will be more difficult until you win a role somewhere else.
You need to figure out immediately what your recruiting strategy will be and how you'll explain why you didn't get a return offer.
You'll still be at a disadvantage, but if you play your cards right, you can position yourself for another shot at banking in the future.
And amazingly, some version of the truth might help you get there.
Questions?
Did you not receive a return offer from your internship?
Are you wondering what to do next or how to spin your story?
Are you confused about the best option?
Leave a comment below, and we'll respond with our thoughts.
Break Into Investment Banking
Free Exclusive Report: 57-page guide with the action plan you need to break into investment banking - how to tell your story, network, craft a winning resume, and dominate your interviews