Investment Banking Spring Weeks: The Single Best Way to Break Into the Finance Industry in the UK?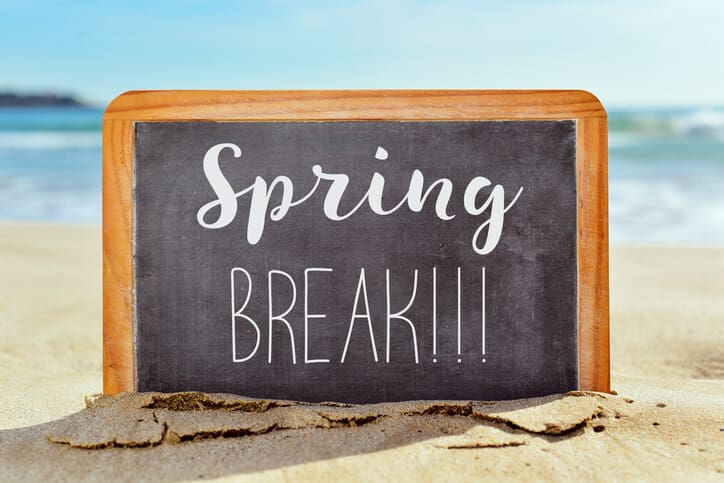 One of the scariest emails I receive starts like this:
"I'm a middle school / elementary school student, and I really want to do investment banking…."
First off, no, you do NOT want to do investment banking if you're 10 years old, sorry.
You haven't even hit puberty yet, so how could you possibly be thinking about full-time jobs?
Still, you might have a point.
"Grooming" for future jobs starts very early these days, and the structured "path" starts earlier and earlier as well.
In the EMEA region, this "path" starts with the spring week, and sometimes even earlier than that with the "Finance Insight Day" in high school.
I don't know much about spring weeks personally, so this article is based on multiple interviews with UK-based readers who have used spring weeks to win offers at banks.
Take it away…
What is a Spring Week?
If you're not from the EMEA region, you're probably scratching your head and wondering what a "spring week" is.
Spring week programs, also referred to as 'spring insight' programs, are the most sensible way of getting your foot in the investment banking door.
They take place in London in March/April (with applications opening in August/September and closing in December/January), and all the bulge bracket banks run them.
They usually last for a week (or 2 weeks at Goldman Sachs), and they're intended to give you insight into the industry.
Besides the shorter length, there's another big difference between investment banking spring weeks and IB internships / full-time roles: expectations are much lower for spring weeks.
If you apply to a bank as a graduate, your interviewer may expect you to have more advanced technical knowledge.
But if you apply for a spring week, the recruiters know that you are a first-year university student (or second-year on a four year course) and they don't expect you to know as much.
There are generalist spring weeks, where you join a bank and work across several different areas (e.g., at HSBC, MS, CS, and most other bulge bracket banks), and divisional spring weeks where you join a specific group at a bank for 1-2 weeks (e.g., at Citi and GS).
And spring weeks also exist outside of banks – BP, for example, offers a sales & trading program (not the first thing you'd think of…).
Technically, you can participate in multiple spring weeks, but large banks often schedule them so they intentionally conflict with each other – so you might be able to do them at a few firms, but it would be impossible to complete 10 spring weeks.
Some banks also schedule "spring weeks" in the summer (BoAML and RBS, for example), so you can't always go by the name.
There's also a big difference between spring weeks on the trading floor and programs outside of trading.
As with sales & trading internships, you won't get your own set of screens and sum of money and complete autonomy to trade – you just shadow the traders who know what they are doing (for 1 day).
You will still not do "real work" even if you're in the M&A advisory team (for confidentiality reasons, they won't let you work with clients or "shadow" bankers), but you will get to attend workshops and other training sessions where you practice valuation and other technical work that bankers do.
Who Are Spring Weeks For?
Theoretically, spring weeks are open to everyone.
In practice, 99% of participants are from top schools like Oxbridge, LSE, UCL, Warwick, and other Russell Group universities.
There tends to a wider range of schools in diversity recruitment programs, such as SEO and Rare Recruitment, which provide assistance with the application process.
Spring weeks are also less common at smaller firms – only Rothschild, out of the non-bulge bracket banks, conducts spring weeks in the UK consistently each year.
Other boutique banks, such as Evercore and Greenhill, tend to focus more on normal 2nd / 3rd year internships.
Why Spring Weeks?
Some banks use spring weeks to identify talent early, and will run an assessment center at the end of the week to fast-track candidates to the final stages of the summer internship application process.
Sometimes, you'll even get an offer on the spot if you've done well enough (Goldman Sachs has been known to do this).
For others, spring weeks are not directly tied to internship applications but their purpose is still to recruit top talent early on.
But the reason why you do them is always the same: to win internships and full-time jobs more effectively.
From a bank's perspective, a spring week is like a 1-2 week interview. They have more time to assess you, but it's not as time and resource-intensive as a true 3-month internship.
You can get summer internships and even full-time offers without completing a spring week, but it is more difficult and networking won't help you as much as it does in the US.
(NOTE: Some readers disagree with this point – see the comments below – and believe that spring weeks make more of a difference at the bank itself, and less of a difference with internships / full-time jobs at other banks.)
It's in your interest to do as many spring weeks as you can – sometimes there are mountains of applications for only 50-60 spots, so the chances of getting everything you want are astronomically low.
How to Apply to Spring Week Programs
The recruiting process varies from bank to bank, but they all require a 1-page CV (technically, "up to 2 pages"), a cover letter, and sometimes competency questions as well.
Then, they may make you take online tests – often one numerical test, sometimes a verbal test, and sometimes also a logical test.
If you pass these tests, you'll move to the next round. Some banks do it differently – Citi only sends the tests to people they've already screened, for example, and GS skips the test altogether.
Assuming you pass, the next stage is the phone interview, which again varies by bank.
CS gives you two 30-minute phone interviews; at Citi you get a 30-minute interview with HR and a 15-minute follow-up with someone in the division you're applying to.
You may also get invited to an assessment center (DB has done this), but not all banks use ACs – and the tasks you complete are not quite as comprehensive as in normal ACs.
In-person interview requirements vary greatly – some banks will require you to interview with their team in-person, while other banks (e.g., Citi and HSBC) do not require them.
In general, though, you will have to go to some sort of in-person assessment in London, whether it's an AC or an interview or both.
What's Different About All This?
You might be reading this and thinking, "OK, but I already know how EMEA recruiting and assessment centers work – how is this different?"
There are 2 main differences:
Many interviews for spring weeks tend to be more competency-based… at least in theory. So technical questions can be less common, though you should still be prepared for anything.
Cover letters are very important. You really need a specific application for each bank – copying and pasting won't work. You need to highlight specific deals/clients that the bank has worked with and name-drop a bit to have a good chance.
They're also looking for "life experiences" in addition to academics – something like running a business or leading a student group is very positive.
And, of course, spelling/grammatical mistakes on anything above will kill your chances.
Give Me the Numbers
No one knows the exact probability of winning offers, but it's typical for a bank to get at least several thousand applications for only a few dozen spots.
Odds I've heard before include:
4,000-5,000 applications for 50-60 spots at Goldman Sachs
1,500 applications for 50-60 spots at Deutsche Bank
Many of these spots will not be investment banking positions, either – so the odds aren't great.
On the other hand, I'm also skeptical because numbers like these tend to be exaggerated, and they include many applicants who have a 0.0% chance at any bank.
Bottom-Line: Based on pure probability, your chances are never great, even if they are better than those odds quoted above – so apply far and wide.
Better Ways to Apply?
Besides earning top grades and top A-Levels, participating in great extracurricular activities, and submitting a perfect application, how else can you boost your chances?
First, apply early – banks claim that it doesn't matter, but you can always improve your chances by applying earlier. This means applying right when applications open in August/September.
Second, apply via other channels – for example, think about diversity programs such as SEO and Rare Recruitment, where you can get fast-tracked through the process. Even if it's a stretch to claim "diversity," don't hesitate to roll the dice and apply anyway.
Third, apply to high school insight programs – you can gain a big advantage because banks like HSBC and CS will often fast-track you to official spring weeks after completing these programs.
How to Secure an Offer Out of Your Spring Week
So now let's say you've defied the odds and won a spring week offer – how do you convert it into an internship or full-time offer?
Let's go through the 2 biggest pitfalls to avoid first:
Just "chatting with people" – If you just talk to people without getting their names, their backgrounds, and following up with them, it's useless. Just as in information sessions, you need to get their contact information and follow-up afterward.
Just "asking questions" – In group settings, you'll often be asked to stand up and ask questions. Many students mess this up and just stand up and ask their questions, without giving their name or introducing themselves at all (your full name, hometown, school, and background are a good start…).
In both individual and group settings, you should never ask really technical or self-serving questions.
Your goal is to come off as a sociable person who's bright enough to pick up the technical skills along the way, not to know everything 100% going into the spring week.
Your "fast-track status" is usually based on a case study presentation at the end of the spring week, so you should follow the tips on this site and review the sample presentations to get an idea of what to aim for.
You can gain an advantage by doing some research before you start working – so if you know you'll be in the pharmaceuticals group, for example, it's worthwhile to research recent deals, industry trends, and more, so that you appear more enthusiastic and eager-to-learn than other spring week interns.
Finally, banks put on social events in the evenings during spring weeks, and it's your job to take full advantage of these.
You don't need to go out and get drunk every night, but introducing yourself to a wide variety of people at these events is important.
Many people firm-wide will not even know about these spring week programs – so you'll impress them, get good advice, and set yourself up to potentially move into different groups in the future.
Once the Spring Week is Over…
As the spring week is finishing up, the bank may give you an offer based on your performance, or it may invite you to the final assessment center for the summer internship – where you could get an internship offer before the normal recruiting process even begins.
If you haven't done quite so well, they might just tell you to apply via the normal channels.
And if you've done exceptionally well, you might win an offer right at the end (this is rare).
Regardless of your offer status, though, you MUST maintain the relationships you've built during the spring week.
Stay in touch, ask questions, and grab a coffee when you can – all of that will help you remain in the banking loop. View everyone that you meet not only as a colleague, but also as a resource.
Some banks delay offer decisions for a very long time, so it always pays to stay in touch with everyone you've met.
I Missed Spring Weeks! What Can I Do?
You can still get offers – I know people who didn't even know about spring weeks in their first and second years and who still won internships and full-time offers down the line.
If you missed the timing for spring weeks, you'll have to rely more on networking and submitting a great application in the first place.
Opinions differ on whether or not you can actually get referrals from students who completed spring weeks, but in general it is tough because they rarely have the time to get to know bankers in a specific group.
Anything Else About Spring Weeks?
I mentioned how I sometimes get scared by elementary / middle / high school students contacting me and asking about finance.
But there's also a solid reason for those questions: there are many events for younger students interested in working at a bank.
For example, the Bright Network offers big events for 1st year university students, and they let you meet banks in structured networking sessions.
You can apply using your CV, and the only real requirements are having good A-Levels and a good university name.
Some banks (such as UBS) will also do on-campus dinners for younger university students at the top schools – if you apply to these, you could easily get fast-tracked to receiving a spring week offer.
And all you have to do is look on your career service website or in the student newspaper, or ask the student finance society at your school – "everyone" hears about these events, but very few people take full advantage of them.
Whither Spring Weeks?
If you're in the EMEA region and you're in your first or second year at university, the spring week is one of your best chances to understand the work environment at a bank and boost your internship / full-time chances there.
Technically, no, you don't "need" to complete one to win offers – but it will still tip the odds in your favor.
Even if you're not in a region where banks offer official spring week programs, you still have a takeaway from this article: get on banks' radar early on and stay in touch.
Sure, banks elsewhere may not run official programs… but they are always looking for top talent to join them, and there are still programs that help you get in touch early on (think about SEO-U in the US, for example).
If you can propose an unpaid or "trial" internship, that's a great way to get in, get on their good side, and land internships and full-time offers later on.
And you might just end up like many of the readers I interviewed and turn a vacation or gap year into a valuable experience, win a 1-2 week trial run at a bank, and then land a real offer after that.
Break Into Investment Banking
Free Exclusive Report: 57-page guide with the action plan you need to break into investment banking - how to tell your story, network, craft a winning resume, and dominate your interviews