Should You Delay Your Graduation to Level-Up Your Internship or Full-Time Job Offer?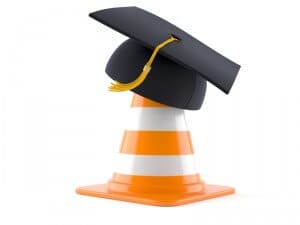 As recruiting season finishes up each year, we always get one question over and over.
Here's a random sample from this year's email volume:
"I've been meeting some people for coffee according to your Networking Toolkit, and they have been suggesting that I delay my graduation.
I am a liberal arts major with a 3.0 GPA and no IB experience, although I can spin some of my experience to make it seem more finance-related.
Do you think I should delay my graduation, which I can do without taking classes, and go to NYC or London to network my way into an internship for a few months?
Or will recruiters see through the 'delayed grad with no classes' plan?"
Some questions require thoughtful responses, but this one's simple: delaying your graduation is almost always a terrible idea.
There are a few limited, highly specialized cases where it makes sense, but it often yields "returns" that are far below your expectations.
Here's why:
Why I'm Not a Fan of Delaying Your Graduation
The typical argument for delaying your graduation goes like this:
"I didn't get a return offer from my summer internship and couldn't get any full-time offer I wanted / I couldn't get the internship or full-time offer I wanted because of problems A, B, and C.
Therefore, rather than accepting a sub-par role or being unemployed, I'll stay in school for another semester, or even another year, and fix problems A, B, and C.
Then I'll get the chance to do another, better internship, which I can then convert into a full-time role."
This argument makes sense at first glance – who wouldn't want a second chance?
However, there are logical flaws with this premise that make a delayed graduation less useful than you might think:
Logical Flaw #1: You Know WHY You Didn't Get the Offers You Want
In my experience, very few university students understand why they did not receive offers.
Sometimes it's obvious – a 3.0 GPA from a non-target school or zero internships, for example – but in other cases, you may not know for sure.
Often, the reason you failed to receive offers has little to do with your resume or responses to interview questions and more to do with the "vibe" you gave off.
You might be able to fix this… but it might take a lot of time, and you might not even be aware that it needs to be fixed.
For a delayed graduation to make sense:
You must know exactly why you didn't get your desired offers the first time around; and
You must be able to fix these problems in only 1-2 school terms – which leads us into logical flaw #2.
Logical Flaw #2: You Can Fix These Problems in a Year or Less
Here are some problems that you can't fix in a short time frame:
Low GPA – So you're going to go from a 3.0 to a 3.7 GPA in only one or two semesters? How is that mathematically possible? Even a 3.4 to a 3.7 might be difficult to pull off.
Lack of Previous Internships – Maybe you can get one additional internship… but if you have nothing currently, you're unlikely to win something highly relevant (e.g., an IB/PE internship) over the summer. You need to be a line, not a dot.
There are a few problems you might be able to fix in a year or less – lack of technical preparation, lack of networking, etc. – but even those are "borderline" since you have to start far in advance these days.
And if the problem will take 2-3 years to fix, there is no point in delaying graduation.
Logical Flaw #3: The Hiring Market Will Stay the Same or Improve in the Next Year
Finally, delaying your graduation assumes that the world will remain the same or improve between now and then.
Ask anyone who delayed their graduation from December 2007 to December 2008 how that one turned out.
We've been in a bull market with rising deal activity for the past 6-7 years, which means that a downturn is set to start shortly.
But the same logic applies whenever deal activity and hiring have been on the upswing: you know the market will eventually turn; you just don't know exactly when.
So even if you improve your interview skills, your GPA, your resume, or your professional network, that may be irrelevant if banks hire 50% fewer candidates.
The Risk of a Delayed Graduation
Those logical flaws translate into specific risk factors for this move:
Risk #1: It Costs a Lot, But It Doesn't Help You
A university education is quite expensive, especially at top-tier private schools in the U.S., and delaying your graduation by even one semester could add tens of thousands of dollars to your student loans.
Even if you're in a country where universities are "free" or your parents are paying for everything, you still waste time and give up earnings by delaying your graduation.
Are the extra debt and the opportunity cost worth it for a slightly improved GPA, or another shot at interviews?
That's an easy "no" in most cases.
Risk #2: You Can't Explain Why You Delayed Your Graduation
So let's say you go ahead with this plan, and then you walk into an interview room in the future.
The interviewer remembers you and immediately asks, "So what brings you back here? Didn't we just speak with you a few months ago?"
What are you going to tell him?
You "decided" to stay in school longer?
You added a thesis so you could graduate with honors?
You didn't understand the exact requirements for your degree?
You decided to take extra sociology or anthropology classes "for fun?"
Interviewers will see through those excuses and realize that you delayed graduation to get another shot at recruiting.
That's not necessarily the end of the world, but you better have a good explanation for how you've improved – especially if you did just interview with them a few months ago.
And if you end up spending another year in school, you'll have to explain why it took you five years to graduate in future PE/HF interviews, business school interviews, and more.
Risk #3: The Market Turns
Again, ask anyone who had planned to graduate in December 2007 and delayed it to December 2008 about this one (for added fun, take a look at my blog post from the September 2008 apocalypse here).
Market turns are unpredictable and tend to happen quickly.
So it's extremely unlikely that you'll be able to "time" the market in a meaningful way and get an offer just before everything collapses.
You're almost always better off taking the best role you can get, and then going for a lateral move once you're already on the job.
And there are dozens of reader case studies on the site from all different time periods to back up this strategy.
Alternatives to a Delayed Graduation
To illustrate what a bad idea this is, I'm going to walk through three scenarios where you might think that a delayed graduation is the answer, but where other strategies would be better.
Scenario #1: No Internship Experience, No Finance Major, and a Low GPA
This one corresponds to our reader question at the beginning (liberal arts major, limited finance experience, and a 3.0 GPA).
Delaying graduation would make no sense because:
You can't improve your GPA up to the 3.5-3.7 level in 1-2 semesters.
You won't be able to take enough accounting/finance classes to look relevant.
And even if you do get a finance internship, a single internship won't help you much.
Instead, I would suggest:
If you have no luck with that approach, think about a Master's in Finance degree at a highly ranked school to boost your academic profile and get better access to recruiters.
Scenario #2: No Return Offer from Your Summer Internship
So you networked your butt off, you went through interviews with a bunch of banks, and you won and completed an IB summer internship…
…but you didn't get a return offer because you didn't perform well, because the bank reduced its hiring needs, or because it just didn't work out.
It still makes little sense to delay your graduation because it will be tough to explain yourself to interviewers:
"So… you completed a summer internship at Large Bank X. Why are you interviewing for another summer internship? Why have you delayed your graduation?"
How would you answer that question?
Possible Response #1: "I didn't get a return offer."
Interviewer: "OK, so why didn't you just apply for full-time roles elsewhere?"
Possible Response #2: "Well, I didn't fit in with the culture…"
Interviewer: "Uh, so did you get a return offer?"
In this scenario, it would make more sense to go smaller and apply for full-time roles at middle-market and boutique banks, or to think about Big 4 groups or independent valuation firms.
Yes, it will be tougher if you admit to not receiving a full-time offer, but it's still do-able.
Maybe you could consider delaying your graduation if you go through the entire process, fail to land full-time offers anywhere, and you need a "Plan B."
But that outcome isn't likely if you were skillful enough to win a summer internship at a large bank in the first place.
Scenario #3: You Have Solid Internships, But You Decided on IB at the Last Minute
For example, maybe you did an audit internship at a regional firm after finishing your accounting coursework, but you realized midway through that audit is mind-numbingly dull.
You won a full-time return offer from your firm, but you don't want to take it.
You could roll the dice, delay your graduation, turn down the return offer, and go through summer recruiting for IB roles… but you'd be taking a huge chance because:
You may not even get an IB internship…
…but you'd have to turn down the full-time return offer and delay your graduation before you know for sure.
Your experience, while "solid," may not be competitive enough to help you win an IB internship.
So in this case, you should accept the full-time return offer and do a job you don't like for a while.
Then, transition into valuation work at an independent firm, a Big 4 firm, or whatever else you can find, and move into banking from there.
So Does It Ever Make Sense to Delay Your Graduation?
Rarely.
But I can think of at least two cases where it might make sense:
Case #1: You Came Very Close to an IB/PE Internship, But Didn't Quite Make It
For example:
It might make sense to delay graduation – if you can afford it – because you can network enough in the span of a few months to make a difference.
Also, you don't have any major problems that are "unfixable" in a short time frame.
Finally, there's enough of a difference between credit risk/corporate banking and investment banking that it makes sense to roll the dice here.
Case #2: You Kept Making a Specific, Fixable Mistake Last Time and Can Fix It This Time
This case is kind of a stretch: how could you keep making the same mistake over and over again in dozens of interviews and not realize it?
But it is possible.
Here are a few examples I've seen:
You have decent internship experience, but you haven't had enough practice with case studies and technical questions, and you get flustered in interviews (Solution: Take all our courses. Practice. A lot.)
The first problem – appearing "boring" due to a lack of interesting experiences/hobbies/activities – is the easiest and most realistic one to fix in this time frame.
The other two stretch plausibility, but I have seen legitimate cases where these issues have resulted in poor interview performance.
To Delay or Not to Delay?
The problem with delaying graduation is that it's predicated on assumptions that are often false.
The market could change.
You might not even know why you didn't do well the first time around.
And you might not be able to improve yourself enough in a short time frame to justify this decision.
The market has changed so much in the past 5-10 years (i.e., since the 2006 – 2011 era) that it's very tough to become competitive with a single additional internship anymore.
So don't assume that a delayed graduation is the answer to anything.
It might be an answer in very specific cases.
But more often than not, students take on extra debt, waste time and forego earnings, and fail to get much out of it.
So think before you make the delayed graduation leap – especially if you have a 3.0 GPA in a liberal arts major with no finance experience.
Your Questions
Are you thinking of delaying your graduation? Wondering if it makes sense? Have you delayed it already and are you starting to doubt yourself now?
Leave a comment below, and we'll weigh in.
Break Into Investment Banking
Free Exclusive Report: 57-page guide with the action plan you need to break into investment banking - how to tell your story, network, craft a winning resume, and dominate your interviews