Middle Market Investment Banks: Solid Entry Point, or "Plan B"?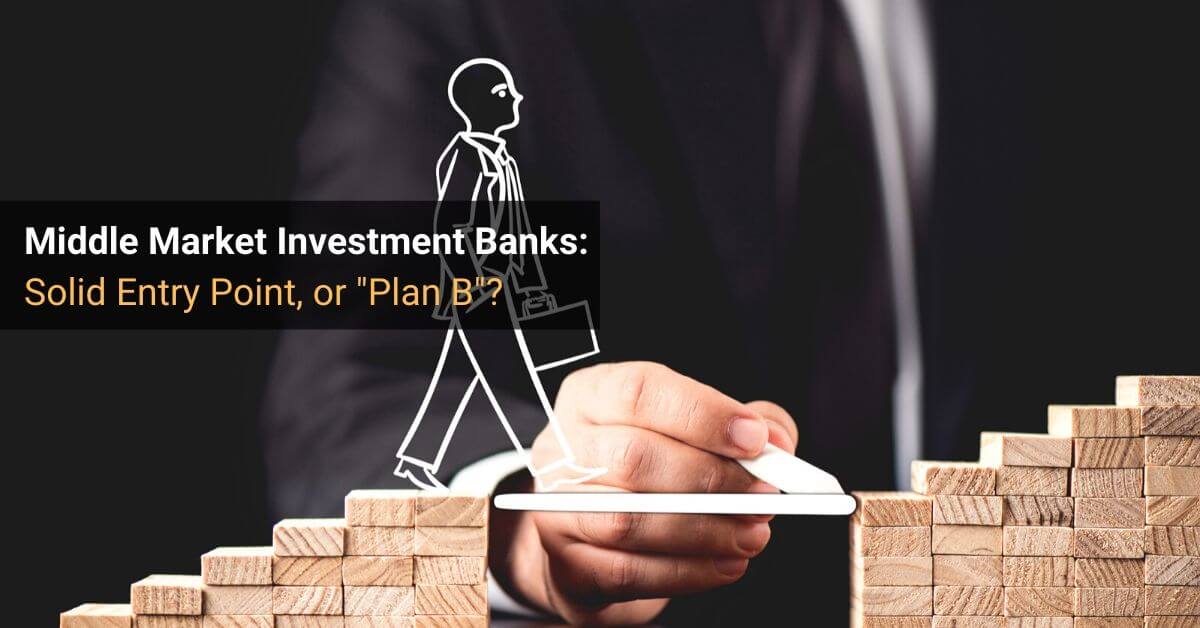 When it comes to middle market investment banks, you should take online commentary and discussions with a grain of salt.
People online tend to take everything to extremes: Bank X is the best company ever, or Bank Y is the worst firm in human history.
But the reality is more complicated, and so are the "rankings" of different banks.
Middle market investment banks (MM banks or MMs) sit between the bulge brackets and regional boutiques: they advise on deal sizes in between those of the other two, they have a moderate product and geographic diversification, and exit opportunities are solid but not spectacular.
Similar to the bulge bracket banks, they offer more than just M&A Advisory and Restructuring: they also have divisions for capital markets, sales & trading, equity research, wealth management, and more.
In the U.S., there are maybe one or two dozen banks that qualify as "middle market."
I'm not going to list every single bank below, but I will list some of the main MM firms in alphabetical order: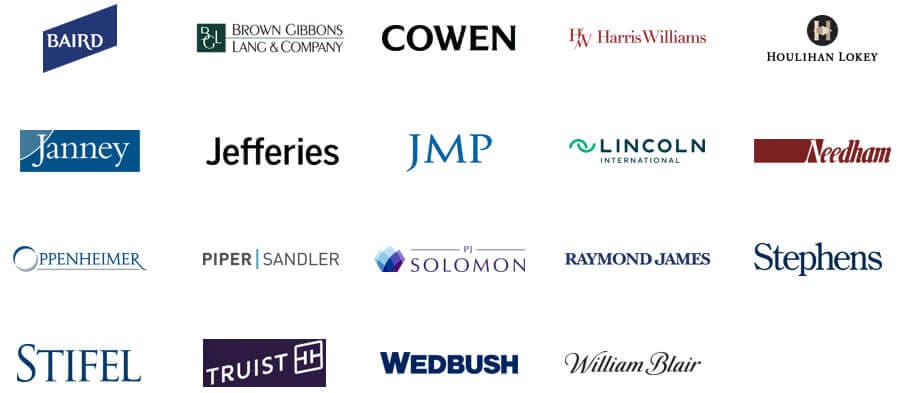 What is a "Middle Market Investment Bank"?
Definition: A middle market investment bank is a full-service firm that offers debt, equity, and M&A advisory services and tends to work on deals worth less than $500 million, in contrast to the larger deals of the bulge brackets and elite boutiques.
The term "middle market" is ambiguous, so you'll find many different definitions:
Wikipedia says it refers to companies with annual revenue between $100 million and $3 billion… or between $10 million and $1 billion… or between $50 million and $1 billion.
Other sources say it depends on the employee count, and a "middle market" firm has anywhere from 100 to 2,000 – 3,000 employees.
And then other people say it refers to the market caps of companies or deal sizes, such as those between $10 million and $500 million.
So, there's no single, universal definition, but an average deal size between $50 million and $500 million is a decent way to denote "middle market."
Yes, some MM banks advise on deals above $500 million, and sometimes even on deals above $1 billion, but those are exceptions and not the rule.
Deal sizes below $50 million are more in the realm of boutique banks (the non-elite kind) and sometimes business brokers (below $10 million).
Besides advising on deals in this approximate size range, middle market investment banks also have these characteristics:
Geography: They tend to have a solid presence in their home countries, with multiple offices in different regions, but they often have far less of an international presence than the bulge brackets.
Services Provided: These firms operate in ECM, DCM, M&A, and sometimes restructuring, and they have other divisions such as S&T and ER. But in practice, they may be less diversified than they appear at first glance; for example, some MM banks focus on deals in 1-2 of these areas and don't do much elsewhere.
Exit Opportunities: It's extremely difficult to win offers at mega-fund and upper-middle-market private equity firms coming from here. It is more plausible to win offers at smaller PE firms and hedge funds or to move to corporate development, corporate finance, or a larger bank.
Rank The Banks! Where's Your Ranking?!!
I'm not going to "rank" these firms because the variability is quite high, and things change quickly from year to year.
I can already predict that someone will leave a comment saying that Jefferies is not really "middle market" since it often works on multi-billion-dollar deals, especially in groups like Healthcare…
…or that Harris Williams is not a MM bank because Analysts tend to have "better placement into PE," and so on.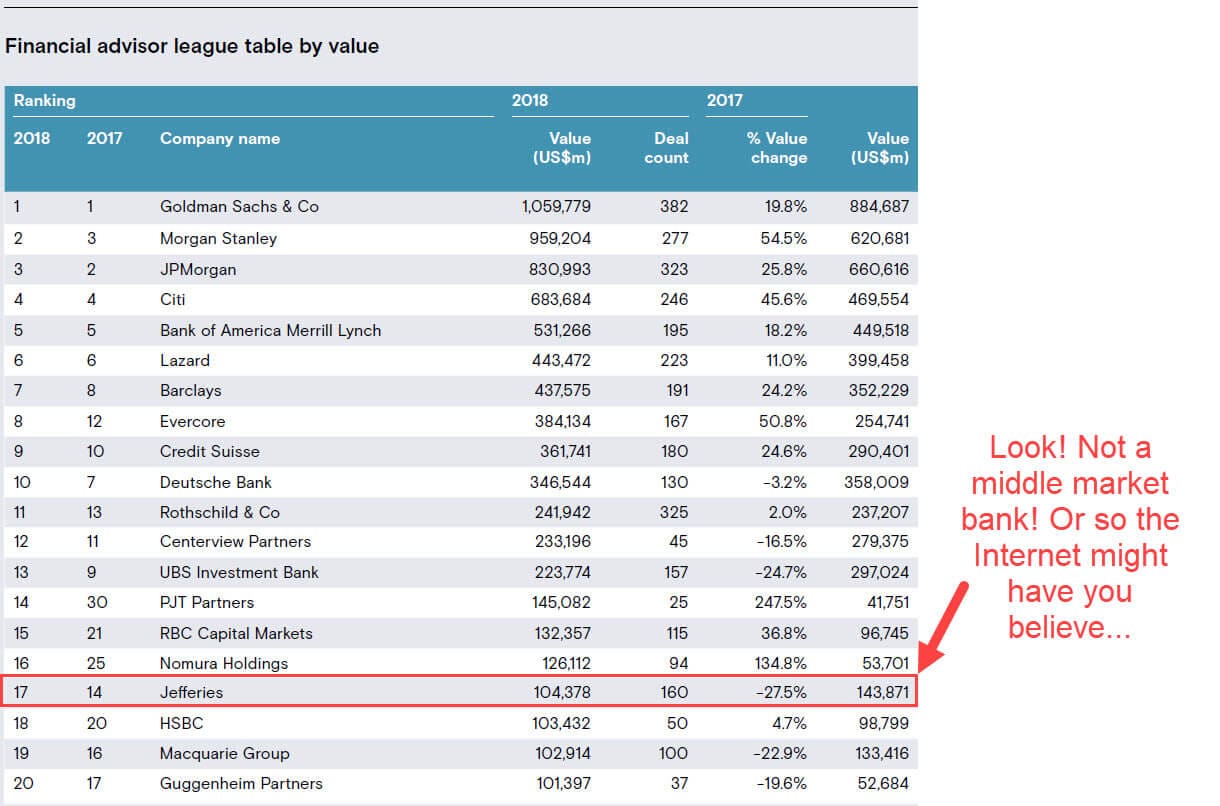 But you have to look at
the big picture over the long term
.
Average deal sizes are smaller, and deal volumes are lower than those of the bulge bracket banks, though some MM firms may compare favorably to elite boutiques and the likes of Wells Fargo, RBC, and HSBC.
Wait, is KPMG a Middle Market Investment Bank? What About Lazard or Goldman Sachs Middle Market? Or RBC, HSBC, or Wells Fargo?
You must be very careful when looking at "middle market league tables" because you'll often see firms ranked by deal count rather than deal volume: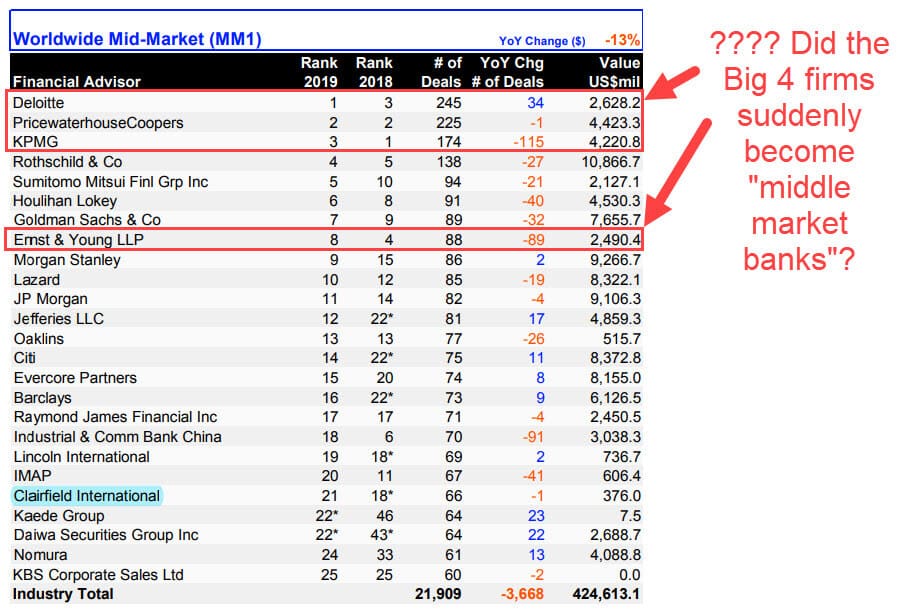 But the Big 4 firms are not "middle market banks" because they do a whole lot more than just capital markets and M&A advisory (and many of their "deals" are Fairness Opinions).
Similarly, banks like Lazard and Goldman Sachs have "Middle Market" groups, but they're part of much larger entities that tend to work on bigger deals, so they are also not in this category.
Finally, the "In-Between-a-Banks" such as RBC, HSBC, and Wells Fargo are also not in this category because they compete with the BB banks in areas such as debt capital markets. And they're far bigger and more diversified than true MM banks.
The Comparison with Boutique Banks
It's simple to tell the difference between the middle market and bulge bracket banks: look at the average deal size, annual deal volume, and typical exit opportunities of Analysts.
But it's tougher to tell certain middle market banks apart from non-elite boutique banks because the deal sizes and volumes may be similar.
For example, is SVB Leerink, a top healthcare-focused firm, a "boutique bank?" Or should it be considered "middle market"?
Its website indicates that it also does capital markets deals and has equity research and sales & trading divisions.
It's a close call, but I'd say it's more of an industry-specific boutique because of its focus on healthcare and the fact that it has fewer locations (~4) than the average MM bank.
Why Work at a Middle Market Bank?
Easy: because you won an offer at one, and you do not have a better internship or job offer lined up.
OK, I'm being a bit unfair; that's the typical reasoning given in online discussions.
There are some legitimate advantages of working at middle market banks:
The culture and lifestyle at some of these firms are more relaxed than what you'll find at the BB banks;
You might get more responsibility and client interaction on deals;
You'll arguably learn more about the deal process and rationale – which can be very helpful in private equity recruiting – than you would at the large banks.
Middle market banks are also a solid option for career bankers who have worked at larger firms, developed a client list, and now want better hours and more of a life outside of work.
And if you got started late as an undergrad or recent grad, you're a career changer, or you otherwise have some big obstacle to breaking in, MM banks offer a solid entry point.
Why Not Work at a Middle Market Bank?
In other ways, middle market banks do not compare favorably to bulge bracket and elite boutique banks: deals tend to be smaller and simpler, the firms are not as well-known outside the finance industry, and exit opportunities are more limited.
The compensation isn't necessarily that much different at the junior levels, but it is still a discount to what many elite boutiques pay.
Another issue is that the experience can be highly variable depending on your group.
Yes, you may get more client exposure and responsibilities in some teams, but you could also get stuck working on a lot of boring, standard sell-side auctions and private placements.
A Day in the Life at a Middle Market Bank
If you look at the Analyst and Associate articles on this site, you'll get a good idea of what to expect. The main differences at middle market firms are:
Hours/Lifestyle: It's fair to say that the average hours per week are lower at middle market investment firms; you might expect 65-75 as an Analyst rather than 80+. But this one depends heavily on the group and location, and some firms do have a "sweatshop" reputation.
Fewer Simultaneous Deals: You probably won't be working on quite as many deals or pitches at the same time as you would at a larger bank. There tend to be fewer inbound deal inquiries, and many MM banks work closely with existing, long-time clients.
These factors mean that an average day will have a bit more structure, but keep your expectations in check: it's still a demanding, stressful job where you won't have much of a life for the first few years.
Final Thoughts
I'd summarize middle market banks as follows:
Advantages of Working in Investment Banking at Middle Market Banks:
Good for Late Starters and Career Changers: Recruiting is a bit less competitive, so you can win internships or lateral offers at these firms even if you do not have a great chance at larger banks, or you decided on IB at the last minute.
Potentially Better Culture and Deal Experience: Some groups and firms are more relaxed, and since there are fewer mid-level bankers, you'll get to do more on each deal as an Analyst or Associate. These points also make middle market investment banks potentially more appealing if you want to be a long-term banker.
Cash Compensation: Yes, some banks do have clawback agreements if you leave early, but as you advance, compensation tends to be all-cash and is not deferred or paid in stock to the same extent it is at the bulge brackets.
Disadvantages of Working in Investment Banking at Middle Market Banks:
Smaller, Simpler Deals: You probably won't gain as much technical exposure as a result, and your responsibilities will be more related to the deal process.
Lesser-Known Brand Name and Smaller Alumni Network: These make it more challenging to leave finance and work in another industry.
Compensation Discount As You Advance: Yes, it's 100% cash, but in total dollar terms, you'll earn less than you would at BB and EB banks due to the smaller deal sizes.
Highly Variable Work Experience: While some groups are fairly consistent, others fluctuate quite a bit, and the experience is dependent on key individuals.
Reduced Exit Opportunities: It is unlikely that you'll get into the biggest private equity firms and hedge funds, but you can recruit for smaller firms, normal companies, and other banks.
I'll close by reminding you that the internet is not real life.
The reality is that if you're starting in investment banking anywhere, you're better off than ~95% of university and MBA graduates.
Yes, MM banks are "worse" than BB or EB banks in terms of exit opportunities, but they are still far better than back or middle-office jobs and most non-IB front-office roles if your long-term goal is to work on deals.
So, rather than obsess about your situation or panic about your future, go offline, calm down, and assess your options.
If a middle market bank is your best option, take it, and if you want to move elsewhere, think about it once you've been on the job for 6-12 months.
And please ignore all rankings of banks, firms, and anyone who says Bank X or Y is the best or worst in its category.
Want more?
You might be interested in Restructuring Investment Banking: The Perfect Panacea for Plagues, Pandemics, and Pandemonium?
Break Into Investment Banking
Free Exclusive Report: 57-page guide with the action plan you need to break into investment banking - how to tell your story, network, craft a winning resume, and dominate your interviews