How to Overcome a Low GPA in Investment Banking Interviews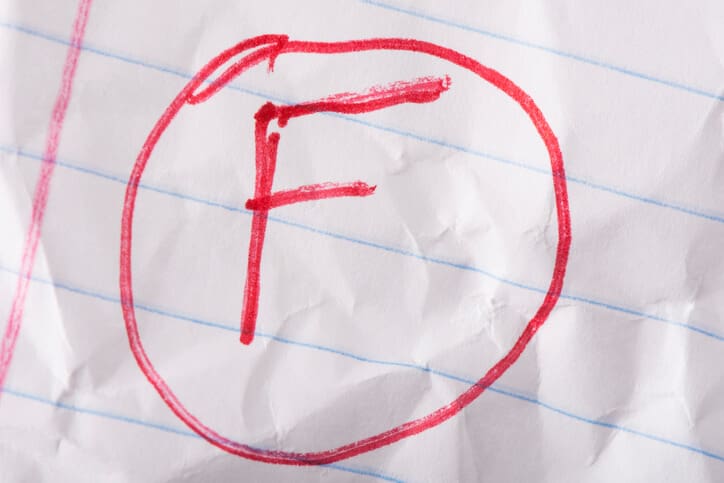 What's the single most difficult
weakness
to overcome in an interview?
You might think of a long list: Lack of work experience, lack of finance knowledge, a non-target school, or the inability to work 80+ hours per week consistently.
But I'd say the most challenging one is a low GPA.
For any other weakness, you could think of reasonable explanations – for example, you couldn't afford a top school, or you got interested in finance very late.
By contrast, there are almost no good explanations for why you earned low grades consistently over a long period, such as 2-4 years.
Most online advice on this topic tells you to "network intensely" or "use your activities and work experience to compensate for low grades."
Yes, sure, that's all well and good… but even if you do that, you'll still need a cover story to address your grades and explain why they don't represent your potential.
Here's what I recommend:
First: What is a "Low GPA"?
Most people would say that anything below a 3.5 / 4.0 in the U.S. and anything below a 2:1 in the U.K. counts as "low" (for other countries, you can make the conversion).
Grades below those levels don't necessarily mean that banks will reject you right away, but they do make it harder to win interviews through the normal process.
But there are limits to that statement; for example, if you have below a 3.0 GPA in the U.S., then banks may reject you just based on that.
Grades are also more contextual than people acknowledge.
For example, if you attended a top 5 university, majored in engineering, and completed 2-3 finance internships, a 3.3 – 3.4 GPA is not the end of the world.
But if you went to a non-target school, majored in history, and completed 0 finance internships, then a 3.3 – 3.4 GPA may be the end of the world.
There's more tolerance for lower grades if you picked a difficult major (math, science, engineering, etc.) or went to a top school, and less tolerance if you went to Podunk U. or majored in something perceived as "easier."
Also, low grades are more of a problem for the most "prestigious" front-office roles: Investment banking, private equity, etc.
You could still win middle or back-office roles with a lower GPA, and you could also win non-IB-but-still-revenue-generating roles such as ones in commercial real estate or real estate lending.
The Cold, Harsh Truth About Low Grades
If you've earned a low GPA over several years, industries such as investment banking and private equity are probably not right for you.
Earning good grades in university and performing well in entry-level finance roles require the same skill sets: Picking the right classes (groups), completing assignments (models and presentations) on time, working under time pressure, and following instructions from your superiors.
You can certainly get a high-paying job even if you have low grades – plenty of salespeople earned a 3.0 on the academic scale but a 4.0 on the social scale.
But you're probably not the right candidate for a high-paying job in highly structured industries such as finance.
"But wait!" you say, "I have a great explanation for my low GPA!"
To which I respond, "Think again."
Why You Can't Explain Away a Low GPA
To understand why most explanations come up short, think about how an interviewer might respond to you:
Attempt #1:
You: I had to work full-time to support my family while taking classes and participating in activities.
Interviewer: So, you're saying you can't multi-task and handle stress effectively?
Attempt #2:
You: I wanted to pursue medicine in my first year, so I took a lot of biology/chemistry classes that I wasn't that interested in – but my grades improved a lot after that.
Interviewer: So, you're saying you can't do well with tasks that do not interest you personally?
Attempt #3:
You: One of my immediate family members died in my first year, so I had to take some time away from school – but my grades improved in the next semester onward.
Interviewer: OK, understood. But that was just one semester. You did so poorly that you earned a 3.0 overall GPA over several years?
Attempt #4:
You: My university has grade deflation, so a 3.0 there is like a 3.5 from other schools.
Interviewer: OK, but couldn't you have taken easier classes to boost your grades? Also, can we hire someone from your school who earned a 3.5 GPA instead?
Attempt #5:
You: I had a crazy girlfriend who tried to kill my cat, and I got so stressed out that I had to take time away from school.
Interviewer: This interview is over. Please leave.
In my view, there are only two not-completely-terrible explanations for a low GPA:
Own Up to It and Explain How It Doesn't Represent Your Skills – Admit that you weren't as focused as you should have been, especially in your first year, but that the results from your work experience prove that you can perform on the job (e.g., top salesperson, only intern to receive a return offer, stock pitches that returned 30% in one year, etc.).
Tell a "I Screwed Up Once, But Have Improved Since Then" Story – Say that you switched majors or socialized too much or had another issue early on that you quickly resolved, and point to your improved grades or other results (standardized scores, CFA, GMAT, etc.) since then.
These explanations work if your GPA is low, but not terrible.
For example, if you have a 3.3 after 1.5 years, an interviewer might believe that a single bad semester was responsible.
But if you have a 2.5, this story would not work so well.
What NOT to Do
It's almost easier to explain what to avoid since there are so many terrible ideas out there:
Leave Your Grades Off Your Resume/CV – This is a terrible idea. If you do not list your grades anywhere, people will assume the worst.
Lie – The potential downside (a rescinded offer and being blacklisted at other firms) far outweighs the potential upside here.
Give Long/Complicated Explanations for Your Grades – The more detailed your story, the more you draw attention to the problem and give the interviewer chances to find plot holes.
List Your "Pro-Forma Adjusted GPA" – It's OK to list a Cumulative and Major GPA, but beyond that, don't play games with showing grades only from certain years, or, even worse, "expected grades."
So, What Do You Do?
Even if you come up with a not-so-terrible explanation for your low GPA, you'll still need something to offset it.
Also, if you anticipate low grades in the future due to a difficult major or other circumstances, you should think of ways to address the issue.
A few ideas include:
1) Front-Load the Easy Classes
Since IB recruiting now operates on a hyper-accelerated schedule where banks recruit interns 1.5 years in advance, your GPA in your first 1.0 – 1.5 years makes the biggest difference.
So, front-load your schedule with as many easy classes as possible and save the harder ones for later in undergrad.
Even if your 4-year GPA isn't great, you might already have a full-time offer by then.
2) Take the GMAT, GRE, or CFA – If You Have the Time
This one is not a great idea if you're a first or second-year student concerned about a potentially low GPA.
Studying for these exams takes up a lot of time, and your time is better spent on networking and winning internships at this stage.
However, if you make it to your final year, your GPA isn't great, and you have some time because you already have a full-time offer lined up, completing one of these exams could be a good idea.
It's possible to receive questions about your GPA even in private equity recruiting, and your explanation will be stronger if you can point to a 750 GMAT score.
3) Complete a "Summer Finance" or Other Continuing Education Program
You can sometimes compensate for a lower GPA with this type of program, and if you find one that only lasts for a few weeks, you can fit it in between internships.
There's a good story from a student who used this strategy to make up for a 3.4 GPA and an unknown school right here.
4) Perform Exceptionally Well in Accounting/Finance Classes
If your cumulative grades aren't great, you could take classes that are directly relevant for investment banking (accounting, finance, etc.), earn perfect grades in them, and use that to counter objections about your GPA.
This one might be viable if you didn't do well in your first year and you're now preparing for internship recruiting in your second year.
5) Use Cold Calling Rather Than Cold Emailing
Cold emailing tends to work well if you have a top university name, you've worked for well-known companies, and you have good grades.
Also, students tend to be more comfortable with cold emailing because they're scared of using the phone.
But if you have a low GPA, or you went to a non-target school, or you have other academic issues, you might get better results with cold calling.
The advantage is that you don't need to give your full academic background upfront – you can give a quick introduction, and if you're persistent and good at handling rejection, you can get results.
Our best "cold call story" is this one, from a reader at an unknown state school.
He did have a good GPA, but he still faced objections over his grades because bankers tend to assume that a 3.8 at an unknown school is equivalent to a 2.0 at Harvard.
6) Use Your Work Product to Network
In fields like equity research, you can get good results by contacting professionals and attaching an example of a report or stock pitch you've written – as long as it's halfway decent.
You can do something similar if you want to know how to get a job at a hedge fund (though contact information is harder to find), and potentially even for consulting and private equity at smaller firms.
This strategy won't work well for IB roles at the large firms, but if you have a low GPA, it won't matter since you'll have to focus on boutiques.
Low GPAs – Mission: Impossible?
Earning low grades makes it very difficult to win traditional investment banking roles.
You can still do it if you can find a way to explain your results and counter objections, but it's not easy.
And with recruiting moving up earlier, many "I messed up in my first year but improved since then" stories will become less viable.
To get around a low GPA, you need to be brutally honest with yourself – do you not have the work ethic or focus required to earn good grades?
Or can you find a reasonable explanation and point to success in other areas to prove that you can do the job?
If it's the latter, you might find a front-office role despite your grades.
If it's the former, then you might want to start thinking about non-finance roles. Sales is always hiring!
Break Into Investment Banking
Free Exclusive Report: 57-page guide with the action plan you need to break into investment banking - how to tell your story, network, craft a winning resume, and dominate your interviews