How to Conquer the Super-Early Investment Banking Recruiting Timeline and Win Offers – Even If You're at a Non-Target University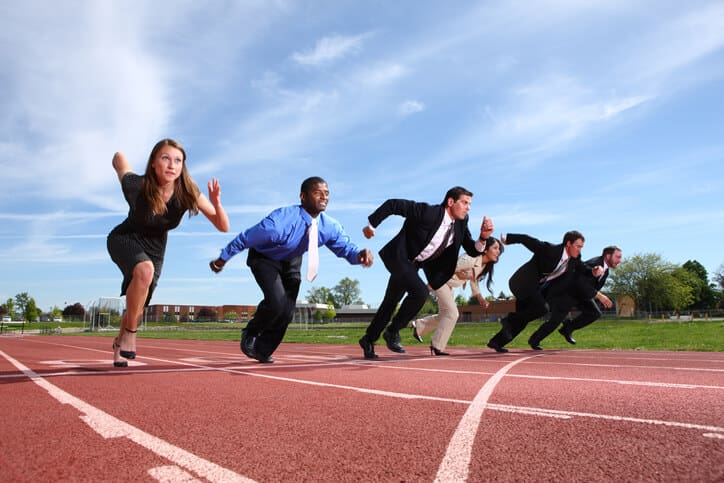 Ask any undergraduate student about the "investment banking recruiting timeline," and you'll always get the same response:
everything starts ridiculously early.
Back in ancient times, recruiting took place during your 3rd year of undergraduate, and you interviewed for summer internships several months before they began.
But then banks realized that Facebook and Google also pay pretty well and offer better work/life balance, so they started to recruit earlier and earlier to lock in talent and make finance appear more "exclusive."
Recruiters at banks tend to copy each other, so once one bank started to recruit early, everyone else joined in.
In practice, that means that if you're not prepared for IB recruiting by the start of your 2nd year, you're probably not going to join a large bank right out of undergrad.
This timing puts you at an especially big disadvantage if you're at a lesser-known university that banks do not recruit at (a "non-target").
But it is possible to defy the odds and break in – like our reader today did:
How to Get an Investment Banking Internship – Starting in High School
Q: Can you start by walking us through your story briefly?
A: Sure. I grew up in an "Asian country" and moved to the U.S. for high school, where I gained some exposure to finance and M&A via an Economics class.
An extended M&A deal involving a local company interested me so much that I began studying the field on my own, and I decided on investment banking by the end of high school.
I won admission to several top universities, but ended up attending a non-target school because of a full scholarship they offered me.
In my 1st year there, I completed a search fund internship, an off-cycle internship at an elite boutique bank, and a Big 4 internship over the summer.
I had begun networking with bankers in my 1st year and continued doing so during this time, including into my 2nd year of university, all because of the very early investment banking recruiting timeline.
I eventually used all that networking to win a bulge bracket investment banking internship for the summer of my 3rd year.
For the summer after my 2nd year, I accepted an investor relations role at a "normal company," which I found at the last minute.
Q: OK. We'll go into more detail on each part of that, but let's start with the search fund internship. How did you find it?
A: When I arrived at university, I realized within the first week that no banks recruited for real investment banking roles – just commercial banking.
So, I began searching for alumni in the finance industry on LinkedIn, but I couldn't find anyone who had gone into IB straight out of undergrad.
I did some cold outreach on LinkedIn, eventually got a response from a search fund professional, and asked him for advice about the investment banking recruiting timeline.
He was impressed that I had researched his firm and reached out to him only a few weeks after arriving at university.
He explained search funds and offered me a part-time internship, which I quickly accepted and used to learn the basic buy-side and sell-side processes.
By the end of my first semester, I had a 4.0 GPA and a search fund internship on my resume.
Q: I think that's more than I accomplished in my first two years of university.
Moving on, what about this off-cycle internship at the elite boutique? I've never heard of a bank in that category hiring a 1st year undergrad before.
A: After I finished my first semester, I emailed all the contacts I had found on LinkedIn and updated them on my grades, my search fund internship, and the next classes I was planning to take.
One contact happened to be an Analyst an elite boutique's regional office in my area, and he replied and said they needed help because another Analyst had quit midway through the year.
Because of the awkward timing, the bank was thinking of hiring a part-time university intern.
My contact pushed for me, and I went through interviews there and won a part-time internship during the spring semester of that year.
The interviews were easier than "real" IB interviews, and they mostly asked about whether or not I understood accounting, the DCF, LBO models, etc. rather than specific technical questions. Questions about the firm's platform and the business models of different verticals within their industry also came up.
I did not work on any live deals in this internship because of the timing and its part-time nature, but I contributed to pitches, created market updates for our industry sector, and helped with administrative tasks.
Most importantly, I could write "Investment Banking Analyst – [Elite Boutique Name]" on my resume as a 1st year university student.
Q: Yes, that is pretty amazing. The fact that it was a regional office helped – it would have been easier to hire someone full-time in NY or London.
You've mentioned networking with bankers several times. But how did you network effectively if you were at a non-target school?
A: I used LinkedIn to find names and companies and then emailed people once I verified their email addresses using tools like Email Checker.
There weren't that many alumni in investment banking, so I searched for anyone in finance who had something in common with me – industry focus, family background, non-target attendance, same state or city, etc.
When I led with my internships and GPA, I got a fairly high response rate to my initial messages.
The Investment Banking Recruiting Timeline: Hyper-Accelerated Mode
Q: OK, fair enough. And I assume you did the Big 4 internship to get a big brand name on your resume?
A: Yes, exactly.
Staying at the elite boutique wasn't an option, and I felt that a search fund internship + elite boutique internship + Big 4 internship were more than enough for IB recruiting the next year.
Q: On that note, can you explain the timing in your 2nd year?
We get a lot of questions about when students should apply for internships, given that they may have to apply for 3rd year internships before their 2nd year internships.
A: Sure. I got around this issue by finishing my internships in my 1st year, which removed the need to recruit for 2nd and 3rd year internships simultaneously.
If you can't do that, or you started too late, then you should get a part-time, school-year internship in your 2nd year and then go all out with recruiting during/after that.
The summer internship after your 2nd year doesn't matter that much because the investment banking recruiting timeline keeps moving up, so it may not even come up in interviews.
If it does come up in interviews, you could always say, "Oh, I'm still interviewing for this coming summer. Only banking recruiting starts and ends this early!"
I've used that line before, and it has worked like magic.
I did not think much about my plans after my 2nd year because I was so focused on investment banking recruiting going into it.
But then a contact in banking told me about a "normal company" in my area that was seeking interns in investor relations, and he passed along my resume, which resulted in an interview a few days later.
I won and accepted the offer in March, ~3 months before the start date of that internship.
Once I had that offer, I switched back to 3rd year IB internship recruiting in my area and New York, which happened in April and May of my 2nd year.
Entirely through networking, I interviewed with multiple banks in both regions and won several offers as well.
Q: You make it sound quite easy, but I'm sure there were challenges.
For one, how did you stay in touch with your contacts for over a year and make sure they remembered you? You started networking extremely early due to the hyper-accelerated investment banking recruiting timeline.
A: As you always say, do not overestimate the competition.
Most people – especially undergraduates – do not follow up at all, so simply by sending an occasional email to each contact, I was already near the top of their list.
I followed up once every 4-6 months by sending an update email with classes I was taking and recent internship experience, and I also asked about deals they were working on.
I also asked for in-person meetings occasionally by saying something like, "I'd really appreciate the opportunity to catch up over coffee and get your guidance on a few matters."
At these meetings, I spent 70% of the time asking about what they were working on and their future goals and only ~30% of the time talking about myself, which meant that the relationship became more personal over time.
And my goal was to get to know the bankers as more than just "business contacts" and make the relationships personal.
Investment Banking Interviews: Key Challenges
Q: What about in interviews? Was anything challenging, or were they straightforward after you had been preparing for IB for so long?
A: I did not encounter extremely difficult investment banking interview questions, mostly because I had prepared so long in advance.
The main challenge was convincing people that I was actually interested in their bank and that I wasn't just leveraging the interview to win an offer somewhere else.
For example, some interviewers said, "I know you're interviewing at Goldman Sachs according to Person A, so why would you join us if you win an offer there?"
Sometimes I answered that question by saying that I had built personal relationships at all the banks and that I was interviewing elsewhere to preserve those relationships.
If an Analyst had pushed for me to get an interview, I couldn't just say, "Sorry, not interested – I can interview with better firms now!"
Also, I made a list of 3-4 firms I wanted to end up at and told each firm that they were one of my top choices, but I also made it clear that I was interested in the other firms on the list. That way, if an Analyst at Bank A reached out to his friend at Bank C, the friend would corroborate what I said.
When I interviewed with any of the top 3-4 firms on my list, I told the interviewers, "I'm really interested in your platform and I want to take advantage of this Superday to meet as many folks on the team as possible. This will help me better understand which team I fit in with out of the top 3-4 firms I am targeting."
I wanted to be completely honest because I knew it would be simple to fact-check any statement I made.
Q: What about your response to the "Walk me through your resume" question? You went from a search fund to an elite boutique to a Big 4 firm to a normal company.
How did you turn that into a coherent narrative?
A: In interviews, I said something like, "After I left [Elite Boutique Name], I wanted to get experiences that would give me all the skills required to perform well as an intern during my junior summer. If you look at my resume, you can see that I completed an accounting internship to strengthen my knowledge in the area and that I also worked at a normal company to gain the experience of working at a potential client."
If they asked about the search fund internship, I just said it was my way to learn the ropes of the industry before going into banking.
My goal was to let the interviewer know that everything was well-thought-out and that nothing was a "random experience."
I had always wanted to be in IB, but I had that experience so early on, so I took advantage of my time in university to gain complementary experiences.
Advice for Other Students About the Investment Banking Recruiting Timeline
Q: That makes sense. Do you think students at target schools still need to start the process as early as you did, or even earlier?
A: Yes! I have friends and acquaintances at places like Wharton and Stanford who missed the entire process, even though they knew they wanted to do banking.
The investment banking recruiting timeline moves so quickly now that even if you go into university knowing you want to do IB and you get solid internship experience, you might end up without a job if you're late.
Realistically, you must be considering IB by the end of high school, or there's no way you'll be ready by your 2nd year of university.
To give you an idea of the numbers, in my year, banks filled 50% of their 3rd year intern classes in my region with sophomores and then gave the remaining 50% of spots to juniors in the fall.
But the year after that, all the banks in my region gave 100% of their 3rd year internship offers to sophomores.
The process moves at breakneck speed, and you must be ready to jump when the first applications open.
Q: Well said.
Finally, what advice would you give to other students at non-target schools who have to deal with this super-early investment banking recruiting process?
Is there anything you would have done differently?
A: I'd tell them to read your article about preparing for summer internship recruiting (and all the other articles on this site) and follow the tips there, such as front-loading easy classes to boost your GPA early on.
I would also recommend completing finance internships in your 1st year, as I did, so that you're prepared in case the investment banking recruiting timeline moves up even earlier (which it probably will).
I'm not sure I would have done anything differently, but my biggest takeaway from the process is that you cannot afford to screw up relationships.
That means if you contact someone for a coffee chat or networking call, you must show up on time and do it.
That sounds like advice for 5-year-olds, but many university students are immature and flaky when it comes to networking.
To illustrate how important this is, I'll tell you a quick story: one of the first bankers I met via my LinkedIn/email outreach had switched banks by the time I was recruiting.
But we had stayed in touch over those 1.5 years, and he had joined a bank I would be interviewing with – four days before my interviews.
After interviews finished up, the bankers were discussing candidates, and they casually asked my contact if he knew anyone from interviews that day.
He had just started working there, so he couldn't officially conduct interviews, but he immediately noticed my name and put in a very strong recommendation for me.
His support resulted in the offer that I eventually accepted.
If I hadn't put a few minutes of effort into sending out update emails every 4-6 months, that never would have happened.
Q: Great story. Thanks for sharing everything!
A: You bet. My pleasure.
Break Into Investment Banking
Free Exclusive Report: 57-page guide with the action plan you need to break into investment banking - how to tell your story, network, craft a winning resume, and dominate your interviews