You Didn't Get Any Full-Time Investment Banking Offers. Here's What To Do Next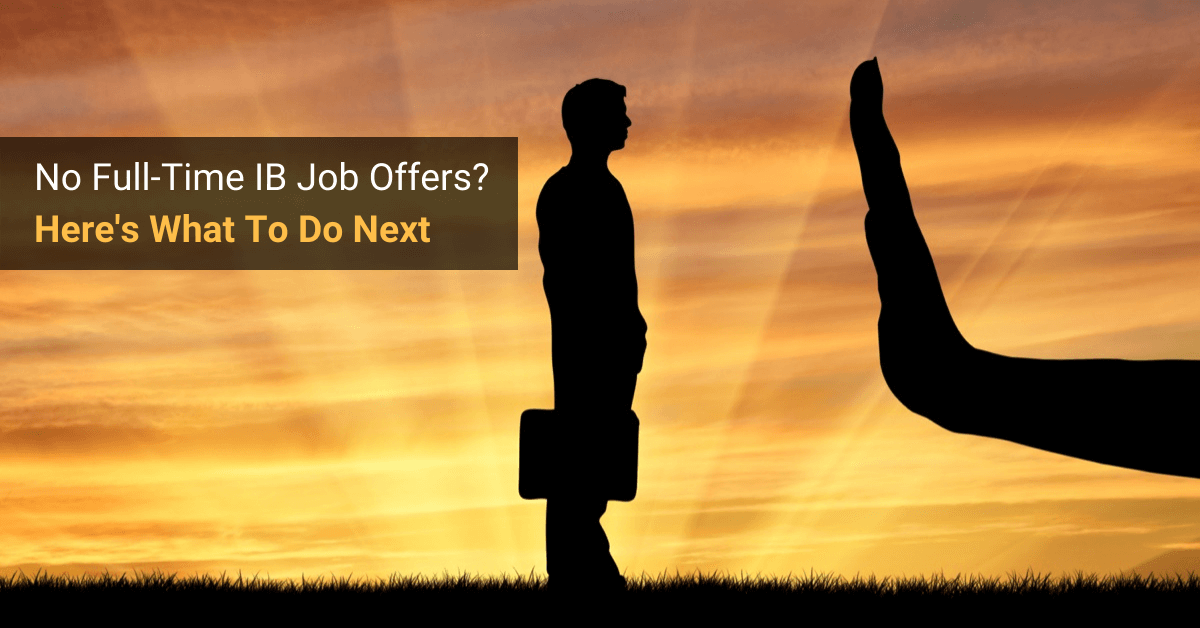 If full-time recruiting season is over and you don't have any full-time investment banking offers, you should be panicking at least a little.
While summer interns who don't get return offers have a few months to fix the situation, your options are more limited.
But that doesn't mean you have no chance of getting full-time offers – so here's what to do.
Worst-Case Scenario
You might think the worst case scenario is not getting a full-time job, but that's not true – there are two scenarios that are worse:
Putting yourself in a position where it's nearly impossible to break into finance in the future.
Moving into a job that's difficult to leverage for business school or eventually breaking into finance.
#1 happens most often when you get the brilliant idea to go to business school straight out of undergrad… oops.
#2 is not the end of the world, but you still want to avoid it unless you absolutely, desperately need the income in the short-term.
If those are the 2 worst-case scenarios, then the best-case scenario is simple: whatever maximizes your chances of breaking in without limiting your options or wasting time on things that won't help you in the long-term.
What Went Wrong?
The next question you need to ask: what went wrong?
There are only 2 reasons why you didn't win any full-time offers:
1) You didn't get any interviews / enough interviews.
Your problem was your resume, your networking efforts, or both.
If you've been submitting applications online, please stop immediately. It doesn't work, and you'll never get a critical mass of interviews like that.
You need to get on the phone ASAP and start talking to real people and then meeting them in-person – if you're coming from a non-target school and you haven't done that, you stand a 0.0000000000001% chance of breaking into investment banking.
If you're at a better-known school, networking is still essential but your resume / lack of solid work experience is more likely the culprit.
Diagnosis: Make sure you're using this investment banking resume template.
Then, take a look at your resume and your experiences – if you haven't had impressive-looking internships then you need to get them if you want any chance of getting interviews.
Finally, take an honest look at your networking efforts – have you contacted at least 100 alumni? Cold-called 100 local boutiques? Talked to at least 20 people on the phone and hopefully met most of them in-person?
If not, then you need to put your nose to the grindstone and keep at it until your investment banking networking results in interviews.
2) You got a lot of interviews but didn't do well or didn't connect with the interviewers.
Winning offers from interviews is very, very random.
Yes, knowing the key fit and technical questions is essential, but a lot of people know those – especially in bulge bracket interviews.
You need a "hook" to actually win offers, and unless you've had dozens of interviews the "randomness" factor is too high for you to say anything concrete.
Diagnosis: If you didn't have dozens of interviews, you need to get them (see above). If you did, and you still didn't get any offers then you need to figure out what went wrong.
The best way to do this: go through a few mock interviews with friends in the industry.
90% of interview problems can be reduced to:
Issues with your response to the "Walk me through your resume" question
You don't have a good answer for "why investment banking"
Your enthusiasm is low and you aren't as polished as other interviewees
The good news is that "fixing" your interview skills takes less time than networking with hundreds of industry contacts and getting more impressive work experience.
But the bad news is that it's very difficult to "teach" someone how to be more likeable, which is what tips the scale in interviews.
How Much Time and Money Do You Have?
Next: how much time and money do you have to fix whatever mistakes you made?
If you didn't win full-time offers, you need to fix your resume, interview skills, or networking skills, or maybe all of those… but how you do that depends on the resources at your disposal.
First, let's go through a couple examples of what you shouldn't do when you don't have any full-time offers lined up, and then a couple examples of strategies that make more sense.
What NOT To Do
I thought about adding the CFA here just for fun, but I'll resist the urge to do that – just this once.
1) Business School
It's a big mistake to go to business school with minimal full-time work experience.
How much do you need?
At least 3-5 years. We basically threw out resumes of Associate candidates who had less experience.
Yes, there are plenty of good reasons to go to business school if you want to use it for something else, but going immediately after undergraduate is a recipe for disaster if you want to get into banking from your program.
And be careful that your work experience is actually "full-time" – a bunch of side projects or travel combined with teaching English and intermittent work won't stack up to the guy who managed a $1 billion product line for 4 years.
The other big problem with going to business school right after undergrad is that if you don't get into finance when you're there, your future chances also drop dramatically.
2) Back Office
For the last time, back office to front office moves – at least for investment banking – are rare and very difficult to pull off.
Yes, it may work slightly better in other fields and some people pull it off successfully, but you need to think about the probability.
What will give you a higher probability of eventually moving to a large bank's investment banking division – starting in the back office, or going to a boutique first and then making a lateral move?
Please, stop the insanity and go for front office roles at smaller firms rather than "taking what you can get" and making the back office your backup.
3) Normal Job
By "normal" I mean not related to finance at all – marketing, engineering, medicine, etc. Corporate development, wealth management, consulting, and the like don't qualify.
I would only "settle" for this if you've been out of school for months, have networked extensively, are doing all the right things, but still have no offers and you really need income in the short-term.
4) Nothing At All
I'm not referring to whether or not you have something lined up by the time you graduate – I'm talking about what you DO between now and when you graduate.
I had a reader last year who only started her full-time job search 2 months before graduation. Whoops.
No matter what you're "busy" with, figuring out what you're doing afterward comes before everything else – so move grades, classes, and activities lower on your priority list.
Possible Plan B's
Here are 5 viable options. They're not mutually exclusive, and there's no "best" option – everything depends on your own situation.
1) Delaying Graduation
"Help! I have no offers. Should I delay my graduation and go for summer internships again this year, then do full-time recruiting before I graduate in December next year?"
It's most helpful if:
You got some interviews but had trouble convincing them you could do the work since you didn't have substantial internships.
You go to a well-known school that banks recruit at – otherwise it's a huge gamble to bet on summer internships.
Your problem was your resume or interview skills, as opposed to your networking efforts.
The main problem: if you've had impressive internships, done a lot of interviewing, but simply didn't make it through any final rounds, then it will come across as an obvious Plan B to anyone interviewing you – and they'll ask the questions you don't want to answer.
2) Master's Program
Another common plan, and also not a bad move. It's good if:
You're using it to move to a better-known school where banks recruit.
You didn't do enough networking and need more time and better access to recruiters.
You could also use some more impressive-looking internships.
This is not the best plan if the main issue was your interview skills – it's a big commitment just to have another shot at recruiting.
The focus of your program is almost irrelevant beyond being related to finance/business/economics in some way – if you're trying to re-brand yourself, don't go for a Master's Degree in English Literature. Read more about the MBA investment banking recruitment process here.
3) Keep At It
This one gets overlooked, probably because it's not as "exciting" as the other options.
If you keep cold-calling and networking, you'll eventually get something – the only way to fail is if you give up first. Even if you graduate without a firm plan in place, that's still better than taking the wrong job.
You should think about this option if:
You don't have the resources to delay graduation or to stay in school even longer.
You have a decent amount of work experience but you lack a good network and need time to build it.
You don't mind going for smaller banks at first and then making a lateral move.
If you're at a non-target school and cannot move elsewhere or stay in school longer, this is your best option: set a target of making 10 calls per day, sending 10 emails per day, and so on, and never take "no" for an answer.
4) Mini-Retirement
I'm referring to my suggestions on what to do with time off before you start working full-time: moving to another country for a few months and doing something interesting.
This one can work but it's more risky than the others since it puts you out of the game for quite awhile – if you do this for an entire year after graduation, for example, it's tough to jump back into recruiting.
It's more viable if you combine this with the other options above – so maybe you apply to grad school, but take 1-2 months in between to go on an adventure.
That way you get a big boost to your networking and interview skills because you appear more interesting, plus you might get some solid leads if you go to a country with a major financial center.
5) Something Leverageable
If all else fails, none of these options is viable, and you can't afford to spend more time recruiting, then you might have to take what you can get.
But still think about something that can be spun into sounding relevant to finance – corporate finance at a large company, helping governments manage all the financial services companies they now own, or even an economics/business-related fellowship.
Your Plan of Attack
If full-time recruiting season is over and you don't have any offers, your plan of attack is simple: figure out what went wrong, decide what you'll do after graduation to give yourself another shot at recruiting, and then spend your time between now and then fixing the mistakes you made.
Now, get to it.
Want more?
If you liked this post, you might be interested in:
Break Into Investment Banking
Free Exclusive Report: 57-page guide with the action plan you need to break into investment banking - how to tell your story, network, craft a winning resume, and dominate your interviews