Business Valuation Firms: The Best Backdoor into Investment Banking and Private Equity?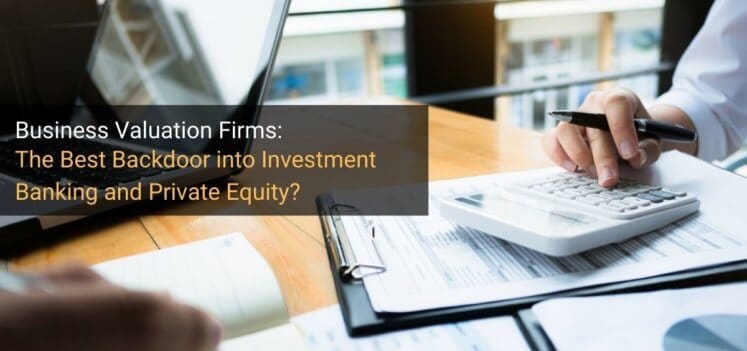 If you've read interviews on this site over the years, you've seen one name pop up repeatedly: business valuation firms, also known as "independent valuation firms" or just "valuation firms."
To some, these firms are "Plan B" options if you don't make it into investment banking right out of undergrad.
To others, they're a way into investment banking if you changed your career or decided on finance too late to be competitive in recruiting.
And to others, these firms simply offer solid long-term careers.
Business valuation firms are like "choose your own adventure" games, so let's start with the high-level description before deciding on a specific path:
The Business Valuation Landscape: What Do Firms Do?
Valuation firms, as the name suggests, offer paid valuation services for all types of scenarios: M&A transactions, estate planning, employee stock ownership plans (ESOP), litigation, Fairness Opinions, and more.
The scope of services is much broader than what a typical investment bank offers.
But the work itself tends to be an inch wide and a mile deep.
In other words, you might spend weeks valuing just one asset for just one company, all to support one small aspect of a deal, lawsuit, or inheritance.
By contrast, the work in investment banking is a mile wide but an inch deep: you're running multiple deal processes, responding to client requests, and dealing with random tasks at the same time, but you don't go into incredible depth on any one task.
A few examples of common assignments at valuation firms include:
Private Company / ESOP Valuation – All private companies have shares, but their share prices are not easy to determine because they do not trade on the public markets.
So, when private companies award stock options to employees and determine the proper exercise price, they hire valuation firms to perform 409A valuations.
These valuations also come up when there's a pending lawsuit, or an existing shareholder wants to sell shares.
Purchase Price Allocation – When an M&A deal closes, the buyer must "allocate the purchase price" to different items and adjust the seller's assets and liabilities to fair market value.
It may also create new items, such as Goodwill and Other Intangibles, to "plug the gap" between the Equity Purchase Price and the seller's Common Shareholders' Equity, which is written down in the deal (see: how to calculate Goodwill).
Bankers treat this as a simple afterthought in models, but valuation firms spend significant time valuing and re-valuing these assets because companies must record accurate numbers in their filings: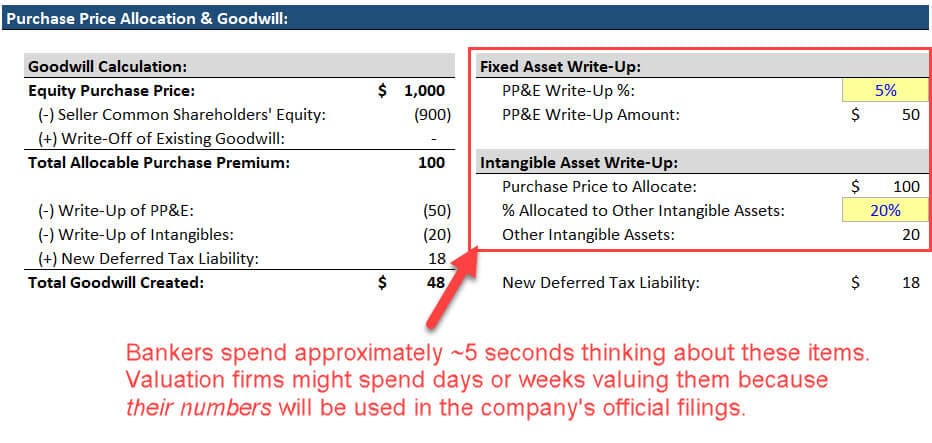 Goodwill Impairment Testing – For example, if Company A acquired Company B for $1 billion, it created $200 million of Goodwill in the process, and then Company B becomes less valuable, Company A needs to "write down" or "impair" that Goodwill to reflect this change.
Companies hire valuation firms to perform these periodic checks and determine the correct impairment.
Private Equity Portfolio Company Valuation – Clients in private equity might hire valuation firms to double-check their portfolio company valuations and ensure accurate reporting.
If they disagree with a PE firm's assumptions for the discount rate, valuation multiples, growth rates, or liquidity discount, the value of the entire portfolio might change.
Estate and Gift Tax – If a wealthy person dies, their attorney may hire a valuation firm to determine the value of the wealthy person's net assets.
The government will then collect estate taxes based on this estimate.
In short: you might still work on something like the infamous valuation football field common in investment banking, but you're more likely to work on much smaller and more specific components of that valuation.
So… How Does "Business Valuation" Work?
"Wow, this work sounds quite complex," you might say, "So, how does valuation work? Are there new methodologies? Hidden tricks? New, complex math?"
Nope!
Valuation is valuation: You still use DCF models based on Unlevered Free Cash Flow, valuation multiples based on comparable companies or transactions, and asset-based approaches such as the liquidation valuation.
The difference lies in the level of detail: schedules and assumptions spanning many spreadsheets rather than much simpler approaches in IB.
The "math" still does not go beyond arithmetic and basic statistics.
(One exception is if your group values complex financial derivatives, in which case the required math level increases.)
Besides the level of detail, another difference is that the purpose of the work varies by firm type and size.
For example, at the Big 4 firms, valuation teams exist mainly to support their audit teams.
Therefore, you spend a lot of time reviewing valuations from other firms so that the audit team can agree on specific line items on the financial statements, such as the stock-based compensation expense recorded on the income statement.
By contrast, you'll often do more "interesting" work at boutiques and smaller, independent firms: anything from valuing Anthony Bourdain's estate to a valuation of a near-bankrupt company in a distressed private equity firm's portfolio.
What this means for you, as an entry-level employee, is that you'll be spending a lot more time in Excel than you would be in investment banking.
You might spend over 50% of your time in spreadsheets, which would be unusual even in more technical groups in IB; there, PowerPoint, Word, and "fix random problem X" are more common.
The Top Valuation Firms
The Big 4 firms – Deloitte, E&Y, PwC, and KPMG – all do business valuation, but, as mentioned above, much of it supports their audit practice.
Outside of them, the largest independent valuation firm is Duff & Phelps.
It does far more than valuation, as it also offers compliance and regulatory consulting, cyber risk assessments, and restructuring advisory.
Houlihan Lokey is also considered a top business valuation firm, but it acts as a middle market investment bank that advises on deals as well.
Other names include Stout Risius Ross (SRR), BDO, Grant Thornton, Willamette, Alvarez & Marsal, RSM, CBIZ, CohnReznick, MPI, VRC, Withum, Andersen, Baker Tilly, and Mercer Capital.
Similar to Duff & Phelps, most of these firms do more than just valuation, and many specialize in certain areas.
For example, Alvarez & Marsal is best-known for turnaround consulting and restructuring-related services.
Then there are dozens, if not hundreds, of boutique valuation firms that specialize in specific geographies or industries.
Valuation Salaries, Bonuses, and Lifestyle
Total compensation for entry-level roles at these firms ranges from $60K to $80K USD, with a bonus that might represent 0% to 25% of your base salary.
Yes, that is far lower than the compensation in investment banking, but the lifestyle makes up for the lower pay: you'll usually work 40-50 hours per week.
The hours might be longer at the larger firms, but it's never going to be a consistent 80-hour-per-week job.
Also, travel is not that frequent if you're in a pure valuation team, especially compared with the requirements in "financial due diligence" (FDD).
You might go on the occasional trip, but you won't be out of the office every week.
Non-Big-4 firms tend to pay less than the Big 4 firms, but the differences tend to decrease as you advance up the ladder.
At the highest levels, Partners and MDs at business valuation firms could earn in the low-to-mid-six-figure range (think: $250K to $500K).
I could not find much evidence of the average compensation at this level being in the $1 million range, but it might happen occasionally.
That level is more plausible at the Big 4 firms, but you should note that Big 4 Partners tend to start in the same low-to-mid-six-figure range.
To earn $1 million at a Big 4 firm, you need to generate revenue that is a multiple of your compensation, such as $4-5 million per year, so it might take years to get there.
(NOTE: Compensation figures as of 2020.)
The Long-Term Career Path in Business Valuation: Worthwhile?
The hierarchy in business valuation is quite similar to the one in investment banking: Analyst, Associate, Vice President, Senior Vice President or Director, and Managing Director or Partner.
Sometimes it's more compressed, with fewer people in the middle; for example, some firms only have Analysts, VPs, and MDs.
That's possible because they do not work on extended deal processes that require constant client contact.
As you move up, it becomes more of a sales role, where you need to win new clients and bring in additional assignments from existing clients to advance.
Overall, though, there's less pressure than in IB because the fees are lower, and many of the assignments are "routine" and not dependent on massive deals.
In terms of stability, groups that focus on M&A and litigation assignments tend to have fluctuating deal flow because they're highly sensitive to the economy.
Estate and gift tax groups are stickier because wealthy people are always dying regardless of economic conditions, and portfolio company valuation is somewhere in between.
The basic trade-offs of this career path are simple: you earn significantly less than in IB/PE, but you also work less and endure less stress.
You also become more of a specialist rather than a generalist who works on different deals types across industries.
Recruiting at Valuation Firms
Overall, recruiting is less competitive than it is in investment banking or private equity.
You don't need to start years in advance, you can have a slightly lower GPA, and you don't need to attend one of the top universities.
The list of "target schools" is broader and includes top state schools, a few private business schools, some of the Ivy League, and some Master's in Finance programs.
For entry-level roles, most firms prefer recent undergrads and pre-work-experience Master's students; for jobs beyond that, you almost always need valuation work experience.
There is some MBA-level recruiting as well, but it's less developed than in other industries.
It's more common to see Associates and Senior Associates attend MBA programs to win promotions or to see professionals in other groups use an MBA to move into valuation.
To win interviews, you don't necessarily need to do a massive amount of networking – though you can stand out a lot more because it's far less common.
Another difference is that certifications are arguably more helpful for business valuation roles.
There's always the CFA, but there's also the CPA, the ABV (Accredited in Business Valuation), and the ASA (American Society of Appraisers) certifications, such as the CEIV (Certified in Entity and Intangible Valuations).
These all help to some degree, but they're still less useful than your work experience, school, and even a modest networking effort.
If you pursue any of these, start with the CFA because at least that one is useful in other fields.
Finally, interviews are very similar to investment banking interviews, perhaps with more focus on accounting and valuation and less on M&A and LBO modeling.
Valuation Exit Opportunities: Backdoor Your Way into Banking?
Typical exit opportunities include:
So, business valuation offers some good exit opportunities, but it may be more difficult than expected to move into investment banking (if that is your main goal).
You need to move quickly – ideally, within 1-2 years – and you need to put up with nonsense about "modeling case studies" that are just Excel/PowerPoint formatting tests.
Also, your exit opportunities depend on your team and client base.
For example, the litigation team may offer fewer opportunities than the ESOP team (which can lead to other audit/tax roles).
To move into IB, you ideally want to be working on purchase price allocations, portfolio company valuations, or something else M&A-related.
Your odds of moving directly into private equity or hedge funds are low because you need more than just valuation skills to win those roles.
You also need to understand entire deal processes or, in the case of hedge funds, the full investment process, catalysts, and how to mitigate risk.
Business Valuation Careers: Final Thoughts
Summing up everything above, here's how you can think about careers at valuation firms:
Pros:
Business valuation is a great "Plan B" if you got a late start in finance; recruiting is also less competitive than the IB/PE process.
You'll learn skills that are directly relevant to other fields in finance, and you'll master valuation in more depth than you would in IB/PE.
It's a fairly stable career path with the opportunity to earn into the mid-six-figure range at the top and still have a good lifestyle.
And you also gain access to a wide variety of exit opportunities.
Cons:
The compensation at all levels is significantly lower than it is in IB/PE.
You will not get much exposure to entire deals, so you'll need to learn the process and M&A/LBO modeling if you want to move into a deal-based role.
Advancing up the ladder can be difficult because many other people also plan to "grind it out," and turnover is often lower than it is at banks.
Your exit opportunities will be more limited if you're in the wrong team, or you wait too long to transition out of the industry.
I think business valuation is one of the most overlooked areas in finance.
It may be less "prestigious" than other areas, but it works well as a Plan B, a steppingstone into other industries, and a long-term career plan.
And you can't say that about too many industries.
For Further Reading
Break Into Investment Banking
Free Exclusive Report: 57-page guide with the action plan you need to break into investment banking - how to tell your story, network, craft a winning resume, and dominate your interviews