Master's in Finance Programs: The Best Last-Minute Path into Investment Banking?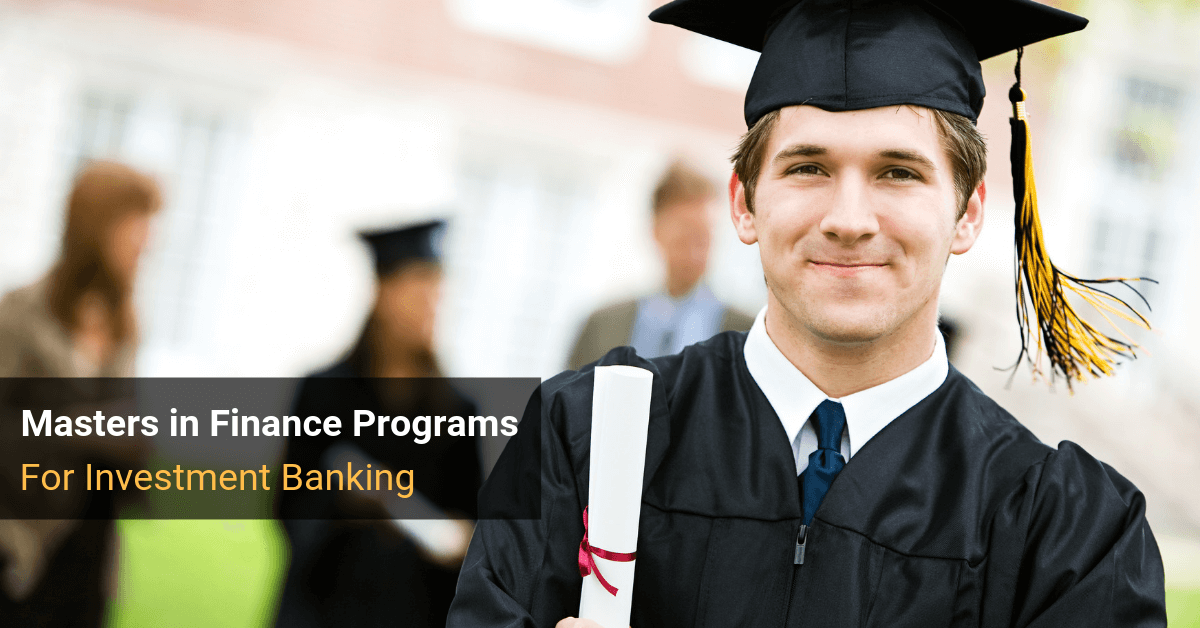 If you don't succeed the first time around, should you try and try again?
It depends on your reasons for not succeeding the first time around, but most people ignore that point and jump straight to the "try and try again" part.
And one of the most popular methods for getting a "do-over" is the Master's in Finance (MSF) program offered at universities around the world.
These programs can be useful if you use them correctly.
But most students don't understand when they're helpful, which leads to wasted time and money and big disappointments:
Why a Master's Degree?
Many students and professionals believe that a Master's in Finance degree is a magical solution for getting into investment banking.
That explains how we get emails like the following:
"I've worked in marketing for two years, and I have a B.A. from a Top 50 university in the U.S. I decided to change my career a year ago, and now I am pursuing a Master's Degree in Economics at a Top 20 university.
I have no experience in finance, but I am currently taking accounting and finance classes. Which area of investment banking should I apply to?"
I hate to be the bearer of bad news, but a Master's degree is not a great idea in this case.
But first, let's define a "Master's in Finance" degree and explain how it differs from other options like an MBA.
What is a Master's in Finance Degree?
A Master's in Finance program is shorter, cheaper, and narrower than a traditional MBA:
Length: Usually one year rather than two.
Cost: Far less because of the shorter length, though tuition still adds up to tens of thousands of USD, GBP, or EUR.
Scope: Covers just accounting and finance; classes are more focused than those in MBA programs. You won't learn about operations, management, or marketing unless it's a Master's degree in Management or another, broader area.
You might apply for this degree right after finishing undergraduate, or you might do it after working for 1-2 years.
Applying after 5-10 years of full-time work would not be useful – go for an MBA or skip the degree altogether.
There are also Master's degrees in other areas, like Economics or Management, but you're best off with Finance or the Finance track if you want the types of roles featured on this site (investment banking, private equity, corporate development, etc.).
There are exceptions to the rules above: For example, many top European MBAs last for one year (INSEAD, Bocconi, etc.), and some MSF programs last for two years.
Finally, there are some differences between the U.S. and other countries because 4- or 5-year combined Bachelor's/Master's programs are more common in the rest of the world.
What MSF Programs Can and Can't Do for You
MSF degrees are most useful when you've decided on investment banking late in the process, but not too late.
So, you have some finance-related coursework, internships, or full-time work experience, but not enough to get into banking out of university.
Here's a specific example:
Useful: You majored in accounting and became interested in banking in your last year of university. You have no IB-related internships, but you did win a Big 4 full-time offer. You're planning to work there for 1-2 years and use that experience, plus a Master's degree, to get into investment banking.
Not as Useful: You majored in biology, worked in a lab for 1-2 years, and you're going to apply to MSF programs to make a career change into banking. You were not interested in banking until you started working full-time and got bored with your job.
In the second case, you'll have no relevant work experience, which is a big problem since you need a sequence of finance-related internships or full-time roles to get in.
An MSF degree would make sense in the second case only if you could complete finance internships before or during the program.
Here's another example:
Useful: You became interested in banking when you were attending university in China, but it was too late to win real IB internships. However, you did complete a corporate finance internship at a local firm. You'll apply to Master's programs in the U.S. or U.K., complete several internships, and move into IB from there (a similar story from a reader).
Not as Useful: You completed a technical degree in India and worked as an engineer for 1-2 years. You have no finance experience. Now, you want to make a complete career change and apply to Master's programs in the U.S. or U.K. and get into investment banking from there.
It's the same problem as in the first example: It's a big leap to go from no finance experience to investment banking solely through a degree.
Even if you completed an MBA instead, you would still need a pre-MBA internship in finance or something more relevant to have a good shot.
A Master's in Finance degree helps you with:
Re-Branding – If nothing in your background seems related to finance, the degree will move you closer if you also get work experience.
Boosting Your Prestige – If you went to a lesser-known university, you could make up for it by completing a Master's degree at a top school.
Access to Recruiters – If you attend a program that offers on-campus recruiting, you'll have a much easier time winning interviews.
Access to Internships – You'll also have an easier time winning internships before and during the school year if you contact firms and say you're an incoming or current MSF student at University X.
But there are also some limitations.
For example, you won't win IB roles as an Associate from an MSF; banks recruit Analyst-level candidates from these programs.
The usefulness of MSF programs also varies greatly by region.
They're the most helpful in the U.S. and U.K. because of the sheer number of IB roles and because many banks recruit students from these programs.
But they're useless in a place like Australia because most banks recruit only top undergrad students with Law and Commerce degrees, and post-graduate recruiting is underdeveloped.
The physical location of the university is also important.
It's easier to win investment banking roles if you're close to London, New York, or another financial center than if you're in a small town with only a few local firms nearby.
Finally, if you're an international student, you have to look up whether or not the degree qualifies for STEM treatment.
If it does, then you can work in the U.S. for 36 months after graduation (the OPT program) without applying for an H-1B visa, which makes it far easier to win job offers.
You cannot necessarily go by the lists of the "top" programs – you have to make sure anything you pick qualifies as STEM.
For example, the Princeton and Vanderbilt programs both qualify, so they are much better options than programs that do not.
The Best MSF Programs
On that note: I am allergic to rankings, but I'll link to a few lists here.
In Europe, places like LSE, Imperial, HEC, LBS, Esade, IE, and several others offer the best MSF options (the eFinancialCareers list here is a good starting point).
You can find a partial list of the "top" U.S. programs here.
Note, however, that many schools are not on the list because of terminology differences.
For example, the UVA program is well-regarded, but the school calls it an "M.S. in Commerce" and offers a Finance track within that degree, so, technically, it is not an "M.S. in Finance."
You'll see that many of the best schools for MSF programs are not Ivy League universities, but are good state schools (UT Austin, UVA, etc.) and Top 20-30 schools (Vanderbilt, WUSTL, Notre Dame, USC, etc.) instead.
Many of these schools have stronger placements into certain industries than others, so you should always look up or request placement stats from the school before applying.
There's an example for Villanova here.
How to Apply and Get In
It is extremely competitive at the top schools, which is another reason why these programs do not offer a sure-fire path into IB.
For example, the admissions rate at MIT appears to be ~10%; at Princeton, it's closer to 5%.
These programs aren't as competitive as Ph.D. programs with ~1% admission rates, but they're also far tougher than community colleges with ~80% acceptance rates.
So, your GMAT or GRE scores must be high, your personal essays must be great, and you must have glowing recommendations and interview performances.
It goes back to the point I made in the beginning: Master's programs are appropriate if you became interested in IB too late to get the required internships, but they aren't a panacea.
We don't do admissions consulting here, but a few application tips include:
Show That You Can Win Job Offers – These programs, especially the ones with smaller class sizes, care a lot about placement stats, so they're more likely to admit someone who has front-office (or even middle-office) finance experience than someone who is coming in as a total career changer.
If you haven't had full-time work experience, play up your internships and finance-related coursework. You need to give the impression that you could have won a front-office finance job if you had applied for one.
Show That You're a Real Human Being – Have at least one solid interest outside of work and academics. It's the same as responding to the "Walk me through your resume" question, and your interests, or lack thereof, will come across in admissions interviews.
Show That You Can Bring Something Unique to the School – For example, some programs are more research-oriented, so if you have published research, emphasize it (even if you have no intention of pursuing a D.).
What to Do When You're There
Much of the advice in our MBA-level IB recruiting articles applies here as well:
Get Internship Experience ASAP – Many of these MSF programs are full-time, so you'll have to go for part-time, school-year internships. You should try to take time off before the program to complete a "pre-MSF internship" as well, especially if you're making a big change.
And Maintain Reasonably Good Grades – Now you have two sets of grades, and they both have to be reasonably good.
As with MBA programs, the notion that you can "reinvent yourself" in MSF programs is completely false: You have to prepare for recruiting long before you set foot on campus.

IB Interview Guide
Land investment banking offers with 578+ pages of detailed tutorials, templates and sample answers, quizzes, and 17 Excel-based case studies.
learn more
Master's Programs: The Ultimate Second Chance?
If you use a Master's in Finance program correctly, you won't have to try and try again because you'll win the offer you want the first time around.
But that only works if you're the right candidate for MSF programs and you approach the entire process correctly.
Get any of that wrong, and you'll be back in the "try and try again" camp for a long time to come.
Want more?
You might be interested in Boutique Investment Banks: The Full Guide or The Equity Research Analyst Career Path: The Best Escape from a Ph.D. Program, or a Pathway into the Abyss?
Break Into Investment Banking
Free Exclusive Report: 57-page guide with the action plan you need to break into investment banking - how to tell your story, network, craft a winning resume, and dominate your interviews