The Investment Banking Deal Sheet: How to Win Job Offers with a Small Note Card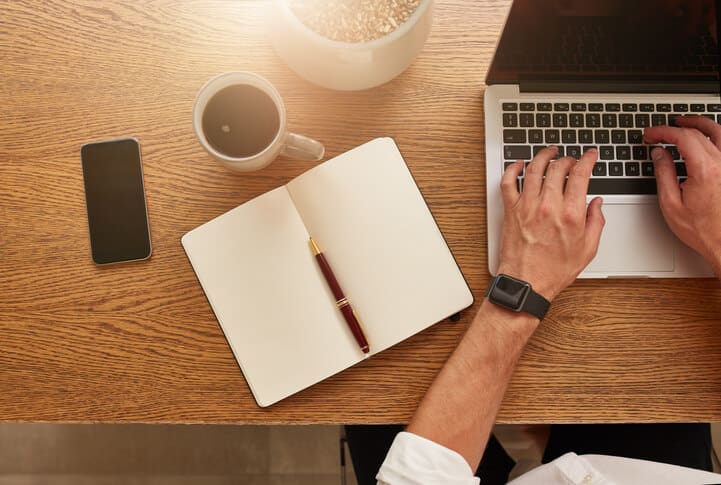 Is there an 
accessory
that actually helps you win job offers?
Could it be a smartphone, a tablet, or a robot in disguise?
Or maybe a good pair of socks?
Nope.
This accessory does exist, but it's just a normal piece of paper.
It's called a "deal sheet," and it's one of the most underutilized strategies for presenting yourself like a pro.
You can use a tiny note card to spin your previous work experience into sounding impressive, even if you did absolutely nothing the whole time.
If you play your "cards" right, you might even outperform candidates who have better experience… but who can't present themselves as effectively.
Why Deal Sheets and Case Studies?
You do a ton of work on any deal or client engagement, but when you're presenting that experience you need to focus on the key points or you'll put the interviewer to sleep.
By limiting the space to less than a page, you're forced to eliminate the fluff.
And by writing down the key points, you can also guide the interviewer to the topics you want to discuss and avoid everything else.
These "deal sheets" are mostly relevant if you've had previous deal or investment experience at a bank, PE firm, or other investment fund, but you can create them even for projects in other industries.
The deal sheet is NOT the same as the 1-page summary of all your deals you might attach to your resume.
Instead, it's a half-page or note card with a description of a single deal and your key contributions.
What Goes Into a Deal Sheet?
Before sitting down to create these summaries, you need to ask yourself:
What were the 2-3 most impressive deals, client engagements, or other projects you worked on?
Within those projects, what were your biggest contributions? Did you move a deal closer to the finish line in any way? Or did you prevent a bad investment or bad deal from going through (in a buy-side advisory assignment, for example)?
Many candidates struggle with point #2 and tend to recite unimpressive or unrealistic "contributions."
With point #1, if you really don't have anything impressive – for example, you completed a boutique internship where you just did random online research – then you should not be creating deal sheets.
You can spin the experience to some extent, but if you have no legitimate deals you're better off skipping written descriptions.
Impress Me… If You Can
Here are a few examples of how you might pick the wrong accomplishments to highlight, and how to fix these mistakes:
Example #1: One candidate moving from one PE firm to another PE firm once highlighted how he picked a different set of comparables for a potential investment that told a different story around the company, which resulted in a higher implied value.
If this were a sell-side role and you wanted to maximize your client's value, sure, this would be fine to mention.
But in PE you're doing the opposite and attempting to acquire the company for as low a price as possible.
So it doesn't make much sense to go in and say, "By the way, I'm good at making sure we pay more for companies."
It's not the end of the world if you say this, but it would be better to highlight something else.
For example, maybe the company had an implausible expansion strategy – simultaneous expansion into 3 different geographies – and you argued for a lower valuation because you felt projected revenue from this strategy had to be heavily discounted.
Example #2: Another candidate moving from IB to PE highlighted all the modeling work he did on a buy-side assignment for an industrials company, including multiple different merger models with potential acquisition targets.
The problem: he's not indicating how this work moved the deal forward, or how it prevented a bad deal from happening.
Instead of presenting "the facts," he should focus on how (for example):
This work made the client realize that one target was incredibly overvalued and not worth acquiring;
Shareholders wouldn't approve of one deal because of the EPS hit the company would take;
One potential seller had a neglected, undervalued division that might be of interest to the acquirer.
Nuts and Bolts: Gathering Data for Your Deal Sheet
Once you've figured out the best deals to highlight and the most impressive points, you need to gather information on everything else.
If the deal took place a long time ago, start by reviewing the specifics you worked on: take a look at your written documents and presentations, 3-statement models, valuations, and other transaction analyses.
Interviewers are more concerned over where the numbers came from (management? sponsor? advisory?) than the specific numbers themselves; each industry tends to have a few key drivers that you must be able to describe.
So, for example, if you can't explain what's driving growth (unit sales vs. price increases) or margins (headcount vs. salaries or other expenses), you need to go back and find that information.
Beyond the numbers, though, your key contributions might be hidden in email chains or even in written documents such as status updates – so you need to go back and do a quick review of those as well.
Here's what might go into your summary:
Transaction Overview: The deal type, value, form of consideration (stock vs. cash vs. mixed), and key premiums and multiples, along with the buyer and seller.
Announcement Date and Close Date: Especially important in rapidly-changing markets.
Company Overview: A few sentences on the company's operations, major revenue streams, and geographic presence, along with basic financial information (revenue, EBITDA, market cap, and Enterprise Value).
Transaction Rationale: Why did the buyer and seller (or just the company for capital markets deals) want to do this deal? Cost reductions? Geographic expansion? Acquiring a new product line? Repaying debt?
Your Key Contributions: This is where you highlight everything we mentioned above – try to find 2-3 points for each deal, but even 1 is OK as long as it's substantial. Pointing to numbers is fine, but the theme should be "Here's how I helped move this deal forward or prevented it from moving forward."
You might be tempted to list a ton of financial information and to skimp on your key contributions since they can be harder to find.
But that's a huge mistake, because anyone can look up deal multiples on Capital IQ or FactSet. Focus on the part they can't find online.
Graphs and charts are nice, in theory, but unless you already have them they're not worth the time and effort for a short summary like this.
How to Write Your Deal Sheet: Examples, Please
Below are a few examples of summary pages for different deal types in different sectors.
Note that these are missing the "Key Contributions" part, so we've suggested a few possibilities for what you might add in each case:
Mergers and Acquisitions
You need to describe both the buyer and seller and give all the transaction metrics and multiples; synergies are good to discuss, as are the accretion / dilution estimates.
Ideas for Key Contributions: For the first one, did you size up cost-cutting opportunities and figure out that greater-than-expected cost synergies could be achieved, pushing the deal forward?
Or did your valuation work result in a different exchange ratio that was more favorable for one side?
For the second deal, did you run the numbers on potential revenue from the products in one company's pipeline and figure out that the deal would greatly diversify the combined company's revenue 4 years into the future, also pushing the deal forward?
Leveraged Buyouts / Financial Sponsor Deals
You tend to focus more on the deal terms and funding sources, and potentially the financial sponsor's plans for the company.
Ideas for Key Contributions: If you were advising the financial sponsor (ex: Madison Dearborn, Borealis, etc.), you might bring up how you completed a very thorough valuation to cross-check their proposed price, which also ended up pushing the deal forward.
If you were advising the seller, you might talk about how you positioned the business in a more appealing way, such as making it part of a faster-growing market segment or one with higher growth potential.
For the Hertz deal, you might also point out how your work led to the company accepting the consortium's offer rather than going public, as it had originally planned to do.
Equity and Equity-Linked Deals
You focus on the issuer in these deals, including the revenue composition and the major revenue streams.
The use of proceeds is critical since companies go public or issue follow-on offerings for a wide variety of reasons.
Ideas for Key Contributions: You could bring up anything you found during due diligence that impacted the company's messaging to investors, or helped them address an objection before the roadshow even began.
You might also speak to how your work led to the intended offer price or conversion premium changing in the company's favor.
With the Alcoa deal, for example, you might point out how your work led to a more favorable coupon rate or conversion premium, and how several research analysts upgraded their stock price targets after the transaction took place.
With Alliance Oil, you could point out how the positioning and valuation work you did resulted in a premium valuation, well above peer companies' multiples.
Deal Sheets: What Next?
Follow the tips above and create your own deal sheets for the top 2-3 most impressive deals or client/project experience entries you have.
Your can aim to be as polished as the examples above – but your sheets can also be simple printed note cards if you don't have the time for anything fancy.
This is not a task that should take hours and hours: if you know a deal well, you could write a quick summary in 30 minutes or less during your downtime.
Then, during your next interview, when you get asked about your experience, pull out your deal sheet as you walk through your transaction(s).
At the very least, you'll be far more prepared and better-organized than other candidates.
And in the best case scenario, the discussion that springs from your deal sheets might just seal the deal and win you a job offer or two.
Not bad for an accessory, right?
Break Into Investment Banking
Free Exclusive Report: 57-page guide with the action plan you need to break into investment banking - how to tell your story, network, craft a winning resume, and dominate your interviews