Investment Banking in New York vs. Chicago vs. San Francisco vs. Los Angeles: How to Pick Your Poison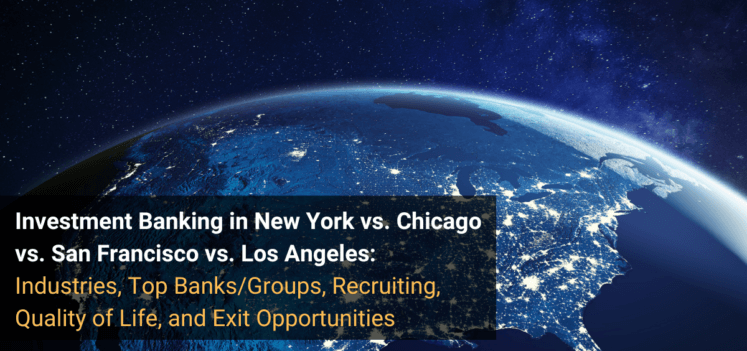 I published an article on this topic of investment banking in New York vs. Chicago vs. San Francisco vs. Los Angeles vs. Houston vs. other cities a long time ago – but a fair amount has changed since then:
Remote / hybrid work means that some of the advantages and disadvantages of different cities are more nebulous.
Certain industries have risen and fallen out of favor over time, and banks' reputations and strengths in different regions have also changed.
Major cities in the U.S., just like "elite" universities and the government, are in a period of institutional decline. I enjoy watching the flames from a safe distance.
Some new financial centers are growing in certain regions, such as the Southeast.
I'll focus on the five most significant cities for IB roles here, but I'll touch on several others at the end:
Investment Banking in New York vs. San Francisco: Why Does It Matter?
Your first thoughts might be: "Wait a minute, isn't this a pointless topic? Why would an Analyst or Associate want to work anywhere but NY for their first job?"
"It's the biggest financial center with the most deal flow, networking, and exit opportunities. And aren't your bank and group more important than your location?"
And… you'd be correct on all counts.
Yes, NY is usually the safest bet if you want to keep your options open, don't care about specific industries, and don't mind the city's current state.
And, yes, your bank's "tier" and your group tend to be more important than your location.
But there are valid reasons to care about other cities:
Multiple Offers – What if you want to work in NY, but you get offers for groups in Chicago and LA and nothing in NY?
Industry Focus – If you're interested in tech and venture capital, should you focus on SF-based groups? Is there any reason to think about LA, NY, or other cities?
Late Recruiting – If you got interested in IB late and need to catch up on internships ASAP or apply directly to full-time jobs, will you gain an advantage if you focus on other cities?
Targeted Banks – If you're targeting middle-market or boutique banks, many of these firms are more likely to be strongest in specific cities.
On the other hand, if you're going for standard off-cycle, school-year, or summer internships at small firms to gain the experience required for large banks, location doesn't matter.
Search for firms close to your university or current city and network aggressively until you find an opportunity.
How Should You Think About Investment Banking in New York vs. Chicago vs. Los Angeles vs. Others?
It's tricky to answer this question because some differences are easier to quantify than others (e.g., average team size vs. "culture").
But if I had to make a list, the main differences would consist of:
Industry Focus – Generalist? Tech / healthcare? Industrials?
Relative Strength of Different Banks and Groups – Even if a bank is technically "middle market," it might advise on larger deals if it's particularly strong in one city.
Recruiting – Interview questions are the same or very similar, but the types of candidates and the "randomness" differ.
Cost of Living and Quality of Life – Sure, you'll be working crazy hours, but what happens if you miraculously get some free time?
"Culture" – This one is nebulous, but let's say that personality types differ in different regions.
Networking / Exit Opportunities – Which places give you the most depth and breadth?
The hours and compensation may differ slightly, but for junior-level roles, these differences are small and have more to do with your bank and group than your location.
You should not pick one city over another because you believe you will work 5 hours less per week or earn 5% more.
Difference #1: Industry Focus
Investment banking industry groups tend to be "headquartered" in different cities:
You have the highest chance of being pigeonholed if you work in Houston because energy is very specific, and non-energy groups don't have much presence there.
You can move to other groups/banks/locations, but you might have to move "down-market" if you want to go from an oil & gas group at a bulge bracket to a generalist PE role.
Of the others, LA and Chicago have more industry focus than NY, but they're still fairly broad and won't constrain you too much.
Difference #2: Relative Strength of Banks and Groups
I'm not going to write a comprehensive list here, but in short, some banks and groups tend to have specific regional strengths (and weaknesses).
For example, some bulge bracket banks treat their Chicago offices as "pitch factories" – they pitch for deals and then hand them off to the NY team once the real work begins.
But there are also some positives: for example, William Blair is very strong in Chicago and has great deal flow and solid placement for Analysts (better than a "typical" middle-market firm).
In some locations, such as San Francisco, three banks – Goldman Sachs, Morgan Stanley, and Qatalyst – consistently advise on the biggest and most important deals (which means "tech M&A" in SF).
In LA, banks such as Credit Suisse, Moelis, GS, and Barclays tend to be strong because their Leveraged Finance or Sponsors groups get a lot of deal flow and have strong relationships.
The issue with all these factoids is that you need to decide on a location first and then target the strongest banks and groups there.
Also, since turnover in IB is so high, things might change significantly between when you get an offer and when your internship or full-time job starts.
So, I would not recommend weighting this one too heavily unless you get offers from firms with dramatically different strengths in the same city.
Difference #3: Recruiting
Interview questions do not differ significantly by region.
Yes, some industry-specific questions will come up in places like Houston or SF, but they're not going to ask you about the deductibility of tangible vs. intangible drilling costs for the entire interview.
The same recruiting timeline exists across these cities, but offices outside of NY sometimes start and finish a bit later (heavily dependent on how the bank views its regional offices).
The primary recruiting differences are:
Different Target Schools – You will see more Ivy League candidates in NY and fewer in other places; expect more of the top Midwestern schools in Chicago, the best West Coast ones in SF and LA, and the top Texas schools in Houston.
MBA Recruiting – There is much less of it outside NY. You can still win MBA-level offers in places like SF and LA, but fewer internships are available.
Full-Time Recruiting – Your probability of winning internships/jobs doesn't differ much "on paper" (fewer candidates but fewer roles), but there is more randomness to the intern classes in non-NY locations. So, if you're making a last-minute effort or applying to full-time roles without an internship, you may have better luck in other cities.
Difference #4: Cost of Living and Quality of Life
All these cities are expensive, but based on objective metrics such as rent and food prices, Houston is easily the cheapest.
Also, unlike New York, Illinois, and California, Texas has no state income taxes, so you can potentially save the most if you work there.
My full ranking from most to least expensive, factoring in where you're likely to live in each city (e.g., Manhattan rather than Brooklyn), would be:
NY ~= SF > LA > Chicago > Houston
Quality of life is trickier to define because it depends on factors like the weather, non-work activities (nature, sports, bars/clubs, events, etc.), crime/homelessness, dating, and, if you're older, the ability to raise a family there.
I don't want to get into the weeds here because this one is off-topic for this site, but most of these cities are not that different when these criteria are used together.
For example, crime and homelessness are bad in these cities, except for Houston (maybe?), but there's also less to do in Houston for young/single people.
The other cities have a good amount of activities, but NY probably wins based on sheer volume.
Overall, San Francisco is probably the worst for quality of life – but maybe not by a huge margin.
Before you leave an angry comment: I lived in the area or visited every year for the past ~20 years (going back to 2002).
The crime and homelessness are quite bad, and they're compressed into a smaller area than in the other cities – which makes them seem worse even if they're not.
Also, the pandemic and the resulting restrictions hit SF particularly hard, and it's probably the worst city on this list for dating.
(I'm not going to elaborate, but if you want an explanation, just go there and try some dating apps or real-life interaction and see what happens.)
In short: If you want the most activities outside of work and you can tolerate a declining city, NY wins, and if you want to save the most money, Houston wins.
Chicago and LA are in the middle, but the need for a car or repeated Uber/Lyft use hurts LA.
Difference #5: Culture
People often argue that IB is more "relaxed" outside of NY in terms of attire, communication style, and on-the-job expectations.
Teams tend to be smaller, and you're less likely to see stereotypically crazy banker types in Chicago than in NY.
That said, some factors work against non-NY locations as well.
For example, the time zones in California can be annoying because you'll be 3 hours behind NY and 8-9 hours behind London (i.e., expect late-night or early-morning calls).
And you need to drive or use Uber/Lyft in most of these other cities to various extents.
But I'll be honest: I don't think you should pick a location based on culture.
If you want to work with "nicer bankers," you shouldn't go into IB in the first place because you will still encounter occasional psychopaths anywhere you go.
Difference #6: Networking and Exit Opportunities
The simple answer is that New York wins due to numbers – especially if you include the surrounding areas.
If you want to keep your options open and access the most exit opportunities, your best bet is to work in the biggest financial center.
The exit opportunities are fine in other places, but there are fewer of them, and you're less likely to be competitive for NY-based roles.
For example, if you work in Chicago, you're less likely to win an offer at an NY-based private equity mega-fund.
Too many NY-based candidates already compete for those roles, and most funds and headhunters don't spend much time courting candidates in other cities.
You could easily win a PE offer in the Midwest, but it's more likely to be at a smaller firm.
And with the two most specialized cities – SF and Houston – if you want to work in venture capital or energy-focused buy-side roles, sure, go there.
Just don't expect the same access to generalist PE roles as bankers in NY.
Other Locations for Investment Banking in the U.S.
Plenty of other cities in the U.S. have offices of investment banks, but most focus on other areas, such as private wealth management, asset management, or commercial banking.
Although Miami is attracting more hedge funds, tech bros, and crypto bros, there still isn't a huge amount of IB activity there.
It's still mostly for wealth management and private banking, focusing on wealthy clients from Latin America.
Raymond James is headquartered in Florida (St. Petersburg), and there are quite a few LatAm-focused boutiques in the state (mostly in Miami).
Seattle, in addition to hosting Antifa Capital lovely scenery, has several boutiques (Cascadia, D.A. Davidson, and Meridian) and a few groups from other firms like BMO and KeyBanc.
But the large banks don't have much of a presence there, partially because many of the tech and healthcare companies in the area are covered by teams based in California.
In the Southeast, Charlotte and Atlanta are a few financial centers worth noting.
Wells Fargo and BAML are known for their strength there, but there are also names like Truist (more for DCM than M&A), Regions, Stephens, Citizens, and plenty of boutiques.
Other middle-market firms, such as Raymond James, William Blair, Stifel, and Houlihan Lokey, also have offices in one or both of these cities, and the BB banks have a presence as well (GS and Barclays).
I'm not sure there's a specific industry focus; you'll see everything from aerospace & defense to real estate to Leveraged Finance to tech and consumer/retail.
Moving northward, Washington, D.C. also has banks, but they tend to focus on aerospace & defense and government services, and the large firms don't have major advisory presences.
Even further north, in Boston, there is a tech and healthcare focus, and various elite boutiques such as Lazard and Evercore have offices, along with Deutsche Bank and some MM banks.
Finally, in Dallas, similar to Houston, you'll find a lot of energy-focused middle-market and boutique banks.
Houlihan Lokey and Stephens have some of the biggest presences, but you'll also find Raymond James (due to its Southeast focus) and others.
Outside of Investment Banking
While NY is the center for investment banking, private equity, and hedge fund roles in the U.S., other jobs are distributed more evenly.
For example, if you work in corporate finance or do a rotational program at a large company, you'll end up working all over, from large cities to small towns in the middle of nowhere.
Industries like asset management, private wealth management, and corporate/commercial banking are also more spread out, and plenty of firms operate in smaller cities.
Finally, venture capital has traditionally been concentrated in California, but that is changing, with a decent percentage of activity in NY and Boston now (and other places growing).
So, What's the Best City for Investment Banking?
If you don't know what you want to do long-term, you have no strong industry preference, and you're aiming for the "summer internship to full-time offer" route, NY is the best bet.
This is even more true at the MBA level due to the relative lack of internships elsewhere.
Other cities can be fine if you're going there to pursue a specific exit opportunity, you're focused on one industry, or you have strong personal reasons for being in the area.
I hesitate to give a "ranking" because it depends on your options: if you get a GS offer in SF and a boutique or middle-market offer in NY, take the GS offer in SF any day of the week.
But if you have similar offers in multiple cities, I would probably rank Chicago as the next-best place, followed by LA.
I would put SF and Houston below these because of the specialization/pigeonholing issues and the cost and/or quality-of-life problems.
The other cities mentioned at the end can also be fine, but I wouldn't recommend them over any of the five major centers for entry-level IB jobs.
And whatever you choose, remember that big cities in the U.S. are not great places to live in for the long-term due to the cost of living, crime, and generally deteriorating conditions.
You want to gain experience, earn money, establish yourself, and then interview for other roles that let you live and work in cheaper areas with better governance.
Pick your poison correctly, and it shouldn't be too painful to get there.
Break Into Investment Banking
Free Exclusive Report: 57-page guide with the action plan you need to break into investment banking - how to tell your story, network, craft a winning resume, and dominate your interviews