The Investment Banking Certification: The Most Useless Idea in the World?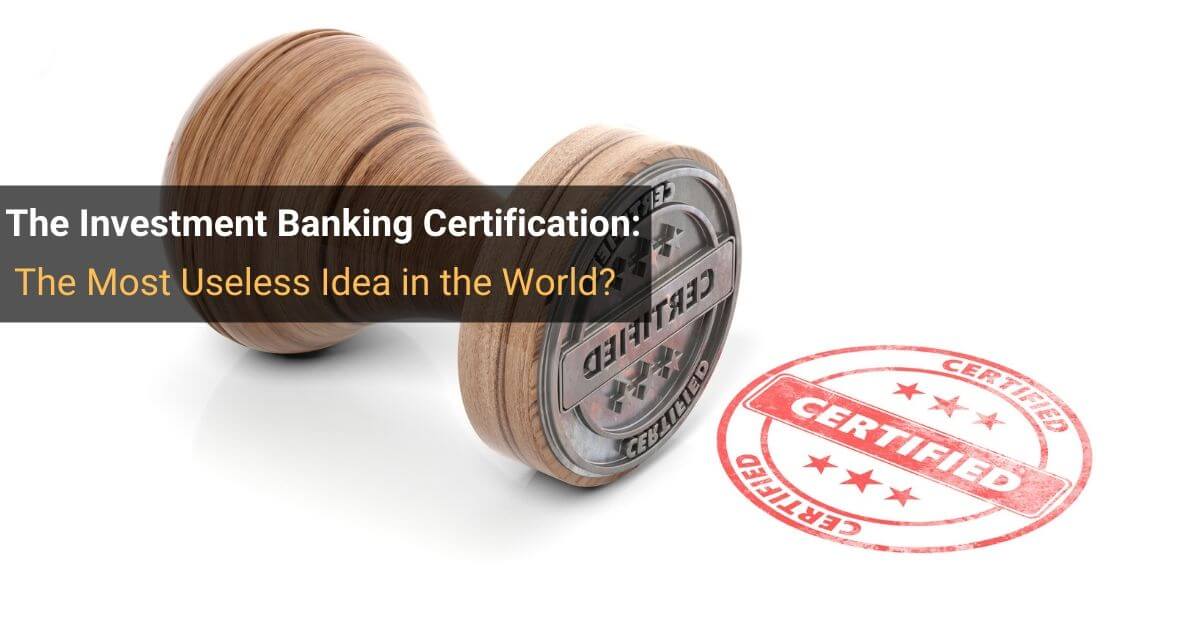 Since I began writing about the finance industry over a decade ago, there have been a few constants:
The universal obsession with private equity;
Anxiety over networking; and
Tons of questions about "investment banking certifications."
In theory, certifications seem nice: study for a test, pass it, list it on your resume, and gain a big advantage in the job hunt, right?
Well… not so fast.
Many students overestimate the impact of certifications, often believing that simple exams will make up for a low GPA, an unknown university, or a lack of internships.
Hint: They won't!
Certifications may give you a marginal boost, but they are mostly a cash grab from companies and individuals who want to exploit naïve students and career changers.
They're not completely useless, but they should not be your top priority, either.
We'll cover all things certification-related here, including:
The state of finance certifications and why so many have flooded the market.
Why certifications mean far less than you think.
When certifications can be useful, and why we still offer them for specific financial modeling courses.
And the two key rules to keep in mind when it comes to certifications.
The State of Investment Banking Certifications
There has been an explosion in the number of accounting and finance-related certifications offered by companies, online and offline: there's the CFA, the CPA, the ACCA, the FRM, the CAIA, the CIMA, the CIPM, the IBP, the FMVA, the Series 7 / 63 / 65 / 66 / 79, the SIE, the Bloomberg and FactSet certifications, and more.
It's an alphabet soup of exams and certifications, and no one seems to know the exact differences.
Then there are actual degrees from accredited institutions, such as an undergraduate degree from a university, a Master's degree, an MBA, a JD, and a Ph.D.
These degrees and certifications exist because people love to spend money on "education," even if the return on this spending is questionable.
Plus, if you're motivated enough to make a run at investment banking, you're likely to be pretty good at standardized tests already.
Why not take one or two more standardized tests for good measure?
Why You Can't Become "Certified" to Work in Investment Banking
The problem with all these tests is simple: much of the job in investment banking, at any level, revolves around skills that exams cannot test.
If you want to see examples, take a look at our day-in-the-life accounts for Analysts, Associates, VPs, and MDs.
No exam can prove that you know how to deal with an unreasonable client, settle a dispute among co-workers, or present data effectively.
But beyond the "soft skills," there's also a limit to technical skill assessment because there's no interaction or back-and-forth dialogue with another human.
Think of it this way: if banks trusted automated exams completely, why would they still conduct in-person interviews and assessment centers?
They wouldn't!
They would stop with online tests and pre-recorded HireVue interviews.
But banks know that any automated test, even one with "advanced AI" (cough), has its limits, which is why in-person networking and interviews continue to exist.
At best, certifications and online tests can be used to weed out candidates: if someone can't answer basic accounting questions, then there's no way they're ready for the job.
But a written test can't decide between Candidate A and Candidate B when they both have similar profiles and competencies.
So, What Actually Matters?
As we outlined in the article on how to get into investment banking, banks look for a few key qualities in recruits at each level:
Undergraduates: Top university, good grades (GPA >= 3.5 or >= 2:1 in the U.K.), a sequence of relevant internships, and something "interesting" that makes you appear to be a human rather than a robot.
Recent Grads: Similar, but you also need a highly relevant role after graduation (Big 4, valuation, corporate finance, etc.), and you need to move quickly to make the transition within 1-2 years.
MBA Level: Top MBA program, work experience and industry expertise that line up with industry groups at banks, and a "steppingstone role" in the form of a pre-MBA internship or another finance-related job before the program begins.
None of these qualities "proves" that you can perform well, but they mean a lot more than a single exam.
Certifications won't hurt you, but compared with the items above, they make a marginal impact.
For the roles that we focus on – investment banking, private equity, corporate development, equity research, and fundamental-based hedge funds – the only certification that is worth spending significant time on is the CFA.
Even there, it's not that useful for deal-based roles such as IB, PE, and CD.
And if you already have accounting/finance experience, it won't add much; it's more useful when you're making a dramatic change from a completely unrelated field.
The CFA is the oldest and most widely recognized certification in the finance industry, which explains ~95% of its value.
It has almost nothing to do with the day-to-day work in investment banking, but by studying for and passing it, you show some amount of dedication and focus.
But, again, if it comes down to the CFA vs. a 3.9 GPA, or the CFA vs. Harvard, or the CFA vs. a series of private equity internships, the CFA loses every time.
Why We Still Offer Certifications
You might now say, "But wait! You're a hypocrite. You offer certifications in your BIWS financial modeling courses. How can you justify it if they don't make that much of a difference? Isn't that deceptive?"
Good question.
We offer them for three main reasons:
Because university, business school, and corporate clients requested them as a way to assess their students and employees.
So that individuals could test themselves, review concepts, and figure out which lessons they need to learn in more depth.
Because competitors also offered certificates, and we didn't want to lose sales over something as simple as an end-of-course quiz.
The real value is the "quizzing and reviewing your answers and seeing which ones you got wrong" part, not the paper certificate you receive.
Arguments in Favor of Certifications?
I've never heard a great argument in favor of any certification at the expense of a top university, high grades, and highly relevant work experience.
But you could argue that certain certifications may be useful in addition to all those.
For example, in regions such as South Africa and India, there's a plausible path into IB by becoming a "Chartered Accountant" (CA), completing the training, and then working as an accountant.
There's also an industry-specific argument for some certifications.
For example, ARGUS is commonly used in the real estate industry, in roles such as real estate private equity, to build rent rolls and project cash flows from specific tenants' leases.
There's also a certification available for it, which should not take much time to complete – maybe a few days to a week, depending on your existing knowledge.
If you're very interested in commercial real estate, sure, you might as well take a bit of time to learn ARGUS basics and complete this test.
Getting this certification does not mean that you will be able to use ARGUS successfully in real life.
However, some firms use it as a filtering mechanism and may assume that you're not interested in the industry if you don't know this program.
Investment Banking Certifications: What Next?
I expect that the entire education bubble, including expensive-but-useless-lower-tier private universities and online certifications, will burst eventually.
But until that happens, certifications, exams, and official-sounding-but-dubious "institutes" and "academies" will keep popping up.
So, I would recommend following a slightly modified version of Warren Buffett's famous two rules of investing:
Rule #1: Do you already have the qualities and credentials that banks and other finance firms are seeking (top university/MBA, high grades, a sequence of internships, sufficient networking, etc.)?
Rule #2: If not, return to rule #1. If you've already done everything in rule #1, then maybe think about a certification that's relevant for your targeted industry – ideally, one that you can complete quickly (e.g., ARGUS rather than multiple levels of the CFA).
I wrote this article mostly as a public service announcement.
I continue to see people with no real chance of getting into fields like IB or PE incorrectly believing that they can break in simply by getting a certificate:
Math, science, and engineering Ph.D.'s (maybe for quant funds, but not for deal roles).
45-year-old plumbers and electricians.
Students at non-target schools with low GPAs and no work experience.
YouTube and Instagram "influencers."
Mid-level career changers in corporate finance at large companies.
If you're in one of these categories or anything outside the three main paths above, then your chances of getting in are very low.
And no certification in the world will change that – no matter how much you "invest" in it.
Want More?
You might be interested in reading No Return Offer from an Investment Banking Internship: What to Do.
Break Into Investment Banking
Free Exclusive Report: 57-page guide with the action plan you need to break into investment banking - how to tell your story, network, craft a winning resume, and dominate your interviews