Law School to Investment Banking: How to Trade One Dungeon for a Shinier, More Exciting Dungeon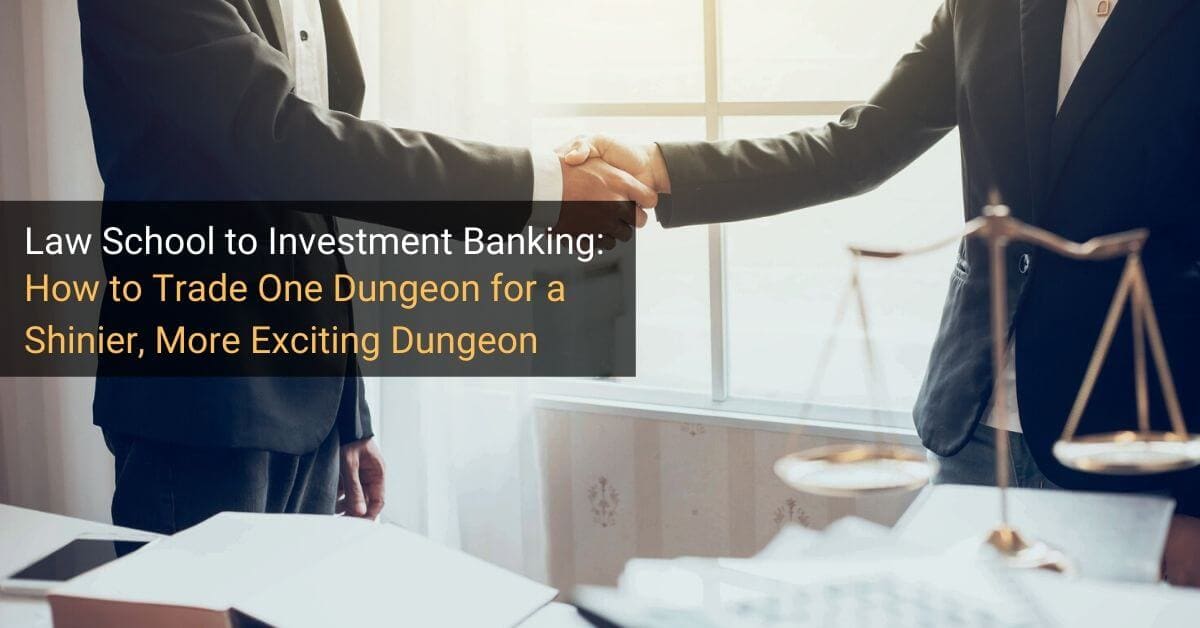 If you're wondering about the "law school to investment banking" transition, you're probably in one of the following categories:
You got into a top law school but realized you hated it when classes began.
You got into law school, did well, graduated, but then realized you hated your legal job.
You're about to graduate from law school and are actively looking for jobs in other industries.
If one of those describes you, you're in the right spot!
The good news is that quite a few lawyers do transition into investment banking and other fields of finance.
The bad news is that you're probably not going to go directly from law school to investment banking.
Here's how to think about the transition and overcome the obstacles along the way:
Step 1: Do You Have a Good Reason for Making This Transition?
In my experience, most lawyers who want to move into finance cite the following reasons:
"I can make more money!"
"The work is more interesting or more exciting."
"I can influence companies and deals rather than just reviewing the paperwork."
The problem is that most of these points become true only once you reach the top levels in investment banking (i.e., Managing Director).
Until you reach that point, you will still be working on documents and doing "project management," just as you would as an Associate at a law firm.
Arguably, it's still more interesting to work on valuations and deal analyses rather than reviewing 200-page agreements, but you're still turning documents.
Another problem is that the reasoning above omits several positive aspects of legal jobs:
You don't need to as skilled at sales to reach the top – yes, Partners at law firms bring in new business, but they're still involved in cases and client work.
Legal jobs also tend to be more secure, especially in-house counsel roles. No matter what happens to the economy, companies still have to follow the law (barring a zombie apocalypse). Deals, however, plummet during economic turmoil.
Finally, the compensation for the average Managing Director at a large investment bank and the average Partner at a top law firm is not necessarily that much different (likely in the high-six-figures to low-single-digit millions).
Also, you need a different mindset to succeed in finance.
Law requires a "glass half empty" view where you look for every potential problem, loophole, and risk; investment banking is more about sales and encouraging clients to act.
At the minimum, you'll need to get some exposure to finance via classes, internships, or client work before deciding whether or not it's for you.
Step 2: Are You in a Position to Move Over?
If you're reasonably sure that you have the required personality and mindset, you need to figure out whether or not you're in a position to move over.
You are probably not going to get into investment banking right out of law school.
You would be entering IB as an Associate, which means that you'd need a few years of full-time work experience first.
To have the best chance of getting in:
You should be at a top law firm that does a lot of work in corporate and securities law. Think: Cravath, Skadden, Kirkland, Latham, and others in the top ~15-20. You want to be at a firm that bankers know and interact with.
You should be in a highly relevant group, such as M&A, capital markets, restructuring, securities, or credit rather than something like litigation or environmental or intellectual property law.
And you should have at least 1-2 years of deal/client experience because you'll have to discuss that experience in interviews.
The quality of your law school matters, but the quality of your current firm is more important.
If you went to Harvard Law School, but you now work at a law firm ranked #123 in the country, bankers will be highly skeptical of you.
Step 3: Understand the Challenges and Opportunities in Law School to Investment Banking
You might assume that your main value-add as a lawyer moving into banking is your knowledge of the legal code, and how legal considerations affect deals.
Nope!
Your main value-add is execution: the ability to work under time pressure and unreasonable deadlines and deal with crazy clients to finish tasks.
It's similar to what you do as a junior employee in banking, but the work product is different.
So, when you network and interview, you need to play up your ability to execute and get results for clients, even in unreasonable environments.
Yes, legal knowledge may help in certain groups (e.g., restructuring investment banking or distressed private equity), but execution is king.
On the other hand, you'll also have some challenges because bankers make a lot of assumptions about lawyers:
Can you count? The stereotype is that lawyers are uncomfortable with numbers – even basic arithmetic – and do not know much about accounting or finance. So, you need strong evidence that you have developed these skills.
Do you fit in culturally? You need to show that you're more action/sales-oriented rather than "worry about risks X, Y, and Z"-oriented.
Why now? Why didn't you get into IB right out of undergrad, and why did you go to law school? And no, you can't blame the economy or the lack of recruiting.
To answer these objections, you need to show that you've always had an interest in finance and that you've been moving toward investment banking over time.
Step 4: Craft Your Story and Resume
Your story and resume are linked because your story should reflect most of your resume.
A reasonable outline for your story, following our usual template, might look like this:
Beginning: Where you're from, your university and original major/career plan, and your law school.
Spark: Banking and finance-related classes at law school, a law internship, or activities at law school that made you more interested in investment banking. Also, explain why banking appeals to you more than law.
Growing Interest: You started taking finance-related classes, learning the technical side on your own, and networking with bankers. Although you accepted a full-time offer from a law firm, you did work that was related to finance, and you kept learning and networking on the side.
The Future and Why You're Here Today: You want to combine your previous industry background with law and finance and advise companies in a certain industry or on a certain deal type, and this firm has a great reputation in that area.
Lawyers often include too many negatives in their stories.
For example, they might say, "I want to switch because we're not responsible for anything clients care about" or "I want to switch because we just review the paperwork when deals close."
It's better to restate those as: "In addition to advising on the legal issues, I want to contribute to the actual deal process and move transactions forward – which you have the opportunity to do in banking."
Your resume should match your story closely:
Ideally, you'll have 2-3 deal or client experiences that sound relevant to M&A and capital markets.
You should also have evidence of other jobs, internships, classes, and side projects that are relevant to finance.
And you should not clutter it with entries that are relevant for law, but not finance, such as short clerkships at small law firms.
The resume templates on this site still work, so you can use one of them and then focus on spinning your work experience.
You can spin legal experience into sounding relevant by:
Re-adjusting the focus to small details of client work that were more closely related to finance, such as how one term in a definitive agreement affected the purchase price.
Hedging exaggerated claims to say that you supported the bankers in doing XYZ tasks that resulted in a different price or deal terms.
Be prepared to be quizzed on any deals you list, and make sure you know the financial stats, the deal terms, and the strategic rationale (see: the investment banking deal sheet).
Step 5: Learn the Technical Side
Yes, bankers will ask you technical questions, even in casual informational interviews, because they assume that lawyers are bad at math/accounting/finance/Excel.
They do not care at all about your seniority, background, or the prestige of your law firm.
Even if you're a 7th Year Associate, they will reject you if you can't answer simple questions about Depreciation on the financial statements, or how Enterprise Value changes in different scenarios.
So, pick your method of study and get to it. If you have more time, our Core Financial Modeling covers everything:
Core Financial Modeling
Learn accounting, 3-statement modeling, valuation/DCF analysis, M&A and merger models, and LBOs and leveraged buyout models with 10+ global case studies.
learn more
Or, for more of a quick review with a focus on written text, our IB Interview Guide does the same:

IB Interview Guide
Land investment banking offers with 578+ pages of detailed tutorials, templates and sample answers, quizzes, and 17 Excel-based case studies.
learn more
You can even learn a good amount by reading the free articles on this site about investment banking interview questions and Enterprise Value vs Equity Value.
If you "don't have time to study" due to your demanding full-time job, there are two solutions:
Solution #1: Secondments and Rotational Programs
Many of the top law firms have rotational programs for new hires, so you could use them to move through capital markets, M&A, real estate, tax, and other groups.
There are often breaks or "secondments" (where you work for a normal company temporarily) in between, where you get a reduced workload – which means more time to study.
Solution #2: Take Your Time
If you don't have this opportunity, spread out your studying over a longer period.
Maybe it will take you 6 months instead of 1-2 months, but learning accounting and finance is not rocket science.
It's never "too late" to move into IB as an Associate at a law firm, and you need to know this material before you begin networking and interviewing.
Step 6: Network Aggressively
You're a career changer, so you can't be picky with your networking efforts.
Yes, it's better to focus on senior bankers, such as Group Heads, if possible, but you should contact anyone you can find.
One of the best sources is former lawyers from your firm, followed by former lawyers from other firms.
Anyone else with a non-traditional background is a good bet, as they'll be more likely to respond to your emails.
Headhunters are usually a waste of time because you do not fit the "ideal candidate" profile they're seeking.
The approach to investment banking networking is the same as always:
Start by searching for contacts at banks on LinkedIn or anyone in your firm, law school, or undergrad alumni networks.
Reach out to them via email and send a message introducing yourself and asking if they have any tips on transitioning from law to finance. There are example email templates on this site.
Speak with the person on the phone, ask questions for 90% of the time, thank them, and make a "mini-ask" at the end.
Then, follow up with more questions and ask directly about lateral hiring at their firm.
This process could take months, depending on the hiring market and economic conditions.
If you're not getting responses, then you need to look at the types of bankers you're contacting and the emails you're sending and change them.
Step 7: Interview and Win Offers
If you persist with your networking efforts, you'll eventually start winning interviews at banks.
They could ask all the standard "fit" questions, but interviewers will focus on:
Why are you switching into investment banking, and why now?
What are your long-term plans? Are you doing this to become a career banker, or do you just want the exit opportunities?
Do you know accounting, finance, and Excel? Can you do quick mental math?
Can you discuss the financial details of deals you worked on in law, such as EBITDA multiples, credit stats and ratios, and premiums paid vs. cost synergies (or all synergies)?
Case studies, such as 3-statement modeling tests, are possible but not likely.
You can prepare by completing a few examples, but you shouldn't spend an excessive amount of time on them.
The entire process to go from Interview #1 to Job Offer could take anywhere from 1-2 months to 6 months.
As with all lateral hiring, the timing is unpredictable because firms' staffing needs can change quickly, and they don't hire "classes" of lawyers each year.
The Logistics of Law to Investment Banking
Once you win and accept an offer, you'll be hired as an Investment Banking Associate in most cases.
That could mean anything from a 1st Year Associate to a 3rd Year one, depending on how much experience you had at your law firm.
You might even join as a Vice President if you're a 6th or 7th Year Associate with a lot of deal experience, but that is quite rare.
Depending on your level, you might take a pay cut at first.
For example, 7th Year Associates in law earn more than 1st and 2nd Year IB Associates – that's an extreme example, but it is possible.
You have little, if any, negotiating power, so we recommend accepting the offer and worrying about compensation and promotions later.
Plan B Options
If you go through this process but never win job offers, or you don't get much traction with networking, start by asking why. For example:
Did you not have enough work experience?
Did you do poorly on the technical questions?
Did you not fit in with the group's culture?
Did they not think your legal experience was relevant?
Some of these are fixable, and others are not.
For example, you could try to move into a more relevant group and work for another year to gain better client/deal experience.
You could complete additional case studies to get a better handle on the technical side.
And if your legal experience is in an area like intellectual property or patents, you could switch your recruiting focus to technology boutique banks, where they might appreciate your background.
You could also consider options outside of IB, such as commercial real estate, private credit or mezzanine investing, or even distressed private equity, depending on your experience.
Going to business school is probably not the best plan unless you feel like spending $200,000 and giving up 2-3 years of work experience.
Law School to Investment Banking: Final Thoughts
Ultimately, "law school to investment banking" is a misnomer because few, if any, law students move directly into IB.
You work at a law firm for a few years, ideally in M&A, securities, capital markets, restructuring, or something else highly relevant, and then switch in.
It's not "easy," but it is easier than moving from most other fields into investment banking at the Associate level.
Your biggest advantage is time: you don't necessarily need to make the transition within 1-2 years, as students who just finished undergrad do.
And that's good news when you're looking to enter a shinier, more exciting dungeon that also requires a lot of preparation.
Break Into Investment Banking
Free Exclusive Report: 57-page guide with the action plan you need to break into investment banking - how to tell your story, network, craft a winning resume, and dominate your interviews