What's The Best Major For Investment Banking?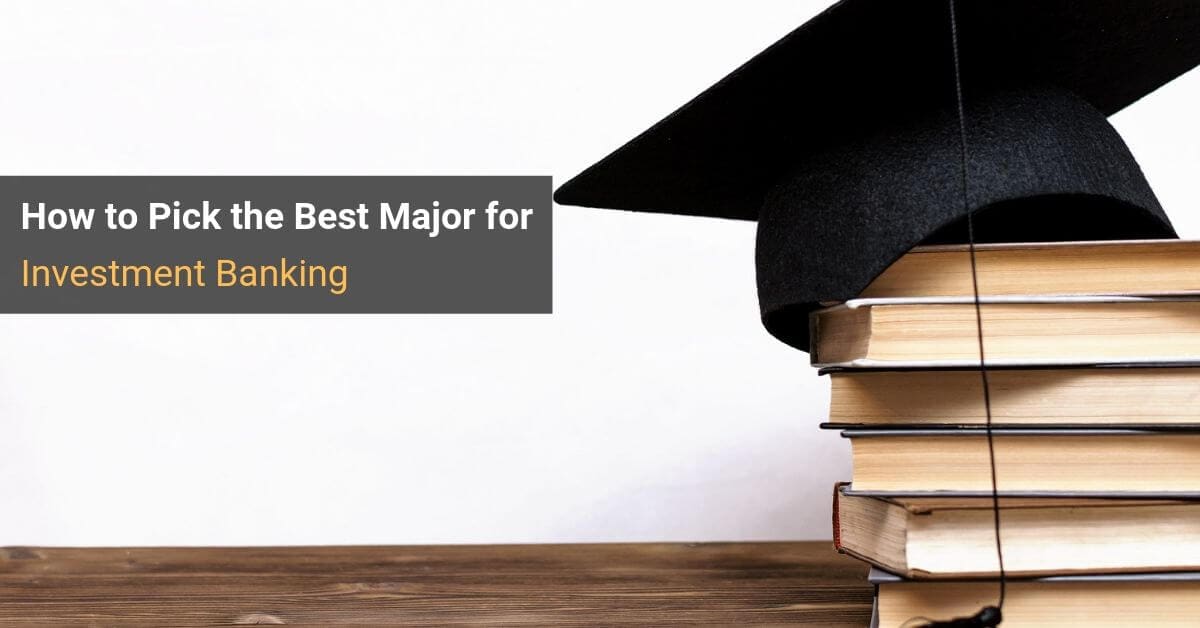 Many high-school and university students with an interest in finance naturally want to know,
"What's the best college major for investment banking?"
The answer to this question has changed over the years. And these changes have made your university major both less important and more important.
Let me explain…
Investment Banking Majors: Assumptions and Constraints
In this article, I am making a few important assumptions:
You have to pay for your degree, either upfront or by borrowing money.
You are attending a relatively expensive school that will cost at least tens of thousands of dollars in total.
University degrees will continue to be required for jobs in finance, especially in the most competitive fields, such as investment banking and private equity.
You are interested in a finance career, but you also want a good "Plan B" in case you graduate during a market crash or recession, or you decide against finance.
You are a practical, logical person who wants to achieve a decent ROI on the time and money you spend on the degree.
Some of these assumptions may not be true for you.
For example, maybe you have wealthy parents who are paying for your degree, or you're in a country where higher education is free or very cheap.
Or, you have a philosophical objection to this concept because you believe that a university education should offer "learning for the sake of learning."
Or, you believe that the entire university system will collapse, so official degrees will no longer be required, and trade schools will take over, similar to what's already happening in software.
If that's you, please stop reading right here. You might be right, but this article is not for you.
Instead, we're going to focus on the average person's reality:
Why Does Your University Major Matter At All?
Back in 2005 or 2010, your university major mattered because:
undergraduate-level recruiting took place later, so more of your grades came from your major, and
there were fewer ways to learn accounting and financial modeling independently.
But as of today, both of those – and more! – have changed.
The IB recruiting timeline is now hyper-accelerated, there are far more self-study options, and careers in "high finance" have become less unique compared with ones in technology, sales, or even real estate.
And even if you start early and do everything right, the randomness and timing of the recruiting process mean that you might end up without an IB offer.
So, your major matters for three reasons in the short term:
You need to earn a good GPA – at least a 3.5, and ideally over 3.7 if you're at a lesser-known school – to have the best shot at winning interviews. A low GPA is the most difficult weakness to overcome in interviews, so you don't want to pick something that makes your grades plummet.
You want to signal that you're competent and intelligent, and a major that's at least moderately difficult will give this impression.
Your major is now more important for "Plan B" options in case you graduate into a market crash or recession, or you decide against finance.
A few other important points include:
If you're an international student studying in the U.S., you want a degree that qualifies as STEM so you can stay in the country and work for 36 months after graduation. Many degrees count as STEM (Google it), including some that are a bit of a stretch.
Regardless of your official major, you should take classes where you learn practical skills that you can apply directly to high-paying jobs.
Finally, you don't want a major that crowds out your time for other activities, such as networking, internships, and student groups.
Based on all of that…
Here's my recommendation for the Best Investment Banking Major" (or "Study Plan"):
Major: Accounting/finance (or, if your university doesn't have these specific majors, something that has coursework in these areas).
Minor: Computer science, math, or statistics.
You should also consider taking at least 1-2 writing or communication-intensive classes because plenty of students are good with numbers, but many of them cannot communicate with other humans.
If you're an international student, you may have to flip the order so your major qualifies as "STEM."
Why This Major/Minor Combination?
This combination is special because it:
gives you the skills required for finance careers
makes you seem competent/intelligent, and
gives you good "Plan B" options in case you decide against finance.
It should not be overly difficult to earn a decent GPA, and if you run low on free time, you can drop the official minor and make it a few extra classes instead.
Also, you can front-load the easier classes in your first 1-2 years to boost your GPA by the time you apply for internships.
If you want to be a quant, you can flip the order and pick math or CS for your major and accounting/finance for your minor.
Here's why each specific component in this plan matters:
Significant Accounting Coursework: Accounting is, by far, the most important "technical skill" for investment banking, private equity, and many hedge funds. And a lot of mid-level and senior bankers don't understand it that well!
One or Two Corporate Finance Classes: Most universities do not offer courses that delve into the real "corporate finance" work done in IB/PE roles (i.e., valuation and modeling transactions), so you should stop with the basics of corporate finance before getting into the weeds.
Math/Statistics/Computer Science Background: You don't need to be an expert, but these skills will be applicable in almost any field. You should understand basic programming concepts (control structures, data structures, recursion, memory, etc.) and math through calculus and linear algebra.
One or Two Writing/Communication-Intensive Classes: You spend a lot of time reading and writing documents, calling people, and conducting meetings in finance and also in sales, product management, and real estate.
Finally, if you decide against finance after completing a sequence of internships or an official IB internship, this plan will give you other options:
Tech Companies: Product management, sales, data science, or potentially even programming (but you may need a deeper background for the latter two).
Finance-Related Areas: Fintech and real estate are always solid options. Maybe even consulting, if you feel like earning less and living in hotels. Then there are Big 4 firms and others in "professional services" that look for similar skills.
Non-Finance, Non-Tech Companies: You could also join a normal company in a corporate finance, corporate strategy, or project management role.
You won't be the ideal candidate to win the most technical jobs with this combination (e.g., working on Google's search algorithm), and you also won't be in the best position to win the most sales-y jobs (e.g., enterprise sales at Oracle).
But you will have a lot of flexibility for roles in between those two extremes.
"But Wait! I Want to Study Literature! Or History! Or Gender Studies!"
I hear you.
Even though I was a Computer Science major, I almost picked History or Literature, and I've been rereading all of Shakespeare's plays this year (for fun).
But I don't think it's a great idea to pick something in the liberal arts or social sciences if your goal is a high-paying job immediately after graduation, and you don't want to be "forced" into law school or another degree.
If you're at an elite university (the Ivy League and similar schools in the U.S.; Oxbridge in the U.K., etc.), you might be able to pull this off because your university's reputation is far more important than your major.
But if you're at even a moderately-lesser-known school, whether a "semi-target" or a complete non-target for banks, it's a bad idea.
Bankers might be able to vouch for an English Literature major from Harvard, but they'd be a lot more skeptical about a similar candidate from Podunk U.
Other Investment Banking Major Mistakes to Avoid
Double and triple majors are bad ideas because they will drag down your GPA and reduce your free time.
Bankers will not be impressed if you earned a 3.1 cumulative GPA and had lower grades because of a triple major – they'd rather hire someone who earned a 3.7 with one major and who also had good internships.
Finally, Economics is not a good choice unless your school offers absolutely nothing else related to Accounting or Finance.
Not only is it questionable to call macroeconomics a "science," but it has very little to do with the daily work in IB, PE, or tech careers.
Maybe if you are interested in asset management or portfolio management or something broader, Economics could be more applicable…
…but it's still more useful to know accounting and the financial statements like the back of your hand.
How To Combine Your Major With Activities And Internships
We have a few examples of how to combine your major with activities and internships in the article on how to prepare for investment banking summer internship recruiting.
In short, you need to win finance-related internships early (Year 1 and Year 2) so you can set yourself up for IB and related roles – or rule them out quickly.
You don't need to commit to a specific major in the beginning; you just need something by the time recruiting for Year 3 internships begins.
Investment Banking Majors: What Next?
Questions about the "best" major never go away, but most advice about this topic is somewhat off.
Banks indeed hire from all majors, and some majors are more relevant to finance than others.
But those points ignore the true importance of your major: allowing you to earn good grades while appearing competent and intelligent and gaining a useful skill set that gives you alternate career options.
But as I said in the beginning, if someone else is paying for your degree, your education is "free," or you don't care about practicality, feel free to do what you want.
I hear the Gender Studies department is recruiting.
Read More
If you liked this article, you might be interested in Investment Banking Target Schools: Lists by Region and What to Do If You're Not at One or The Investment Banking Certification: The Most Useless Idea in the World?
Break Into Investment Banking
Free Exclusive Report: 57-page guide with the action plan you need to break into investment banking - how to tell your story, network, craft a winning resume, and dominate your interviews