The Full Guide to Lateral Hiring in Investment Banking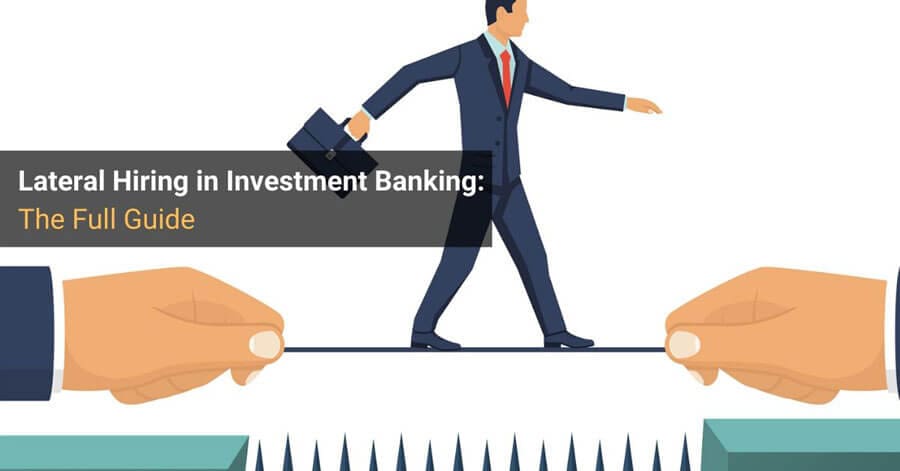 When you hear the term "lateral hiring," your first thought might be:
"Aha! A way to break into investment banking from another career – without an expensive MBA program – or a way to trade up to a larger bank and get better exit opportunities."
While those are both possibilities, they are not sure things.
In contrast to the summer internship recruiting process, the lateral hiring process at banks is random, unstructured, and difficult to describe.
If you can deal with a lot of uncertainty, you could win offers through lateral hiring.
But if not, you could easily go down the rabbit hole of applying to dozens of firms and never hearing back:
What is Lateral Hiring and Why Does It Matter?
Definition: Lateral hiring refers to the process banks use to recruit candidates with some amount of full-time work experience, often in investment banking elsewhere, but also in related fields such as valuation, corporate banking, and transaction services – rather than recruiting students directly out of undergraduate, Master's, or MBA programs.
Most lateral hiring happens at the Analyst level; there is some amount for Associates (and up), but it's more limited.
Quite a few Managing Directors and senior bankers also switch banks, but we're focusing on Analyst-level recruiting here.
To have a good chance of winning a lateral offer, you must be in a closely related field because banks want you to start contributing immediately on Day 1 without any training.
Banks give most of their full-time offers to interns who performed well…
…but the turnover rate in investment banking is extremely high: many full-time Analysts quit before their first year ends.
If someone quits in the middle of the year, the bank must find a replacement ASAP.
That explains why lateral hiring exists at all: if everyone stayed for 2-3 years and left at predictable times, banks wouldn't bother.
As banks keep accelerating the recruiting process for undergrads, lateral hiring has become increasingly important because it's easy to miss the entire process.
If that happens, you can use lateral hiring to avoid an expensive MBA program or a Master's in Finance degree…
…if certain conditions are true.
Why Make a Lateral Move?
The root motivations are usually money and exit opportunities.
If you're a recent grad and you work outside of IB, you will probably earn more in banking in ~95% of cases.
You'll also gain access to exit opportunities, such as private equity, hedge funds, and corporate development, that are difficult to break into from most other industries.
And if you're already in IB, you'll probably earn a higher bonus and gain access to larger buy-side firms at bigger banks.
Why Not Make a Lateral Move?
There are also some bad reasons to start the lateral recruiting process, such as:
Group Conflicts / Internal Politics – Just switch teams at your current bank.
You Want to Cover a Different Industry – If you're in a group such as FIG or Real Estate, and you want something less specialized, it's much easier to switch groups instead. The same goes for capital markets vs. M&A or industry teams.
You Want to Switch Locations – Again, it's much easier to move around internally.
A few specific moves are also a bit pointless:
Bulge Bracket to Elite Boutique, or Elite Boutique to Bulge Bracket – I'm not sure why you'd do this at the Analyst level. This one might make more sense for senior bankers.
If you're going to take the time and effort to make a lateral move, make sure it's a significant jump – boutique to middle market, or middle market to bulge bracket (for example).
Who is "Eligible" for Lateral Hiring?
If you're already working in investment banking at any level, you can move to another bank… pretty much whenever you want to start the process.
But if not, eligibility for lateral moves depends on:
How many years you've been out of your undergrad or Master's program.
How closely related your current job is to investment banking.
With the first point, it gets much harder to break in once you've been working in another industry for more than 2-3 years.
You'll be over-qualified for Analyst roles, but banks won't hire you directly for Associate roles, so you'll have to do an MBA at that point.
With the second point, you need to be in a closely related field to have a good chance.
For example:
Even something like audit is too removed to make a direct jump – you would need a steppingstone role, such as one of the ones above, in that case.
It can even be quite difficult to move in from other divisions at a bank, such as asset management, wealth management, or sales & trading, because you don't work on deals.
Of those, sales & trading to investment banking is the most viable move, but only if you act quickly and have deal-like experience.
Some of these transitions are group-dependent as well.
For example, you could probably move from credit risk or corporate banking to DCM, but M&A or industry groups would be more difficult.
The same goes for investor relations to ECM or anything in commercial real estate to real estate investment banking.
If your current job is significantly different, such as marketing, engineering, or non-profit fundraising, then you will need a major shift (MBA, MSF, or very different job) to break in.
The #1 question you need to ask yourself is, "How long will this entire transition process take?"
If the process takes at least 3-4 years, you're not going to win IB Analyst roles, so you're better off applying to top business schools and using MBA-level recruiting to break in.
One final note: in some emerging markets, the process is less structured, so you might be able to move directly from fields like accounting/audit into investment banking.
How Much Can You "Level Up" with Lateral Hiring?
If you're not currently in investment banking, you are probably not going to win a job offer at a bulge bracket or elite boutique bank.
But I have seen plenty of career changers win offers at regional boutiques, industry-specific boutiques, and middle market banks.
Within IB, it's feasible to go from a boutique to a middle market bank, or a middle market bank to an elite boutique or bulge bracket.
But you're probably not going to move from an unknown 10-person boutique in the Middle of Nowhere directly to GS, MS, or JPM in New York.
Location can also be a major issue: it tends to be much easier to move to financial centers such as New York and London because those places have far higher turnover.
International moves can also be quite difficult, especially if you have visa issues (e.g., you want to work in the U.S., but you're not a citizen or green card holder).
You're almost always better off transferring internally to do that.
Remember that lateral slots open up when people leave unexpectedly; banks don't want to spend months on paperwork when they need to hire you ASAP.
Process Timing: When Do Lateral Spots Open Up?
The common thinking used to be that lateral spots opened up in June and July as bonuses were paid out and people switched banks, moved to the buy-side, or quit finance.
But then most banks started to award Analyst bonuses on a year-end schedule to match senior bankers, so this rule broke down a bit.
However, it was never much of a "rule" to begin with because people often quit banking unexpectedly in the middle of the year.
Yes, some Analysts are motivated to stay to collect their bonus, but if they hate the job so much that they want to die, they're not going to stick around for 6-9 months to earn $50-$60K.
To find openings, your best bet is to search sites like Indeed and LinkedIn and set alerts whenever an "Investment Banking Analyst" role pops up in your region.
The important part here is not so much the "timing" of these spots opening up, but rather the timing of your own work experience: when you started, how long you've been there, and what you've done so far.
For example, if you just started working at a boutique bank 1-2 months ago, and now you want to move to a larger bank, very few bankers will take you seriously.
That's not enough time to gain significant deal or client experience, as nearly all M&A deals many months (or years!) to execute.
You'll probably need more like 6-12 months of experience in your current role to start networking and interviewing for other jobs.
If you're in investment banking at a smaller firm, that should give you enough time to work on 1-2 solid deals, even if they're still ongoing when you start recruiting.
And if you're in another field, that should give you enough time to get the experience that you can spin into sounding like deals.
How Do You Get Started with the Lateral Hiring Process?
Before doing anything, you need to get your resume in order.
If you're already in investment banking, take a look at our private equity resume template and tutorial.
Yes, it's for "private equity," but the same principles apply when you're aiming for any deal-based role (IB, PE, CD, VC, etc.).
If you're in some other field, you should take your experience and spin it into sounding like deals.
This will be easier for roles such as Big 4 Transaction Services, valuation, and corporate development because… you do work on deals, or at least with clients.
The main difference is that you'll have to make it sound like you worked on deals from start to finish, or that you had knowledge of the entire process from start to finish.
Corporate finance roles at normal companies are trickier because you do not work on deals in those.
My advice is to take some of your projects – internal financial projections, presentations to management, forecasting the cash requirements, etc. – and turn them into "deals."
If you can link your work to the company's overall results, that's a good start.
Once you have your resume, you need to come up with your story and start applying.
Your story should not be difficult if you've read our coverage of how to walk through your resume.
If you're switching banks, it can be some variant of: "I want to work on more of Deal Type X, which your firm does, but which mine does not."
If you're switching industries, make it about wanting to work on deals from start to finish, or about advising many companies rather than just staying at a single company and working on internal deals or forecasting there.
After your story is set, you can apply to online job postings on sites like Indeed and LinkedIn, but networking + applying online is always more effective than just applying online.
One strategy might be to revive the contacts you made in your networking efforts from university, send them an update, and casually ask about open positions at their firms.
If you've been out of touch for only a year or two, you can send a quick email; if it has been longer than that, you might need to "warm them up" a bit first.
Headhunters are rarely effective in this lateral hiring process because:
If you're a career-changer, headhunters will ignore you because they think you have a low probability of success.
If you're already in IB, you can reach out via cold emails, apply to online job postings, and get responses like that.
If you have to write a cold email to someone, you could use the following template:
SUBJECT: Experienced Analyst Position – [Bank Name]
"[Banker Name],
My name is [Your Name], and I'm currently a First-Year Analyst at [Bank / Company Name] in the [Group Name] group. I recently applied to the Experienced Analyst position in [City Name] that [Banker's Bank] posted on [Job Site Name], and I wanted to find out more about the role.
I saw that you worked at [Banker's Bank] in [City Name], and I wondered if you might have a few minutes to speak on the phone and provide additional details on your group. I am available on Monday – Wednesday next week between 1 PM and 4 PM [Time Zone]. Thanks for your time – I really appreciate it.
Best regards,
[Your Name]"
If you get a "quick hit," you might start the interview process right away.
If not, you might have to persist with your networking for weeks or months until something turns up.
As mentioned above, though, the turnover rate at banks is very high.
If you have been networking for months and months, you've turned up nothing, and there's no economic crisis, recession, or market crash taking place, then it's very likely that you're doing something wrong (see the bottom section of this article).
What to Expect as the Hiring Process Moves Along
The lateral hiring process is unstructured, so interviews could drag on for weeks or months depending on the firm and group – or you could win an offer in a matter of days.
Part of the problem is that it's tough to define a true "hiring need" in many groups.
For example, if an under-performing Analyst suddenly quits, does the group really need to hire a new one ASAP?
Probably not, but they may want to hire one "soon" just in case someone else quits.
Even if this group starts recruiting, they may be slow to respond and schedule interviews because it's not their top priority.
You should expect that it will take a few months to go through the process, and possibly more like 6-12 months to win an offer somewhere.
In the process itself, banks tend not to use HireVue interviews or online tests.
Instead, you can expect:
One or two phone interviews.
A Superday, or a series of interviews with more senior bankers spread over several weeks.
And there's a decent chance you'll get a modeling test or case study as well, such as the sample 3-statement modeling test on this site.
They will still ask "fit" and technical questions, but your deal experience is also incredibly important.
If you don't know the details of each deal you listed on your resume/CV – buyer and seller's financials, relevant multiples, transaction rationale, and how you contributed – you're not going to make it very far.
If you're moving from a boutique to a middle market bank, interviewers often focus more on fit because they want to make sure you'll thrive in a new environment.
But if you're moving to a bulge bracket or elite boutique bank, the focus is often technical because bankers assume that you'll have less modeling experience, coming from a smaller firm.
If you're moving in from another industry, expect even more of that.
Even if the group has a hiring need, you may not hear back quickly, so you need to keep following up and checking on your status.
How Do Lateral Offers Work?
If you make it through the entire process and win a lateral offer, you can expect the following:
You will probably "lose a year" if you're switching levels (boutique to MM or MM to BB/EB) – so if you're a First-Year Analyst now, you'll start over as a First-Year Analyst.
Base salaries are fairly standardized at mid-sized and larger banks, so you should earn the market rate. The same goes for bonuses – there are standard levels, and your bonus will depend on the market, fees generated, and your performance.
You may get a signing bonus, but don't count on it – it's not in banks' interest to award signing bonuses because doing so encourages people to hop around like rabbits. If you don't see it in the offer letter, you can ask, but don't press the issue too hard.
You may get a relocation package if you're switching cities, especially if the distance is significant (e.g., LA to NY or Hong Kong to London).
You will probably have to give up the bonus you've accrued so far at your original firm, especially if you leave a few months into the calendar year.
A long time ago, people thought that "losing a year" was terrible.
But as of 2020, this is often a benefit if you're switching banks specifically to recruit for private equity roles.
Since PE recruiting keeps moving up, you want as much time as possible so you can walk into interviews with more deal experience.
What If You Don't Win a Lateral Offer?
If you go through this entire process and come away with no offers, you need to reflect and ask, "What happened?"
For example, did you not win any interviews (or enough interviews)?
If this is the case, then maybe your work experience wasn't close enough to IB for you to be a competitive candidate – or maybe you did not use an effective networking strategy.
Or, if you did win interviews, did you perform poorly in them? If so, why?
Were your technical weak? It's not rocket science – anyone can master these questions with enough preparation and practice time and the right interview guide.
Did you not have enough deal or client experience? Maybe you need to stay in your current role for more time and try again.
The tricky thing about lateral hiring is that even if you can fix some of these issues, you may not have time to do so if you're moving into IB as a career-changer.
For example, let's say you've already been working for two years at a Big 4 firm.
You went through this process but came away with no offers and only a few interviews.
If you need more deal experience or more technical preparation, and either one will cost you ~6 months, pushing you to 2.5 years in your current role, it will become more difficult to win Analyst roles.
You could still do it, but the odds start tipping against you past the 2-3-year mark.
If that's you, then it may be time to consider an MBA program instead.
The window for getting into IB is relatively narrow, and the longer you wait, the more likely it is to close suddenly.
Lateral hiring can be a very effective way to make a career change – as long as you act quickly and don't let that window slam down on your face while you're jumping out of it.
For Further Reading
Break Into Investment Banking
Free Exclusive Report: 57-page guide with the action plan you need to break into investment banking - how to tell your story, network, craft a winning resume, and dominate your interviews