5 Ways Business School Can Ruin Your Life – and What to Do About It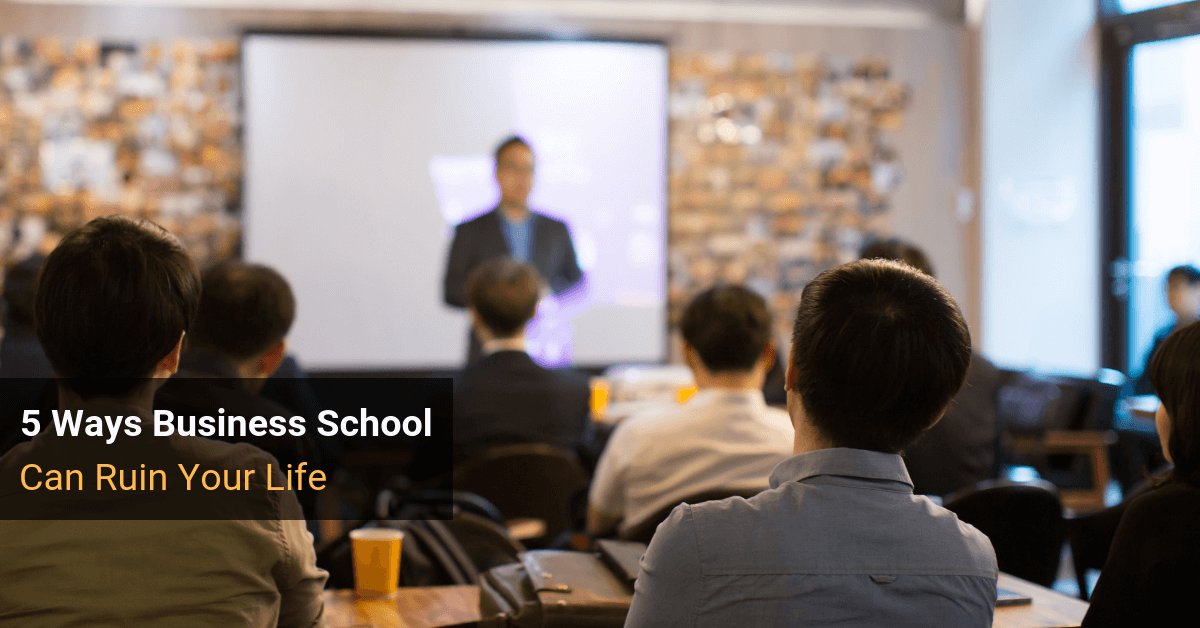 You can't be certain that too many things in life will absolutely, positively happen to you.
I can count my own list on one hand:
Paying taxes to the government.
Begrudgingly getting married at some point in the future.
And eventually owning a Doberman named "Hulk."
Those are "life events" that I deem inevitable.
But what about career events in your life that will also make a long-term impact?
If you're thinking about a career in investment banking, corporate finance, or anything else with "investment" or "finance" in its title, there's one question that will come up repeatedly once you've completed undergrad and just before your hair begins to recede or you add pounds that you just can't seem to shed…
"Should I go back to business school?"
Before you commit yourself to two years of drudgery and drinking, you may want to think long and hard about your decision before you take the plunge – unless you want to ruin your own life, of course.
Remember When Business School Had Value?
I don't.
When business school offered a great ROI, I was still playing homerun derby with the neighborhood kids in my backyard.
As formal education became less of a luxury and more of a necessity over the years, almost all graduate institutions saw an increase in applications.
Over time, more and more professionals began to seek business degrees from the top schools in the world to boost their intellectual capital and their future earnings potential…
So it was only a matter of time before other educational institutions with lesser reputations started to take advantage of that trend.
After all, everyone wants more responsibility, prestige, and pay, but not everyone can get into the top schools.
Enter part-time business programs, for-profit schools offering business degrees, online graduate schools, Executive MBA and distance education programs, just to name a few.
The US alone has more than 600 "business schools," but not all of these are officially accredited in business by the AACSB – and even fewer are entered into the composite rankings for US News, The Economist, Financial Times, and Bloomberg Businessweek.
As if choosing to attend business school weren't already difficult enough, choosing the right program seems to multiply the pressure.
And in the ranks of finance, it's becoming less and less common to have only a bachelor's degree – unless you already have an amazing network, specialized training, a prominent certification, or something else that sets you apart.
But if you're not careful, you could end up making a very costly mistake – not only in terms of money, but also in terms of opportunity cost, personal sacrifice, and your own life over 2 years.
Usually, attending the right business school is a net positive.
But there are dozens of ways that it could turn into a disaster instead – five of which I'll go into below:
1. Congratulations! You Now Owe More Than $150K+ USD in Student Loans.
Here's the short and blunt version: if you are not attending a top business school and you have your sights set on investment banking or private equity and you're paying for the program yourself, you're making a big mistake.
Sure, if you worked in marketing for a few years, then you go to Harvard Business School and take out that $150K loan, but you land an offer at a hedge fund afterward, your earnings could easily be a multiple of what you paid in only a few years.
Just one problem, though: both top business schools and those ranked well into the #80's and #90's cost the same amount ($50K+ per year)… and the lower-tier schools offer nowhere near the ROI that a top business school can provide.
So if you have your heart set on making a "career change" into a field like investment banking or private equity but you can't get into one of the top business schools, well, you probably want to reconsider your plans before you end up with a $150K liability.
Before you sign your life away for student loans, ALWAYS do your due diligence and weigh your expected return against your initial investment.
Yes, there are some paths into high-paying jobs that don't involve attending top schools (see below), but you have to be very careful about what the school claims vs. what students there actually experience.
Student loans are serious debt contracts that can burden your life well into planning for your first child's education – and if you're not careful, you could ruin your life before your career has even begun.
2. "I Got My Degree From a Top Business School. I Make a Lot of Money. I Hate My Life."
How many times have you heard, "Do what you love, and if you do, you never work a day in your life?"
Someone should have also branded the saying, "Chase the money after business school instead of what you really want to do, and you'll be on heart medication in no time."
Yes, business school is expensive, but if you crafted a plan prior to entering, then you knew the costs going in and accepted the challenge.
You should have already planned out what you were going to do afterward before you even began applying to schools – otherwise, you'll feel pressured to take a job because it pays well or because you are chasing the prestige of working for a particular company.
I can almost guarantee that you'll be miserable if you don't take the time to think about what you want to do and where you want to do it long in advance.
Then it's only a matter of time before you quit, get fired, pick up a drug habit, or begin your prescription medication for medical-related problems brought on by stress and depression.
NOTE: This is not a contradiction of point #1 above because, believe it or not, there are jobs that don't induce as much misery as some of the options discussed on this site.
Also, there are ways to reduce the cost if you're attending a lower-ranked school (e.g. scholarships can be more common) and aren't necessarily using it to move into finance.
3. "I'm in Business School to Create a Better Future for Myself. Why do I Want to Cry All the Time?"
Choosing to attend business school means accepting a personal challenge.
Life does not stop simply because you chose to attend business school and, unfortunately, it also means that every aspect of your personal life will be probably be compromised to some degree.
You're hungry? Great. Get used to cooking – for the time being, no silver tuna.
You're tired? Great. Sleep in the library – your apartment is only a place for you to put your belongings.
You're emotionally unstable because of the workload and interview slate? Great. Call up one of your close friends and let it out. That is, if they pick up given that you've virtually ignored them since you arrived on campus.
Your health is deteriorating? Great. Try running to class in the morning – given that you studied or drank until 3 AM last night, you could use it.
Your relationship is hanging on by a thread? Great. Cry in between employer information sessions and make an appointment to see the nearest bartender once your classes end for the day.
Simply put – get ready to do the best unicycle and juggling act you've ever attempted. Although your professional life could be headed in the right direction, your personal life could be in shambles if you don't work to actively maintain it.
Oh, and unlike an investment banker, you won't even get paid for this juggling act.
4. You Work So Hard That You Don't Learn Anything.
This varies quite a lot depending on the school you select.
Business school is a marathon and if you don't pace yourself, the workload, interview slate, club activities, and everything else associated with school can overwhelm and ultimately trample you.
But despite rumors of everyone drinking 24/7, there's still a huge amount of work to be completed, which means that there's no way you can focus 100% on every single class (well, unless you want to miss the on-campus recruiting and activities).
If you're focused on finance, the optimal choices are obvious: accounting, financial markets, and investment-related courses should all be top priority. And you also need to take personal time out of your days to do ancillary reading and really master the material.
For the other courses you may not be so excited about, you'll set your study schedule to "autopilot."
You may just need to "study for the test," and then do a mind-dump afterward to make mental space for the next class or the more relevant material.
I fully support this idea – and if your professor enjoys cold calling during class, I suggest Adderall.
5. Business School is Going to Make My Career!
Yeah, that won't happen.
If you were intelligent, hardworking, resourceful, and intellectually curious prior to business school, you will be the same person after – just with a piece of paper that confirms what you already possessed.
If you were "second string" before business school, you will probably remain second round talent unless you worked diligently to change your habits, applied yourself, and used your time in business school to become a better professional.
But business school is just a name. It may matter in terms of where you start your career, but your performance record and personal network will carry a lot more weight down the road.
People from top schools still fail at start-ups, still get laid off and fired, still get passed over for promotions, and still get overworked and abused (figuratively or literally) all the time.
No top-tier name insulates you from any of this.
So, How Do You Avoid Ruining Your Life with Business School?
Most of this boils down to "dip your toes in the water before you jump into the deep end of the pool."
But I'll be more specific:
Determine Your Goals Before You Even Apply
The most common "ruin your life in 3 easy steps" situation I've seen goes something like this:
You're dead-set on getting into IB or PE…
But you can't get into a top school that large banks and funds recruit at.
So you go to a 2nd or 3rd tier school instead, take out $150K+ in loans, and then end up with a job that barely pays enough to cover your living expenses and loan payments.
In this case, the solution is simple: don't go to business school if you can't get into a top program.
Of course, there are other reasons you might attend a lower-ranked school anyway:
Your company or someone else is paying for it, so you're not assuming a massive liability to attend.
You're not planning to use the degree to change careers, but are instead looking to improve your skills and/or move up at your own firm.
Both of those are potentially good reasons to take the leap, but you need to figure out all of this well in advance.
And If You Can't Get Into a Top School…
Yes, it's true that most large investment banks and mega-funds recruit primarily at the top schools and that you'll have a very difficult time getting in if you're not at one of them…
But if you're interested in going into a field like asset management, you don't necessarily need to go to a Top 10/15 school to have a good shot at getting in.
The same applies if you're OK with working at a smaller fund of any type, or moving into a corporate development careers or the corporate finance career path at a normal company, or a lot of options outside of pure IB/PE.
Here's what the "decision tree" looks like:
If you want to make a career change into finance and you can get into a top school, go there.
If you can't get into a top school, consider fields outside of banking and private equity.
If you can't get into a top school and you absolutely refuse to consider other fields, please don't go to business school unless you want to crush yourself with $150K in loans.
Do Your Own Due Diligence by… Talking to Real People
No, "searching online" or reading anonymous accounts from strangers on message boards does not count as doing serious research on business school.
If it is not one of the top 10-15 schools that large companies recruit at, you really need to go there in-person and talk to real students to see how well they're doing.
Since there are hundreds of "business schools" these days, it's increasingly difficult to separate the wheat from the chaff.
And there's no way to do that until you visit and see what's happening on the ground.
Easing the Juggling Act
There isn't much you can do about the "juggling act" unless you can eliminate some of what you're required to do each day.
Students sponsored by their companies have a big advantage here because they don't have to balance recruiting on top of activities, classes, and everything else.
Assuming that you are interested in leveraging business school to recruit at other companies, though, the best way to ease this juggling act is extreme focus.
Don't join 25 activities and also recruit for 10 different roles across 5 industries – if you cut back and focus on only 2-3 you'll get much better results and you might even preserve a drop or two of your sanity and pre-existing personal life.
The same applies to classes: while you have to get the work done, putting 100% of your effort into all your classes is rarely a good use of time.
Don't Assume an MBA is the Answer to Everything (or Anything)
This one goes back to a point made on this site years ago: yes, you can re-brand yourself with an MBA, but you can't just jump into a random program and expect to get results from it without doing anything prior to enrolling:
If you're making a career change, have you completed the all-important pre-MBA internship? If not, why would any employers believe that you're truly committed to making the change?
If you're moving into a highly competitive field like investment banking, have you already started networking with alumni months before school began? If not, how do you expect to compete with students who have, and with students who have spent years working in that field before?
What if you don't get into your chosen field? What is your "Plan B," and is that plan still financially viable given the amount of loans you'll take on?
An MBA may not be the answer to everything – or to anything – but it also doesn't have to ruin your life.
And with the right planning, it just might be one of the few things that absolutely, positively makes a positive career impact on you.
Break Into Investment Banking
Free Exclusive Report: 57-page guide with the action plan you need to break into investment banking - how to tell your story, network, craft a winning resume, and dominate your interviews