How to Cold Email for an Internship: Investment Banking Cold Email Templates and Guide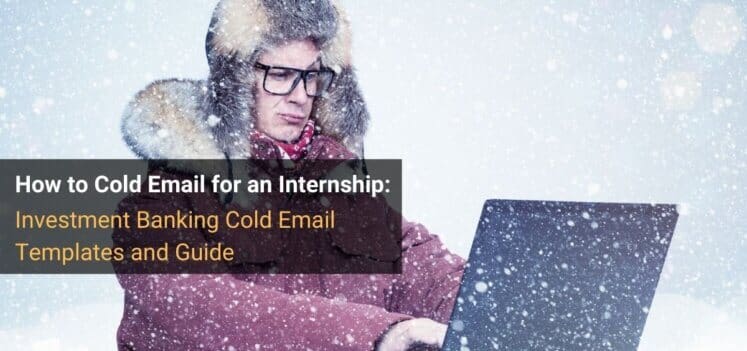 If you want to learn how to cold email for an internship, you'll have to answer a key question first: is it even worthwhile to try?
If you poke around online, you'll see many negative comments from people who have emailed dozens of professionals and gotten poor results.
Negative outcomes are certainly possible, but if you have the right profile and you use cold emails correctly, you can get positive responses.
When cold emails don't work, it's usually because:
The person used them incorrectly (e.g., they contacted the wrong people, used bad templates, or didn't follow up after the initial message).
The person using them had an inappropriate profile (e.g., a post-MBA professional emailing boutique banks to ask about "unpaid internships").
If you avoid these two problems, cold emails can work quite well:
How to Cold Email for an Internship: Definitions and Ground Rules
Since this site focuses on the finance industry, I will define cold emails in terms of investment banking – but the same idea applies to related "professional services" fields:
In an investment banking cold email, you send a message to a banker and ask DIRECTLY about interning at the firm, and if you don't receive a response, you follow up several times with the goal of conducting a quick phone call with the banker.
Cold emails are one of the major investment banking networking strategies, and they work best for finding initial, informal internships that lead to "official" internships at larger firms later on.
You can also use cold emails to win off-cycle roles at the large banks, but you need previous experience to do so.
Cold emails are most appropriate if:
You are an undergrad, and you are seeking an initial finance internship in your first or second year of school; or
You are an incoming MBA student, and you want to complete a pre-MBA internship to give yourself a leg up; or
You are about to graduate from university, or you just graduated, you missed recruiting, and you need to get work experience ASAP.
Cold emails tend to work best if you have brand names on your resume/CV, such as a well-known university or experience at large companies.
But you don't necessarily need to be at one of the top schools nationwide to use cold emails effectively.
For example, if you're at a well-known university in your region with many alumni in the area, cold emails could also be effective – even if your school is not in the top 50 or 100 nationally.
How to Cold Email for an Internship: The Step-by-Step Process
The steps in the cold email process are as follows:
Find Names of Firms in Your Area – Paid databases such as Capital IQ are best, but you can also use simple Google and Google Maps searches.
Find 3-4 People at Each Firm and Their Email Addresses – Use the firm's website and guess email addresses when necessary, using email verification tools.
Email 1 Person per Firm to Ask Directly About an Internship – Keep your message very short (<= 5 sentences) and request a brief call to discuss internships at the firm.
Follow Up If You Don't Hear Back After 1 Week – And make your follow-up message even shorter.
Follow Up Again If You Still Don't Get a Response After Another Week – Most "networking" consists of following up repeatedly.
Move Onto Other Contacts and Firms – You can try other people at this same firm and, in parallel, keep reaching out to contacts at other firms. If you don't get a response from ~3 people at the same boutique firm, cross the firm off your list for now.
Conduct the Brief "Do You Offer Internships?" Call – These calls are like mini-interviews, so be prepared for the usual interview questions. You'll also have to "sell" yourself and be prepared to answer common objections about why they should hire you.
Complete Real Interviews – Assuming that you're interviewing with a few firms and you're well-prepared, you should be able to win one offer out of this process.
At most, you should spend around 2-3 months on a single cold-email effort.
And you might take even less time than that, depending on the speed of your responses and follow-up messages.
The steps above assume that you're targeting boutique banks, private equity firms, or venture capital firms for an early internship.
If you are aiming for off-cycle internships at the bulge bracket banks, the main differences are:
More Bankers – You might be able to get results with anywhere from a few dozen to 50+ bankers at boutique firms, but you'll probably need to reach out to more like 150-200 bankers at the large firms to win an offer.
Different Targets – You want to contact Group Heads, if possible, as they'll be the most aware of hiring needs everywhere. And if you get rejected or fail to get a response, keep trying with other groups at the bank.
How to Cold Email for an Internship: The Effort Required
If you target boutique/local firms, you can expect something like this: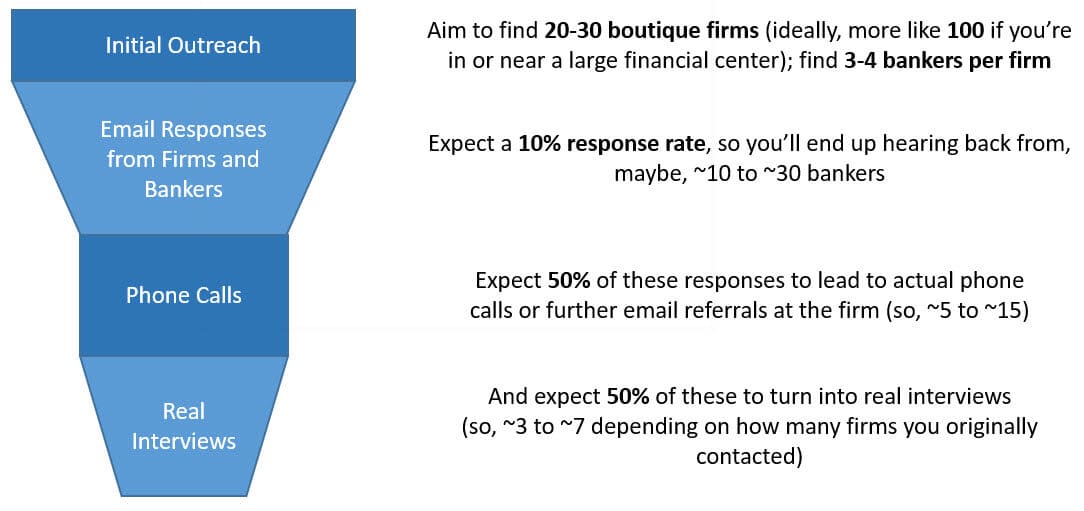 But the numbers vary wildly depending on your region.
For example, you'll have far more firms (hundreds) to contact in places like NY and London, but the response rates will also be lower.
If you're in a small town in the middle of nowhere, you may not be able to find even 20-30 firms within several hours of you.
But that may not matter because if you can find a few firms, you might get responses from all of them.
How to Cold Email for an Internship in Steps
Here's a quick summary of the key steps, along with a few email templates:
Finding Firms and Names
The best sources here are paid databases like Capital IQ and FactSet, but even simple Google and Google Maps searches can reveal a lot.
Sometimes, boutique private equity firms are more responsive than boutique banks because fewer students contact them, and they have more ongoing year-round work independent of deal activity.
So, you could try either firm type, but you may have better luck with boutique PE firms.
You should target mid-to-senior-level professionals because they have the hiring power at these firms, and their contact information should not be difficult to find.
Do not wait for the "perfect conditions" to start sending cold emails.
Once you have 20-30 individual names and email addresses, that's enough – start sending messages and add a few more names each day.
That list will expand over the next few months, so you don't need 100+ names to get started.
Initial Cold Emails
You want to keep these short and sweet, which means no more than 5 sentences:
Subject: Name-drop a university name, firm name, referral, or mutual connection to get their attention.
Sentence 1: Immediately ask about an internship at the firm (you can also ask about it later in the email, but I think it's better to do so upfront in most cases).
Sentence 2: Describe who you are, your previous experience, and the relevant skills you've gained.
Sentence 3: Explain why you're interested in this firm, specifically (i.e., how it matches your background).
Sentence 4: Make a "soft request" for a call to ask about completing an internship at this firm.
Sentence 5: You could add a "reason why" or split one of the other sentences into two.
Since you are contacting senior bankers, it's fine to be more formal and use "Mr." and "Ms." in the beginning.
Don't propose dates or times in this initial email because you'll almost certainly have to send a follow-up message.
If you already have at least one internship, you can attach your resume or CV; if not, don't send it until they request it.
Here's an initial cold email template:
SUBJECT: [Firm Name] – [Time Period] Internship for [University Name] [Student / Graduate]
"Mr. / Ms. [Name],
I am writing to you to see if [Firm Name] might be interested in taking on a [Time Period] intern with [a start date of X / an immediate start date].
I am a [Student at / Recent Graduate of] [University Name] with a degree in [Major / Degree Name] and [Summarize grades / academic results]. I have also completed coursework in [Relevant Areas] as well as internships in [Summarize the most relevant fields and firm names].
I am especially interested in your firm because of your focus on [Industry Name or Deal Type], [Explain your personal or professional connection to this industry or deal type].
If you have any availability next week, I would greatly appreciate the chance to speak with you and learn more about your firm and the possibility of completing a [Time Period] internship there.
Best regards,
[Name]"
Follow-Up Cold Emails
You're unlikely to receive a response to your first email, so follow-up is essential.
I recommend waiting one week and sending a follow-up email if you haven't heard back by then; if you're under time pressure (e.g., 4-6 weeks to find a job), maybe shorten the follow-up interval to 4-5 days.
You can send 2-3 follow-up emails to one person before you move on (so, 3-4 total emails).
These follow-up messages should be even shorter – here's an example:
SUBJECT: RE: [Insert your original subject line here by replying to your first email]
"Mr. / Ms. [Name],
I just wanted to follow up on the email below and see if you had a few minutes to speak with me about [Describe the internships or other opportunities you're seeking at the firm].
I'm currently a [Briefly summarize your school/work status], and I would greatly appreciate the chance to speak with you and learn more about [Firm Name].
Thanks in advance,
[Your Name]"
Call Preparation and Execution
Your goal in any cold email is to get the other person on the phone, which will usually take a few messages back and forth.
These calls will be short – 5-10 minutes or 15 minutes at the most – and they'll be like "mini-interviews," meaning that technical, deal, and industry questions could come up.
But it also depends on how you've presented yourself; technical questions are more likely if you've had previous internships.
To prepare, you need:
Your (Short) Story: Condense your normal "story" down to 1-2 sentences, similar to the first few lines of your initial cold email.
Industry/Technical Knowledge: Don't kill yourself, but be prepared with some basic knowledge of accounting and valuation.
Why You Want to Work There: You will have to do some "selling" to convince them, and you'll need responses for the most common objections.
Person/Firm Research: Do a quick LinkedIn search, read the website, and find 1-2 recent news items or deals related to the firm.
Your goals in these calls differ depending on your age and experience level.
If you're younger – Year 1 or 2 of university – you want to seem enthusiastic, diligent, and willing to learn quickly so you can save them time and money.
If you already have experience and you're targeting off-cycle roles at larger firms, you want to convince them of your long-term interest in investment banking.
You also need to prepare for common objections:
"We can't afford interns." –> Offer to work for free.
"We don't have enough deal flow." –> You can help with administrative tasks and point out that things might change.
"We can't train interns." –> Highlight your relevant skills and say that you can assist with non-technical tasks.
Follow-Up Emails After the Calls
After you conduct this quick call, you can send a combined thank-you note and follow-up message within the next few days (and if you don't hear back after a week, try again).
If the person requested specific documents from you, such as your resume or a work sample, respond quickly with those (within a few hours, if possible).
There's no point in "staying in touch" with someone after one of these calls because the goal is to ask for an internship, interview, and get a quick decision.
But follow-up messages are still important because smaller firms may not have formal hiring processes, so they could forget about you in the absence of reminders.
Here's an example follow-up email:
SUBJECT: RE: [Reply to the initial cold-email chain]
"Mr. / Ms. [Name],
Thanks again for taking the time to speak with me about [Firm Name] ["earlier today" / "the other day"] and the possibility of interning there.
I understand that [Firm Name] does not normally offer formal internships to students, but I am grateful for the chance to learn more about your firm and look forward to hearing from your team soon.
Also, [You can mention something specific that you discussed on the call, such as information or a document they requested].
Thanks,
[Your Name]"
How to Cold Email for an Internship: Putting in the Reps
The good news is that cold emails are easier than informational interviews in some ways:
Less preparation is required before you can start sending outreach emails.
You don't need to research the other person's career, interests, hobbies, etc., in much depth before each call.
And you don't need to track discussions over months or years because these efforts tend to finish quickly.
Cold emails are more about simple repetition until you get results, similar to door-to-door sales.
The bad news is that cold emailing is a repetitive process, and it's not exactly full of intellectual stimulation.
But if you want to be competitive for the investment banking internships at large firms that lead to full-time offers, you'll probably have to use some amount of cold emailing.
For Further Learning About Investment Banking Cold Emails
If you want to learn about cold calling, read Cold Calling Investment Banks: When to Do It, and How to Succeed.
If you want detailed, step-by-step tutorials, plus many email templates and several example calls, you can get everything in the IB Networking Toolkit:

IB Networking Toolkit
Win investment banking interviews with dozens of templates, examples, and guides for informational interviews, cold emails, cold calls, and more.
learn more
This article gives you a good foundation, but the Networking Toolkit goes into the process in more detail and has executed examples of everything discussed here.
As with all networking, though, the key is to get out there and practice.
And since you can do everything described here from your couch, you don't even need to "get out there" – you just need to practice.
Break Into Investment Banking
Free Exclusive Report: 57-page guide with the action plan you need to break into investment banking - how to tell your story, network, craft a winning resume, and dominate your interviews