How to Prepare for Investment Banking Summer Internship Recruiting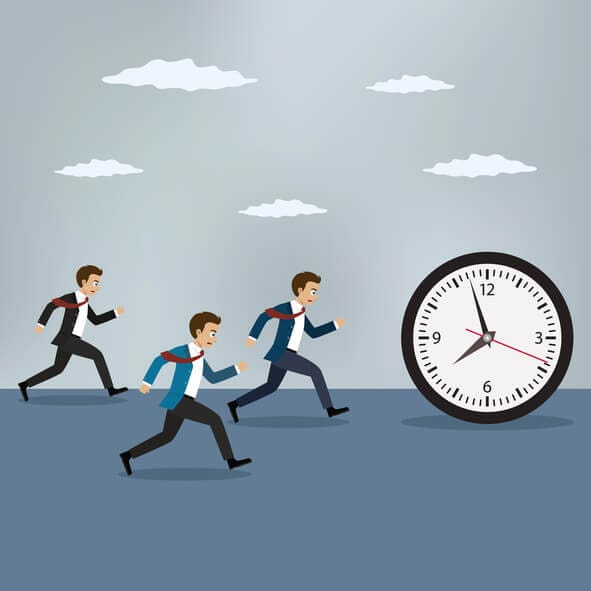 This revised and updated article is mostly a
reality check
.
If you're wondering why I'm publishing an article about "summer internship recruiting" in February, then you haven't been paying attention to recruiting.
In the U.S., summer internship recruiting at many banks now begins and ends over a year in advance of internships.
Some large banks have already opened their applications within the past week.
And within the next few months, a lot of recruiting for summer 2019 internships at major banks will be done.
This move to hyper-accelerated recruiting is ridiculous, especially since most 2nd-year university students have no idea what they want to do.
But ridiculous behavior defines the finance industry, so you have to deal with it and survive.
Here's what it means for your timeline, preparation, and strategy:
Why Does Hyper-Accelerated Recruiting Matter?
This change matters because summer internships are the best – and sometimes only – way to receive full-time investment banking offers.
A summer internship is effectively an 8-10-week interview at a bank, and it's the best way for a bank to assess your performance.
If you miss recruiting season and, therefore, miss a summer internship, you are screwed.
Occasionally you can win a full-time offer without a summer internship, but the odds are strongly against you.
Much earlier start dates have also changed other important points:
1) Your GPA Will Become More Important, So Maximize "Easy A" Classes in Your First 1-2 Years
You'll have less experience by the time you apply for summer internships, so banks will judge you more based on grades, test scores, and the brand name of your university.
You can't do much about the last two, but you can game the system to boost your GPA.
You should make every effort to take easy classes to boost your grades in your first 1-2 years and save the harder ones for your last few years.
At my university, language classes were easy A's, and I used them to offset lower grades in engineering/computer science classes.
Figure out the loopholes at your university and exploit them!
2) If You're a Transfer Student, You're Kind of Screwed
Transferring to a better university to improve your recruiting chances is now a much worse strategy.
Transferring between your second and third year makes no sense because you'll completely miss summer internship recruiting.
Transferring after your first year might be a bit better, but recruiting will still be tough because you won't have as much time to network with alumni or join student groups.
So, if you're transferring only to win an IB internship, you might want to reconsider.
3) If You're at a Non-Target School, You're Also Kind of Screwed
There's much less awareness of investment banking and private equity and the recruiting timelines at non-target schools, and the "career centers" there are completely clueless.
So, if you're at a non-target school and you did not start preparing for IB by the beginning of your second year, you'll probably have to use a different strategy to get in.
For example, maybe you'll have to apply for wealth management or corporate banking roles, start working full-time in one of those, and then make a lateral move into IB.
4) Internships After Your First Year, School-Year Internships, and "Upcoming" Internships After Your Second Year Will Become More Important
A long time ago, what you did after your first year of university didn't matter much because banks focused on second-year internships.
But those days are long gone.
Now, you're pretty much going to need a finance-related internship after your first year because you won't have much else to write about on your resume.
And the recruiting process will favor students who line up second-year internships far in advance because they'll be able to write "Upcoming Finance-Related Summer Internship" on their resumes.
5) Networking via Student Groups Will Be More Useful
With the new timeline, it will be tougher to make multiple weekend trips to NY and build relationships with alumni before interviews begin.
As a result, you'll have to rely more on student groups, investing clubs, and business fraternities to build connections and get help from older students.
How to Prepare: Your Timeline and Strategy
If you are even vaguely interested in investment banking, you must start preparing for it in your first year of university.
I would suggest this rough timeline:
Step 1: Your First Year in University
Start by picking a major related to finance or something that can be used for other jobs if you don't win finance job offers (e.g., accounting, computer science, engineering, etc.).
Then, front-load your schedule with easier classes in your first year.
You don't need to earn perfect grades, but you want to come as close as possible.
Participate in activities that will help you network your way into a finance role: The student investment club, the business frat, or a series of investing or case competitions.
Over the summer, aim for finance-related internships. You probably won't be able to win an actual investment banking internship, but you might find something in corporate finance at a local company, or perhaps an internship at a boutique PE/VC firm.
Other options would be wealth management, anything in real estate, or something at a Big 4 firm or an independent valuation firm.
There is no set process to apply for these internships, so your approach will be: "Find companies and peoples' names on LinkedIn, email or call them, and repeat until you find something."
Step 2: The Summer After Your First Year
This is when you complete your first finance-related internship.
You should also start learning the technical side (accounting, valuation, and transaction modeling) and networking with alumni by setting up informational interviews.
You do not need to devote a lot of time to these efforts. If your internship has normal hours, you could target ~10 hours per week for networking + technical prep.
That might equate to 3-4 informational interviews per week and several hours of tutorials and practice exercises.
You learn best by doing, so don't just read books, guides, or quick references from our courses: Take real companies and build simple projections and valuations for them.
This summer is also a good time to develop an interesting hobby or experience that you can reference in interviews.
Take something small, such as a week-long trip or volunteer project, and spin it into sounding more significant.
Step 3: The First Half of Your Second Year
You'll continue networking with alumni and preparing for the technical questions in this period.
You should also start conducting weekend trips to New York or the major financial center closest to you.
One trip is good, and two are better, but once you complete three or more, you'll get diminishing returns.
You could aim for one trip at the start of the year and another just before internship recruiting begins.
You can keep participating in student groups and activities, and you should aim for a leadership role so that you have more to write on your resume.
Also, you'll have to start thinking about your internship plans for the upcoming summer (the one after your second year).
Once again, this will probably not be an investment banking internship, but any of the options mentioned above could work.
Step 4: The Second Half of Your Second Year
At this point, many banks will start conducting information sessions at target schools, and interviews will begin and end.
So, you need to know your response to the "Walk me through your resume" question perfectly, and you need to be well-prepared for all the fit and technical questions.
If you haven't yet found an internship for the coming summer, keep looking – writing about an "upcoming internship" on your resume will make a difference.
Step 5: The Summer After Your Second Year
You complete your second finance-related internship at this point.
Also, not all banks finish summer recruiting so early – some will continue with interviews through this summer and into the fall.
It's not necessarily the end of the world if you miss the earliest recruiting deadlines, so you can certainly keep applying and networking.
However, your chances decrease the longer the process drags on.
Step 6: Your Third Year in University
Some banks will continue recruiting even into your third year, so you may still be able to interview around.
But if you haven't won an internship within the first few months of this year, chances are that you won't be in IB for the summer.
If that happens, go for something else in finance, ideally related to transactions.
One solid, frequently overlooked option is corporate banking, which can be a good steppingstone into IB.
What If You Decide on IB Too Late in the Game?
If it's already your second year, and you haven't yet had a finance internship or networked with alumni, then you don't have a great shot at winning IB internships.
You might still be able to win something if you're at a target school with high grades, but if not, focus on other options: Consulting, wealth management, corporate banking, Big 4 firms, or small PE/VC firms.
Recruiting moves more slowly and sanely in those fields, and it is possible to move into IB as a lateral hire even if you start out full-time in something else.
Also, you might be able to recruit for and win full-time IB roles even without a prior IB internship, as a reader did in this previous article.
To do that, market conditions must be right, you'll need to do an insane amount of networking in a few short months, and you'll have to target non-BB/EB firms (i.e., MM banks, IBABs, and regional boutiques).
Other Variations, Regions, and Considerations
In Europe and Asia, the summer analyst recruiting process is not quite as crazy (yet).
It has been trending earlier, but banks do not start and finish it before the end of your second year.
Instead, they tend to open applications in the summer after your second year and set the deadlines a few months after that.
That may seem like a big difference, but it doesn't necessarily change that much because they conduct interviews on a first-come, first-served basis.
You're at a huge disadvantage if you delay your applications in these regions – be ready to submit the minute they open.
The real difference in EMEA and Asia is that you can rely a bit more on your second-year internship, and you don't need to start preparing so far in advance.
Also, it's easier to win off-cycle internships and use options like spring weeks to boost your chances in Europe.
I'm not sure about other regions (Canada, Australia, Latin America, etc.), so if you have a sense of the timing there, feel free to leave a comment below.
Finally, at the MBA level, not much has changed because banks have a hard limitation: They can't start recruiting until business school begins.
For 2-year programs, therefore, banks recruit in the first half of your first year and award offers by the middle of the year for internships in that year.
You still need to network and learn the technical side far in advance, but you've always had to do that.
Pre-MBA internships are probably more important now because business school students tend to be younger and have less experience.
Will It Ever End?
I'd like to think that at some point, banks will realize that recruiting students with no idea of their career goals is counterproductive.
But then I remember that banks also caused the last financial crisis and do nothing useful for society, and my optimism recedes.
Summer internship recruiting could eventually move up to the start of Year 2 for university students, or maybe even the middle-to-end of Year 1.
I don't see how it could go much earlier than that; at the minimum, you need to be enrolled in a university to apply for internships.
But maybe I'm wrong.
In which case, we might see Goldman Sachs offering internships to "high-potential" 10-year-olds at the next elementary school job fair.
—
If you liked this post, you might be interested in How to Write a Finance Internship Resume with No Work Experience or my article about the private equity internship.
Break Into Investment Banking
Free Exclusive Report: 57-page guide with the action plan you need to break into investment banking - how to tell your story, network, craft a winning resume, and dominate your interviews