The Search Fund Internship: Perfect Pathway into Investment Banking and Private Equity Roles?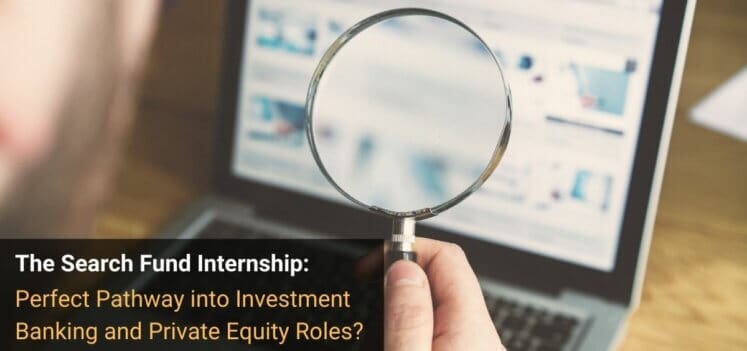 A long time ago, hardly anyone knew about search funds or search fund internships.
But over the years, they morphed into a well-known topic and then a commonly derided topic – as many people argue that search fund experience is worthless, while others claim it's "just as good" as working in banking or private equity.
As usual, the truth is somewhere in between.
A search fund internship is not as "good" as a true IB or PE internship but is far more relevant than many other internships.
It's helpful primarily for early university students, while it's far less useful for career changers or anyone with significant work experience.
Search fund internships are often easier and less competitive to win, and even if you have a bad experience, you can still spin it into sounding relevant.
But these internships are often unpaid, you might end up doing menial work, and you must do a fair bit of networking to line them up, so they have significant downsides.
Before delving into the details, I want to start by explaining the industry:
What is a Search Fund?
You can think of a search fund as a private equity firm meets a SPAC, minus the celebrity sponsor who's there to swindle retail investors.
Like a PE firm, a search fund raises capital from outside investors and aims to multiply that capital by investing it – but like a SPAC, it makes only one acquisition.
Its "portfolio" consists of that single company, assuming it finds and acquires one.
Search funds target much smaller companies than PE firms, with average EBITDAs in the low millions USD, and they require far less experience to launch.
Many search fund founders are relatively young (35-40 or less) and come from banking, consulting, or general management backgrounds; many also have MBAs.
Search funds often raise some initial capital to find potential deals, and they do a second, larger raise once they've decided on a company and submitted a Letter of Intent (LOI) to acquire it.
This strategy allow risk-averse banker-MBA-grinder types to "operate" a company without taking the risk of starting the company.
OK, So Where Does the Search Fund Internship Come into Play?
Search fund founders need interns for countless tasks: filtering/screening companies, conducting due diligence, reviewing company documents, and, once the deal closes, reviewing the company's financial performance.
Because search funds raise little capital to acquire these small businesses, most search fund internships are unpaid.
Some search funds hire only undergrads, some focus on MBAs, and some do a mix of both; they might offer summer or off-cycle internships during the school year.
Often, these internships require 15-20 hours of work per week, so don't expect to juggle them with an intense class schedule or other large commitments.
Why Do a Search Fund Internship?
There are two main reasons to do a search fund internship:
As an undergraduate, it gives you highly relevant experience that will be useful when you apply for investment banking internships. And you need early experience to get internships that convert into full-time offers at large banks.
At the MBA / experienced level, it helps if you want to start your own search fund later.
Search fund internships tend to be less selective than IB/PE internships, and they might compensate for a lack of work experience, a low GPA, or a non-target school.
What is the Search Fund Experience Like?
As with most IB and PE internships, you're unlikely to get much "real work" at a search fund.
In other words, don't go in expecting to run deals, do complex analysis, or make major hiring/firing decisions for an acquired company.
That said, your work may span a wide range of tasks, including:
Finding companies via online searches and "outreach" (cold emails and cold calls).
Reading CIMs and other marketing materials to evaluate companies.
Helping with the deal process, such as getting NDAs signed, requesting data, and finding potential red flags in target companies.
Researching industries and finding sectors that might match your fund's areas of interest.
Try to avoid search fund internships that are 100% cold calling or cold emailing because these are boring and do not give you many transferable skills.
If you do end up in an internship like this, there are ways to spin the experience (see below), but you'll have better luck if you avoid it in the first place.
How to Find a Search Fund Internship
Before you look for any search fund internship, you should review your LinkedIn profile and ensure it's polished since you'll be repurposing it.
Once you have your LinkedIn profile set up reasonably well, you should create a profile on searchfunder.com based on a shortened version of your LinkedIn.
You can look at job postings there, make a short post introducing yourself and explaining your internship search, and cold email people who post positions at their search funds.
As with all cold emailing strategies, you should be as direct as possible, which means "Attach your resume and put 'Unpaid internship' in the subject of your email."
You can take the templates in our cold emailing article and tweak them for the specific search fund(s) you apply to.
Besides searchfunder.com, another good source is searchfunds.net, a PE firm that invests in search funds.
You can find plenty of current funds there on the "Current Searchers" page.
You can also find search funds via LinkedIn and Google searches, but dedicated search fund sites tend to produce better results.
Before sending a message, you should take at least 10-15 minutes to research each person and their fund so you can explain why you're interested in them.
The Interview Process for a Search Fund Internship
You are unlikely to get traditional "technical questions" unless you've marketed yourself as having financial modeling experience.
Instead, most search fund founders will ask how you'd look for and evaluate companies and how you could save them time and money.
These questions are straightforward if you know how internships and deals work, but if you're confused, look at our coverage of investment banking internships and the private equity case study for an example of how to screen for companies.
In most search fund interviews, asking the interviewer the right questions is more important than answering questions yourself.
Their answers can tell you whether the fund will offer a good experience and where it ranks among other options you're considering.
Good questions to ask include:
Are you an independent sponsor or fully funded? –> This will affect the acquisition size and the relationship between the outside investors and the operator. An "independent sponsor" can start operating more quickly but might fail to close a deal because it raises capital specifically for that deal.
What specific target companies are you seeking, beyond the high-level criteria on your website or marketing materials? –> You can use this to determine whether the fund is likely to go anywhere, i.e., if it has realistic targets.
What will my role be, and how many other interns are you hiring? –> You can use this question to tell how much "real work" there will be. Your chances of doing substantial work increase if you're the only intern.
Do you plan to use business brokers or investment bankers in your search process? –> If the answer is "yes," you have a higher chance of getting to evaluate documents like the Confidential Information Memorandum (CIM), which is relevant when applying to IB roles later.
You don't need favorable answers to all these questions, but more positive answers mean the internship is more likely to be useful.
How to Spin a Search Fund Internship into Sounding Useful
If your internship devolves into endless cold calls or cold emails, I recommend doing work outside the job or during your downtime to make the experience look more useful on your resume.
For example, you could take one of the companies you found in the screening process and build a simple 3-statement model and DCF model for it.
You could then list this work on your resume as part of the "deal process" you went through for this one potential acquisition target.
If you don't have the company's financials, find a public company in the same industry, and scale down its numbers to "simulate" what this private company might look like.
There are limits to this strategy – no one will believe that you modeled 15 different deals – but it's fine to do it for 1-2 companies if the internship lasts a few months.
Should You Complete a Search Fund Internship?
The usefulness of a search fund internship depends heavily on your age and experience level, but I'd summarize it like this:
If you are in Year 1 or 2 of university and need experience, YES, a search fund internship is worth it.
A search fund internship is usually better during the school year than the summer unless you need to earn money from another part-time job (see below).
If you have already graduated or have at least 1-2 related internships, a search fund internship is much less useful, especially if it's unpaid.
At the MBA level, it's useful mostly if you want to launch your own search fund after finishing the degree. It might also work as a pre-MBA internship, but you still must win a traditional IB summer internship during your program if you want to pursue IB full-time.
University students sometimes dislike search fund internships because:
They are often unpaid, so completing one is an option only if you have another job, family money, or savings from previous internships/jobs.
They might require 15-20 hours per week during the school year, which could be tough with a difficult class schedule or other commitments such as sports.
The work is often boring or repetitive.
On the first point, you can't do much if you need the money and cannot afford an unpaid internship.
In this case, the best option is to ask to complete the internship during the summer so you can work another part-time job to make money.
With the issue of time, I always recommend arranging your class schedule to finish the easy classes early in university.
Doing this not only boosts your GPA in the years when it's most important, but it also gives you more time for internships and leadership roles.
Finally, with the repetitive/mundane work: to be blunt, you have to accept this to some extent with your first few internships.
You can try to find a search fund that offers more interesting work, but if not, think of it like hazing when joining a fraternity or sorority.
Over time, search funds have become much better known, and some people argue that bankers don't take these internships seriously anymore.
There is some truth to this – bankers are more likely to dig into your experience if they see a "search fund" rather than a traditional bank, PE firm, or Big 4 firm on your resume.
But this claim misses the point: you do a search fund internship to leverage it into better internships in the future.
If you have no work experience, a search fund is much better than listing only student groups or activities on your resume.
And if you want to do investment banking, private equity, corporate development, or even venture capital or hedge funds, it's a better experience than anything outside a direct internship in one of these fields.
References and How to Learn More About Search Funds
If you want to learn more about the field, I recommend:
We've covered search fund jobs in a previous article but will expand that one and add more coverage in the future.
Break Into Investment Banking
Free Exclusive Report: 57-page guide with the action plan you need to break into investment banking - how to tell your story, network, craft a winning resume, and dominate your interviews