Investment Banking in Hong Kong: The Financial Center of the Future World Order?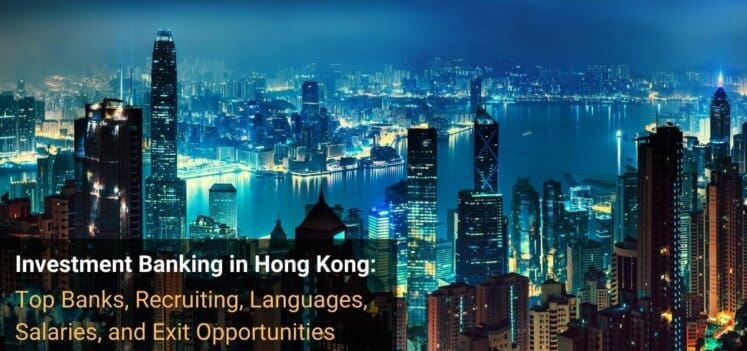 The first thing to understand about investment banking in Hong Kong is that it's unlikely you'll ever be able to work in investment banking in Hong Kong.
In the 1990s and 2000s, bankers from other regions could transfer to HK or start their first jobs there without a strong connection to the region or Asian language skills.
You could find senior finance professionals who had lived in HK for decades and never bothered to learn Mandarin (or Cantonese).
But since HK's handover to China in 1997 and the ascent of Xi Jinping in China in 2012, things have changed dramatically.
Hong Kong is still an important financial center, but banks there now focus almost exclusively on mainland China in terms of deals, clients, and new hires.
If you are from China and want to earn a lot, HK is the place to be.
But if you don't fit this profile, you probably want to re-think your plans:
Investment Banking in Hong Kong: Top Banks, Industries, and Deals
As in London, the "top 3" bulge bracket banks – Goldman Sachs, Morgan Stanley, and JP Morgan – have traditionally advised on the greatest volume of deals in HK.
Others, such as Citi, Credit Suisse (or whatever it is spun off into…), and Bank of America, also perform well but tend to rank below GS/MS/JPM in terms of pure deal volume.
The main difference with these large Western banks is that the European banks tend to be relatively stronger.
For example, UBS is still quite strong in Hong Kong and greater Asia, while it has faded elsewhere; the same applies to firms like CS and HSBC.
If you look at deal activity specifically in China, the clear leaders are the big Chinese banks, which advise on a far greater volume of deals than Western banks.
Important names here include:
China International Capital Corporation (CICC)
CITIC (formerly "China International Trust Investment Corporation")
Huatai Securities
Industrial & Commercial Bank of China (ICBC) (Strongest in DCM)
Bank of China (mostly DCM)
China Securities
Guotai Junan
Haitong Securities
And if you look at just the DCM league table, you'll find many more Chinese banks.
Among these firms, the top two across all products and industries are CITIC and CICC, which are effectively the "Goldman Sachs and Morgan Stanley of China."
The elite boutiques tend to have a small presence in HK; names like Evercore and Rothschild occasionally show up in the league tables, but they're even less of a factor than in London.
The same applies to the U.S.-based middle-market banks: some have offices and operations in Hong Kong, but it's usually not their core focus.
Most Asian regional boutiques are headquartered in China, but a few names specifically based in HK include Somerley Capital and The Anglo Chinese Group.
Larger, diversified banks tend to be more prominent in Hong Kong because it's more of a center for capital markets deals than for M&A.
Traditionally, Hong Kong was viewed as an "IPO hub," with firms from mainland China and other emerging markets going public there due to favorable taxes and regulations.
The breadth of deals has widened over time, but you are still more likely to get equity and debt experience than in-depth M&A experience.
Many of these countries have grown faster than the rest of the world, making capital markets activity more essential.
But it's also because there's often more overlap between different bank divisions in Asia.
For example, many private banking clients might be interested in buying shares in an upcoming IPO, which leads to cross-referrals; these wealthy clients could not participate in a standard M&A deal in the same way.
There isn't a particular industry focus in HK since China and other Asian economies are diversified, but a few prominent groups include tech / TMT, consumer retail, and real estate.
Investment Banking in Hong Kong: Recruiting and Interviews
The recruiting process in Hong Kong is closer to the one in London than the one in the U.S. or Canada.
Expect internship applications that open the summer before the internship, online tests, a HireVue or first-round phone interview, and an assessment center if you pass these screens.
Assessment centers are similar to the ones in London, with a mix of individual interviews, group exercises, presentations, and in-tray/e-tray (to prioritize and respond to emails).
The biggest difference is that they almost always give you a translation exercise, where you must translate a news article from Chinese to English or do the reverse.
A typical set of tasks for an assessment center in HK might look like this:
Math Test (30 Minutes) – The calculations are basic (high-school math); this is usually a "speed test."
Language Test (30 Minutes) – The idea here is to filter out people who cannot read and write Chinese.
Case Study (1 Hour and 15 Minutes) – They might present a simple M&A or financing scenario ("Should Company A acquire Company B, C, or D?" or "Should Company A raise Debt or Equity?") and give you 30 minutes to prepare, 30 minutes to present, and 15 minutes of Q&A afterward.
Three Back-to-Back Interviews (30 Minutes Each) – Interviews tend to be "moderately technical." You need better technical skills than in London, but the questions are far less intense than those in Germany.
A top university, good grades, and previous internship experience still matter, but most junior bankers are Chinese citizens who studied abroad.
There are occasionally also candidates from Hong Kong, but most interviewees are now from China with education in the U.S., Canada, Europe, Australia, or HK.
Anyone not from China or HK almost always covers companies in Southeast Asia, Korea, or other emerging markets that have clients looking to go public in Hong Kong.
The Mandarin Language "Requirement" in Hong Kong
In ~90% of cases, you need to be a native speaker of Mandarin if you want to work in investment banking in Hong Kong.
Pitches to Chinese companies are presented in Chinese, documents and memos are written in Chinese, and most client companies have no English speakers, so it's impossible to do the job without knowing the language.
Note, however, that even if you're a Mandarin speaker from somewhere like Singapore or Taiwan, you still don't necessarily have a great chance of winning HK-based roles.
Yes, the language is "similar," but the culture is quite different, and companies based in mainland China almost always want to deal with bankers from their country.
Occasionally, roles appear for speakers of other Asian languages, and sometimes they don't even care about your language abilities if you have some other sought-after skill.
But you shouldn't bet your future on finding such a role because it's unpredictable, and demand varies wildly.
If you want to work in Asia but you're not Chinese, better options include:
Apply to Singapore – Language skills still help, but due to the Southeast Asian focus, you don't necessarily need to know Chinese. And you're more likely to find a job without any knowledge of SE Asian languages.
Apply to Non-IB Roles – For example, you don't need Mandarin to do sales & trading, and you might be able to work at certain hedge funds without it.
Investment Banking Target Schools for Hong Kong-Based Roles
Since most junior bankers in HK come from China and study abroad for university, the list of "target schools" includes the top ones in the U.S., U.K., HK, and China:
U.S.: The Ivy League schools + others at the same level, such as MIT, Stanford, Berkeley, etc.
U.K.: Oxford, Cambridge, LSE, UCL, Warwick, and Imperial (see the IB in London article for a broader European list).
HK: Hong Kong University (HKU), Chinese University of Hong Kong (CUHK), and Hong Kong University of Science and Technology (HKUST).
China: Peking University, Tsinghua, Fudan, Shanghai Jiaotong, Nankai, Nanjing, and Zhejiang.
You can still get into IB in Hong Kong without attending one of these schools, but you'll need to start earlier and network much more aggressively.
For HK-based roles, it helps to be on the ground so you can meet people directly rather than doing everything online.
Doing an exchange program in the city or spending a semester abroad validates your interest and lets you network more effectively.
Investment Banking in Hong Kong: Salaries, Bonuses, and Taxes
Investment banking salaries and bonuses in Hong Kong are similar to the levels in New York, perhaps with a small discount depending on the bank and group.
This makes Hong Kong unique because it doesn't have the same compensation discounts seen in regions like Canada, the U.K., and Germany.
But the true allure of Hong Kong for many foreigners is the low tax rate: the top rate is only ~15% vs. ~45%+ in NY, London, and mainland China.
Yes, the city is expensive, and rents are ridiculous for the space you get, but it's no different from NY.
But the much lower tax rate means you'll save significantly more when you work in Hong Kong, especially as you move beyond the junior levels of banking.
This lower tax rate is less beneficial for U.S. citizens and green-card holders since they must still file and pay U.S. taxes on worldwide income.
However, U.S. citizens can list HK taxes as a foreign tax credit and not pay anything on the first ~$120K of foreign income, so they still end up paying less.
So, you won't get the same 15% top rate if you're a U.S. citizen, but you'll still reduce your taxes and owe far less than you would in NY or California.
Historically, some banks have also provided a housing allowance if you're interning in Hong Kong or you've transferred there from another office, but it's not clear how common this is.
If your firm offers this allowance, it's a nice bonus that makes the compensation picture even more lucrative.
The Lifestyle and Hours as an Investment Banker in Hong Kong
And now we arrive at a major downside of investment banking in Hong Kong: the hours are terrible.
Bankers always exaggerate their hours, but it's safe to say that HK is at least as bad as NY, if not worse: expect regular 85-90-hour workweeks as a junior banker.
A few factors explain the hours:
Face Time – While banks in Western countries have tried to move away from "face time" (i.e., being in the office to show you're in the office), it's still a major issue in HK and at many Asian companies (China is even worse).
Marketing and Pitching – You will be doing a lot more pitching than in NY because bankers in Asia tend to chase many random clients without necessarily having a long history or existing relationships, as they would in other regions.
"Random Client Work" – It's not unusual for clients to make requests that have nothing to do with financial analysis. For example, they can ask for random personal favors, see if one banker can go on-site for a while, etc.
People sometimes counter by saying, "Sure, the hours are bad, but it's easy to travel to other parts of Asia! Since weekend trips are so convenient, HK is a great place to work."
This might be true at higher levels or for non-IB roles, but as an Analyst, you're unlikely to have enough consistent free time to take advantage of these travel possibilities.
Investment Banking in Hong Kong: Exit Opportunities
As a major financial center, Hong Kong has plenty of private equity firms and hedge funds.
All the mega-funds have a presence, so you'll see the likes of KKR, Blackstone, Carlyle, and more; most also have offices in mainland China.
Some upper-middle-market or "large but not mega" funds also operate in HK, but once you go below this size range, you'll see fewer Western PE firms and far more China/Asia-specific ones.
Similarly, all the largest multi-manager hedge funds operate in HK, but you'll see fewer HFs from other countries as fund sizes decrease.
A few Asia-specific PE firms in Hong Kong include Baring Private Equity Asia (now owned by EQT and known as BPEA EQT), China Renaissance Capital, ChinaVest Private Equity, CITIC Capital, Hillhouse Capital, LionRock Capital, and PAG.
Key differences include:
Growth Equity / Venture Capital Focus – Many of these firms operate more like growth equity firms or VCs due to the high growth rates in many Asian countries.
China Focus – Most private equity and venture capital funds in Asia are in China, with HK at a distant #2. So, even if you are physically in HK, you'll be working on mostly Chinese deals.
Slower / Unstructured Recruiting – Similar to the process in London, buy-side recruiting in HK is less structured, and hiring happens on an "as-needed" basis.
Smaller Market – A Capital IQ search produces a few hundred PE firms and 100-200 hedge funds in Hong Kong, but there are thousands of PE firms and hedge funds in the U.S. and U.K. The numbers change if you include firms in mainland China, but it's still an order-of-magnitude difference.
Outside the traditional IB exit opportunities, you could always go the corporate route or transfer to another office.
However, many of these corporate development/finance roles are based in the company's home country, which means you won't necessarily stay in HK.
I would rate Hong Kong below New York and London for exit opportunities but ahead of places like Canada and other European countries.
How the CCP Takeover of Hong Kong Affects the Finance Industry
Finally, we need to address the elephant in the room: how China and the Chinese Communist Party (CCP) have taken over Hong Kong and asserted their authority there, despite promises of "one country, two systems."
The National Security Law passed in 2020 has allowed China to crack down on free speech, free press, and free association (i.e., protests) and has also driven many foreigners and foreign investors out of the region.
The net effect is that Hong Kong is an increasingly unpleasant place to live in unless you're a hardcore CCP loyalist.
On a practical level, these rules and restrictions do not affect you much if you're a junior banker working all the time.
It's not as if you'll work in IB and stage protests or launch a newspaper in your free time.
And if you're only in the city for 1-2 years, you can ignore politics, keep a low profile, and leave when your time is up.
But in the long term, the CCP takeover will hurt the city significantly:
Hong Kong Will Become Less Appealing for Long-Term Careers – For example, if you're from a Western country, do you want to have a family or raise kids in such an authoritarian place? And if you're from China, do you want to return to this type of environment?
Hong Kong Will Become Even Less of an Asian Gateway and More "China Central" – There will be fewer opportunities to work on deals in the rest of Asia, and even more deal activity will shift to places like Singapore.
Investment Banking in Hong Kong: Final Thoughts
So, if you have the chance, should you work in investment banking in Hong Kong?
As with any other regional decision, it depends on your background and goals.
It's best for Chinese citizens educated abroad who want to maximize their earnings.
If you know the culture and language and want to work and earn a lot, HK is great.
But for everyone else, I would say, "Look before you leap."
Considering the disadvantages, such as the longer hours, the equity/debt focus of many deals, and the reduced exit opportunities, it's tough to rank HK above London or NY for the average Westerner.
Sure, the after-tax compensation is higher, but that makes a bigger difference as you progress to much higher salary/bonus levels as a senior banker.
If you're not from China, it might still be worth working in Hong Kong for ~1 year if you start in another city and you get the opportunity to transfer (i.e., no language requirements).
You will learn something, get different deal experience, and make your resume more attractive.
But I'm not sure it's worth staying beyond that unless you have a really good reason to do so.
If the CCP loosens its leash or HK becomes more of an Asian hub, that might change – but I'm not holding my breath.
Want More?
You might be interested in reading about Investment Banking In Dubai.
Break Into Investment Banking
Free Exclusive Report: 57-page guide with the action plan you need to break into investment banking - how to tell your story, network, craft a winning resume, and dominate your interviews