How to Make A Career Move from Consulting to Investment Banking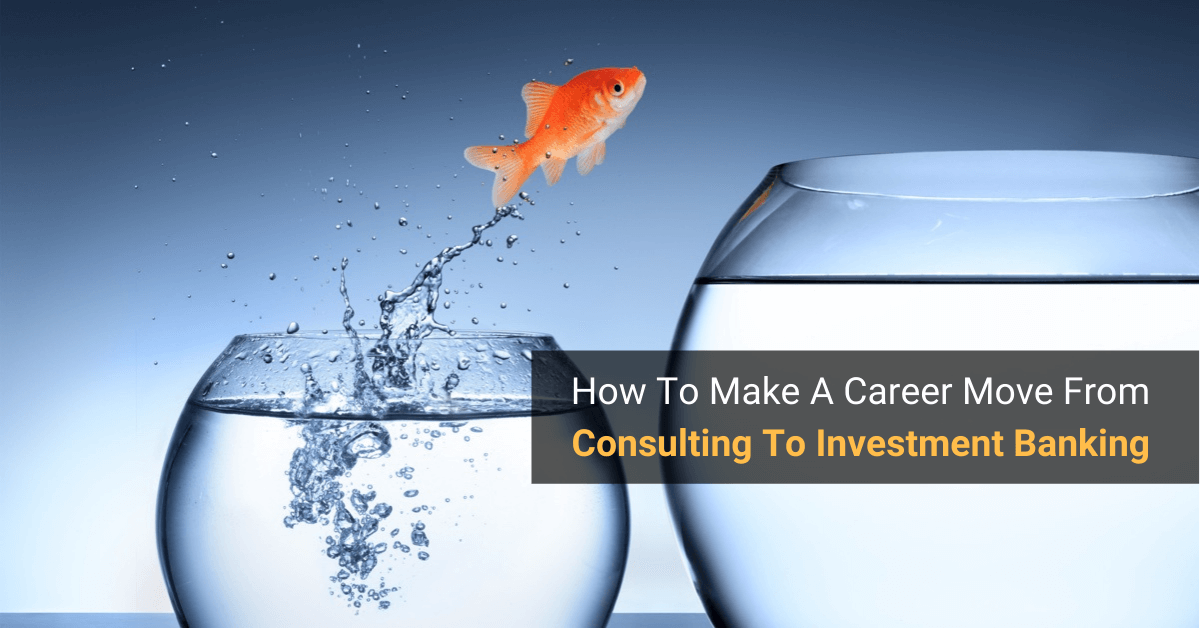 I'm not gonna lie: I haven't
treated consultants very well before
– and even though
that infamous Leveraged Sellout video
is ancient history by now, it still pops into my head whenever I get questions from consultants.
But despite that, I still do get lots of questions about how to make a career move from consulting to investment banking or private equity.
In some ways, you're in a better position than engineers, lawyers, or accountants trying to break in – but the bad news is that a lot of investment banks don't like consultants.
So here's what you do to get around that and break into investment banking:
What You're Up Against As A Consultant
Just to recap what you're up against as a consultant vs. other professions moving into finance:
As a consultant, here's your challenge:
"I know you can work with clients and that you understand the business world. But can you build an LBO model? Do you have any discernable skills? And are you prepared to work true banker hours?"
So it's a combination of what lawyers and accountants face, with some extra prejudice thrown in since many bankers don't take consultants seriously – especially if you're an IT or HR consultant rather than a management consultant.
What Works In Your Favor
But you do have a few things working in your favor:
You "get it" – you're not some engineer with no business experience who doesn't understand how to work with and manage clients.
If you're working at a top firm (MBB), you have a prestigious name that all bankers recognize.
Better networking opportunities than an undergraduate – Partners are well-connected, and your clients might be investment banks.
Telling Your Story To Investment Bankers
Just take the templates and examples for the "Tell me about yourself" question here, and apply them to your own situation.
Here's a sketch of what you might say:
"I was really interested in business and advising companies on major strategic decisions, so after graduating from [University / Business School Name], I decided to take an offer at [Consulting Firm]. I've done well there and have gotten good reviews, but I also realized that what I did as a consultant was rarely implemented by clients.

I had worked on a few M&A and due diligence-related projects, and realized that in [investment banking / private equity] you have much more of an impact on the company you're working with – and I was more interested in modeling and valuation than in qualitative work."
That is just a sketch of the basic idea – you would expand on that in interviews.
If you're moving in from something less business-related – like IT or HR consulting – then you should also include something about wanting to see the trees for the forest and understand the business at a much higher level.
Point to specific clients or cases you worked on and the finance-related analysis you did that made you more interested in finance.
"I worked with a $50B telecom company in its restructuring process and learned about what management considers when it decides to declare bankruptcy rather than restructure its debt – and I got to assist bankers with analyzing the best debt structure going forward" sounds much better than just saying you think financial modeling is cool.
And before you mention it, yes, I know that common stereotype of consultants' advice not being implemented is not necessarily true.
Plenty of work you do as a banker never sees the light of day, either, and it's even worse in PE.
But what matters here is perception, not reality – and financiers like to think of themselves as shaping industries and companies and "having a really significant impact" (even if they don't get home by 7:15).
Networking Your Way Into Investment Banking
So you have your story… now how do you pound the pavement and make sure someone actually hears it?
I'm not going to repeat the dozens of tutorials on investment banking networking, informational interviews, weekend trips, cold-calling, and so on because those still apply if you're a consultant moving into finance.
The main differences lie on the sourcing side – where you find names in the first place:
You have access to an additional "alumni" network – from your consulting firm. Leverage it and contact everyone who now works in finance.
Partners at consulting firms are very well-connected and will know bankers. Don't be shy about asking, especially since you're expected to move elsewhere after working in (management) consulting.
You could move to a finance-related group at your firm, or go to a banking or PE group that has overlap with your background (e.g. if you consulted with energy companies, you could target oil & gas groups).
Those 3 represent a big advantage over anyone else who's moving into finance.
You could still cold call rather than using the strategies above, but don't start there unless you are targeting boutiques and have absolutely no connections (unlikely).
Should you focus on boutique investment banks rather than bulge bracket investment banks?
That may improve your odds, but it may not be necessary depending on how well-connected your firm is: if you can contact bulge bracket bankers, at least give that a shot.
Finance-Specific Consulting Firms?
Similar to industry-focused investment banks, there are also industry-focused consulting firms.
So it must help to go to a place like Oliver Wyman that is well-known for financial services consulting rather than a firm that does everything, right?
If you have the choice between 2 smaller or 2 specialized firms, yes, go for one that has the financial focus.
But don't pick a finance-specific firm over McKinsey (or Bain, or BCG) just because you get to work with more finance companies – brand name makes far more of a difference if you're breaking into investment banking or PE.
Spinning Your Resume/CV For Investment Banking Roles
You have it easier with your resume/CV than an engineer because at least you've worked with clients before and can point to specific projects and "deals."
Click here to download the "Experienced" resume template and view the tutorial, and then make the 3-4 most relevant clients you've worked with into separate "Project" entries.
Your main challenge will be spinning what you did into sounding relevant to finance:
If you worked on anything related to due diligence, M&A, or capital markets, obviously list that and hype it up.
If you don't have anything directly related, take what you have and highlight the quantitative work you did rather than the qualitative side. Numbers and dollar/Euro/other currency figures are good.
Even if you have not worked with financial statements, you can highlight market-sizing analysis, cost analysis, or anything that involves numbers.
And remember the golden rules of spinning: re-adjust the focus, magnify small details, and omit facts that do not make you look good.
If you write something like this:
"Worked with Fortune 500 Company to analyze hiring and retention strategy for sales force and make recommendations that improved retention by 50% by better aligning incentives, target customers, and sales rep performance."
That might be a good bullet for consulting jobs – you have a specific number and your recommendations were even implemented by the company.
But for finance you should write the following instead:
"Worked with Fortune 500 Company to boost revenue and profitability by improving sales rep productivity and revenue per sales rep and by reducing G&A costs associated with sales force hiring; led to estimated [$xx] increase in revenue and [$xx] increase in pre-tax profit."
You're still writing about the same client engagement, but you're framing it differently and focusing on finance rather than operations.
You probably won't have exact numbers in this situation, so estimate and make it clear that it's just an approximation.
Dominating IB Interviews As An Ex-Consultant
Interview questions will focus on the key "objections" that bankers have to consultants:
So you need to address both of those and presenting solid "mini-stories" that prove your points.
For #1, talk about how busy you were due to the infamous consulting travel combined with client demands and how you had to pull banker hours for an extended period.
Even if you work less than bankers on average, just point to a particularly busy period and use that, and then turn around and use the same story for the other standard fit questions as well.
To prove you know something about finance, either talk about finance-related projects and analysis at work, or how learned on your own from classes, training programs, and self-study.
While I'm not a fan of the CFA, it would make sense to bring it up here if you've somehow had the time to complete it.
Other than that, all the standard fit and technical questions covered in the superday interview guide and the investment banking interview guide still apply here.
Acing Technical Questions In Investment Banking Interviews
As a consultant, you may receive more technical questions than others because bankers will be skeptical of your financial know-how.
While the CFA is overkill and isn't realistic given how much you work and travel, a crash-course on the technical side is not a bad idea.
I'll be up front and tell you that we offer industry-leading financial modeling training programs through this site, and I'm too lazy to insert a sales pitch here but you can read all about them on your own and decide what's right for you.
Remember that you are competing with ex-bankers, undergraduate finance majors, and others who know the technical side very well – you don't want to give banks a good reason not to hire you.
You don't need to know the details behind every single advanced concept, but, for example, something like a simple LBO model is definitely fair game and even an expected topic.
And For Breaking Into A Private Equity Career…
I've been lumping investment banking and PE together, but there are a few differences if you're focused on the consulting to Private Equity transition.
First, it's very difficult because private equity firms almost exclusively recruit investment banking analysts.
So it might actually be easier to get into banking first and then make the move to PE.
If you don't want to do that, you need to target firms that have a tradition of hiring consultants – the classic one is Golden Gate Capital, which was founded by Bain consultants and still hires mostly Bain consultants.
Focus on firms that emphasize operational improvement and turnaround strategies over financial engineering (actually easier to do in a recession or quasi-recession).
Your chances of getting into KKR, Blackstone, TPG, and so on, are slim because they only make a few hires each year and only hire those few from the top banks – the vast majority of bankers at Goldman Sachs, Morgan Stanley, and JP Morgan don't even have a good chance of working at those places.
So target operationally-focused firms or anything with a complementary industry focus – if you worked with entertainment companies, maybe you can join Bono at Elevation Partners.
Venture capital is also a possibility – they care far less about financial knowledge than PE firms, and if you've worked with tech or biotech companies you can easily spin yourself into a "strong cultural fit."
Hedge funds are more of a longshot because so many are about hardcore finance and don't care about operations or strategy – if you want to go there, you'll have to find one that is more strategy/operations/long-term investing-focused and less about short-term trading.
Plan B Options: What If Moving From Consulting To Investment Banking Fails?
So what if you've done everything above but still can't break into IB or PE? Here are some "Plan B" options to consider.
1. Move to a Bigger Consulting Firm
Specifically, M/B/B – see Kevin's thoughts below for more on this one, but generally the brand name makes far more of a difference than your actual industry focus as a consultant.
Plus, Partners at the top firms are more likely to know bankers and financiers than the ones at smaller firms.
2. Go to Business School
If you go this route, you'll have a much better chance at post-MBA investment banking positions than PE ones: as interviewees on this site and I have mentioned before, your chances of getting into private equity without having been an IB analyst are slim.
And you should still do a pre-MBA internship that brings you closer to finance or you may not be able to re-brand yourself as easily as you expected.
3. Go to Something Other Than IB/PE/HF
There are plenty of other, less competitive finance industries out there (and yes, before you mention it, they also pay less).
So you could network your way into an asset management or commercial banking role, then get to know people in the investment banking division and move in like that.
This one is a better idea if you have no connections and have no other way in – otherwise you are better off staying a consultant rather than moving to a more finance-related but less "prestigious" role.
Additional Tips From An Industry Expert
To get another perspective, I asked Kevin from Management Consulted for his thoughts on this topic and used some of what he mentioned above – here's what he said in more detail:
It's all about brand name – get into the best consulting firm possible. While Oliver Wyman is marginally better than, let's say, Kurt Salmon (boutique retail), M/B/B is far better than any of the rest in helping you get there.
Most consulting firms have internal finance groups/sectors – get as many cases under your belt in these groups as possible.
Most partners in those practices have serious connections – leverage those connections by over-delivering with your cases and networking heavily with partners.
Ask for intros to the banks you're targeting – they might be your clients and you can build relationships first that way.
Go to NYC. Just like entrepreneurs move to Silicon Valley, you must be in NYC to have access and credibility. In Europe, go to London. In Asia, go to HK.
It's all about your network and less about financial knowledge, at least in terms of getting interviews in the first place – organize internal networking events in the finance practice to meet even more people.
A lot of consulting firms have externships and special programs to give you corporate exposure outside of strategy consulting. Leverage those as much as possible.
So there you have it – thoughts from someone who knows consulting inside and out.
Final Thoughts On Moving From Consulting To Investment Banking
Still Can't Buy Bottles with Starwood Points?
So if you're tired of flying up to Saskatchewan every week to tell a company what it already knows, follow everything above.
And you just might be able to get rid of those Starwood points and buy a few bottles with your investment banker friends.
Want More?
If you liked this post, you might be interested in Management Consulting vs Investment Banking: The Eternal Battle.
Break Into Investment Banking
Free Exclusive Report: 57-page guide with the action plan you need to break into investment banking - how to tell your story, network, craft a winning resume, and dominate your interviews