The Investment Banking Cover Letter Template You've Been Waiting For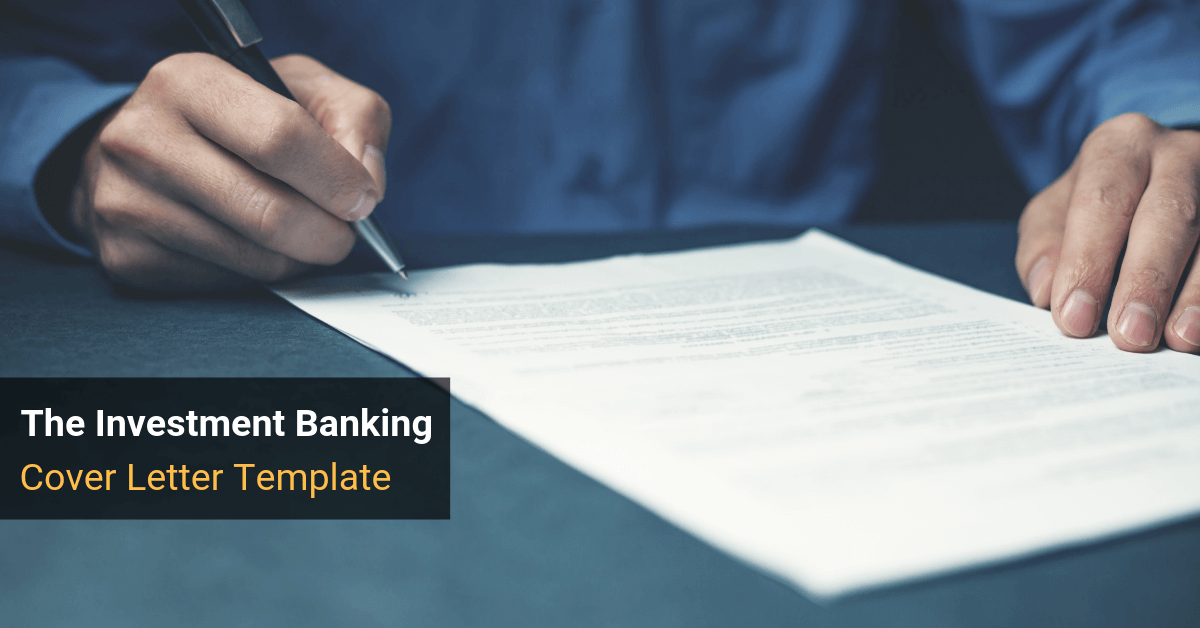 A long time ago I said that we would never post a cover letter template here:
"I was tempted to post a Word template, but I don't want 5,000 daily visitors to copy it and to start using the same exact cover letter."
But hey, we already have resume templates that everyone is using, so why not go a step further and give you a cover letter template as well?
Plus, "investment banking cover letter" is one of the top 10 search terms visitors use to find this site – so you must be looking for a template.
The Template & Tutorial
Let's jump right in:
Investment Banking Cover Letter Template [Download]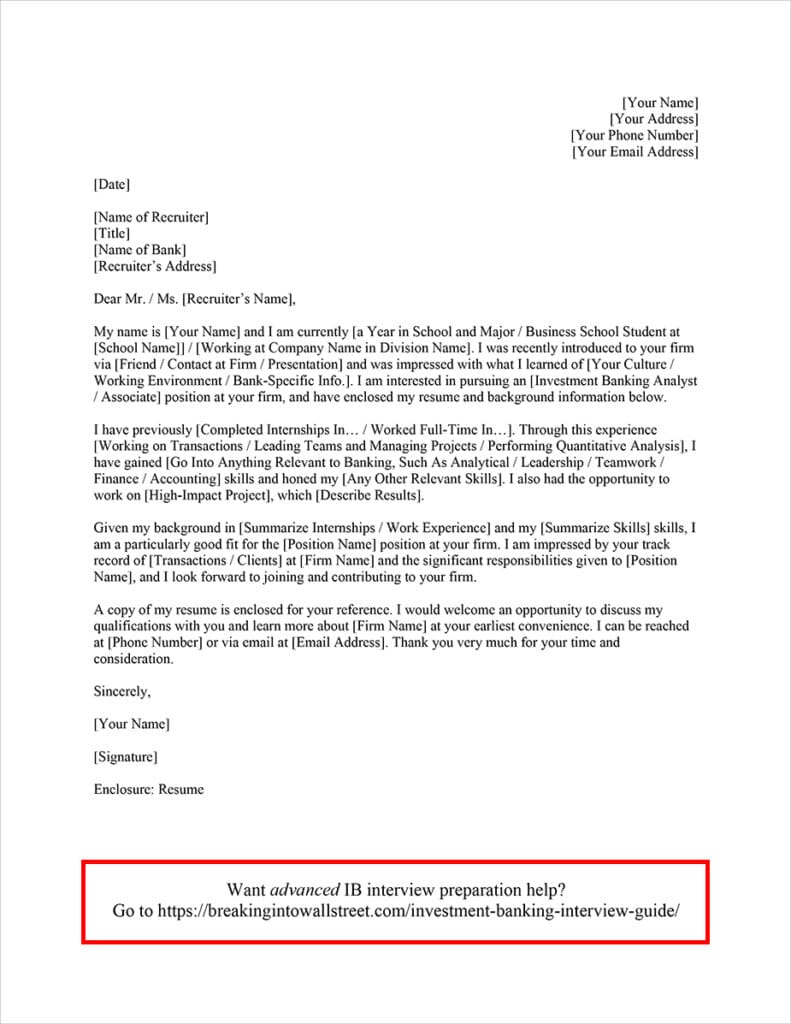 And here's the video that explains everything:
(For more free training and financial modeling videos, subscribe to our YouTube channel.)
And if you'd rather read, here's the text version:
At bulge bracket banks, people barely read cover letters.
Cover letters matter 10x less than resumes and 100x less than networking.
But there are a few special cases where they're more important:
Boutiques and Local Banks – Sometimes they actually read cover letters.
Unusual Backgrounds – If you're NOT in university or business school at the moment, you may need to explain yourself in more detail.
Outside the US – In Europe, for example, some banks pay more attention to cover letters, online applications, and so on.
Similar to grades and test scores, a great cover letter won't set you apart but a poor one will hurt you – so let's find out how to avoid that.
Overall
Keep your cover letter compact and avoid 0.1″ margins and size 8 font.
With resumes you can get away with shrinking the font sizes and margins if you really need to fit in extra information, but this is questionable with cover letters.
Go for 0.75″ or 1″ margins and at least size 10 font.
With resumes there were a couple different templates depending on your level – but with cover letters that's not necessary and you can use the same template no matter your background.
1 Page Only
Ok, maybe they do things differently in Australia (just like with resumes) but aside from that there is no reason to write a multi-page cover letter.
If you actually have enough experience to warrant multiple pages, do it on your resume instead and keep the cover letter brief.
Contact Information
List your own information – name, address, phone number, and email address – right-aligned up at the top.
Then, below that you list the date and the name and contact information for the person you're writing to, left-aligned on the page.
If you don't have this information you can just list the company name and address and use a "Dear Sir or Madam" greeting.
That's not ideal – especially if you're applying to smaller firms where cover letters actually get read – but it's all you can do if you can't find a person's name.
If you're sending the cover letter via email as the body of the email, you can omit all this information and just include the greeting at the top.
Paragraph 1: Introduction
This is where you explain who you are, where you're currently working or studying, and how you found the bank that you're applying to.
Name-drop as much as possible:
Impressive-sounding university or business school? Mention it. Even if it's not well-known, you still need to mention it here.
Your company name, especially if it's recognizable, and the group you're working in, especially if it's something relevant to finance like business development.
How you found them – specific peoples' names, specific presentations or information sessions where you met them, and so on.
The position you're applying for (Analyst? Associate?) – especially for smaller places that are not well-organized.
This first paragraph is all about grabbing their attention.
Example 1st Paragraph:
"My name is John Smith and I am currently a 3rd year economics major at UCLA. I recently met Fred Jackson from the M&A group at Goldman Stanley during a presentation at our school last week, and was impressed with what I learned of your culture and recent deal flow. I am interested in pursuing an investment banking summer analyst position at your firm, and have enclosed my resume and background information below."
Paragraph 2: Your Background
You go through your most relevant experience and how the skills you gained will make you a good banker right here.
Do not list all 12 internships or all 5 full-time jobs you've had – focus on the most relevant 1-2, once again name-dropping where appropriate (bulge bracket banks / large PE firms / Fortune 500 companies).
Highlight the usual skills that bankers want to see – teamwork, leadership, analytical ability, financial modeling and so on.
If you worked on a high-impact project / deal / client, you can point that out and list the results as well.
This may be your longest paragraph, but you still don't want to write War and Peace – keep it to 3-4 sentences.
Example 2nd Paragraph:
"I have previously completed internships in accounting at PricewaterhouseCoopers and in wealth management at UBS. Through this experience working directly with clients, analyzing financial statements, and making investment recommendations, I have developed leadership and analytical skills and honed my knowledge of accounting and finance. I also had the opportunity to work with a $20M net-worth client at UBS and completely revamped his portfolio, resulting in a 20% return last year."
Paragraph 3: Why You're a Good Fit
Now you turn around and link your experience and skills to the position more directly and explain that leadership + quantitative skills + accounting/finance knowledge = success.
There is not much to this part – just copy the template and fill in the blanks.
Example 3rd Paragraph:
"Given my background in accounting and wealth management and my leadership and analytical skills, I am a particularly good fit for the investment banking summer analyst position at your firm. I am impressed by your track record of clients and transactions at Goldman Stanley and the significant responsibilities given to analysts, and I look forward to joining and contributing to your firm."
Paragraph 4: Conclusion
This part's even easier: remind them that your resume is enclosed (or attached if sent via email), thank them for their time, and give your contact information once again so they don't have to scroll to the top to get it.
Example 4th Paragraph:
"A copy of my resume is enclosed for your reference. I would welcome an opportunity to discuss my qualifications with you and learn more about Goldman Stanley at your earliest convenience. I can be reached at 310-555-1234 or via email at johnsmith@fake.com. Thank you very much for your time and consideration."
Unusual Backgrounds
These examples cover how to apply to a bank if you're in university, business school, or you've been working for several years.
If you have a more unusual background (e.g. you went to med school, graduated, started your residency, but then decided you wanted to be an investment banker), then you might need to add a few sentences to paragraph #2 or #3 explaining yourself.
Resist the urge to write your life story because no one will read it – interviews are a much better venue to prove how committed you are.
Email vs. Attachments
If you're emailing your cover letter and resume, do you create a separate cover letter attachment?
Or do you make the body of your email the cover letter?
I think it's redundant to create a separate cover letter and attach it, so don't bother unless they ask specifically for a separate cover letter.
If you're making the body of your email the cover letter, make it even shorter (4-5 sentences total) and cut out the address bits at the top.
Optional Cover Letters?
If you're applying online and it says "Optional Cover Letter" should you still upload one?
You might as well because it takes 2 minutes once you have a good template – it's not the end of the world if you don't include one, but you never know what everyone else is doing and it's not terribly time-consuming.
Cover Letter Mistakes
Remember the role of cover letters: great ones don't help much, but poor ones get you dinged.
The biggest mistakes with cover letters:
Making outrageous claims ("I'm a math genius!") or trying to be "creative" with colors, pictures, fonts, and so on.
Going on for too long – 10 paragraphs or multiple pages.
Listing irrelevant information like your favorite ice cream, your favorite quotes from Wall Street or Boiler Room, and so on.
If you think this sounds ridiculous, remember the golden rule: do not overestimate the competition.
For every person reading this site, there are dozens more asking, "What it's like to be an investment banker?" at information sessions.
Sometimes you hear stories of people who write "impassioned" cover letters, win the attention of a boutique, and get in like that…
…And I'm sure that happens, but you do not want to do that at large banks.
If you do, your cover letter will be forwarded to the entire world and your "career" will be destroyed in 5 minutes.
More Examples
As with resumes, there are hardly any good examples of investment banking cover letters online.
Most of the templates are horribly formatted and are more appropriate for equities in Dallas than real investment banking.
Here's a slightly different but also good templates you could use:
More questions? Ask away.
Still Need More Help?
Introducing: Premium Investment Banking-Specific Resume/CV and Cover Letter Editing Services
We will take your existing resume and transform it into a resume that grabs the attention of finance industry professionals and presents you and your experience in the best possible light.
When we're done, your resume will grab bankers by the lapels and not let them go until they've given you an interview.
Specifically, here's what you'll get:
Detailed, line-by-line editing of your resume/CV – Everything that needs to be changed will be changed. No detail is ignored.
Your experience will be "bankified" regardless of whether you've been a student, a researcher, a marketer, a financier, a lawyer, an accountant, or anything else.
Optimal structuring – You'll learn where everything from Education to Work Experience to Activities should go. Regional badminton champion? Stamp collector? You'll find out where those should go, too.
The 3-point structure to use for all your "Work Experience" entries: simple, but highly effective at getting the attention of bankers.
How to spin non-finance experience into sounding like you've been investing your own portfolio since age 12.
How to make business-related experience, such as consulting, law, and accounting, sounds like "deal work."
How to avoid the fatal resume mistake that gets you automatically rejected. Nothing hurts more than making a simple oversight that gets you an immediate "ding".
We only work with a limited number of clients each month. In fact, we purposely turn down potential clients in cases where we cannot add much value. We prefer quality over quantity, and we always want to ensure that we can work well together first.
Want More?
You might be interested in reading The Definitive Guide to Equity Research Internships.
Break Into Investment Banking
Free Exclusive Report: 57-page guide with the action plan you need to break into investment banking - how to tell your story, network, craft a winning resume, and dominate your interviews