All About Operational Consulting: Moving Beyond PowerPoint to Add Real Value to Companies?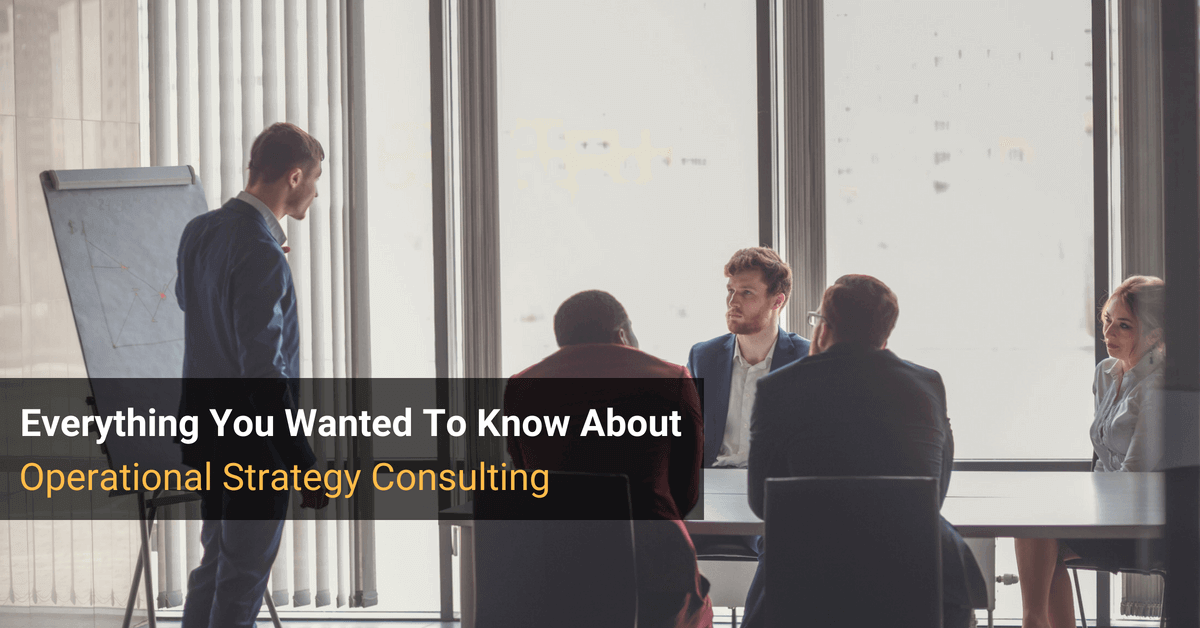 Nicolas was a Financial Analyst at General Electric where he explored the world of Corporate Finance. He is now a CFO and Partner Wild is the Game.
What if you want to advise companies but you think that traditional management consulting and investment banking add no value?
And what if you also want to implement your recommendations instead of just pitching them and then taking off after nothing happens?
You probably think that there's no way to do it; you're stuck at McKinsey, with a great brand name but no "discernible skills" – and no discernible results.
But you'd be wrong.
In this interview you're going to learn all about operational strategy consulting – where you actually implement changes at companies rather than just recommending changes.
Here's what you'll get:
What operational strategy consulting is and how it differs from management consulting.
What you do on a daily basis in the field, as opposed to in Excel and PowerPoint.
If it's worth it from a salary perspective and how travel-intensive the job is.
Actual interview advice from a very senior consultant.
What is Operational Strategy Consulting?
Q: Before we jump into what operational strategy consulting is, could you tell me a little bit about your firm and its clients?
A: Sure. Stanwell Consulting is a new player in the financial consulting field, created in 2006 by two former PwC partners.
We now have almost 90 consultants and have been growing at a steady pace since 2006; we weren't impacted by the financial downturn in 2009.
Our clients operate in Financial Services, including investment banking, retail banking, capital markets and insurance. We work with companies like BNP, Société Générale, and AXA.
We are based in Paris and we mostly work with French groups but our scope is truly an international one, as companies continue to expand and operate abroad.
Q: Sounds like a good company to work for…we'll return to it after this interview.
In the meantime let's talk about operational strategy consulting and how it's different from other types of consulting.
A: We are "Operational Strategy Consultants," which is very specific positioning.
The word "operational" is very important because unlike management consulting groups such as McKinsey or BCG, we have a real operational aspect in our projects.
We want to do things and not only do slides.
In Operational Strategy or Transformation, each project is different, so it's difficult to explain our activities with only one or two examples.
The two main project categories are those with more of a strategic side and those with more of an operational side.
So let's say, for example, that we have a project with a more strategic side like pricing or the definition of a new organization.
A standard management consulting firm might just go in and make a recommendation on how to change pricing for products and services.
In operational strategy consulting we would actually help them make the change, implement it for different customers and geographies, and assess what impact the change has made and what to do differently.
Then, for projects that are more operational (back-office industrialization or multi-channel distribution implementation, for example), we would focus less on strategy and more on doing the work, speaking with vendors and customers to make the changes, and so on.
Our core business is to help our clients lead major change projects by working on the full change lifecycle, from strategy to implementation.
It's all about recommendations and execution, as we believe the two are closely linked.
Q: Right, it does seem different. So instead of making strategic recommendations and leaving, you stay to walk the talk.
So do you agree with the common criticism that management consulting firms do not produce tangible results?
A: That's the traditional cliché for management consulting companies. It's a bit of an overstatement, but sometimes it is true.
However, I don't think it's as clear-cut as saying, "Management consulting only recommends changes and operational strategy consulting only implements changes."
Sometimes because of budget constraints or because of internal arbitration, we end up only being able to make recommendations or only being able to implement some of our changes.
But in operational strategy consulting you strive to conduct the project from the very beginning, through the definition of the solution to the implementation and the deployment.
What You Do As An Operational Strategy Consultant
Q: Ok, so I think we understand what operational consulting is in theory.
But what do you do on a daily basis when you're an entry-level consultant? How does it change when you become more senior?
A: Junior consultants spend 90% of their time at the client's office, in meetings or preparing for meetings.
Meetings are very important because they're how we orient projects and how we give our input.
But if you want meetings to be useful you've got to prepare for them – so I'd say that junior consultants spend 2/3 of their time in meetings and 1/3 of their time preparing for them.
They also work on internal projects at least 2 hours per week.
The subjects are very diverse: marketing, recruiting, communication, financial planning… for instance, one of our team members developed an in-house iPhone app that handles our staffing needs project-by-project.
As you become more senior, you focus more and more on the commercial dimension. You "sell" more and more projects and also attempt to win more clients.
So you spend more of your time at our headquarters looking for and pitching opportunities. You also start managing more and more projects and teams.
Q: That makes sense – just like in investment banking, at first you're executing but as you move up the ladder in your investment banking career path, you have to start bringing in deals.
What about the skills involved in your daily work – are technical skills or "soft skills" more important?
A: I'd say it's pretty balanced. You have a lot of interaction with your clients because you're actually working with them to implement the project and you spend a lot of time in meetings, leading projects, and developing relationships, so soft skills are definitely required.
But sometimes when the project gets technical, you have to learn so you can follow and participate in debates. That's when junior consultants can become experts on new financial systems, CRM tools or different segments like insurance.
And there's more diversity in the technical skills than in investment banking because each project is different – sometimes you're learning about a customer management system, sometimes it's information technology, and other times you're learning about finance or risk management.
Q: It's funny you say that because in one previous article, I doubted the ability of a junior consultant to add value to a project.
How, specifically, can a junior consultant add value in operational consulting?
A: Just look at the price we charge our clients for our services. If junior consultants didn't add value we would just be cheating our clients.
And we obviously aren't because they are coming back to us with more projects!
Q: Right, but look at what management consulting firms and banks charge their clients, and how rarely they add value – I don't think that's a great argument.
What else can you tell us about this one?
A: "Adding value" is not necessarily bringing in expertise, which is almost impossible when you have one or two years of job experience.
Adding value can be having a new set of eyes on a project, having common sense and asking pertinent questions or applying methodologies to find weak points in a proposal or business process.
So a junior consultant might add value, for example, by looking at a new pricing strategy and the data on what existing customers are paying currently, and then pointing out a flaw in that strategy that might result in the firm losing clients.
Someone who's been working at the company for 5-10 years might miss that kind of detail since they're too close to their own clients and the established way of doing things.
So yes, junior consultants can add value to projects. I'm not saying it's easy, but it is possible with the right people. That's also why we are very selective in the recruiting process!
Work Lifestyle In Operational Consulting
Q: As we've mentioned a few times on this site, a management consultant's lifestyle isn't that great.
Will your lifestyle be better or worse as an Operational Strategy Consultant?
A: The short answer: "It depends." Some projects involve a lot of travel and you'll definitely rack up the Starwood points, but some are based in Paris or in another European major city, so you can avoid painful 8+ hour flights.
For instance, we have teams working full-time in Brussels, Rome, Geneva, and part-time teams in many countries such as Morocco, Poland, and parts of Asia and the US where we work on local projects directly.
Your schedule is harder to predict because some projects have a huge workload due to the deadlines and the scope of what the client wants.
And it also depends on the project phase: generally the beginning of a project is more time-intensive than the implementation phase.
The bottom-line: please do not go into anything in consulting and expect a 9 to 5 job, even if the hours are not as brutal as what you get in investment banking.
Operational Strategy Consulting Salary
Q: So the lifestyle is more or less the same, but what about the salary?
Do you make more since you're actually implementing projects?
A: It doesn't work that way, unfortunately.
There's a trade-off if you want to work in operational strategy consulting: you have a very good salary, higher than at companies like Accenture, for instance, but slightly below what you would earn at "pure" strategy firms like McKinsey.
In operational strategy consulting, though, you may advance much faster because roles are not as strictly defined – and if you do very well on a project you'll get promoted quickly.
It's particularly true in a small firm like ours, but even at bigger companies, it's easier to stand out and advance because you have more results to point to in our line of work.
Tips For Operational Consulting Interviews
Q: Earlier you actually winked at me while saying "growing really quickly," so I guess you're hiring.
I'm sure our readers would like to know more about recruiting in your field, so what advice would you give to someone who wants to break in operational consulting?
A: My main recommendation is to have an operational & down-to-earth approach to consulting.
Unlike pure strategy consulting, operational strategy consulting is more "real life" so you need to let the recruiter know that you're not afraid to work on operational subjects and that you're not afraid to spend a lot of time meeting with your clients.
In interviews, we care more about your past experience working with clients and how you would approach real-world scenarios rather than getting into the arbitrary "How many golf balls fit in a 747?"-type questions you get in management consulting interviews.
As for your background, we work in financial services so a strong interest in the field is an edge, but for entry-level consultants we don't expect any expertise.
We tend to care more about what you can do than the school you went to.
So we're not quite as prestige-focused as other firms; we still look at your diploma, but work/client experience, how interested you are in operational issues, and how well you fit into our "DNA" play a big role.
Q: I can relate to this mindset since it's very close to what you see in corporate finance.
One final question about interviews: any tips on what to say at the end when they ask if you have any questions about the firm, or tips on what to avoid saying there?
A: One silly question we hear a lot: "So what are your internal training programs like?"
I assume people ask that because it's recommended in interview guides, but it's not a good question in this field because you learn on the job by working with your manager, attending pitches, and so on.
Sure, some training can help when it comes to technical skills or even some soft skills… and that's why we work with behavioral training experts so that our consultants have better and more productive interactions with clients.
But apart from that, all you need to become a good operational consultant is practice. So please reserve this question for jobs with more theory and less time spent in the field.
Operational Strategy Consulting Exit Opportunities
Q: My last question is about exit opportunities. Your firm is a hybrid between management consulting and more "classic" consulting companies, so I'm curious where you can work after a few years in operational consulting.
Could you tell us about that?
A: My answer is a little biased because our firm is very young – and our attrition rate remains very low.
In operational strategy consulting, people tend to stick around longer than what you see in other fields.
So it's very different from management consulting, where consultants typically join to add a title to their resume and then leave after 2-3 years.
Here, we invest a lot into retaining our consultants and helping them advance and move up to more senior levels once they've proven themselves.
Q: Right, but I'm sure that some consultants leave after a while… where do they go?
A: If you really want to talk about exit opportunities, you could do very well in financial operations or by going into corporate finance at a normal company. You could also work in some type of strategy position at a Global 500 company.
It's not as common to go into private equity, hedge funds, and so on because we don't focus on transactions and financial analysis as much here.
But if you find an investment fund that focuses more on operational improvement and turnaround situations, you might be able to pitch yourself and win offers there.
Q: Great! That was a very interesting interview – thanks a lot for your insights.
Now let's go for a drink and talk about your "recruiting opportunities" at your firm if you don't mind.
A: Sure, let me just put my interview face on…
M&I – Nicolas: Thanks a lot to Axel De La Forest for sharing his knowledge. I'm sure that his 3 years of experience as a manager at Stanwell Consulting will help M&I readers.
Break Into Investment Banking
Free Exclusive Report: 57-page guide with the action plan you need to break into investment banking - how to tell your story, network, craft a winning resume, and dominate your interviews