How to Break into Investment Banking as an Engineer – If You Enjoy the Punishment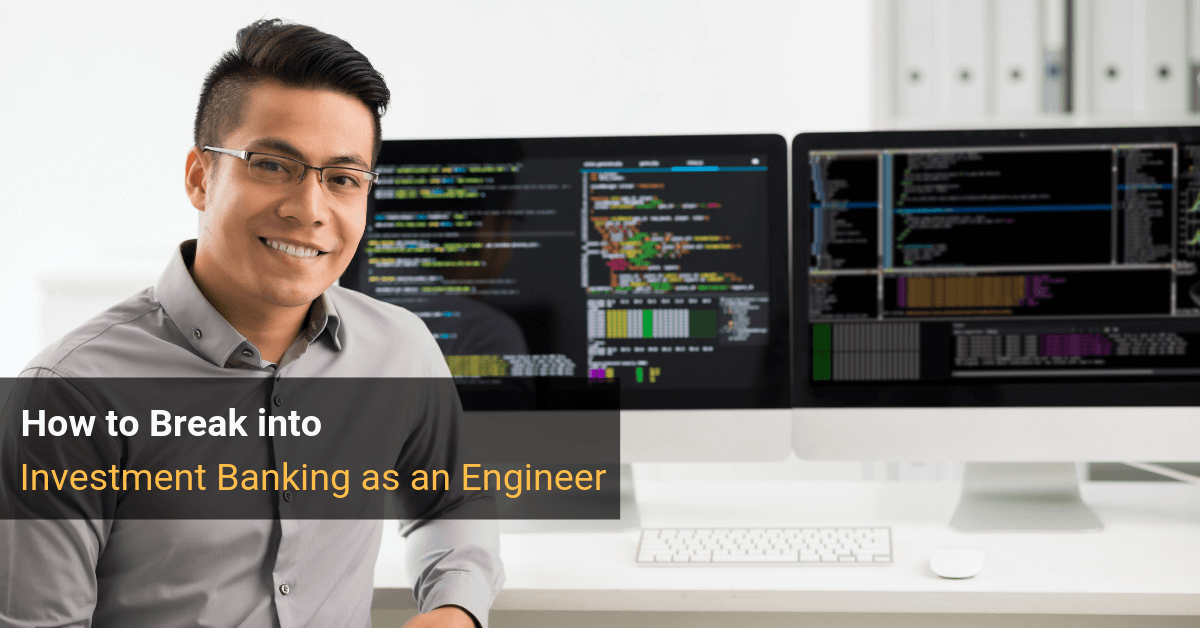 I thought that engineers would
stop
wanting to move into finance.
After all, companies like Google and Facebook now offer higher pay, better hours, and more interesting work than banks.
And students at top universities and business schools are increasingly interested in technology rather than finance.
But despite all that, some engineers still want to get into finance.
You've probably landed on this article because you're in a similar position.
I'll explain how to do it here, but you should answer a critical question first: Are you sure you want to do this?
Why Do You Want to Do This?
Most engineers point to one of the following reasons to explain their desire to work in finance:
They want to make more money; they've hit a "ceiling" in their current role.
They want better advancement opportunities.
They want more interesting, client-facing work.
They want to make a bigger impact on the world at large.
These are valid reasons for wanting to do something besides engineering, but they're not great reasons for wanting to do investment banking, specifically.
In investment banking, you advise companies on financing deals and mergers and acquisitions.
If you have no interest in advising companies on transactions, which means spending a lot of time in PowerPoint, Excel, and Word as a junior banker, you should consider other options first.
For example, if you're bored of your current job and want to make more money:
Start a side business and make money from an app or simple software product.
Learn about the stock market and start making your own investments.
Become a contractor and offer coding or product management services to other companies.
Take the money you've saved up, learn about real estate, and start buying small single-family properties.
If you just want to "work in finance," think about the other options outside of investment banking as well.
If you have deep industry knowledge (e.g., of the semiconductor industry) and you complete significant self-study, equity research might be an option.
If you want to apply your coding skills to finance, you could work in quant research, at a quant hedge fund, or in another sales & trading role.
Or if you want to invest in tech companies, venture capital is an option, though it's actually tougher than IB in many cases.
Finally, you could also work at a tech company and move to a business or finance role there over time.
Entry Points into Banking
But if you want to ignore everything above, and you're convinced that you need to do investment banking, there are four main entry points into the industry:
As an Undergrad – This one is the easiest and cheapest way to get in, but you must decide on IB very early. Recruiting now starts so early that if you haven't decided on IB by the middle of your second year, you probably won't get in.
As a Recent Grad – This one can also work, but your chances of moving directly from an engineering role into investment banking are almost 0%. You almost always need something finance-related first, such as a stint at a Big 4 firm or valuation firm or a Master's in Finance degree.
At the MBA Level – If you've been out of university for 2-3+ years, you'll probably have to use a top MBA program to get in. But, again, your chances of going from "Engineer at Google" to "Investment Banker at Goldman Sachs" with nothing in between are almost 0%. You need a more relevant full-time role and/or a pre-MBA internship.
Beyond the MBA Level – If you're well beyond the MBA level, you have almost no chance of getting into investment banking as an Analyst, Associate, or VP. But if you reach the senior executive level at a large company, you might be able to enter IB at the top levels or move into a field like venture capital or venture debt.
The key point is simple: If you're an engineer or technical person, you will not be able to get into IB at the last minute without prior internships or work experience.
You need a sequence of internships or other finance-related experience, regardless of your entry point.
You also need in-depth knowledge of accounting/finance, even if your degree had nothing to do with those subjects.
Bankers will be confident that you can do the math and attend to detail, but they'll be skeptical of your social skills and ability to burn the midnight oil.
They will also be skeptical of your interest in finance: If you want to do investment banking now, why didn't you get in earlier? Did you "get interested" a few months ago when you heard about your friend's bonus? Or did you try to get in earlier and fail?
Telling Your Story
The same 4-point story structure applies; we've even made available a full template and example of how to tell your story from an engineering/technical background:
You can use these points:
Beginning: Where you're from, your university, and your internships/activities. Insert a brief mention of some interest in finance at a younger age.
Spark: A banker you met, an internship project, or an activity or class that sparked your interest in finance.
Growing Interest: Networking with bankers, self-study of the technical side, stock-market investing, case competitions, etc.; also give a short example of how you can handle the hours.
The Future and Why You're Here Today: You want to combine your engineering skill set with finance and advise companies on major transactions, ideally in an industry related to your field of engineering, such as TMT, industrials, or healthcare.
This same template applies for undergrads, recent grads, and MBA students because a degree doesn't change that much – you must be able to explain why you want to do IB without referencing your degree at all.
Networking
Networking is largely the same for engineers: You still use the alumni database, informational interviews, information sessions, and cold calls/cold emails to win interviews.
Please see the dozens of networking-related articles on this site for the tactics and strategies.
I'll just add one point here: You should probably not focus exclusively on tech-focused banks or groups (or aerospace/defense ones, healthcare ones, etc.).
As a career changer, you already face an uphill battle to get your foot in the door.
Focusing too much on a specific industry might kill your chances prematurely, especially if you're at a non-target university or business school.
You also shouldn't limit yourself to one type of bank, such as regional boutiques or middle market banks.
The recruiting process is random, and even if you think you have no chance at the bulge brackets or elite boutiques, it's still worth reaching out and speaking with a few bankers there.
Resumes
We have many resume templates on this site, and you should refer to them to write your own.
The #1 mistake engineers make is focusing too much on the technical details and not enough on the business results. We often see bullet points such as the following:
"Inspected client's customer support code and led migration from Linux 4.11 to Linux 4.12 by implementing support for 64-bit multi-core processors in assembly code and support for threaded processes in operating system kernel."
You should focus on revenue generated, money saved, or time saved instead:
"Reviewed client's customer support system and optimized processes by 20%; saved client $10,000 and 10 hours of labor per week over first year."
And if you start writing your resume and realize that you have nothing even remotely related to investment banking, you need to re-think your plans.
You can spin technical experience all you want, but it only does so much; bankers mostly care about:
The reputation of your university or business school.
Your grades and test scores.
The reputations of the companies you worked at and what you did there.
If you have a 3.0 GPA from an unknown state school and all technical internships, no amount of resume spinning will get you interviews at banks.
Interviews
We have dozens of articles on interviews, including ones on "fit" questions, technical questions, telling your story, and more.
Not that much is different for engineers, but you should be aware of a few points:
Yes, you need in-depth knowledge of accounting, valuation, and financial modeling. IB roles are still highly competitive, and if you don't know the technical side, bankers will assume you're not serious about the job.
Majoring in something different is not an excuse. If you can't learn the material independently, you don't have the discipline and drive required to get in.
Yes, you still need good grades (2:1 or above in the U.K., or 3.5 or above in the U.S. – and probably closer to 4.0 if you're at a non-target school).
"Engineering classes are harder" is a weak excuse, and bankers won't care about your explanations. If your GPA is low, they can select from thousands of other candidates.
They will probe you heavily on your ability to work long hours, your social skills, and your interest in finance.
It's best to answer these questions by citing examples of when you used these skills over extended time frames in the past.
For example, to prove that you can work long hours, tell a story about how you woke up at 5 AM, went to sports practice, attended classes, and then worked until 10 PM every day for a year.
Anyone can pull all-nighters for a week, but killing yourself for an entire year is a worthy accomplishment.
It's tough to "prove" that you have social skills, but you can come across as sociable by talking about your hobbies and interests.
Even if you're awkward or you get nervous speaking with people, you might be able to convey the opposite image if you talk up your activities.
What Does a Successful Engineer to Financier Look Like?
Here are two examples:
Example #1: The Undergrad
He started out majoring in aerospace engineering and did a first-year internship at Lockheed Martin.
He realized it wasn't for him, so in his second year, he switched to an accounting/finance degree and made aerospace engineering his minor.
He also interned at a local private equity firm and began networking months in advance of third-year summer internship recruiting.
In the summer after his second year, he interned at an independent valuation firm, and he kept networking on the side to win an IB summer offer at a bulge-bracket bank for the next year.
In the summer after his third year, he completed that internship and converted it into a full-time return offer.
Example #2: The MBA
She completed an undergraduate degree in biomedical engineering and worked in R&D at an orphan drug company after graduation.
After a year, she switched into a business development/sales role, and after another year, she moved to a Big 4 firm to conduct due diligence on pharmaceutical clients.
Then, she applied and won admission to a top MBA program. Before attending, she completed a pre-MBA internship at a healthcare-focused private equity firm.
She also began networking with business school alumni months before the school term began.
When recruiting kicked off, she won interviews with the major banks and ended up accepting a summer internship offer at an elite boutique, which she later converted into a full-time return offer.
Plan B Options
If you do everything above but do not get into investment banking, the worst strategy is to give up and go back to a pure engineering role.
If you're about to graduate, your best Plan B options are finance-related roles outside of investment banking.
For example, think about corporate finance rotational programs at tech companies, corporate banking, equity research, or a coding role at a hedge fund or trading firm.
Plan to work there for a year or two and then move into IB, perhaps using a Master's in Finance degree along the way.
If you're at the MBA level and did not win an investment banking offer, you could consider similar options, but it will be much harder to move into IB later on.
You might be able to take finance experience elsewhere and go to a tech-focused boutique or a small venture capital firm, but you will probably not be able to move to a large bank directly.
Finally, if you're well beyond the MBA level, more realistic options might be joining a VC/PE firm as an operational partner or "entrepreneur in residence" or joining an equity research team that needs deep subject matter expertise in a highly technical area.
Engineer to Financier?
I made this move – computer science to tech companies to investment banking – a long time ago.
But you would not be able to follow that same path today.
You need finance-related experience and solid accounting/finance knowledge before applying for IB roles, or you won't have a chance.
So, decide on your career change early on, or skip it altogether.
It might be "boring" to work at a big tech company and hit the pay ceiling, but you'll have a pretty good life, and you'll still earn more than 99% of the population.
And if you want to make more money, you can always build an app.
—
If you liked this article, you might be interested in reading:
Break Into Investment Banking
Free Exclusive Report: 57-page guide with the action plan you need to break into investment banking - how to tell your story, network, craft a winning resume, and dominate your interviews