Corporate Development Recruiting: The Definitive Guide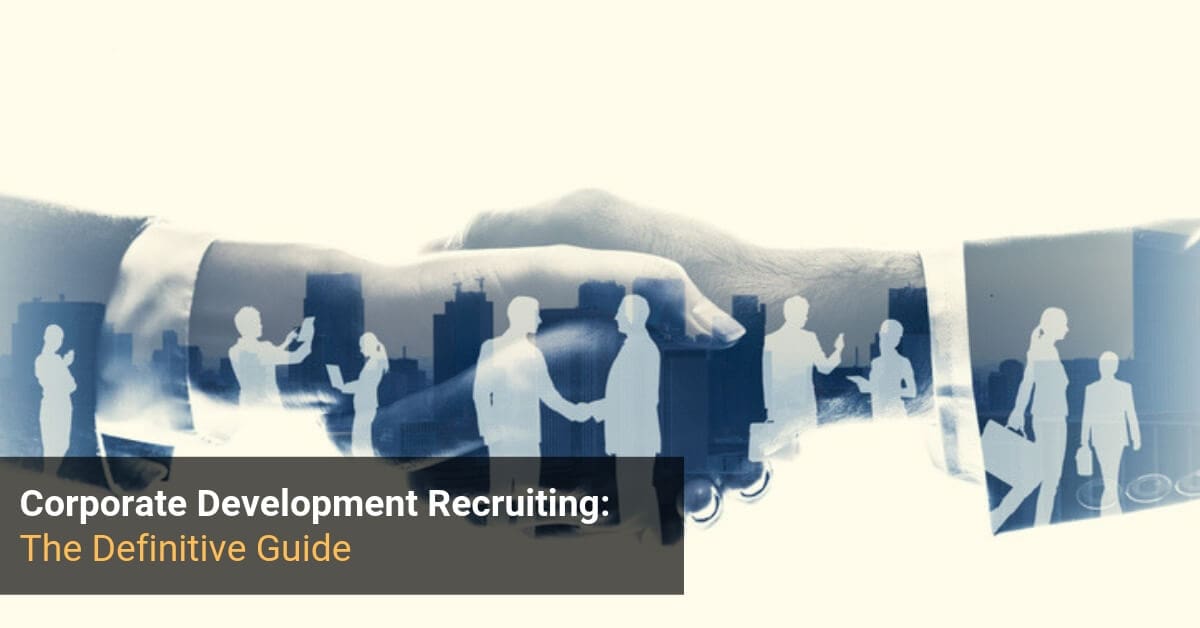 Search for "corporate development recruiting" or "corporate development interviews," and you'll tend to find the following results:
A lot of confused questions and contradictory answers.
Disagreements about what to expect in interviews, case studies, and even the process itself.
And debates about exit opportunities and how they compare with the ones offered by investment banking.
We've published quite a few interviews from readers who broke into corporate development from all backgrounds: straight out of undergrad, Master's in Finance degrees, consulting, investment banking, corporate finance, valuation, and yes, even data science.
This article will summarize the key points from those stories and give you an idea of what to expect in the recruiting process – no matter your background and the types of companies you're applying to:
Corporate Development Definition: What Is It?
Corporate development teams at companies focus on acquisitions and divestitures, including deal sourcing and execution, as well as on joint venture (JV) deals and partnerships.
They also spend time doing competitive research, creating "market maps" of companies in different sectors, and determining which markets their companies should enter.
Much of it is similar to the work you do on buy-side M&A deals at an investment bank, but the key difference is that you work at one single company and contribute to that company's growth over the long term.
You do not represent clients, but instead complete acquisitions and other deals that help your company grow.
Also, you may spend more time on integration following the close of deals, though that varies by firm and team.
Many other groups have "corporate" or "development" in their names, so here's a full comparison:
If you are in corporate development at a large company (e.g., a Fortune 100 firm), then you will focus on M&A deals and you won't need to do much sourcing since you'll get so much deal flow from bankers and other parties.
If you're at a smaller company or a startup, the role will often be more "random," and you'll spend more time on sourcing and tasks that might fall under the business development or corporate strategy categories at larger firms.
Why Corporate Development?
Corporate development is a good option if:
You want to work on transactions, primarily M&A deals and joint ventures;
You don't mind the fact that, as in PE and other buy-side roles, most of the deals will go nowhere;
You want to stick with one company over the long term and help it grow;
You want a better lifestyle and hours than you would get in investment banking or private equity; and
You don't mind significantly lower compensation and slower advancement.
Obviously, you should not mention points #2, #4, or #5 in response to the "Why corporate development?" question in interviews – you should focus on #1 and #3.
Corporate Development Recruiting: Who Wins Interviews and Offers?
Corporate development (CD) teams want candidates who:
Have deal experience working on joint ventures, acquisitions, and other deals;
Know the industry and the specific company in-depth so they can come up with meaningful ideas; and
Can run deals by themselves.
In practice, this means that CD teams prefer to hire investment bankers who have worked in matching industry groups.
They do also hire consultants, especially for roles that are less M&A-focused, as well as professionals from strategy teams and Big 4 valuation and transaction advisory teams.
Unlike many private equity and hedge fund roles, corporate development is open to more than just elite boutique and bulge bracket bankers.
You could easily work at a boutique or middle market firm and still get into corporate development; in fact, that's often one of the top exit opportunities from such banks.
Another difference is that it's more feasible for post-MBA bankers and consultants to get in – the "exit opportunity window" doesn't close as much as it does for PE/HF roles.
You could also potentially get into corporate development coming from a job in private equity, such as Private Equity Analyst.
You do not have a great shot at corporate development roles if you've worked in a "public markets" group/firm like equity research or asset management since you won't have deal experience.
Corporate development teams sometimes hire internal candidates, such as ones who are in corporate finance rotational or data science roles.
These candidates often know the industry and company well, but lack formal deal experience – but since they're internal hires, that may not be a deal breaker.
It is very rare for students to get into corporate development straight out of undergrad.
It's even rarer than winning a PE or HF role out of undergrad – with those, some firms increasingly recruit undergrads who want to skip banking.
But in corporate development recruiting, teams rarely do this because professionals need more of a "real-world" skill set, including the ability to wrangle information out of bureaucratic organizations and win agreement from different departments.
By contrast, you could do well at a hedge fund if you can sit in a room, do a ton of research and analysis, and come up with insights.
If you want to start in corporate development, you should target smaller, higher-growth firms, such as startups with a few hundred people (but not, say, a few thousand).
These types of companies sometimes hire recent grads for their "fresh mindsets" and unbiased views, and they might view internships as providing sufficient industry knowledge.
Finally, keep in mind that there are far fewer corporate development jobs than there are IB/PE/HF jobs.
To have a corporate development division, the company must already be fairly large – 10-person startups don't have teams dedicated to M&A.
So, while a wider variety of candidates have access to corporate development recruiting, it can be challenging to find positions or companies that are hiring.
The Corporate Development Recruiting Process
If the private equity recruiting process in North America is early, highly structured, and driven by headhunters, then corporate development recruiting is more like off-cycle private equity recruiting:
The timing is very random, and firms do not fill roles 1-2 years in advance as PE firms do. There might be a lead time of several months.
Initial interviews often come from referrals and your own networking rather than headhunters.
There is some structure, but nothing like PE interviews where all the big firms send modeling tests to candidates, interview them, and make decisions in a single weekend.
Headhunters have less power than they do in PE recruiting because large companies have plenty of ways to find candidates on their own; it's easy when you can ask 10,000 employees for recommendations.
Some PE-owned companies may still use headhunters if they need to hire someone ASAP, but most CD teams skip headhunters and rely on referrals and internal candidates.
If you win a referral to a CD team that is hiring, you'll usually go through a phone screen, complete a few phone interviews, and then meet everyone in the group for in-person interviews.
If it's a bigger company with over a dozen people in the group, then you may not meet everyone – just those with hiring power.
If you're in investment banking or consulting right now and you want to move into corporate development, you should start by asking for referrals from the senior staff in your group – assuming it's the type of culture where junior employees are expected to leave after 2-3 years.
Keep your requests open-ended because your MD probably can't help if you want "corporate development roles at fin-tech companies in the crowdfunding space in London with over 1,000 employees."
Again, it's the opposite of how you deal with PE/HF headhunters, where specificity is key.
If you cannot win referrals from the senior staff, then the next best option is to find companies that have posted corporate development positions on job sites.
Then, look up those companies on LinkedIn, find professionals in the CD team, and email them to introduce yourself and ask about opportunities at the firm.
Because of the relative scarcity of CD roles, you should not be too picky.
Yes, you should go for companies that match your current industry, but you don't want to be as specific as the example above.
Corporate Development Interview Questions and Answers
The main interview topics in corporate development recruiting include:
Your deal experience.
Technical questions similar to the ones in IB interviews.
"Fit" questions similar to the ones in IB interviews.
"Why corporate development?" and similar questions about the job.
Industry knowledge and ideas for acquisitions and JVs.
Case studies and modeling tests.
The questions vary significantly because CD professionals have very different backgrounds, and so do the candidates.
For example, a single team could have former bankers, former Big 4 professionals, a former software engineer or biochemist, a former data scientist, and a former integration consultant.
Each person has different concerns and looks for different qualities.
In many teams, the most important qualities are industry background and fit – especially if it is something specialized or technical, such as pharmaceuticals or biotech.
You would have a huge advantage at that type of company if, in addition to deal experience, you also knew about the drug lifecycle, the government approval process, clinical trials, the business models of generics vs. branded drugs, and so on.
If the company is in an unusual location (e.g., far outside major cities or in an emerging market), then local connections to the area can be quite important because they want to see that you're committed for the long term.
Here's what to expect in each question category above:
Your Deal Experience
We covered the key points about your deal experience in the article on investment banking deal sheets, and everything there applies to corporate development recruiting as well.
The main differences are:
You must be much more critical about each deal because corporate development is, effectively, a buy-side role. So, in addition to your key contributions and the transaction rationale, you should develop your own view of each deal as well (i.e., should the buyer have done it or not done it, and why).
There's a good example of how to do that in this article on middle-market private equity recruiting.
If you do not have M&A deal experience, you must spin whatever you do have into sounding like deal experience. For example, if you held a corporate finance role before this, you could point out how a major project required collaboration across the entire company, which is similar to deal processes since you need to coordinate large groups in both.
There's an example of this strategy in the data science to corporate development article.
You're most likely to get a lot of questions in this category if you've had 2+ years of experience working on deals.
Technical Questions
You should take a look at the article on investment banking interview questions and answers because all the technical questions there apply here as well.
Unlike in corporate finance, where questions beyond accounting are unlikely, anything could come up in corporate development recruiting since you value companies and model transactions.
Even LBO models are fair game because you'll often compete with financial sponsors to win deals, so you need to understand how they think about potential targets' values as well. If you don't already know how they work, check out our simple LBO model tutorial.
"Fit" Questions
In corporate development recruiting, these should be quite similar to the fit questions in investment banking interviews, so refer to that previous article.
The main difference is that CD professionals are less likely to play "bad cop" and probe you on points that might be deal breakers in IB – such as being too old, not going to a target school, or having a GPA that's below their cutoff.
Those topics could come up, but interviewers are not going to spend 30 minutes grilling you about a bad grade in a 1st year accounting class, whereas a banker going through a mid-life crisis could easily do that.
Why Corporate Development? Questions
Especially if you're moving in from investment banking, you're likely to get a lot of questions about your knowledge of the group; they want to make sure that corporate development recruiting is not just your "Plan B" or "Plan C" after private equity did not work out.
Questions in this category might include:
"Why corporate development?"
Focus on the long-term nature of the job and how you want to stay with one company to grow its business year after year rather than switching between different companies/clients.
"What are the key challenges in corporate development compared with the ones in investment banking?"
Winning buy-in from all the relevant parties is much harder in corporate development because certain departments are averse to deals; the challenge isn't connecting a buyer and seller, but getting everyone on your side to agree. Integration also tends to be more difficult than execution, which is something you're not exposed to in IB.
"How much do you know about the deal process here?"
Take a look at the articles on M&A deals and CIMs to get some ideas.
"How are JVs or partnership deals different from M&A deals?"
The main difference is that there's less due diligence and more deal analysis since you're not acquiring another company – but the details of a JV deal can be very complicated, much more so than the average M&A deal.
For example, there might be an upfront payment, commissions for back-end or subscription sales, bonus incentives if certain goals are met, penalties for underperformance, and so on.
Industry Knowledge and Acquisition/JV Ideas
There isn't a fast or efficient preparation method for these questions in corporate development recruiting because you need to take the time to learn the industry and figure out the company's goals.
A few tips to prepare:
Start with our article on How to Learn an Industry and follow the suggestions there on doing rather than passively reading.
If the company is public, read its past few earnings call transcripts and look at what the CEO, CFO, and other executives are saying. Also, review transcripts from its closest competitors.
Look up the company's past acquisitions and avoid any industries in which it has recorded write-downs and impairments from these past deals.
If you're interviewing with a PE-owned company, you should research the sponsor to understand their deals and portfolio companies.
Once you have some ideas, pitching an acquisition or JV is similar to pitching a stock, but with a different focus because of the long-term nature of corporate development.
For example, you could point out why a target company is undervalued, but it would be better to point out how the acquisition would boost your company's metrics and make it more valuable over time (e.g., a "value creation analysis").
Also, in many cases, you cannot do much to mitigate the risk factors with 100% acquisitions.
There are some options, such as earn-outs for private companies, but if it's a large, public company, your choices are more limited.
So, most of these pitches will take the form:
"We could acquire XYZ Company for Price A, which is a good deal, and it would boost our business by improving metrics C, D, and E; furthermore, there's a strong team/cultural fit, and XYZ Company would allow us to move us into higher-growth markets."
The Corporate Development Interview Case Study: What to Expect
There are four main types of case studies you can expect in corporate development recruiting, ranked below from most common to least common:
Most Common: An on-site, 30-60-minute test where they give you a potential acquisition target and ask you to recommend for or against the deal and if you're in favor of the deal, the price you would pay. You may also have to present your findings and answer questions from the team afterward.
Less Common: A take-home case study where you have a few days up to a week to analyze a target company's financial statements, value it, and explain how much it might be worth to the company you're interviewing with.
Even Less Common: No case study or modeling test at all – they'll just ask for work samples, presentations, and deal documents you've worked on, with sensitive information deleted.
Least Common: A partnership or JV model that includes upfront payments, incentive fees above certain performance goals, and other terms. For example, one company in the JV might be penalized if the other company's sales fall, but it might receive a bonus if combined sales volume rises by a certain percentage.
With the on-site, 30-60-minute tests, avoid over-complicating the case study and get to a quick answer.
For example, project the company's cash flows, calculate the IRR at different purchases prices, and build a simple DCF.
You could look at something like our Uber valuation and simplify that to get an idea of what to expect (as it's far more complicated than what you'd be expected to complete in a short, on-site test).
You don't need an LBO model, full 3-statement projections, or anything fancy if you have only 30-60 minutes.
With take-home case studies, you still want to keep the models relatively simple, but you should go above and beyond with your market research.
For example, instead of stopping at a deal recommendation, research the market and present another few acquisitions that might make more sense than the original idea and give rough valuation ranges.
And with JV/partnership models, the key is to enter the Excel formulas competently and efficiently and use functions like MIN/MAX and INDEX/MATCH correctly.
This one is more of an Excel test than a financial modeling or investment analysis test because you're simply trying to calculate the correct numbers.
If you want to practice these types of case studies, we include 17 examples with full solutions in the IB Interview Guide (plus, technical questions, fit questions, deal discussions, and more).
And if you want to learn the fundamentals from the ground up, including the key Excel functions and shortcuts and the concepts behind all the models, check out the Core Financial Modeling course:
Core Financial Modeling
Learn accounting, 3-statement modeling, valuation/DCF analysis, M&A and merger models, and LBOs and leveraged buyout models with 10+ global case studies.
learn more
When Will You Hear Back in the Corporate Development Recruiting Process?
As usual, if you hear back quickly – within a day or two – then it's almost always good news.
If not, however, you can't necessarily conclude that the interview went poorly because CD teams tend to be small and resource-constrained.
As a result, they sometimes get busy with deals and have to put interview processes on hold for 1-2 months.
So, follow up every week or two until you've heard back, and understand that since the process is more random, you may not get an answer right away.
Corporate Development: What Next?
That's it for our overview of corporate development recruiting.
Coming up next, we'll delve into what to expect on the job, including daily tasks, compensation, exit opportunities, and more.
Corporate Development Series:
Break Into Investment Banking
Free Exclusive Report: 57-page guide with the action plan you need to break into investment banking - how to tell your story, network, craft a winning resume, and dominate your interviews