Exit Opportunities as a Post-MBA Investment Banking Associate: Impossible is Nothing?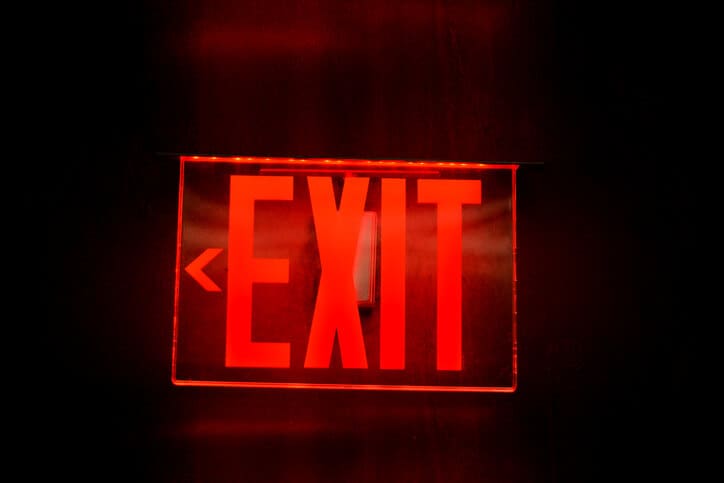 "
Impossible is nothing
."
But it might be something when it comes to exit opportunities as an Associate in investment banking.
Look at online discussions of this topic, and you'll see words like "black hole" and "bottomless void" used to describe your options.
In reality, though, things are not even close to this abysmal.
There is a strong tendency for online discussions to veer into extremes: "X is impossible" or "Y never happens."
But real life is more nuanced.
So even if you're about to start work as a post-MBA IB Associate, you still have plenty of exit opportunities… IF you know how to find and exploit them:
Weren't You in Banking for Life? How Did It Come to This?
Most interview guides, including our own, say that you need to show "commitment to a long-term career in banking" at the Associate level.
And that's true… in interviews.
But bankers are not stupid: they know that despite what you say, there's still a good chance that you'll quit or get fired at some point.
Purely from anecdotes and personal observation, I would be shocked if more than 50% of Associates made VP, and I would also be shocked if more than 10% made MD.
So even if you want to stay in investment banking, you might end up needing an exit anyway.
Or, you might have planned for an exit all along: perhaps you wanted to do banking but you graduated into a horrible recession, or you changed your mind about your previous career too late.
Or maybe you wanted to move into buy-side roles all along, but you smartly focused on just investment banking at business school to maximize your chances of winning offers.
So if you've wanted to move into a different role for a while, or you've changed your mind more recently, what do you do next?
First Off: Don't Believe It's "Impossible"
The truth is, both Analysts and Associate – and even VPs, MDs, and so on – have access to the same exit opportunities: private equity, hedge funds, corporate finance/development, venture capital, and so on.
The main difference is that at the Associate level and beyond, you do not have access to a structured recruiting process for those opportunities.
So yes, you can still get into private equity… but don't expect recruiters to line up and call you after your first 3 months on the job.
Perhaps you don't believe me.
I anticipated your objection, so here's how you can prove it to yourself: go to Blackstone's website and filter for professionals who are in private equity.
By my count, there are currently 17 professionals with the title of "Principal" there. Of those 17:
9 appear to have followed the "investment banking analyst to private equity" track (53%).
2 appear to have started in consulting and then moved into PE (12%)
2 were investment banking associates who moved into PE (12%).
1 worked in the US Treasury Department (6%).
1 worked at a normal company, and then did consulting (6%).
1 worked in IB longer-term (10+ years) but it is not clear what his position was before moving over (6%).
1 appears to have worked in private equity from the start of his career (6%).
Note that this analysis is all based on real people using their real names, as opposed to anonymous discussions or comments.
Here's the point: "career paths" are fluid, and you should be skeptical of anyone who says that Transition X or Move Y is "impossible."
Even at one of the largest and most well-known private equity firms, nearly 50% of professionals at the Principal level did not follow the "IB Analyst to Private Equity" route.
Here's the 8-step process you can follow to do the same:
Step 1: Figure Out What You Want to Do
Focus is essential in lateral interviews and MBA recruiting, and it's also critical here.
You are not going to have much success if you attempt to recruit for credit hedge funds, mid-market private equity firms, and growth equity firms at the same time.
You won't have the time, and your background or current group may pre-dispose you for certain opportunities.
You need to narrow the industry and sub-industry first, and then add geography to maximize your chances.
"Mid-market PE Firms with a Consumer Retail Focus Based on the East Coast of the US" is a good place to start, but narrowing the geography to "New York" or "Boston" is even better.
If you have no idea what you want to do, you need to start reaching out to alumni in different careers, setting up informational interviews, and narrowing your options.
Step 2: Position Yourself in the Right Group
At the Analyst level, this point matters less because the path is more structured and any good coverage or product group will get you interviews.
But at the MBA level and beyond, you need an industry or deal focus to have a good shot.
You should push for the group that aligns most readily with your goals:
Some of this also depends on your pre-MBA background: even if your banking group has nothing to do with your intended exit opp, you could spin your way into it if your pre-MBA work experience is relevant.
For example, if you worked for a healthcare company and then moved into consulting and then ended up in the business services group, you could still aim for healthcare-focused funds.
Positioning yourself in the right group largely depends on your networking and internship experience; if you're not in the right place, you should become an internal-networking fiend until you can move over.
One last point: if you're interested in moving to a big company and doing corporate finance/development there, you're much better off at a bulge-bracket bank.
As previous interviewees have pointed out, most people outside finance have no idea what "elite boutiques" or "middle market banks" are.
Step 3: Make Your Move at the Right Time
Opinions vary on this one, but I think that earlier is better than later when it comes to quitting banking.
Of course, you also need deal and client experience to speak to, so you can't join, leave, and move to something else in six months.
You probably need a minimum of one year of experience at the post-MBA level, and sometimes more like 2-3 years, to make this type of move.
This timing is especially the case if you did not do anything finance-related before your MBA. If you did, then you might be able to make the move earlier on.
These transitions are still possible at the VP level and up, but I don't have as good a sense for the timing there.
This timeline means that you need to start preparing well in advance of your networking and interviews.
Yes, they will still give you case studies and stock pitches, though traditional "modeling tests" might be less frequent.
They will dig into your deal experience and focus heavily on the merits of each company as a potential investment.
Step 4: Target the Right Funds or Companies
In theory, you could end up at Blackstone or KKR or TPG after working as an Associate in investment banking for a few years… but it's not terribly likely.
For buy-side roles such as private equity and hedge funds, you're better off going smaller, and for corporate finance-type roles, you're better off going bigger.
On the "normal company" side, bigger firms tend to hire more and recruit more actively, and $50 billion companies need corporate finance staff more than $50 million companies do.
But for PE and HF roles, you'll be up against current and former IB Analysts, most of whom probably have better technical skills than you and a much better ability to turn copious amounts of Red Bull into all-nighters.
So I would suggest different filtering criteria:
New Firms/Funds: Your chances are much better if you get in just as a new fund is being set up. This happens all the time as financiers leave their roles, start new firms, and hop around.
Existing Firms That Are Currently Fundraising: In many, but not all, cases, a firm that's currently raising a new fund is seeking to do larger deals, go after new industries, or do new transaction types. All of these require additional team members.
Current/Former Clients: Go back and find deals that involved financial sponsors, and reach out to them. At the very least, they know you and it won't be a "cold approach."
Industry Alignment: The same theme you've seen throughout this article.
Current/Former Co-Workers: Many bankers get frustrated and think they can start their own investment firms; the more daring ones even go through with it. If you know anyone doing this (e.g., through a friend in another group), your chances of getting hired go up.
You can set Google News Alerts so you don't have to scan for news of new firms and fundraising activity.
For example, if I search for "private equity fundraising" on Google Alerts, I get this article about Genstar and FFL Partners both closing funds recently.
You might be a bit late to the game here, but it would be worth reaching out to both these firms if you want to work in San Francisco and you have experience in tech, healthcare, or financial services.
You can skip headhunters because they are unlikely to be helpful at your level.
They want candidates who line up exactly with what firms are looking for, which means an Analyst from Barclays' Energy Group who grew up in the UK, lived in the Middle East, and plays golf with under an 85 handicap.
Step 5: Reach Out to These Firms the Right Way
At this level, you should know how to use LinkedIn and email to contact people. If not, see our tutorials and templates.
You could use LinkedIn to look up a firm that's currently fundraising, find professionals there, and then email them (or use LinkedIn if you can't find their address) with something like:
SUBJECT: [Firm Name] – New Fundraising Inquiry
"Hi [Name],
I saw in the news recently that your firm, [Firm Name], is currently raising $XX in a new fund. I'm an Associate in the [Group Name] group at [Bank Name], and I'm very interested in private equity investment in this space.
I just wanted to know if you had 5 minutes to speak so I could introduce myself and learn more about your new fund.
Thanks,
[Your Name]"
Besides the usual email and LinkedIn tactics, a few other networking strategies are more plausible at this level:
Conferences: You may not go to a ton of conferences as a younger Associate, but you will get pulled into them more and more as you move up. You could use these to meet people at normal companies in your industry, or to meet with buy-side firms who are attending the same conferences.
Client Visits + Recruiting Trips: You often get pulled into due diligence meetings and "deal negotiation" meetings, especially when a deal is just starting or when it's about to finish up. You could use any downtime to conduct in-person meetings with firms in the area; you probably won't have time for more than coffee, but even that is more effective than 100% online outreach.
Step 6: Push for the Interview
There isn't much to this: follow up… follow up… follow up… and then send a few more follow-up messages for good measure.
More importantly, you should prepare to answer objections, both voiced and unvoiced, about why you're making this move.
So you need to figure out what you can offer beyond traditional IB Analyst candidates:
Operational Expertise: Particularly if you're aiming for growth equity or operationally focused PE funds, and particularly if it's a "down market" with less deal-making, operational experience from your pre-MBA life can be huge.
Industry Connections: These can be invaluable for sourcing new deals or even helping portfolio companies to find new suppliers, customers, etc. Again, your pre-MBA experience will determine this one.
Project Management/"Execution" Experience: As an Associate/VP/Principal, you'll be tasked with driving transactions to completion… and you do something similar in banking (though more at the VP level). Some firms might be willing to overlook less modeling experience if you are great at herding the cattle across the finish line.
Much of this comes down to the specific firm's strategy: a distressed credit fund will have one set of concerns ("Do you have the technical chops to work here, even though you're not an Analyst?"), but a corporate finance team at a Fortune 500 company will have a different set ("Can you fit in with our culture, even though we're not all serial killers?").
Step 7: Prepare for Associate/VP-Level Interviews
Interviews with private equity firms and hedge funds will focus heavily on your deal experience and investment ideas at this level, so you need to solid talking points for all of those.
We've covered stock pitches and private equity investment recommendations quite a bit, so you should review those articles and come up with 2-3 ideas if you're going for roles that require them.
These don't need to be 20-page documents, but you should be able to explain your thesis, the catalysts, the valuation, the risk factors, and how to mitigate risk.
For your deal experience, you should be prepared to explain the following points for each transaction:
Rationale: Why was the deal happening?
Buyer/Seller Background Information: What were their financial and market profiles?
Your Contributions: What did you do to drive the deal forward, or to prevent it from happening (e.g., in a buy-side M&A deal)?
Your Opinion as an Investor: If you were the buyer or the investor(s) in the deal, would you have done it? Why or why not? What would make you change your mind?
Interviews at normal companies will be more open-ended and highly dependent on the company in question, but you'll still get similar questions for corporate development-type roles.
Your story is always important, and for these types of transitions it has to answer one specific question:
"If you're so interested in being an investor in this sector, why didn't you start earlier or join at the pre-MBA level?"
You could answer that question in a few ways:
Prerequisites: You had been interested in becoming an investor after your pre-MBA experience in the industry, but you needed investment banking experience first to have a good shot.
Late Bloomer: After your pre-MBA experience, you wanted to work in finance but you weren't sure if it would be as an investor or adviser. After working on a number of deals, now, you're confident you want to be an investor instead.
Specific Deal: You could use the same story, but point to a particular deal that made you more interested in buy-side roles (i.e., if you were frustrated by the limitations of IB, such as not getting to work with companies over the long-term).
It's extremely unlikely that you'll move into a new role at the same level you're at in banking.
Expect some type of "discount," whether that means coming in as a Senior Associate rather than a VP, or coming in as a 1st or 2nd year Associate rather than a 3rd or 4th year one.
Step 8: Develop a "Plan B" In Case This Doesn't Work Out
The easiest exit opportunity as an Associate is to join another bank or another group at the same bank.
You're not switching industries if you do that, but if you want to leave because your group sucks or because your superiors are crazy, you might get some relief.
Beyond that, the corporate route tends to be the most common exit for IB Associates.
So if buy-side roles don't quite work out after 6-12 months of effort, you could switch your focus to finance-related roles at companies in your industry instead.
Putting It All Together: How to Win Exit Opportunities as an IB Associate
So here's an example of how you might put together all these steps to win a buy-side offer as a post-MBA Associate:
Pre-MBA Background: You worked at Pfizer in a junior R&D role, and then switched to healthcare consulting at a Big 4 firm.
MBA and Banking: You attended a top 10 school, did an internship at a bulge bracket, and joined their healthcare team. You did well and got a return offer.
The role started off well, but you realized that a lot of the work is extremely high-level, and you're looking to do more hands-on operational work and work with companies over the long-term.
At the end of your first year, though, you don't have enough solid deal experience to push for a move into private equity, so you wait until the end of your second year to start recruiting.
End of Your Second Year (24 Months In): You begin reviewing your deal experience and models, and also preparing ideas for interesting sectors/companies to invest in.
Networking: Around the same time, you begin reaching out to healthcare-focused PE funds and VC firms in your area. After a few months, you don't get a great response from VCs because they want PhD's, so you switch your focus to PE.
Narrowing the Firms: You receive a news alert about one firm that just raised $1 billion. Even though it's bigger than others on your list, you might get a better response rate from them because of this expansion. Also, this firm focuses on operational improvements, so it aligns with your background.
Interviews: This firm proves responsive, so you come in with one public investment idea and two private ideas. You also have solid talking points on two M&A deals and one convertible deal you worked on.
After the Interviews: After that, it could turn into an extended process… or you could get an answer very quickly. We'll be generous here and assume the process takes 3 months from beginning to end, so you move into PE near the end of your third year.
It probably won't happen exactly like that, but you might use a similar strategy to make this transition.
Exiting investment banking at the Associate level isn't the easiest thing in the world, but it is possible with enough persistence.
So the next time someone says it's "impossible," be skeptical.
It might just be nothing.
Further Reading
You might be interested in From Finance to Tech: How to Start a Company, Sell It, and Start an Even Better Company or The Private Equity Associate: Pathway to Glory, or Glorified Monkey?
Break Into Investment Banking
Free Exclusive Report: 57-page guide with the action plan you need to break into investment banking - how to tell your story, network, craft a winning resume, and dominate your interviews