Pre-MBA Internship Case Study: Getting A Head Start On The Competition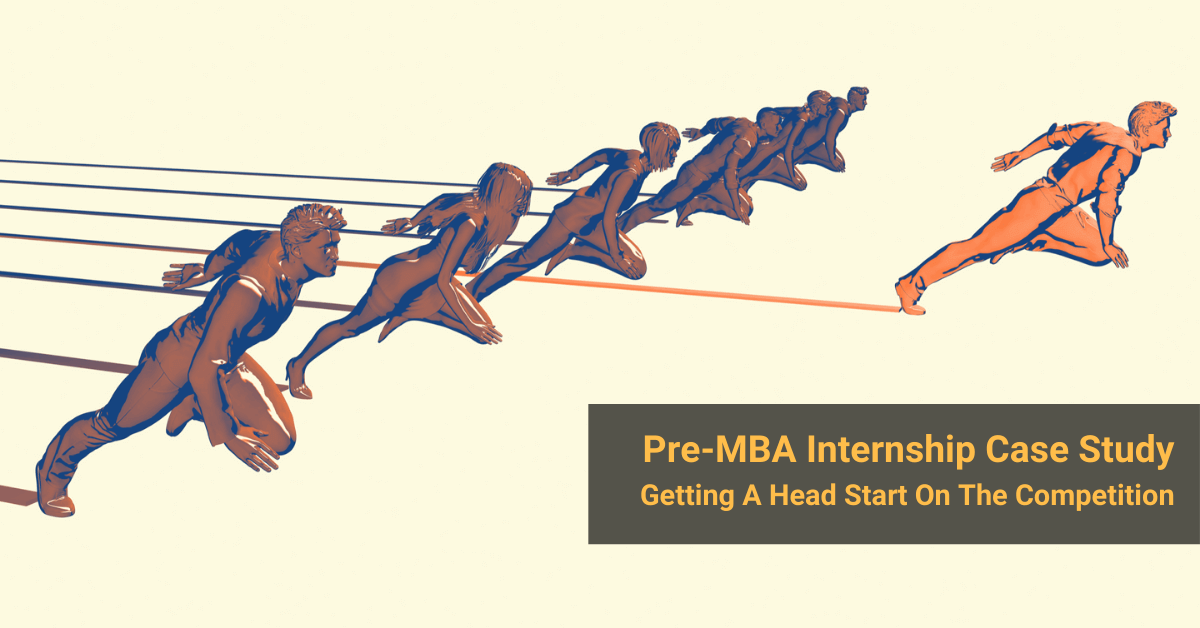 "There are three ways to make a living on Wall Street – be first, be smarter, or cheat."
-John Tuld, Margin Call
It's one of my favorite quotes from Margin Call… because it's mostly true.
But if you're applying for IB/PE/HF jobs at the MBA level, this statement doesn't quite hold up.
After all, you can't cheat your way in unless you want to get expelled or have your offer rescinded.
And good luck being "smarter" than your classmates.
But you can be first.
You can race ahead of other candidates with a pre-MBA internship, where you work in the industry of your choice before your MBA program even begins.
But there's very little information online about these opportunities – until now, that is.
Our case study subject today worked in the energy industry, and then enrolled in a top MBA program to make a transition into investment management.
To make that transition easier, he completed a pre-MBA internship at a hedge fund, which is what we're diving into this time around:
Step 1: Realizing that Investment Management is a Legitimate Profession
Q: Walk us through your background and how you ended up in an MBA program.
A: Sure. After graduating from university, I spent a few years in the energy industry as a power & utilities consultant, and then in a Project Finance role at a clean-energy company.
When I was doing consulting, my firm sponsored me to study for the CFA exam. Reading through the materials and getting more practice with financial analysis, I became interested in equity investments and portfolio management.
Before that time, I had thought of investment management as a "get rich quick scheme" and didn't understand all the work that goes into investment analysis.
But while I was studying for the CFA, I realized it was a vital industry and an important service for the economy.
I knew I would need to get an MBA to win a hedge fund or asset management role, so I began preparing for the GMAT and completing my MBA applications.
Are Pre-MBA Internships Rarer than Unicorns?
Q: OK, so you applied for and won admission to a top business school… but then how did you find and apply for pre-MBA internships? Firms don't exactly advertise them openly.
A: You're right, pre-MBA opportunities are rare and non-standard.
There are a few opportunities in consulting and also at "normal companies" (e.g., consumer-packaged goods and retailers), but you'll find almost nothing at investment banks, private equity firms, and hedge funds.
Quite a few pre-MBA internships related to diversity recruiting also exist.
But you have to be careful because many of these "pre-MBA opportunities" are just 1-2-day programs, like the one Bain has.
You can find other lists of pre-MBA programs, but many of them are just short events.
The shorter programs may help to some extent, but I believed I was better off applying to firms directly and getting a 3-month internship instead.
Q: So you skipped the formal programs and networked on your own to find this internship, but which firms did you target?
A: I focused on smaller hedge fund and asset management firms that lacked structured internship programs for MBAs.
"Smaller" means hedge funds with under $10 billion in AUM and asset management firms with less than $100 billion under management.
I didn't filter by strategy since I was interested in both global macro and long/short equity (for more, please see our coverage of hedge fund strategies).
I used all the standard methods to search for firms: my network, the alumni job board, and Internet job portals.
You will rarely, if ever, see "pre-MBA internships" advertised anywhere; firms tend to post only opportunities for standard MBA summer internships.
Q: So you didn't pay attention to the opportunities the firm was advertising?
Or you applied for standard MBA internships and tried to explain your way into pre-MBA roles instead?
A: A bit of both – like I said, I focused on places that lacked structured internship programs, but if I saw firms advertising standard MBA internships, I still applied.
I just explained my situation in my cover letter and application, and bet that my school's reputation and my previous experience would generate responses.
For the small firms that didn't advertise anywhere, I got to work cold calling and cold emailing to find positions.
Q: The timing for a pre-MBA internship is tricky because not everyone can leave their full-time job early. When did you start applying?
A: The majority of pre-MBA internships take place over the summer because most HF/AM firms are used to summer interns and can extend the concept to pre-MBA students as well.
So if you want to do what I did – win an internship intended for first-year MBAs – then you need to start applying before the end of the calendar year.
You should submit your applications at the same time that first-year MBAs are applying for summer internships.
If you want to go for something off-cycle or create your own internship, you can apply later.
I only started looking in April (i.e., several months before my MBA program began), but I still won a pre-MBA summer internship offer – right on the last day of my previous full-time job!
However, I would still recommend starting as early as possible.
I got quite lucky; if I had to do it over, I would have started in December. This timing is yet another reason why it's so important apply in Round 1 at the top schools!
As soon as you're admitted and enrolled in a program – ideally by December – search for first-year MBA internships offered at your school.
If you wait too long, you'll have to spend a lot of time and effort convincing tiny firms that it's a good idea to hire interns.
Q: So you had this list of funds from your online search and school's job board, and you also did some networking on your own.
What did you say when you approached these firms to ask about pre-MBA internships?
A: I explained my situation using the following points:
I have experience in power & utilities, consulting, and project finance.
I'm looking to transition into investment management, and have taught myself financial modeling and valuation. I have also prepared several long/short stock pitches.
I'm looking for a pre-MBA internship, but I'm also willing to work part-time during the first year of my MBA program.
I usually contacted Hedge Fund Analysts first, but occasionally I would reach out to the Portfolio Manager (PM) directly, or someone else would refer me to the PM when I was in the midst of the "how to get a job at a hedge fund" process.
It is a numbers game, and you have no idea which funds will be interested in you because it's highly dependent on each PM's personality and interests.
I thought energy-focused hedge funds would like my background, but a consumer Internet/media fund showed the most interest because I happened to be from a "country of interest" for the fund… even though I knew almost nothing about Internet companies.
Overcoming Objections in Interviews and Stock Pitches
Q: So what were the top objections you encountered when interviewing for these internships?
A: Going into it, I thought the biggest hurdles would be:
I was two years away from being able to work full-time, so few funds would want to hire me for a temporary gig.
I had no professional investing experience, and I lacked the financial skill set that other candidates had.
The first objection – being two years away from working full-time – turned out to matter far less than I had expected.
Many funds, especially smaller ones, don't necessarily want to hire you full-time; they might just need part-time support for specific tasks.
Hedge fund internships are quite different from investment banking internships, where they always try to convert you into a full-time hire if you perform well.
On the second hurdle, I did a ton of reading on equity investing and value investing specifically, and I completed many of the exercises and case studies in your courses, such as the stock pitch example for Jazz Pharmaceuticals.
Even though I had Project Finance experience, it didn't translate that well to long/short equity hedge funds because in PF you build only debt and cash flow models – not 3-statement projections or DCF-based valuations.
And then I followed the global markets and the energy markets very closely.
In interviews, I brought up the books I read and the stock pitches and case studies I worked on, so they could tell I was completely serious about making the transition.
The final objection mostly came down to the PM: when you recruit for these roles, you will be speaking with some very, very sharp people, so expectations are higher.
So you have to interview widely and focus on the places where you "click" the best with the PM.
Q: Thanks for explaining all that.
Beyond those general objections, what were the specific interviews for your pre-MBA internship like?
I'm assuming they asked for a stock pitch in each one.
A: The interview process was shorter and less formal than it is for full-time roles. The firm where I won an offer had me interview with the PM and then present a stock pitch separately at a later date.
He didn't ask traditional technical questions – the interview was all about my previous career, why I wanted to get into investing, and what I thought about different markets.
One question I wasn't prepared for was: "Why not join a tech startup now instead of going into finance?"
I got that question because I was on the West Coast of the U.S., so a lot of MBA candidates at nearby schools were flocking to startups as the new "hot" sector.
I answered it by saying, "I don't have an edge. The first ten employees of a startup and seasoned Silicon Valley experts or engineers are the ones who perform best are all  – and I'm neither one."
Q: So what were the most challenging parts of the interview if they asked standard questions?
A: The top two challenges for me were:
Challenge #1: For the stock pitch, they assigned me a sector I knew nothing about (consumer internet) and gave me a week to present my findings. I had plenty of ideas for power & utilities companies, but I had to start from scratch on this one.
The rest of the stock pitch was what I expected – a few slides and 30 minutes to present and answer questions. It's similar to what you've covered on this site and in your courses.
Rather than preparing excruciatingly detailed stock pitches, you might be better off coming up with a relatively simple pitch for a different industry each week.
You don't know what they're going to throw at you or which funds might be interested in you, so you should get used to doing very quick analysis.
Challenge #2: They asked me to discuss the global markets or which sectors/stocks I liked "in general." So these were more like 30-second speeches where you had to name-drop themes and companies that might interest them.
But it was tough because you could not possibly know the PM's views in advance.
So you had to think quickly and hope your views roughly matched theirs – and link anything you mentioned to their sector or geography of focus.
Q: Anything else to note about interviews?
A: I lost a lot of opportunities because I was on the West Coast and could not do in-person interviews with firms on the East Coast.
Almost every company that gave me a positive response wanted me to come in for an in-person interview – but I already had a demanding full-time role, so I couldn't just fly to the East Coast for a day.
The Internship Itself: Becoming a PM, or Pure Busywork?
Q: Thanks for pointing that out. What about the internship itself? Did you gain valuable skills out of it, or was it mostly "administrative work"?
A: The first half of the summer internship was great. They gave me free rein to research ideas, come up with long/short equity recommendations, and discuss my weekly findings with the PM.
I even went to meetings on my own a few times, though when we met with company management I always tagged along with the PM.
At the halfway point of my internship, the equities and commodities markets began tanking, so the PM's stress level multiplied and he ran out of time to mentor me.
I spent most of my time after that updating models and also finding specific information he needed.
So the second half was a bit disappointing, but overall I learned a lot and gained marketable skills and experience.
Q: And how much is that experience helping in your current recruiting efforts?
A: It's too early to say, but I plan on highlighting everything I gained:
Knowledge of global equity/growth strategies and knowledge of the Internet and media sectors.
Primary and secondary research skills.
The hedge fund's name.
This firm didn't qualify as a "mega-fund," but it was still well-known and had a strong track record and reputable founder.
Since the hedge fund world is small, everyone knows the PM at this fund; having the name on my resume will only help my case.
I'm not sure yet if I want to go back to the same firm or pursue different funds, but I do want to continue in investment management.
Q: So how would you summarize pre-MBA internships?
A: They are tough to get and very "random" when you do get one.
But if you're a career changer, a pre-MBA internship can be essential for moving into the most competitive fields – and if you want a hedge fund career without investing/finance experience before business school, it's essential.
You should decide upfront if you're going to apply for first-year MBA internships and ask for an exception, or focus on smaller firms with no internship program in place. If you're going for the first option, apply much earlier.
Being physically close to the city where you want to work gives you a tremendous advantage. If you're in the U.S., it may not even be worthwhile to apply to firms on the opposite coast because they'll all want in-person interviews.
If you're applying for HF/AM internships, be prepared for anything with the stock pitch, such as unfamiliar sectors or geographies.
Get as much as you can out of the internship, but remember that a lot of value comes from being able to write "hedge fund internship" on your resume… so don't stress out too much if you end up doing a lot of grunt work.
Q: Great, thanks for taking the time to speak with us and for sharing all those tips.
A: Anytime.
Additional Reading
You might be interested in The Search Fund Internship: Perfect Pathway into Investment Banking and Private Equity Roles?.
Break Into Investment Banking
Free Exclusive Report: 57-page guide with the action plan you need to break into investment banking - how to tell your story, network, craft a winning resume, and dominate your interviews