Mexico Investment Banking: Recruiting, Careers, Salaries, Exit Opportunities, and More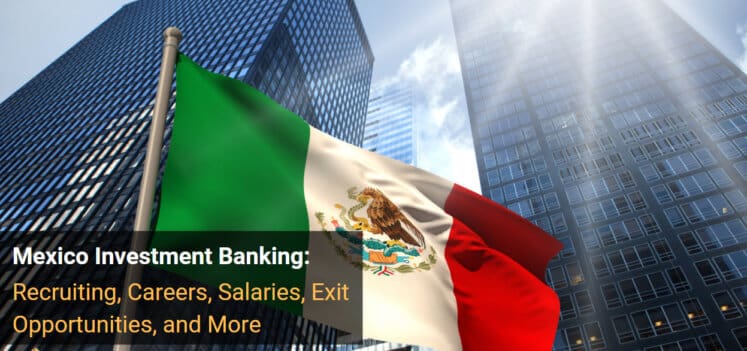 A long time ago, we used to get questions about living and working in different countries.
If the economy wasn't so great in the U.S. or Europe, maybe it made sense to go to an emerging market and find work there.
But ever since the pandemic began, these types of "How do I work in Country X?" questions have slowed to a trickle.
Still, it's fun to think about the possibilities when (if?) international travel ever returns – and one country on a lot of peoples' lists is Mexico.
It has a fast-growing economy, you can sometimes win finance roles without the same qualifications as in other countries, and the cost of living is 3-5x lower than places like NY and London.
To get the full story, I recently spoke with a reader who completed several finance internships in Mexico and then won a full-time offer in infrastructure private equity:
From Math to Quant to Corporate Finance
Q: Can you walk us through your story?
A: Sure. I went to one of the top public universities in Mexico and initially studied Applied Math, thinking that I wanted to be a quant.
I liked math but realized quant funds weren't for me, so I became more interested in corporate finance and worked in Project Finance at a multinational conglomerate.
Some co-workers recommended investment banking, so I completed several internships in corporate banking to prepare for recruiting at the large investment banks.
In Mexico, university graduates have to complete year-long internships to win full-time offers at banks, and these internships are competitive with terrible hours.
Since I had a good academic background and multiple finance internships, I thought I had a good shot.
I applied to ~5 of the top investment banks here… and in the middle of recruiting, COVID hit.
Because of the uncertainty and panic, several banks stopped their hiring processes altogether, while others delayed hiring indefinitely.
I completed interviews at these banks, passed the first round at about half of them, but was then put "on hold" when they stopped their hiring processes.
I had no idea when these banks would re-start their recruiting processes, so I decided to look at other options and began browsing jobs and postings on LinkedIn.
I randomly saw a post from a current Managing Director in infrastructure private equity at a large firm here who offered to help anyone affected by the pandemic.
I contacted him directly, he liked my background and CV, and his firm scheduled me for ~7 interviews with everyone from Associates to Directors.
I performed well in the interviews and won a full-time private equity offer right out of university.
Mexico Investment Banking: The Industry Overview
Q: Congrats! We will focus on investment banking here, so what can you tell us about the industry in Mexico?
A: The international bulge bracket banks all have a presence, and you'll see them all in the league tables.
It's difficult to separate performance in Mexico because many sources combine all deal activity in Latin America, but the banks with the most deal flow here tend to be MS, BAML, Barclays and GS, followed by JPM, UBS, and CS.
Rothschild and Lazard also have presences in Mexico, and Rothschild appears to focus on restructuring here.
Some of these firms have smaller teams in Mexico with larger NY-based teams that do most of the deal work.
Some international banks also have partnership agreements with domestic boutique and middle-market firms. One example is Moelis, which operates via AD&S, a boutique bank here.
The industries in Mexico are fairly diversified, but there's a lot of deal activity in technology, media and telecom (TMT), retail, infrastructure, real estate, financial institutions (FIG), and government advisory (think: public finance).
In general, there tend to be fewer equity deals and more M&A and debt-related deals.
But there is a growing technology industry here, and some of the larger companies are beginning to expand through acquisitions, so we might see more equity deals as these companies go public.
Q: Are there any large domestic banks that work on deals or notable boutique and middle-market firms?
A: Outside of the bulge brackets, many of the banks advising on large deals here are based in other countries and just have large subsidiaries in Mexico: BBVA, Santander, HSBC, Scotiabank, and so on.
There are some large domestic, commercial banks, such as Banamex (now owned by Citi), Banorte, Inbursa, etc., and these firms all offer investment banking services as well.
However, they tend to be much lower down in the league tables than the bulge brackets and firms like BBVA, Scotiabank, and Santander, and they often focus on DCM activities such as domestic bond issuances.
Finally, there are some well-known boutique and middle-market firms here, such as RIóN, FGA Investment Banking, 414 Capital, DD3 Capital Partners, Serficor IMAP, Vace Partners, GBM, and PC Capital.
Recruiting and Interview Questions
Q: Thanks for explaining that. What else can you tell us about the IB recruiting process beyond the year-long internship?
A: As in other regions, you still need at least 1-2 finance internships to be competitive at the large banks, and attending a target school gives you a big advantage.
The main difference is that the results are more random; sometimes, people who can't even explain basic concepts like EBITDA but have an excellent attitude and a genuine interest in the business will win offers if the interviewers like them.
One technical difference is that the majority of banks (but not all of them) also give you GMAT-style tests before interviewing you for real.
In addition to these math/logic/reading questions, they might also give you written questions where you have to describe what an investment bank does and how the industry works, similar to competency questions in the U.K.
If you pass this first round, the second round will be an interview, usually with an Analyst or Associate, and you move up from there.
Q: Are the interview questions different?
A: Not really; you'll still get questions about the usual topics, like valuation and DCF modeling, Equity Value vs. Enterprise Value, and so on. The fit/behavioral questions I received were all quite standard as well.
One difference is that interviewers repeatedly asked, "Are you sure you want to be in investment banking? Do you know the hours we work?"
They do that because many students in Mexico, even at the top universities, are not fully aware of the work environment.
So, interviewers try to eliminate people who are expecting a 40-hour-per week job.
Q: Is it possible for foreigners from places like the U.S. and Europe to work in IB in Mexico, assuming they know Spanish?
A: I have met some foreigners in IB and PE here, but they've mostly been from other parts of Latin America.
Banks in Mexico sometimes struggle to recruit enough talent domestically, so it is possible if you pass the other screening criteria.
Mexico Investment Banking: Careers, Salaries, and Exit Opportunities
Q: You mentioned some of the most common industries and deals types earlier, but how does the day-to-day job differ? Is it the same as IB anywhere?
A: It's still a lot of Excel and PowerPoint work to create and revise documents, so in that sense, yes, it's the same as IB anywhere.
One difference here is that Associates tend to do more of the Excel work, and Analysts do more of the PowerPoint work – which seems to be the opposite of places like the U.S.
Q: Since the cost of living in Mexico City is much lower than in places like NY and London, I am assuming that the compensation is also quite a bit lower. Can you give any estimates?
A: I would recommend looking up Michael Page's remuneration survey for Mexico because there's a specific section on "investment banking & private equity" (2021 figures shown below):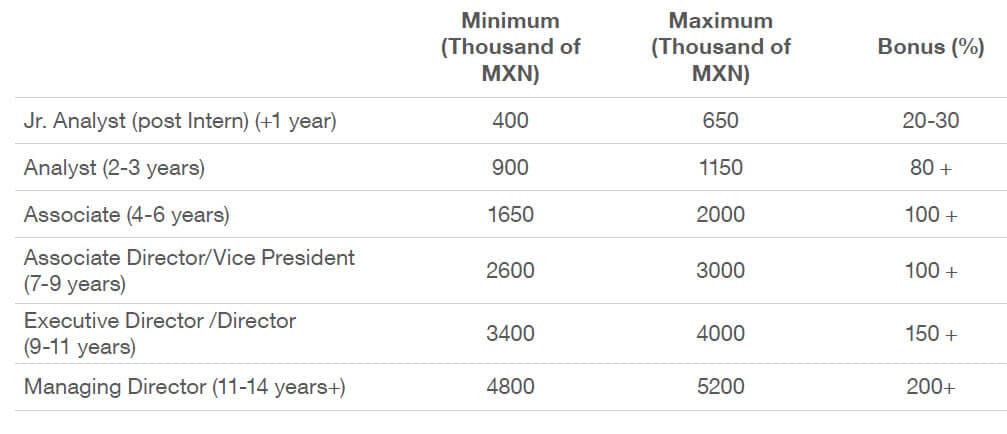 The MXN/USD conversion rate has been about 0.05 for the past few years, so the salary and bonus ranges in USD are:
Junior Analyst: $20K – $33K (20-30% bonus)
Analyst: $45K – $58K (80%+ bonus)
Associate: $83K – $100K (100%+ bonus)
Vice President: $130K – $150K (100%+ bonus)
Director: $170K – $200K (150%+ bonus)
Managing Director: $240K – $260K (200%+ bonus)
This compensation might sound low compared to other regions, but the cost of living in Mexico City is 1/3 (or less) than in New York.
Q: What are the most common IB exit opportunities?
A: Some people stay in banking or transfer to other groups, such as the LatAm team in NY, but outside of that, venture capital and private equity attract a lot of bankers.
The private equity mega-funds do not have much of a presence here, though, so many PE deals are closer to growth equity/VC-style ones.
Quite a few bankers also leave for corporate finance roles, and some even become startup CFOs or other high-ranking positions.
Fintech is also becoming more popular, and a few cryptocurrency exchange platforms have attracted former bankers.
Q: And what are your plans?
A: I'm happy where I am right now, and I plan to stay in infrastructure PE for at least the next few years.
The hours can be bad, but they're also highly variable (I've left work anywhere from 6 PM to 4 AM), and they're not as bad as banking hours.
My group is also a bit unusual because Analysts who stay long enough get more deal and financial modeling responsibilities, which I want to take advantage of.
Q: Great. Thanks for your time!
A: My pleasure.
—
If you liked this article, you might be interested in reading From Quant Trading in Singapore to Fintech in Mexico: How to Enter a More Exciting Jungle.
Break Into Investment Banking
Free Exclusive Report: 57-page guide with the action plan you need to break into investment banking - how to tell your story, network, craft a winning resume, and dominate your interviews