How to Fix Your Broken LinkedIn Profile and Create One That Makes Recruiters Come to You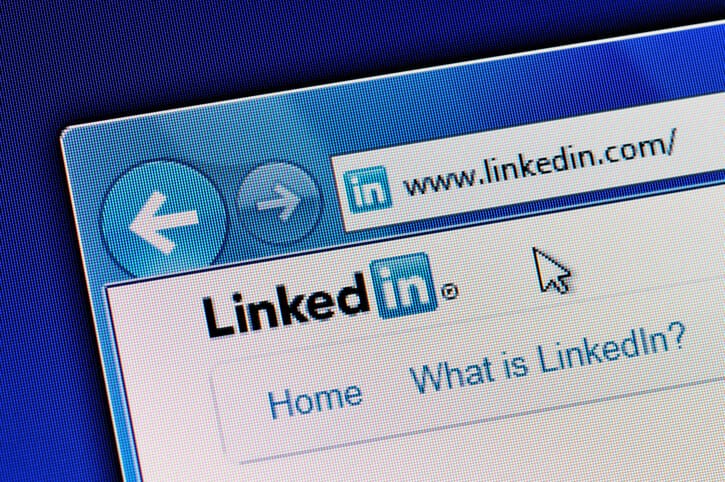 Have you noticed that most "goals" end in failure?
There are a few reasons for that:
They tend to be vague ("I want to get in shape!").
They require too much work – no, you can't work 70-80 hours per week and also spend 20 hours per week on a new hobby.
They are based on willpower rather than automation and systems.
To fix that, I'm going to share with you in this series a set of "goals" that:
You can implement easily: no 2,000-hour tasks or 5 AM wake-up calls.
Also make a high impact on your job search / career prospects.
We'll start today with one part of your career that is consistently overlooked…
…but which takes, maybe, 30 minutes per year to maintain: your LinkedIn profile.
I now have almost 2,000 connections on LinkedIn, which lets me see firsthand just how bad most profiles are.
Here's how you can avoid disaster and create a LinkedIn profile that gets you results, whether you're a student or you've been working full-time for years:
Why Do Your LinkedIn Profile and Social Media Presence Matter?
Put simply: real life and online life are converging.
If you post something on Twitter or Facebook, you might as well have said it in a courtroom trial.
Recruiters and interviewers are extremely likely to Google your name, and if controversial / inappropriate / unprofessional search results pop up, you might be cut from the process.
There are also countless stories of social media ruining careers, including a Wikipedia entry about the most famous incident of all.
But on the positive side, your LinkedIn profile is a perfect example of a "high-impact, low-effort" item: fix it once, spend a bit of time maintaining it, and benefit from that single change from years to come.
Unlike networking, it doesn't require countless hours of emailing hundreds of contacts: do it right, once, and people will start coming to you.
And when you have a great profile, networking becomes more effective because new contacts will respond to your messages and accept your connection requests more frequently.
Step 1: Clean Up Your Existing Social Media Presence
Most LinkedIn guides start by explaining how to pick a profile photo and a headline, but they miss one critical point: you need to clean up your existing social media presence first.
First, go to "Privacy Settings" within your Facebook profile, hide your profile from all search engines, and make it so that only friends of friends can look you up by email address or phone number: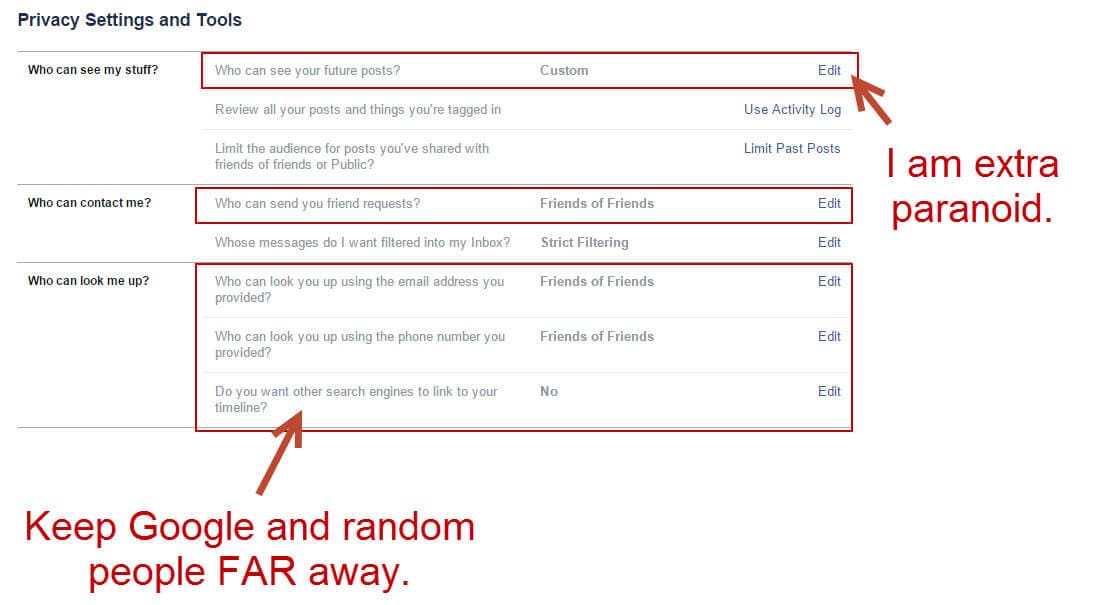 You could also limit email/phone lookup to Friends only, and you should probably disallow "Followers" who are not Friends.
I guarantee 100% that you will get in trouble if you allow too many random people to see your Facebook profile.
Yes, I've seen people get rejected from interviews because of inappropriate comments or messages on Facebook – and that was a LONG time ago when social media was much smaller.
You should similarly be very cautious of all your other social media accounts: Twitter, Instagram, Pinterest, Tumblr, Google+, etc. etc. etc.
Services that cater to photo sharing, like Instagram and Pinterest, are even more likely to get you in trouble.
You don't have to shut down all these accounts, but if you keep them open you should be certain there's no way to link your real name to anything.
If you write articles about finance or you link to non-controversial, safe-for-work, finance-related content and you use your full name, that's fine, and it can actually help you at more forward-looking firms.
But in 9 out of 10 cases, I've seen social media accounts hurt candidates due to inappropriate photos and comments. Even US congressmen are vulnerable.
You should also do a Google search of your name and see what pops up; if it's something that a recruiter should not be reading, contact the site to have it taken down or remove the result yourself if you can do so.
Step 2: Prepare Everything You Need for Your New LinkedIn Profile
You only need 2 documents to get started on your new LinkedIn profile:
A high-quality headshot.
The most recent version of your resume, which should be based on one of our templates.
Yes, you really do need a high-quality photo of yourself: plenty of recruiters and professionals will ignore you if you don't have one.
If you have the money, yes, I recommend getting a professional headshot done in a studio.
If you're a student and you don't have the money for that, get a friend to help with the best camera you can find.
The photo needs to meet the following requirements:
You should be wearing business professional attire (a suit and tie if you're male).
You should look directly at the camera – no side gazes or "interesting" photos.
You should be up against a solid background that's not distracting.
It should show your head or the top part of your body, but not your entire body because then it's too hard to see your face.
Once you have this photo, you should then update your resume and follow our templates and suggestions.
Step 3: Update Your Profile
Many LinkedIn guides give profile suggestions such as: "Use a creative headline! Express your true self! Post videos of yourself giving speeches! Don't just paste in your resume!"
Be very careful because this advice is intended for "creative professionals" in industries like advertising, copywriting, PR, and social media… in other words, places where your creativity and individuality are actually valued.
Finance is NOT one of those industries.
Your profile should be more than just your resume, but not that much more.
Here's the step-by-step walk-through:
Step 3.1: Hide Yourself When You're Updating Your Profile
You do NOT want people to be notified that you're updating and tweaking your profile or they'll instantly know you're looking for a new job.
Even if you're a student, you still don't want to display this publicly because other students could copy your new profile or start spreading rumors about you.
So go to the right-hand side of your profile page and set "Notify your network?" to "No":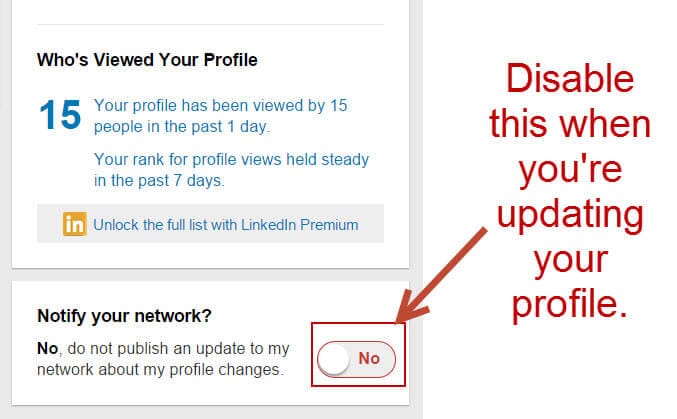 You could also then go to "Privacy & Settings" and turn off updates and your activity feed, and even make yourself anonymous when you visit someone else's profile.
But the step above is the most important one.
Step 3.2: Insert a Photo and Enter Your Name(s) and Headline
You should already have your photo based on the instructions in Step 2.
Check one last time to make sure you're not wearing a pig mask and that there are no beer bottles in the background, and then upload it.
Entering your name should be straightforward, but if you come from a non-English-speaking country you probably have your real name and your English name.
Enter both of them, and use parentheses for the one you use less frequently.
Also, if you have a name that has different spellings (e.g., Bill or Will instead of William) or that is commonly misspelled, you should note that in the Summary section of your profile.
Your headline should be easy if you're currently working:
"Investment Associate at [Firm X]" or "Investment Banking Analyst at [Bank X]"
If you're not currently working because you're in school or because you're unemployed, you should still include a headline that indicates the types of jobs you're looking for:
"Student Seeking Investment Banking Analyst Opportunities"
Many recruiters will only look at your headline and current job title, so you should not just say that you're "in school."
Step 3.3: Customize Your Profile URL
Not everyone does this. For example, here's Mark Cuban's profile URL:
http://www.linkedin.com/pub/mark-cuban/5b/75/6a
But… he's also a billionaire and isn't "looking for work."
If you're not a billionaire, change your profile to something more readable, such as:
http://www.linkedin.com/in/johnsmith
You can do this by clicking on the default profile URL under your photo, and then changing the "Your public profile URL" on the right-hand side of the page: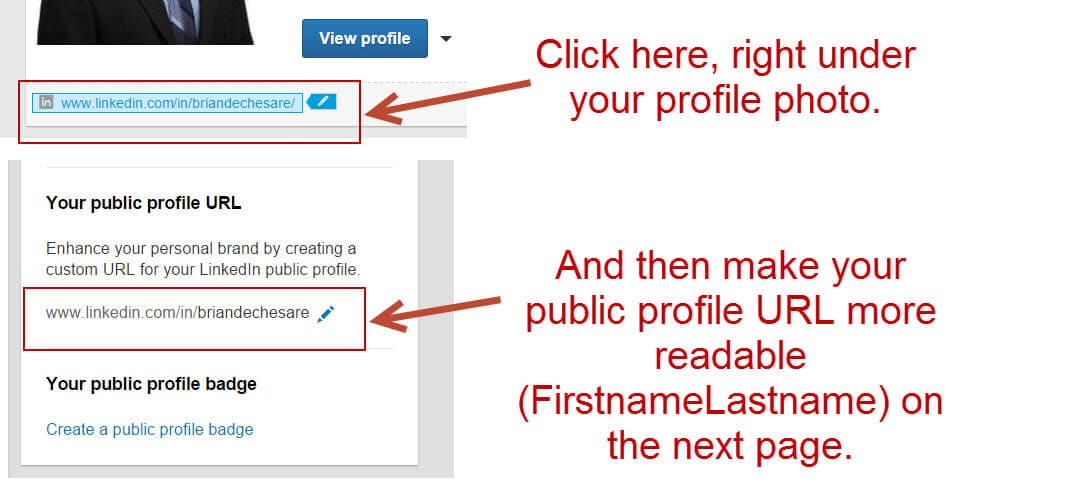 Step 3.4: Write Your Summary
You can easily do the wrong thing here if you listen to all the "creative" people online.
No, don't post a video of yourself and don't inject your personality into it; you should let your personality come across in interviews because "creativity" is easily misinterpreted online.
If you already have internship or full-time work experience, your Summary might include your current role, the types of deals or investments you've worked on, and your most impressive accomplishments: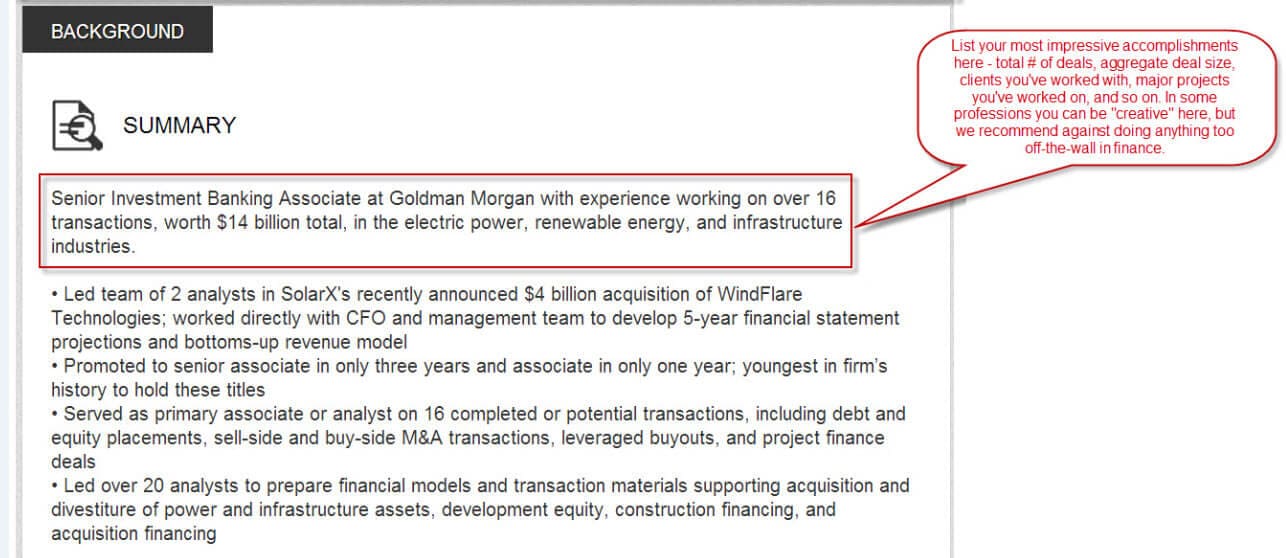 If you do not yet have full-time work experience, you might write something like:
"Student at [XX University] with leadership roles in the investment club and the track team, with coursework in accounting and finance and participation in several M&A case competitions; currently seeking investment banking internships."
And then you could include bullet points for the best parts of your work experience: leadership experience, money saved, money earned, quick promotions, and so on.
Step 3.5: Enter Your Work & Leadership Experience
This section is straightforward because you're mostly copying in entries from your resume.
A few tips:
If you're using a "Project-Centric" structure for a work experience entry, you can create separate "Project" entries below the summary sentences. Here's an example:

Try not to use excessive lists of bullets. If one work experience entry has 7-8 bullets, reduce it to 3-5 bullets.
Don't use too many lines within a single bullet. You can get away with this on your resume, but in your LinkedIn profile a paragraph of text is much harder to scan. So aim for 1-2 lines per bullet, and 3 lines at most.
Highlight the same things that you did on your resume: results in the form of money earned, money saved, or time saved.
If you're currently in school or unemployed, you should still create a "dummy" work experience entry because many recruiters conduct searches based on your current job title (see the language recommended above).
Step 3.6: Add Your Organizations, Certifications, Languages, Skills & Expertise, and Education
Most of this can be copied in straight from your resume, but there is one important difference:
You have the space to list A LOT more "Skills" on LinkedIn, and you should definitely do so.
You should also include the specific keywords that recruiters and finance professionals will be looking for:
Valuation, Financial Modeling, M&A Advisory, Leveraged Buyouts, Credit Analysis, Financial Projections, Project Finance…
You could even look at job listings on other sites, see what language they use, and then use the same keywords in your own profile.
This is especially important if you're a career changer moving in from a field like law or Big 4 accounting, because question #1 will always be: "What relevant skills do you have?"
So if you gained exposure to deals or investments in one of those fields, you can address that objection in advance by including the relevant Skills in your LinkedIn profile.
Here's a direct account of how a previous interviewee who broke into private equity in China got a 30% response rate to his LinkedIn messages:
"I had a very good profile and made sure to use key buzzwords like "M&A," "cross-border transactions," and so on, and made it concise and targeted at IB and PE."
Step 3.7: Get Recommendations and Endorsements and Join Groups
Recommendations on LinkedIn are less useful than real life references, but you should still request them if you've had internship or full-time work experience.
It's better to get short recommendations from senior people if you can – a VP is better than an Analyst, and an MD or C-level executive is better than a VP.
Ask the person in real life (if possible), and then send a quick follow-up email pointing them to your profile and asking if they wouldn't mind taking a few minutes to write a recommendation.
It's helpful to get recommendations over time (e.g., 1 recommendation per year over many years) because your profile then looks more credible.
I am more skeptical of endorsements because they're too easy to get: what does it really mean if someone anonymously says you are proficient in Excel?
But some social proof is better than none, so you might as well display endorsements if you have them.
If you somehow get endorsed for a skill you don't have, hide it.
Step 3.8: Make Yourself Visible Again
Once you've finished everything above, let your profile "sit" for at least a day.
Then, go back and make your final round of edits and fix typos, grammatical mistakes, and other inconsistencies.
When you're done, re-enable those options to display your activity feed and profile changes to your connections, and make 100% certain that your profile is visible to search engines: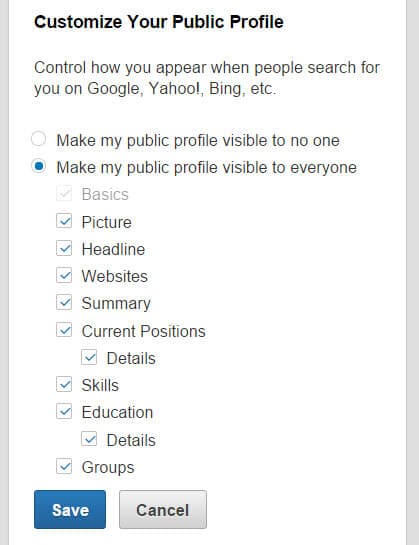 Remember, you want your LinkedIn profile to be the #1 search result for your name.
Step 4: Add More Connections and Join More Groups
You should not use a profile with fewer than 10 connections for networking purposes.
At the bare minimum, find and add your friends so you can get up to 10 connections, and then expand by adding acquaintances, co-workers, and former co-workers so you can get up to 100.
Past that, add people as you encounter them on the job, at conferences, at school, and so on. More connections always equals more social proof, so ideally you'll be at the "500+" level one day.
Joining finance-related groups is helpful because you can find industry professionals to network with, you can get ideas for news items to mention in interviews, and you might even be contacted by recruiters who are searching these groups.
Your LinkedIn Profile… Version 2.0
If you follow everything above, it may take you a few hours to set up your new LinkedIn profile…
But that's a lot less time than your other "goals" might require: just think about how long it would take to be able to bench 495 lbs like Aleksey Vayner.
And your new profile will only take ~30 minutes per year to maintain.
For that minimal amount of time invested, you get a tool that makes it easier to network, easier to get noticed by recruiters, and easier to present yourself in interviews.
And that's a goal anyone could achieve.
Next Up
Next up in this series will be:
Break Into Investment Banking
Free Exclusive Report: 57-page guide with the action plan you need to break into investment banking - how to tell your story, network, craft a winning resume, and dominate your interviews