Copy This Investment Banking Associate Resume Template to Break In As an Associate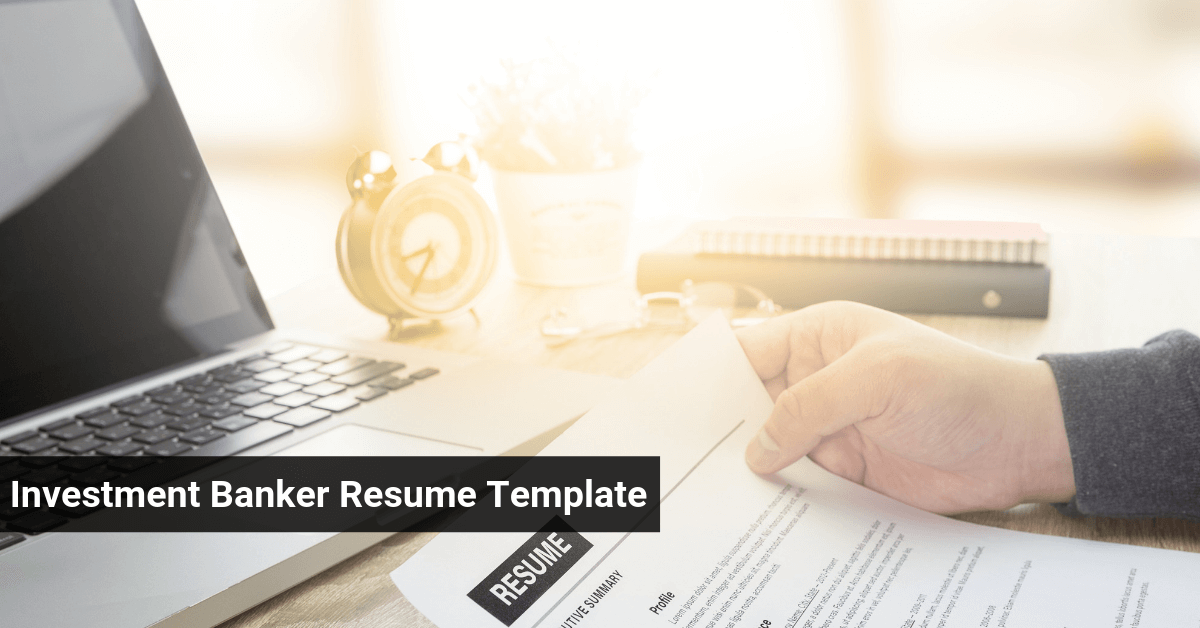 I kept getting questions about an investment banking associate resume template, and I figured we should finish up that series of investment banking resume templates and video tutorials – so here it is.
In this lesson, you'll learn how to craft your resume if you're at the MBA level, if you've been working full-time, or if you've had extensive transaction experience.
Actually, it's even easier than that: you don't need to "craft" anything. You just need to copy these templates and modify them slightly.
Don't you wish you found this site earlier?
Refresher – University Student Template
In case you missed it, here were the major points with the university student investment banking resume template:
3 sections: Education; Work & Leadership Experience; and Skills, Activities & Interests
Focus on 2-4 key work/leadership experiences rather than taking a laundry list approach.
Use either a project-centric or task-centric format for each work experience entry.
Include a summary sentence for each entry, and make sure your other bullets include the specifics followed by the results.
These points apply to any investment banking resume, no matter what level you're applying for – you just need to make a few tweaks.
Investment Banking Associate Resume Templates, the Video, and the Tutorial
Here's the overview video, which covers all 3 of the templates we're looking at here:
(For more free training and financial modeling videos, subscribe to our YouTube channel.)
And if you just want to read instead, here's the same tutorial in textual form. We'll go through each of these 3 templates and point out how they differ from the ones we looked at before.
MBA-Level Investment Banking Resume Template [Download]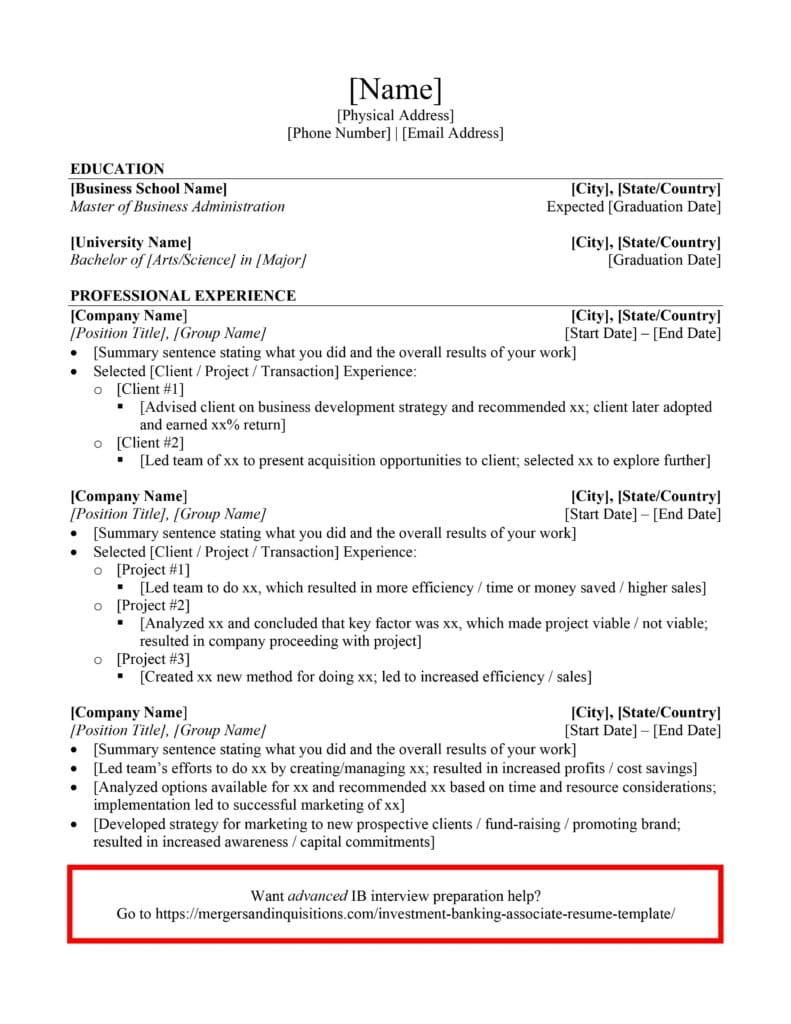 Just like the university student template, Education is at the top.
This time, however, it's greatly condensed – just list your business school and undergraduate name, degree titles, and graduation dates. You don't need GPA/SAT scores unless the bank specifically asks for them.
Similarly, forget about activities / honors and other trivia and just give them the names and dates.
Work Experience
The Work Experience section should be very similar to the university student template.
The differences:
Avoid student activities / volunteer work unless that was your "full-time work experience" – e.g. you did Teach for America for 2 years.
Still pick 2-3 work experiences to focus on, but these should be full-time jobs rather than internships.
Focus on the most recent 5 years of work experience. If you have more than this maybe extend it to 10 but only do that if it's relevant – e.g. you were a trader in a former life.
You still need to use a project-centric or task-centric format for each entry and focus on business results as much as possible.
But you should think about 2 additional points if you're at the MBA-level:
Leadership is more important than it is for undergraduates or recent graduates, because you'll need to manage Analysts and prevent them from screwing up.
Client Management skills are also important. So hopefully you were a male escort in Tokyo in a former life, or you can point to some other hands-on experience.
When you enter at the Associate level, banks start grooming you to win clients and bring in revenue one day – so you need to convince them you're more of a "leader" than an Analyst might.
Exceptions & Special Cases
If you've done some type of pre-MBA program related to finance – interning at a boutique, a PE firm, etc. – and the rest of your work experience is in a different field, you should definitely make this prominent, even if it only lasted a few months.
It's not lying – it's changing the focus. Spin 101.
If you've only had 1 full-time job before business school, just list your last major internship briefly, below the full-time entry, and write 1-2 bullets about it. A work experience section with only 1 large entry looks odd.
What Skills, Activities & Interests?
This section becomes increasingly irrelevant the more experienced you are. You can still include it at the MBA-level, but keep it short and feel free to drop it.
Full-Time Investment Banking Resume Template [Download]
This is almost exactly the same template as the MBA-level one – the only difference is that your Education section can be even shorter and it should be below Work Experience if you're not currently a student.
Consider removing the last section as well.
Always pick 2-3 key work experience entries over past 5-10 years unless you're a C-level executive with a 20+ year-long track record, or you have a lot of transaction experience – which leads us into the next section.
Experienced Investment Banker / Private Equity / Hedge Fund Financier
Experienced Investment Banker Resume Template [Download]
The Disclaimer – Read This First
Only use this template if you're an experienced Associate, VP, or beyond that, and you have dozens of transactions to write about.
If you use this as a sophomore in college, it's your fault. You will look stupid and not get any interviews.
What's Different This Time?
This one is still similar to both the university student resume template and the investment banker resume template – with one key difference:
Rather than going into detail on all your clients and deals on the first page, you make a separate page or set of pages for your "Transaction Experience" and follow the same format there.
As with the templates above, Skills, Activities & Interests can be dropped and the Education section should be greatly condensed.
Each entry should consist of a summary sentence and 2-3 others that capture the main highlights from each experience – working with clients, management teams, bringing in business if you're more senior, or doing analytical work for junior-level entries.
This person is showing more "leadership" at each level by writing about how he/she managed Analysts and Associates, and also highlighting more sourcing and business development at higher levels.
As you move up, investment banking becomes a pure Sales job, so your resume should reflect this.
It's good to list "Notable Transactions" so that anyone can tell what he's done at a glance without going to the second page.
Transaction Page
This should follow the chronological order and format of the first page.
The language here is not much different from the Analyst/Associate investment banker resume template – the person still discusses valuation/modeling work and his/her impact on the deal process.
But the focus is different at each level:
What About for Private Equity and Hedge Funds?
Not much is different – if you have an extensive transaction / investment list, you should still list it on a separate page.
Just flip around the language and write about "investments" and "potential investments" as opposed to "deals."
For the first page, write about your efforts sourcing investment ideas rather than potential clients.
It can be near-impossible to come up with concrete "results" on the buy-side because of the time frame – it might take years for a firm to exit a particular investment.
So don't feel pressured to always have tangible "results."
What Next?
Use these templates – just make sure you've read the disclaimers first.
You don't need to follow the exact format and language here – these are intended to give you ideas and guide you in the right direction.
As always, if you're paranoid about having the same-looking resume as everyone else, just change the font, font size, or other formatting to make it look different.
Up Next
You should now know 95% of what you need to craft your resume copy these templates and use them for your own purposes, from the Analyst-level to VP-level and up.
I may cover examples of specific bullets / language you would use for different industries (marketing, accounting, wealth management, etc.) and do a few "resume makeovers" in coming months.
Any questions?
Still Need More Help?
Introducing: Premium Investment Banking-Specific Resume/CV and Cover Letter Editing Services
We will take your existing resume and transform it into a resume that grabs the attention of finance industry professionals and presents you and your experience in the best possible light.
When we're done, your resume will grab bankers by the lapels and not let them go until they've given you an interview.
Specifically, here's what you'll get:
Detailed, line-by-line editing of your resume/CV – Everything that needs to be changed will be changed. No detail is ignored.
Your experience will be "bankified" regardless of whether you've been a student, a researcher, a marketer, a financier, a lawyer, an accountant, or anything else.
Optimal structuring – You'll learn where everything from Education to Work Experience to Activities should go. Regional badminton champion? Stamp collector? You'll find out where those should go, too.
The 3-point structure to use for all your "Work Experience" entries: simple, but highly effective at getting the attention of bankers.
How to spin non-finance experience into sounding like you've been investing your own portfolio since age 12.
How to make business-related experience, such as consulting, law, and accounting, sounds like "deal work."
How to avoid the fatal resume mistake that gets you automatically rejected. Nothing hurts more than making a simple oversight that gets you an immediate "ding".
We only work with a limited number of clients each month. In fact, we purposely turn down potential clients in cases where we cannot add much value. We prefer quality over quantity, and we always want to ensure that we can work well together first.
Break Into Investment Banking
Free Exclusive Report: 57-page guide with the action plan you need to break into investment banking - how to tell your story, network, craft a winning resume, and dominate your interviews