Biotech Equity Research: The Best Escape Plan from Medicine or Academia?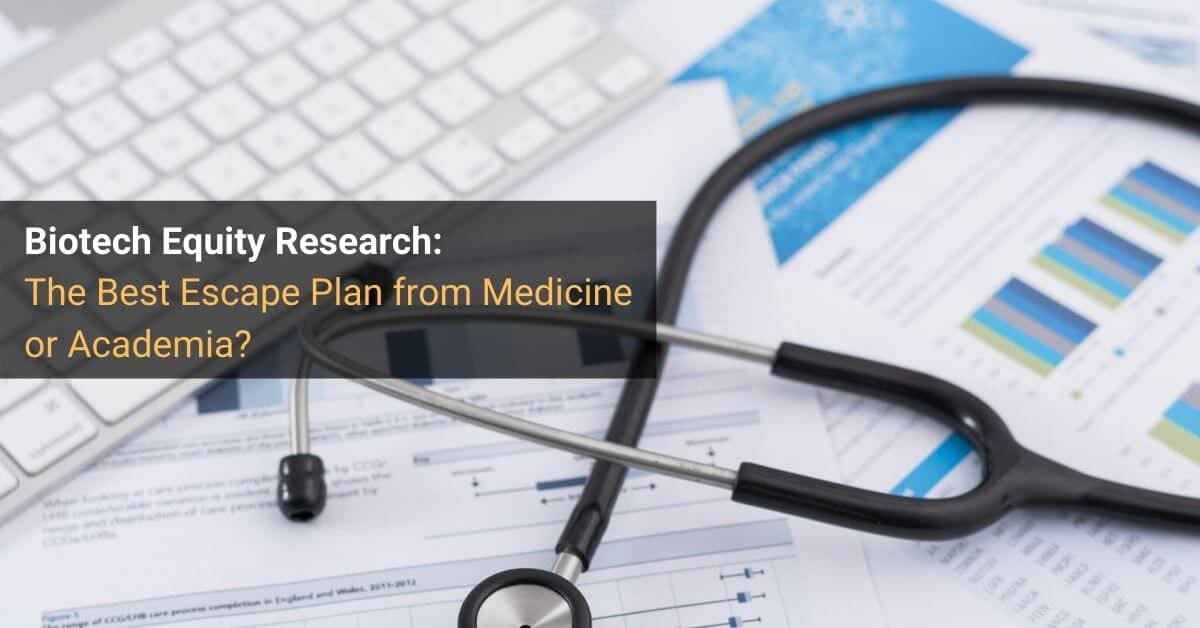 Ask someone to describe "biotech equity research," and you'll get the following responses:
"It's highly technical, and I heard you 'need' an M.D. or Ph.D. to get in."
"Equity research is dying! MiFID II! Avoid the ER career path."
"You analyze so many early-stage companies that scientific knowledge is more important than accounting/finance skills."
I think you get the idea.
Out of all research groups, biotech equity research is arguably the most different and the most appealing to career changers:
What Do You Do in Biotech Equity Research?
You do the same thing as in any other equity research job: monitor a set of companies (your "coverage universe"), speak with institutional investors and management teams, create and update financial models, and write equity research reports.
The real value comes from the Equity Research Analysts at the top of the hierarchy, who set up meetings between companies and buy-side firms that pay for the research.
By contrast, the Equity Research Associate is more responsible for the market/industry research, the financial modeling, and the reports.
When evaluating companies in biotech equity research, the following points are essential:
The Science – You need to understand a company's products or potential products to value it and assess risk factors. For example, how are small molecules different from biologics? How do monoclonal antibodies (mABs) work? If the company's main product inhibits a specific enzyme, what are the potential side effects?
The Regulatory Process – How likely is it for the products to win FDA (U.S.) or EMA (Europe) approval? What's the average success rate for therapies in this category, and how has it changed over time? What's the success probability at each stage of clinical trials?
The Market – Are insurers and governments likely to pay for this new therapy? Is it replacing something that already exists, but offering a cheaper/better solution? What are the possible peak sales numbers based on patient counts and prices for similar drugs?
The Pipeline – What do this company's future products look like? How close are they to winning approval? If they get approved, how quickly will they come to market?
The Catalysts – When will the results of the next major clinical trial be announced? Is a certain patent or exclusivity period about to expire? Is the company ramping its sales force or cutting it? Are there potential M&A deals or macro trends that might affect the company's valuation?
Cash and Cash Flow – What is the company's cash balance, and how much in Free Cash Flow does it generate regularly? Is it dependent on the capital markets to stay afloat, or does it have enough cash flow from established products to survive until future products launch?
Sales & Marketing – How likely are doctors and other medical professionals to prescribe this company's solutions? What is the go-to-market strategy, and how productive are the sales reps? Could the company boost revenue significantly with more sales & marketing, or would efficiency decrease?
"Biotech" and "pharmaceutical" companies are similar, but the technical difference is that biotech medicines come from living organisms, while pharmaceutical medicines come from chemical and synthetic processes.
In reality, though, there's a vast grey area in between, and many companies do elements of both or even label themselves "biopharma" – so we're grouping them together here.
Financial modeling for biotech companies is not that much different because you still use a standard DCF model and multiples such as EV / Revenue and EV / EBITDA.
The difference is that revenue is based on the # of patients on each drug, the average price, and potential sales from new/pipeline drugs.
We have an example of this type of projection in the Jazz Pharmaceuticals case study in our Advanced Financial Modeling course:

While you need to know the science to understand biotech and pharmaceutical companies, market knowledge is also critical.
Many drugs complete clinical trials, win FDA approval, and then go nowhere.
For example, PCSK9 inhibitors like Repatha were seen as promising alternative drugs to lower LDL cholesterol for patients that could not tolerate statins.
They suppress an enzyme that degrades LDL receptors on the liver and in other cell membranes, which results in more receptors and increases the clearance rates of LDL-C.
There's even evidence that they work more effectively than statins, the FDA approved them, and doctors like prescribing them.
But they initially came to market at a $14,000 per year price tag, and very few insurance companies covered them.
As a result, they never took off, even after companies like Amgen reduced the price.
Knowing just the science would have been insufficient to evaluate companies in this area – you would have also had to understand drug pricing and insurance reimbursement policies.
Why Biotech Equity Research?
First, if you're contemplating a career change out of academia, the pay is the most apparent benefit.
Rather than taking a $40-50K post-doc job, you'll earn $125K to $200K as an Associate in major financial centers, and that will approach $500K as you move up the ladder.
If you're thinking about leaving a medical career, those figures aren't much of a premium – if any – over what doctors in specialties like orthopedics and cardiology earn.
But you can skip the lengthy residency, and equity research arguably offers a better work/life balance without the burnout that so many midcareer doctors face.
Second, biotech research requires specialized knowledge, far more so than in any other group.
It's one of the few areas where Analysts and Associates who know science can add real value because institutional investors do not know the science and do not have medical backgrounds.
Finally, biotech ER may be one of the best ways to make a career change, and it's certainly easier than moving directly from an M.D. or Ph.D. into IB or PE (though the "medical school to investment banking" transition is possible).
Strong Groups and Banks in Biotech
As you'd expect, industry-specific boutique banks in the healthcare sector, such as Leerink, tend to have strong biotech ER teams.
Among middle market and elite boutique firms, places like Cowen, Jefferies, Cantor Fitzgerald, Evercore, and Guggenheim also have solid teams.
And many of the bulge bracket banks have strong teams in this area as well.
It's difficult to "rank" these groups because research is much more about the Analyst who leads the team – and Analysts move around frequently, especially in boom times when biotech deal activity picks up.
Therefore, before assuming that "a better bank" means "a better research team," you should read the bio of the Analyst carefully and see how well they've ranked historically.
Breaking In: How to Become a Biotech Analyst
First, note that you will join as an Associate, not an Analyst, if you do not have previous ER experience.
If you look at many biotech equity research job listings, you'll see these types of requirements:
Ph.D., M.D., or other advanced life sciences degree.
Excellent analytical, verbal, and written communication skills.
Proficiency in Excel, accounting, and financial modeling.
Strong team orientation and attention to detail.
2-3 years of experience in biotech/pharma/healthcare equity research, investment banking, or consulting.
Job listings are often inaccurate, but this list is a decent summary.
The key point is that just an undergraduate or Master's degree in biology, chemistry, or a related field will probably not be enough.
You'll need something else to make your profile stronger, such as experience in consulting, banking, or corporate finance roles that are related to healthcare.
Even something like working at a biotech startup would help, though it would be more relevant for life science venture capital.
If you're in the other camp – an M.D. or Ph.D. with published research – then you may be able to get in with less finance experience, especially if the group covers earlier-stage companies.
But you will still need to know accounting and valuation, or learn them quickly, because you will still be working with Excel-based financial models frequently.
So, the ideal background is probably something like:
M.D. or Ph.D. with published research.
Some work experience in finance, consulting, or a related field where you learned accounting, finance, and market analysis.
Over time, demand for professionals with a deep scientific background has grown because early-stage biotech companies are increasingly going public.
And for early-stage companies, scientific knowledge is most important because nothing else matters if the product doesn't "work."
Step 1: Finding Job Openings and Networking
You can look for open positions in all the usual spots: LinkedIn, Indeed, Glassdoor, or simple Google searches.
Another good source for Ph.D. and M.D. candidates is Docjobs, which posts jobs outside the traditional clinical or academic routes.
Once you find banks with openings, get to work searching for individuals in these groups on LinkedIn, and then email them to introduce yourself and ask about the role.
Follow all the steps in our equity research recruiting article, including the template email there.
Since ER recruiting does not follow a structured process or timeline, you can do quite well by networking aggressively and attaching sample models and research notes.
For your resume, you can follow any of the templates on this site.
If you're a Ph.D. or M.D., you should spin all your projects, experiences, and papers to emphasize the business side, i.e., the commercial potential of whatever therapy, drug, or technique you researched.
Step 2: Preparing for Interviews
You can expect the standard interview questions about accounting and valuation, stock pitches, and perhaps a simple case study or modeling test.
This test is more likely if you have finance or consulting experience and less likely if you're coming in with a pure academic background.
Take a look at all the examples in the ER Recruiting article to prepare.
For a bio/pharma stock pitch, please see our example for Jazz Pharmaceuticals in the stock pitch guide.
People often recommend that you "learn the industry" very well before stepping into interviews, and that advice holds here, but there's one additional tip: learn the lingo.
"Lingo" means not just the scientific terms, but also the way regulatory agencies evaluate and approve drugs: Phase 1, 2, and 3 clinical trials, "fast track," orphan drugs, ANDA, NDA, BLA, etc.
If you don't know all those terms already, get to work – starting with the FDA's glossary of terms.
Exit Opportunities
Since the healthcare sector is massive, you'll have many exit opportunities if you join and work in the biotech research team.
Healthcare investment banking and healthcare consulting are obvious ones, but you could also move to a corporate finance or business development role in the industry.
You could also follow the tried-and-true path of joining a healthcare-focused hedge fund or mutual fund.
And venture capital is another option; with an academic background, you'll be especially strong at early-stage firms.
Is Biotech Equity Research for You?
It's fair to say that this site has been negative toward equity research careers and equity research analyst roles over the past few years.
But if you're dead-set on ER and you have to pick a specific group, your best choice would probably be biotech equity research – assuming you have the required experience.
It's a much better option than most post-doc jobs, you can potentially get in with an undergraduate degree plus finance/consulting experience, and you arguably add more value than in other sectors of research.
The work/life balance is decent, and you'll move toward the mid-six-figure compensation range if you stick around and advance up the ranks.
And if you get tired of it, you have plenty of exit opportunities.
Yes, the compensation ceiling is lower than in IB or PE, but the same is true of almost any other industry.
Yes, MiFID II has made equity research less appealing, but some banks have been growing their biotech teams despite that.
So, if you're the right candidate for this group, follow the steps above and get ready to inject yourself with all the right ingredients you need to break in.
Break Into Investment Banking
Free Exclusive Report: 57-page guide with the action plan you need to break into investment banking - how to tell your story, network, craft a winning resume, and dominate your interviews