The Venture Capital Associate: Tech + Finance = Overpowered Professional?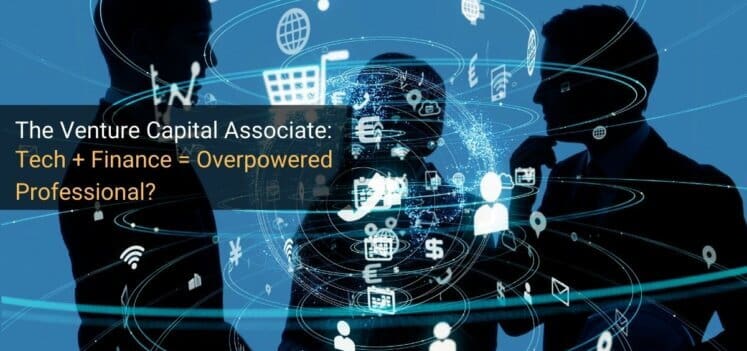 While everyone is obsessed with exit opportunities into hedge funds and private equity, the Venture Capital Associate path often gets overlooked.
One reason is the pay: VC Associates do not earn what PE Associates, or even IB Associates, do.
But another factor is that venture capital may be less of a "long-term commitment" than many other exit opportunities.
That can be a positive if you just want to participate in the startup/finance ecosystem, but a negative if your goal is a long-term career in venture capital:
The Venture Capital Associate Job Description
If you don't already know the basics of venture capital, check out the article on venture capital careers to get an introduction.
The short version is that VC professionals invest in early-stage, high-growth-potential companies in exchange for equity, and they aim to grow the companies and eventually sell them via acquisitions or initial public offerings (IPOs).
In the VC hierarchy, Partners are at the top, followed by Principals or VPs, followed by Senior or Post-MBA Associates, followed by Pre-MBA Associates, with Analysts at the bottom.
Since Associates are near the bottom, they do much of the required grunt work in two main areas:
Sourcing – This means finding new startups to invest in, making the initial outreach, speaking with the founders, qualifying companies, and recommending the best ones to the senior team members. If you don't like cold calling, cold emailing, or "networking," you will hate this part of the job.
Deal Execution – Once the senior team members have decided to invest in a startup, you'll analyze its market, request financial and product information, and push forward a possible deal. This part consists of market/team/product analysis at early-stage firms, but it turns into more detailed financial analysis at later-stage firms.
Depending on the firm size and structure, you may also support portfolio companies, observe Board meetings, help build the firm's brand, and even contribute to fundraising.
However, the Partners and senior staff tend to spend more time on those tasks, as well as on the final investment decisions.
Venture Capital Associates who enter from fields like investment banking, management consulting, and product management normally stay for 2-3 years and then complete an MBA, join a portfolio company, start a company, or accept a strategy or finance role at a large company.
On the other hand, Senior Associates, who join after completing an MBA, are usually in Partner-track roles.
They might have worked in tech, healthcare, or finance-related roles before business school, completed the degree, and then gone into VC to make a long-term career of it.
In life science venture capital, Senior Associates could also have advanced degrees such as M.D.'s or Ph.D.'s, and they might join with significant scientific knowledge but less business experience.
Pre-MBA and Post-MBA Associates do not differ much in terms of daily tasks, but Post-MBA Associates may represent the firm more often and have more sway with the Principals and Partners.
They're also more likely to be "Board observers" for portfolio companies.
Venture Capital Associate Lifestyle and Hours
The hours worked vary by firm type and size, but the average is around 50-60 hours per week.
That means that you'll be in the office or meetings most of the day on weekdays, with relatively free weekends.
However, don't assume that venture capital is a "lifestyle job" because you also do significant work outside the office.
Networking never ends, and even if you're out with friends, you always need to be on the lookout for potential deals and new startups.
Also, you're often busy with meetings and calls during the day, and you have to save market research, due diligence, and financial analysis for the evenings.
Venture Capital Associate Salary and Bonus Levels
Of the most common IB exit opportunities, venture capital pays slightly more than corporate development but less than private equity and hedge funds.
At the large VC firms, Pre-MBA Associates earn $150K to $200K USD in base salary + bonus, while Post-MBA Senior Associates might earn closer to $200K to $250K.
If you're at a smaller/newer firm or outside major financial centers, expect lower compensation.
Carried interest ("carry") is unlikely at this level unless you're joining a brand-new VC firm (which means your base salary + bonus will also be lower).
Post-MBA Associates may get a small amount of carry, but it will be marginal next to what the Principals and Partners receive.
Why Become a VC Associate?
If you consider the characteristics of the job:
Simpler deals with less-in-depth financial analysis;
Lower compensation than PE/HF roles;
And the rarity of promotions from Pre-MBA Associate roles.
Then there is only one great reason to join as a Pre-MBA Associate: Because you're passionate about startups and you want to learn, build a network, and win other startup-related roles in the future.
However, there's a problem with this rationale: You could also win startup-related roles directly out of investment banking or management consulting.
In other words, Venture Capital Associate roles don't give you "access" to new opportunities or careers that would have been impossible otherwise.
If you want to start a company, you can do so out of IB or consulting… or even undergrad.
If you want to join a startup or a large tech/healthcare company, you can also do one of those directly after IB or consulting.
So, the main benefit of the job is building a strong startup/VC professional network.
But that benefit is useful mostly if you plan to stay in venture capital, which normally doesn't happen for Pre-MBA Associates – so it's a bit of a paradox.
The Post-MBA Associate job offers better career opportunities because you have a higher chance of being promoted and staying in the field long-term there.
A Day in the Life: What Does a Venture Capital Associate Do?
An average day depends on the VC firm's size, strategy, deal activity, and corporate culture.
For example, if you work at an early-stage life science VC firm in California, your average day will be quite different from someone at a late-stage, tech-focused VC firm in New York.
If you're an Associate at an early-stage tech firm, a typical day might look like this:
8 AM – 9 AM: You arrive at the office, check financial and market news, and note a few stories about startups that look interesting.
9 AM – 10 AM: This is your "sourcing hour." You call and email a few companies to introduce your firm and start building relationships.
10 AM – 11 AM: You review the draft agreement for a Series A investment your firm is negotiating with an insurance SaaS company. It's fairly standard, but both sides are still a ways apart on the valuation, partially because of some disagreements over SaaS accounting and the true annual recurring revenue (ARR).
11 AM – 12 PM: You look at the cap table ("capitalization table") for a startup that your firm is about to sell and begin creating a flow-of-funds schedule to figure out the amount of proceeds owed to each investor and employee.
12 PM – 1 PM: For lunch, meet an acquaintance who's in sales at an early-stage startup and ask around to figure out how they're doing and what kind of competition they're facing.
1 PM – 3 PM: Meetings, meetings, and more meetings. You do video conferences with a few startups that are pitching your firm; your job is to assess them and pass the best ones onto the Partners.
You think one of these companies might be promising, while the rest are in crowded markets with too much competition or markets that are too small to be of interest.
If the total addressable market is less than $1 billion, it's tough to make the case that a $5 – $15 million investment for a minority stake could result in the 10x multiple your firm targets.
3 PM – 5 PM: You finish more of that flow-of-funds schedule from the morning, but there are still some unresolved issues over the treatment of an uncapped convertible note in one funding round, so you'll have to ask a Senior Associate for help.
5 PM – 6 PM: Head out for drinks with a few friends at other VC firms, compare notes, and see which sectors these other firms are looking at.
6 PM – 8 PM: Run to an event for tech-enabled transportation/logistics startups, meet a few founders, and introduce your firm. You head home right as the event is winding down.
—
Technically, you "worked" 12 hours, but ~4 of these hours took place outside the office.
Unlike investment banking, you'll never be locked in your cubicle trying to finish a pitch book at 3 AM, but you're "on" even at social events.
Recruiting: How to Break Into Venture Capital as an Associate
At the Pre-MBA level, you need to have graduated from university and worked in a field like investment banking, management consulting, or business development, sales, or product management at a startup for a few years.
At the Post-MBA level, you should have done something related to tech, healthcare, or finance for a few years before business school.
Pedigree, prestige, and brand name still matter a lot; anyone can start a company, but VCs tend to be from the top universities and business schools.
Consultants may have a slight advantage over bankers, but it depends on your work experience: technology investment banking beats HR consulting, but strategy consulting for tech companies beats debt capital markets.
Then there's also the Ph.D. or M.D. path for life sciences venture capital, which we've covered elsewhere.
The recruiting process for VC tends to be unstructured because most firms hire "as needed."
A few headhunters operate in the space, but to have the best shot at getting in, you need to network extensively (see the articles on how to get into venture capital and venture capital interview questions).
Especially at early-stage firms, you need to be presentable and articulate with a demonstrated passion for startups and technology and strong views on different industries.
They don't care how much of a finance guru you are because deals are simple – but they do care how many new startups you can find.
Interviews include fit questions, questions about your market/investment ideas, firm-specific questions about portfolio companies, deal and client experience questions, and possibly an informal case study.
Most people tend to under-prepare for the firm-specific questions, so you should spend the bulk of your time getting to know the portfolio companies and how the firm makes decisions.
How to Succeed as an Associate and Get Promoted (Wait, *Can* You Get Promoted?)
Direct promotions from Pre-MBA Associate roles are very rare.
If they happen, they're usually due to a combination of firm expansion, the untimely departure of senior team members, and exceptional performance on your end.
It's more realistic to consider promotions from Post-MBA Senior Associate roles.
As with advancing in investment banking, your presentation skills matter a lot more than your technical skills.
If you can find that one startup that results in a 50x return for the firm, or you network so much that you bring in more leads than anyone else, you'll be in a good position.
You'll usually need one or more of the following to keep moving up the ladder:
A proprietary network, so you have great deal flow.
An exceptional understanding of a certain market, trend, or sector, so you can pick winners and losers more effectively than anyone else.
A great ability to network with entrepreneurs and boost your firm's reputation and inbound deal flow.
Most people who enter venture capital, even in Senior Associate roles, do not get promoted.
If that's you, exit opportunities include operational roles at portfolio companies/other startups/large companies, business school (if you haven't already done an MBA), or starting your own company.
You are not likely to get into private equity or hedge funds coming directly from venture capital, and even investment banking is difficult unless you've already worked in IB.
Something like healthcare private equity or technology private equity might also be possible if you've had previous IB experience.
The Venture Capital Associate Job: Right for You?
As with the other careers covered on this site, you need to split this one into separate questions to answer it:
Is the venture capital industry right for you?
If you're currently in a job that could lead directly into a VC Associate role, is it worth the time and effort to pursue this role?
And should you try to join at the Pre-MBA or Post-MBA level?
If you accept a Pre-MBA Associate role, you need to be thinking about "your next steps" from Day 1, making it a bit different from other exit opportunities.
My personal, biased opinion is that Pre-MBA Associate roles are not that great for most bankers and consultants because:
They don't open up many "new" opportunities or career paths, and direct promotions are unlikely.
They make it more difficult to pursue other finance roles if you ever change your mind.
And if you have an undying passion for startups… go work at a startup. No VC experience is required!
On the other hand, if you're coming from a product management role at a startup, Pre-MBA Associate roles are more appealing because they do open new career options in that case.
Post-MBA Associate roles could be good if your long-term goal is venture capital, and you've already done enough internships and full-time jobs to be very certain of your plans.
If that's you, then this often-overlooked job could be worthwhile – even if it doesn't quite make you "overpowered."
Break Into Investment Banking
Free Exclusive Report: 57-page guide with the action plan you need to break into investment banking - how to tell your story, network, craft a winning resume, and dominate your interviews