The Great SPAC Scam: Why SPACs Are a Great Deal for Celebrity Sponsors, But Not Companies or Normal Investors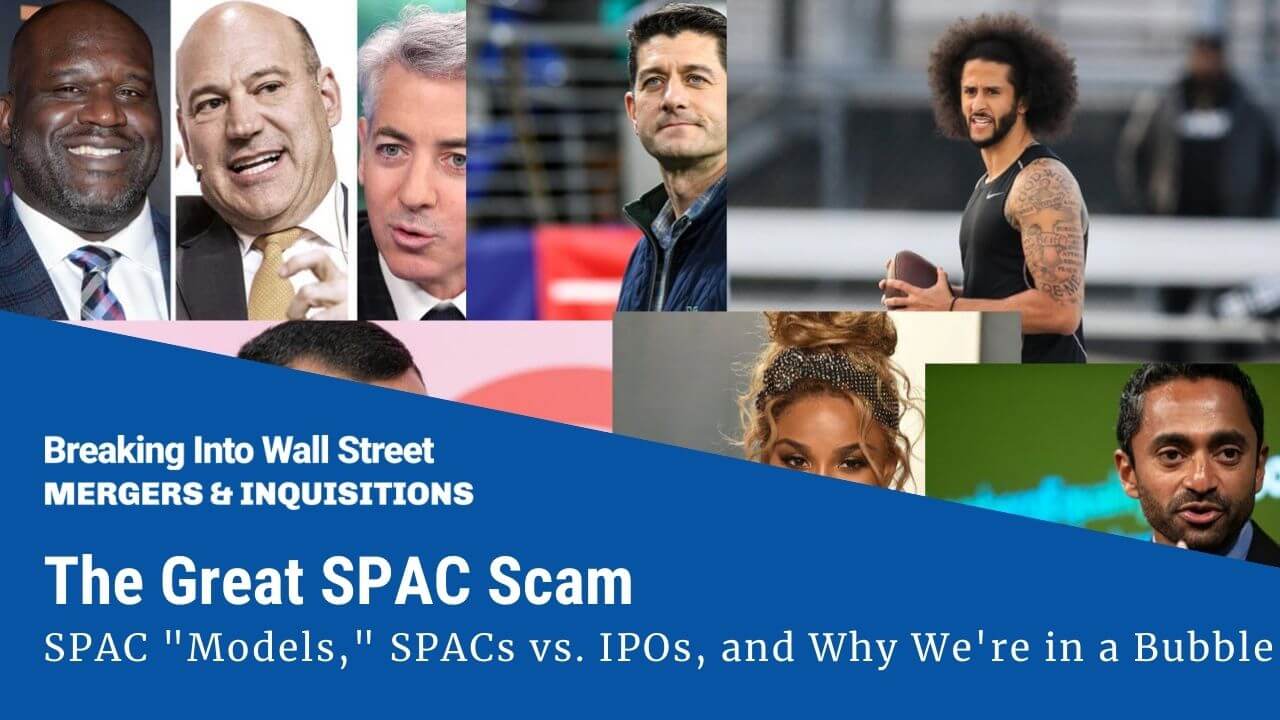 If I asked you what Shaquille O'Neal, Gary Cohn, Bill Ackman, Paul Ryan, Colin Kaepernick, A-Rod, Ciara, and Chamath all had in common, you might have said, "They're rich and famous!"
Or you might have said that you agree or disagree with their political views.
But as of last year, there's a new answer to this question: they all have SPACs, otherwise known as Special Purpose Acquisition Companies.
However, a more accurate abbreviation is "SCAMs" – since that's what they are to most normal investors and normal companies.
In this article, I'll break down the SPAC scam and explain why it's yet another sign of a bubble ripe for a correction:
The SPAC Scam Explained
This article is based on a recent YouTube video on the same topic, which you can watch below:
Resources:
The video focuses on "SPAC models" in Excel, but in this article, I will spend more time on the process and mechanics.
Also, I will address some of the counter-arguments from SPAC supporters here.
The Short Explanation of SPACs
First, a "celebrity" or another notable person (the "Sponsor") raises capital by taking an empty holding company (the SPAC) public in an IPO.
This SPAC then uses the cash proceeds from the IPO and a large stock issuance to acquire a private company, making it public.
Since the SPAC issues so much stock to do this deal, the private company ends up in control of the entire entity. As a result, it's called a "reverse merger."
SPACs are yet another alternative to the traditional IPO process and can be faster than IPOs.
Unlike IPOs, however, the Sponsor gets a 20% stake, called a "Promote," and there's much less regulatory scrutiny.
Oh, and this "Sponsor" invests almost nothing in exchange for this 20% stake.
As a result, the Sponsor could walk away with millions or tens of millions of dollars even if the SPAC performs horribly and the share price plummets, while normal investors will lose everything.
And even if the post-merger SPAC performs well, the Sponsor earns a disproportionate amount of the proceeds.
A SPAC with these terms is like a call option that has a payoff if the company's share price increases above the exercise price and if the share price falls by almost 90%!
SPAC Mechanics, Part 1: The IPO
It's best to think of SPACs in a 2-step process: the initial public offering (IPO) for the SPAC itself and its reverse merger with a private company.
In Step 1, the "Sponsor" forms a SPAC and purchases warrants to cover underwriting fees and other expenses associated with the IPO.
Then, this Sponsor gets a "Promote" for 20% of the company's equity for a "nominal investment" (e.g., $25,000).
The SPAC then goes public and sells units, shares, and warrants to public investors.
The gross proceeds from the IPO are kept "in trust" until the SPAC finds a real company to acquire. If it does not find one within 18-24 months, it dissolves.
Here's Step 1 in Excel:

SPAC Mechanics, Part 2: The Acquisition or "De-SPAC"
In Step 2 – the reverse merger – the SPAC identifies a target company and negotiates an acquisition where the target becomes the majority owner.
The SPAC shareholders get to "vote" on this deal, and if they don't like it, they can redeem their shares… in theory.
If the deal is approved, the target company merges into the SPAC and becomes public, and the SPAC's cash pays for the target's equity, repays debt, or is kept on the Balance Sheet.
Also, another investor might put money into the post-merger SPAC via a private investment in public equity (PIPE), so its cash balance increases:

SPAC "Models" vs. IPO "Models"
SPAC "models" and IPO "models" are similar in that there isn't much to model.
Only the company ownership and cash balance change, so you focus on those.
In a typical SPAC deal, the entity might raise $200 million by selling 20 million shares for $10.00 each in the IPO, and the Sponsor gets 20% as a "Promote."
The Sponsor might also buy 3 – 5 million warrants for $1.00 – $1.50 per warrant at an $11.50 strike price.
These proceeds pay for the IPO underwriting fees, half of which are charged upfront in the IPO and half of which are deferred and charged upon completion of the reverse merger.
The total percentage is around 5-6%, which is slightly less than the standard 7% in IPOs.
If you look at this first step in Excel, you can see part of the problem already: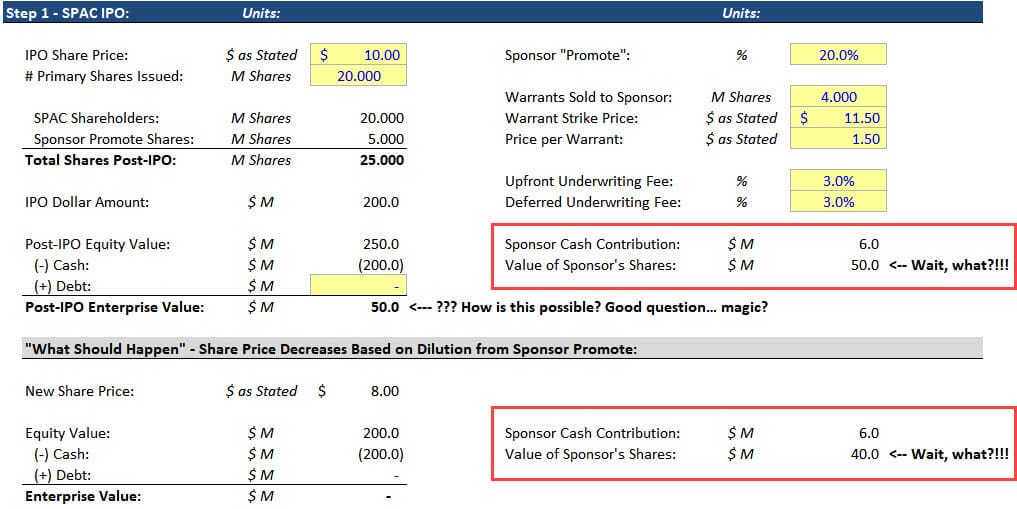 Yes, that's right: with these sample numbers, the Sponsor ends up owning shares worth $40 – $50 million despite paying only $6 million to purchase the warrants.
Also, if a company has no net operating assets, its Enterprise Value should be $0.
But if you assume that 20% of these shares are magically created and granted to the Sponsor – as the $10.00 share price stays the same – the Enterprise Value is not $0.
I believe the share price should decline to account for this dilution, as shown below: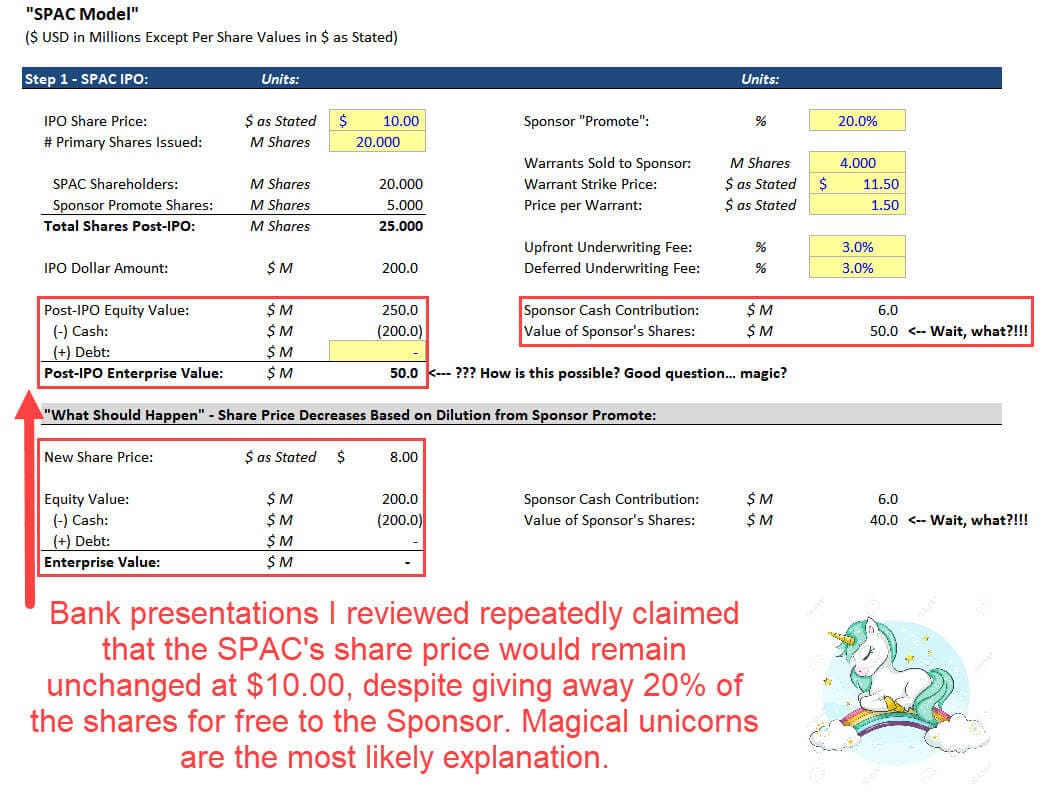 But the bank presentations I found insisted that the initial $10.00 share price remains at $10.00 throughout the entire process.
If you have an explanation, feel free to leave it in the comments below.
SPAC Models, Part 2
When this SPAC finds a promising private company, it will attempt to negotiate and complete an acquisition.
Let's assume that it acquires this private company for a Purchase Enterprise Value of $2 billion and Purchase Equity Value of $1.6 billion, also recruiting other investors for a $100 million PIPE (Private Investment in Public Equity).
In this scenario, the SPAC can use $300 million of cash to purchase the target, and it issues shares for the remaining $1.3 billion.
Because of the Sponsor and PIPE investors, though, the real company gets diluted more than in a traditional IPO.
Here's a direct comparison of the outcome from a SPAC vs. a traditional IPO with the same $300 million raise: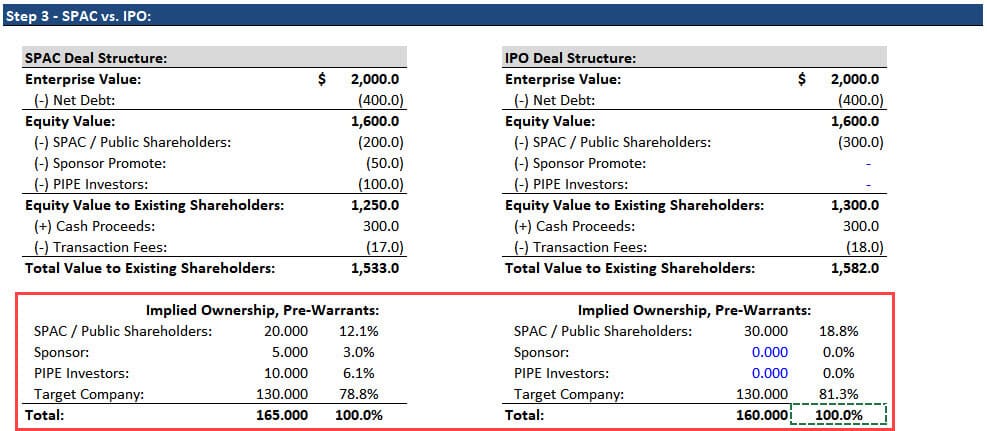 These numbers are before the Sponsor warrants as well – with those warrants included, the company would own ~77% rather than ~79%.
The bottom line is that in both a SPAC and an IPO, this company raises $300 million of cash and becomes a publicly traded entity.
However, it retains 2-4% more equity in an IPO, and its existing shareholders realize more value.
The total fees in a SPAC charged to the company are a bit lower, at 5-6% of the proceeds rather than 7%, but there are also more categories of fees, such as the ones for the reverse merger and PIPE.
Why SPACs Are a Racket
For Sponsors, SPACs are like call options with payoffs even if the company's share price falls significantly.
Let's continue with the numbers in the example above and say that you buy SPAC shares for $10.00 when it first goes public.
Then it announces a $2 billion acquisition, but once the acquisition is complete, the market doesn't like it, and the share price falls to $5.00.
You're now down 50%.
The Sponsor, meanwhile, still has a stake worth $25 million – all from an initial $6 million warrant purchase.
In other words, you assume the full downside risk when you buy into this SPAC, while the Sponsor loses nothing unless the share price falls by almost 90%.
But let's say this acquisition goes well.
Maybe the SPAC announces the deal, the market likes it, and the share price increases to $20.00.
Great! You're up 2x on your initial investment.
But now consider the Sponsor: its stake is now worth $100 million on an initial $6 million investment, which is a ~17x multiple.
So, the Sponsor benefits disproportionately when the SPAC's share price increases, and it also has far more downside protection when its share price falls.
SPAC Performance So Far
This survey of SPAC performance from this academic paper says it all: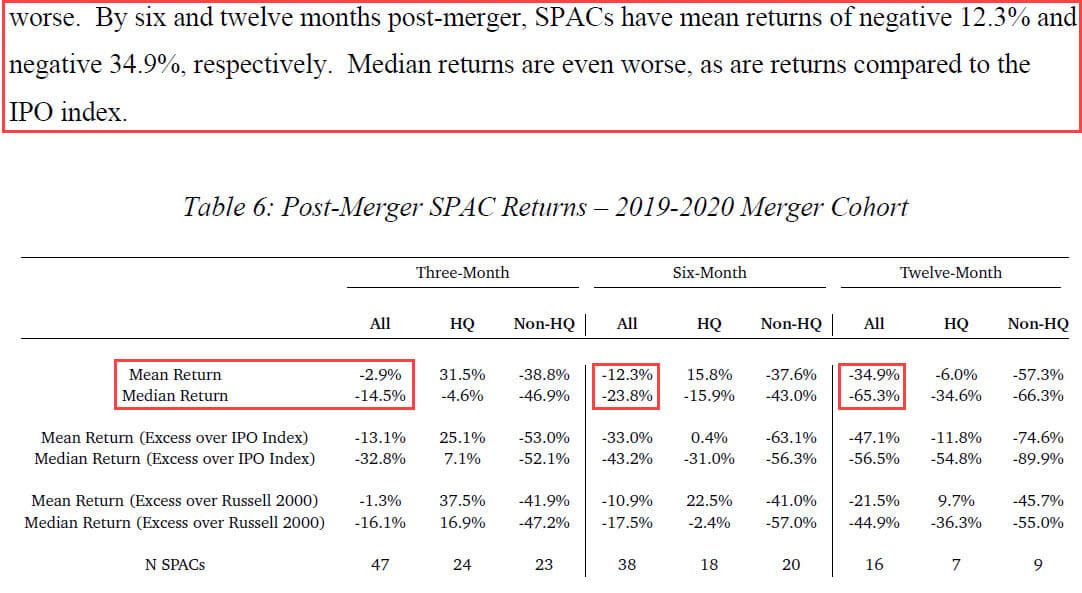 SPACs launched in 2019 and 2020 have mean returns of negative 12.3% and negative 34.9% over 6 and 12 months, respectively, following merger announcements.
People often push back against these stats and point out that post-IPO share-price performance is also poor or questionable, depending on the time frame and region.
I agree that IPOs are often a bad deal for public investors, but there's a big difference: transparency.
With an IPO, you know what you're getting, and you have the company's audited financial statements, risk factors, and existing shareholder information.
And no "Sponsor" is magically getting a percentage of the business in exchange for almost nothing.
Arguments in Favor of SPACs
I received some criticism on YouTube for presenting this view of SPACs without pointing to their supposed benefits.
The main arguments in favor of SPACs seem to be:
SPACs cannot completely bypass the SEC, and they are still regulated once they acquire another company.
SPACs are still faster and cheaper than traditional IPOs, so they offer some benefits to companies that need to go public quickly.
The 20% Promote is not "free money" – it's payment for the Sponsor, which has to do the work of finding a target and negotiating a deal.
The Sponsor does not have access to the funds until the acquisition occurs, so it can't just take the cash and run. Also, retail investors can sell their SPAC shares for $10.00 at any time before the deal takes place.
Your example has numbers with misaligned incentives, but not all SPACs operate like that. It is possible to align the management team, investors, and sponsors.
And here are my responses:
Point #1 – SEC / Regulatory Scrutiny
Yes, once the SPAC has acquired a real company, it must file annual and quarterly reports, just like other public companies.
But it still skips the normal back-and-forth process with the SEC in an IPO or direct listing, and that's where many changes are made.
And before the merger takes place, you're still betting on an empty holding company with no track record.
Point #2 – SPAC Speed and Fees
Yes, it's faster to go public via a SPAC.
The entire process might take 3-5 months rather than the 6-12 months required in an IPO.
As far as fees, we covered them above: yes, the percentage charged on the proceeds is lower (5.5% or 6.0% rather than 7.0%), but the PIPE and reverse merger fees increase the total.
But the real question is, are these benefits worth the disadvantages?
Is it worth paying 1.0% or 1.5% less in fees or going public a few months earlier in exchange for 2-4% of your company's equity?
That's an easy "no" from my perspective.
Point #3 – Is the 20% Promote "Free Money"?
The Sponsor spends time and money searching for acquisition targets, so it is doing some work.
But the question is: "Does the Sponsor's work justify the 20% Promote and the fact that they will not lose money even if the SPAC's share price falls by almost 90% following a deal?"
Again, my answer is no.
The Sponsor should contribute more capital, or it should share more of the downside risk.
Point #4 – Inability to Access the Cash Until the Acquisition
I agree that the Sponsor cannot "take the money and run" after launching a SPAC.
But the real risk is that the Sponsor could execute a terrible deal to do a deal, and even if the share price plummets, they could still make money (see above).
And yes, retail investors can sell their SPAC shares for $10.00 before any deal is announced.
But the risk is that they hold them until the acquisition is announced, and then the share price plummets because the market doesn't like the deal.
That could happen with any company in any deal, of course – but "normal" deals do not have Sponsors that still come out ahead in this scenario.
Point #5 – Misaligned Incentives
Finally, yes, it is possible to use different deal terms and align the incentives by making the Sponsor pay more for the warrants or granting them a lower Promote.
But most SPAC deals are not currently structured like this, so I am focusing on what's happening in the market – not what might happen or what should happen.
And yes, some companies that have gone public via SPACs have performed well.
Examples include DraftKings [DKNG], Butterfly Network [BFLY], Tattooed Chef [TTCF], and Virgin Galactic Holdings [SPCE].
But we're talking about industry-wide percentages here, not a few deals that have done well.
And the performance data across dozens of SPACs over the past 1-2 years is quite poor.
What Would Change My Mind About SPACs
I'll close this article by reminding you that I could be wrong about everything and that I have been wrong about plenty in the past year.
For example, I thought the S&P 500 would fall by far more than it did (1,000 – 1,500 range rather than ~2,200).
I also thought that banks might cancel internships, but canceled internships ended up being more common in other industries; banks just made them "virtual."
That said, I feel more confident about my SPAC predictions than I do about the S&P, crypto prices, or bank internships.
I would change my mind about SPACs if one or more of the following points were true:
1) The Sponsors did not receive a "Founder Promote," or they received a Promote only after the public investors earned a certain return.
For example, Bill Ackman's SPAC, Pershing Square Tontine Holdings [PSTH], is one of the few exceptions that operates like this:
There is no 20% Founder Promote.
Pershing Square spent $67.8 million to purchase warrants representing a 6.21% diluted equity stake.
And Pershing Square gets the 6.21% only if the public investors earn a 20% return first.
The Sponsor should not be able to walk away with tens of millions of dollars if the SPAC's share price tanks after the reverse merger takes place.
If all SPACs used these terms, there would be a valid trade-off: the company can go public more quickly, but it's not scrutinized as closely by regulators.
2) SPAC performance dramatically improved.
If the median SPAC somehow outperforms the S&P 500, the Russell 2000, the IPO index, or other key indices, I'll accept that I was wrong and that these Sponsors were investment geniuses.
3) Sponsors invested in SPACs in proportion to their 20% ownership.
For example, if a $100 million SPAC launched by Celebrity X also required a $20 million investment from Celebrity X to receive 20% ownership, I would have no issues with SPACs.
To SPAC or De-SPAC
I'm not too optimistic about the points above, but we'll see what happens over the next few years.
Until then, if you want to get rich with SPACs, you should be a celebrity – or at least have a large following on Instagram or OnlyFans.
If that's not you, maybe you can "borrow" one of Shaq's social media accounts for 24 hours so you can launch your own SPAC (you can also pretend to be 1-2 feet taller).
Risk on!
For Further Reading:
Break Into Investment Banking
Free Exclusive Report: 57-page guide with the action plan you need to break into investment banking - how to tell your story, network, craft a winning resume, and dominate your interviews