How to Dominate Your Industry-Specific Interviews: Real Estate, Energy, FIG, and More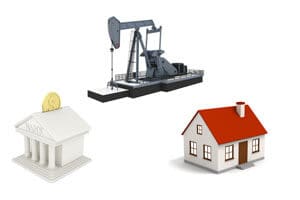 You've applied to over 100 banks, networked with 230 bankers, and have been pounding the pavement since August.
And now you've lined up 10 first round interviews, most of which are for the M&A and generalist pools.
But then you notice that you're also set to interview with a mysterious FIG (Financial Institutions Group) banker, followed by 2 oil & gas bankers from the Houston office.
And who knows, maybe you'll land a real estate, mining, airlines, or healthcare interview to make things more fun as well.
So how will it be different? And how can you get up to speed on all the accounting and valuation differences, recent deals, and everything else if you only have a few days – or a few hours – to prepare?
Definitions
Everyone lumps investment bankers together, but that's not really how banks operate.
Banks have product groups that focus on specific deal types – M&A, Leveraged Finance, Equity Capital Markets, and so on – and then industry groups that do all sorts of deals – but all within a specific industry, such as technology, industrials, healthcare, financial institutions, energy, real estate, and so on.
At a bank, you might interview specifically for one of the product groups, or you might interview for one of the industry groups – or you might just interview for a "generalist" position, be placed in the generalist pool, and then select your group later on.
Most investment banking interview guides focus on standard questions that you might get in any group.
But there are important differences when you interview with specific industry groups – so let's get started with the festivities.
Most of the Time…
Interviews are not dramatically different – if you're interviewing with a FIG banker, he's not going to say, "Since this is FIG I want you to build a detailed model and valuation for Citi right now – you have 30 minutes."
You still need to know the standard "fit" and technical questions, and you will still get questions on those.
You still need a great story, you still need to know why you want to do investment banking, and you still need to know what it's like being an investment banker.
Industry-specific interviews require you to shift your answers rather than come up with completely new ones.
How to Shift Your Answers
Focus on these 4 questions (or categories of questions, as in the last case):
Why This Group?
Tell Me About the Industry
Tell Me About a Recent Deal in This Industry
Industry-Specific Technical Questions
The first 3 are not terribly difficult as long as you're prepared – the technical questions can be more problematic, but there are ways to get up to speed quickly.
Why This Group?
Answer this one by linking it to something in your background: a school project, an internship, someone you met while networking, family, friends, and so on.
Let's say that all your experience has been as an engineer in the technology industry and there's no obvious reason why you'd want to work in an oil & gas group.
But maybe you have a distant relative who is in the business, or maybe one of your friends started working at a big energy company recently – you can take something small like that, spin it, and turn it into a "I had always been interested in tech, and still am, but recently I started talking to [Person Name], who made me really interested in energy…" story.
If you don't have something specific in your background, you could always talk about industry news or recent deal activity making you more interested.
Once you've established this spark, give 1-2 solid reasons why you want to work in the group after someone or something made you interested.
Going back to the energy example, you could talk about how it affects not only everyone and every economy in the world, but also geopolitics. You could also talk about being interested in promising but controversial technologies like hydraulic fracturing and how quickly the industry is changing due to rising energy demand in emerging markets.
They don't expect you to be the next T. Boone Pickens – they just want to hear something intelligent from you.
Do not attempt to BS something on the spot here – and don't say something silly like, "I'm interested… because… it's so interesting!" (yes, I've heard that one before)
Tell Me About the Industry
It's easy to go "off the rails" and ramble with this type of question.
Use the following structure to describe an industry:
1. Give an estimate of the total market size if you can get it, and say whether it's growing, mature, or declining. Also mention a dominant recent trend.
Example for FIG: "Financial services are the biggest industry on the S&P 500, so it's a huge market in the US – it is relatively mature, though there are pockets of growth in some areas such as risk management. The major issue in the industry, especially post-financial crisis, is regulation and how capital requirements for banks will change in the future."
2. Next, sum up the major players and the sub-industries in 1-2 sentences. Most industries have a few global, diversified companies that do everything and then have smaller companies that focus on more specific segments.
Example for FIG: "It's split into segments such as commercial banking, insurance, investment banks, wealth management, and investment firms. A couple huge banks, such as BNP Paribas, RBS, Barclays, Deutsche Bank, and JP Morgan, operate in all these segments, while there are also more specialized firms like Goldman Sachs that may focus on just one or only a few of these segments."
3. Close with a recent trend or recent news in the industry. This shows that you've been keeping up with deal activity and reading the WSJ, DealBook, and other news sources.
Example for FIG: "Recently as banks have been recovering from the financial crisis, everyone is thinking about new regulation and the adoption of Basel III – that will have a big impact on banks' capital structures, how they do business, and how they issue dividends."
Bankers don't expect you to know everything, but they do expect you to have done some research – otherwise you won't seem interested and they'll give the offer to someone else.
Where Do You Find This Information?
Now I'm going to save you 10 hours of time spent frantically searching online by sharing these resources:
Yes, you read that correctly: Big 4 firms like PwC and Deloitte regularly publish industry and M&A research for free.
Some of the reports on those sites are too specific to be helpful – the "Outlook" or "Overview" ones for entire industries are the best.
But that's the best way to get this information quickly assuming that you don't have access to Capital IQ, Factset, or other tools that bankers have.
If you can't find what you're looking for there, Google searches for [Industry Name] + M&A or + "Market Size" also work, but take longer.
You can also look in industry-specific publications like the Oil & Gas Journal – but they're more useful for researching deals rather than industry trends.
Tell Me About a Recent Deal
M&A deals are the best ones to discuss and the easiest to find information on, so here's the structure you should use:
Name the buyer, seller, purchase price, and multiples.
Give background information – what does the buyer do? What does the seller do? How much revenue and EBITDA do they have (or other metric if those are not relevant, e.g. total assets for a bank)?
Explain how the deal came together if it's public knowledge, and why both parties were motivated to get it done.
Conclude by summarizing what Wall Street thinks about the deal, and how the industry will be affected in the future.
You can find all this information on the WSJ Deal Blog – they do all the work for you with their "Deal Profile" reports that give the relevant financial stats and multiples.
Let's say you're looking for information on the Intel – McAfee deal for a technology group interview. Do a Google search for "wsj intel mcafee deal profile" and you get the deal profile page as the first result.
Most of the information is right there: Intel, the huge semiconductor company, was the buyer, McAfee, a security software company, was the seller. It was an all-cash deal worth $7.68 billion, with an EBITDA multiple of 17x and revenue multiple of 3x (rounding multiples is less controversial than rounding your GPA).
This one's not a great example because the profile doesn't list anything besides the numbers – but if you do a few searches you can find other articles on how most investors were scratching their heads at the deal – there were no obvious synergies and it came as a surprise to everyone.
The official rationale was so that Intel could target more of the mobile chip market and get into network security, but few others thought it made sense.
Going forward, more companies might start to focus on security for mobile devices and solutions that protect everything from desktops to laptops and mobile devices to web-based applications.
But What About…
If you're having trouble finding recent deals, look in the M&A reports from Big 4 firms I linked to above; simple Google searches for "[Industry Name] biggest M&A deals" can also give you names at the very least.
If the WSJ and searching online don't give you good results, you could take another approach and find equity research instead.
Yes, you can find this research without working at a bank: just sign up for a TD Ameritrade account and you can get free Credit Suisse reports on most large companies.
Other brokerage accounts can work as well – Scottrade, for example, also offers free research.
So if you can't find analysis of a deal in the WSJ, find equity research on the buyer or seller just after the deal was announced and look up the multiples, numbers, and rationale there.
If you can't find relevant metrics, just get the purchase price for the deal and get the financial metrics yourself by looking at the acquired company's annual report on their investor relations site.
Technical Questions
You'll find conflicting reports on technical questions for specific industry groups: some interviewees claim that they're uncommon, while others (especially in Canadian mining groups) claim that interviews can be extremely technical.
So there is no universal rule – the only generalizations that apply are:
It's good to be familiar with the basics and the high-level view of how companies in the industry are different.
Some industries are more different than others. Financial institutions (banks and insurance firms) are by far the most different compared to normal companies; oil, gas, and mining are also different but less so than financial institutions, and REITs are also different but less so than banks.
Technology, consumer, and retail are the most "normal" industries because they have straightforward business models; others like healthcare, industrials, and utilities are not quite "standard" but are also far less different than the 3 groups above.
Here's a quick run-down of what you should know for the "most different" industries:
Banks / FIG: Understand how they're different (balance sheet-centric, loan portfolio drives everything, traditional metrics like EBITDA are meaningless because Interest is Revenue for a bank); also know how valuation differs (P / E and P / BV multiples and the Dividend Discount Model) and why regulation and regulatory capital are important.
Oil & Gas / Mining: Understand how they're different (balance sheet-centric, energy/mineral production drives everything, can't control prices or revenue); also know how valuation differs (Production and Reserves multiples and the NAV model).
Real Estate / REITs: Understand how modeling individual properties is different from REITs; know the key metrics and multiples like FFO and AFFO and key lingo such as NOI and cap rates and how the business model works.
I can't list every single industry here because I just don't know enough personally – but most other industries have much smaller differences, such as slightly different metrics and multiples and revenue or expense projections.
For example, an Internet company might project revenue based on unique visitors and conversion rates rather than # of products sold to customers; a key metric might be EV / Unique Visitors, especially if it's unprofitable.
Resources for Technical Question Prep
Everything useful I've found is listed below:
And then there are good old books, but you probably don't have time for that if it's 3 AM right now and your interview is at 9 tomorrow.
Models & Models (and Interview Guides)
If you want to learn these concepts in more depth, you can also check out the BIWS Bank & Financial Institution Modeling course, the Oil & Gas Modeling course, and the Real Estate Financial Modeling course.
These are not introductory-level courses. If you cannot build a 3-statement LBO model easily, stay away because these are both more complex than even the Advanced Modeling course.
And before you ask, if you're in Canada or Australia, mining is 95% the same as oil & gas and lessons specifically on mining will be added in the future.
More?
That's how industry-specific interviews are different, the key questions and concepts to focus on, and how to do the research necessary to answer the new questions you might get.
If you have any other good resources for these groups and these types of interviews, post a comment below and I'll add it.
And if you actually made it to the end of this one, congrats – hopefully you don't have too many questions, but ask away if you do.
Break Into Investment Banking
Free Exclusive Report: 57-page guide with the action plan you need to break into investment banking - how to tell your story, network, craft a winning resume, and dominate your interviews