Corporate Strategy Jobs: "Plan B" for Management Consulting, or Viable Career Path?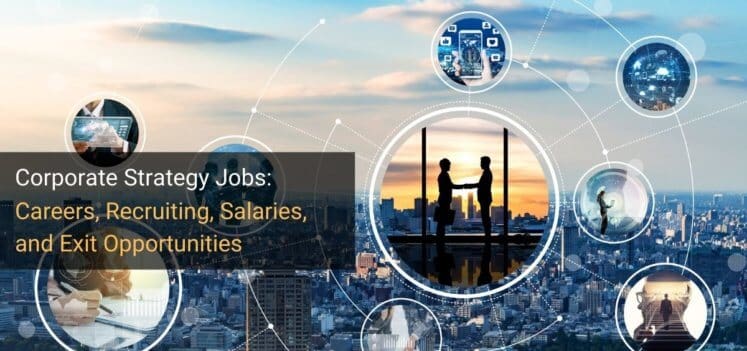 It's difficult to find specific, granular information on corporate strategy jobs because "strategy" works differently at each company.
In some cases, it's combined with the corporate development or business development roles.
In other cases, it's a separate team that reports to a specific senior executive.
Some strategy groups focus on detailed plans and market research, while others focus on project implementation with other divisions.
And the day-to-day work, compensation, hierarchy, promotions, and other aspects of the job differ based on the industry and company type.
So, it's impossible to describe the job in two sentences, but it is possible to give some general guidelines.
Let's start with the basic definitions:
What Do You Do in Corporate Strategy Jobs?
You can think of corporate strategy, also known as "internal strategy," as similar to management consulting – but internally for one company.
External consultants might advise a client company on projects such as entering a new market, launching a new product, responding to a competitor, or implementing new technology.
Corporate strategy teams work on similar projects, but only at one specific company in one specific market.
There are two broad sub-areas: strategy and operational work.
"Strategy" refers to researching the types of questions above and creating broad recommendations (e.g., should we launch Product X or Product Y?) for the senior executives.
The most notable work product is the long-term strategic plan, which executives such as the CEO and CFO review.
Professionals in corporate strategy might spend several months preparing this plan and completing analyses for it – everything from market share and market sizing to competitive match-ups.
"Operational work" refers to the implementation of these ideas.
For example, if you recommended Product X rather than Product Y, what does the corresponding business division need to launch Product X?
They'll have questions and concerns as they go through the process, and the strategy team answers them, provides data, and coordinates the process.
On a practical level, the work in corporate strategy is split between a few different streams:
Excel Models / Business Cases: These are often "quick and dirty" models to get the conversation started. Other groups will refine them.
Presentations: These are similar to what consultants do – visualizing the data and analyses and using them to tell a story.
Research / Data Analysis: Can you splice and dice the data in different ways to build a more convincing argument?
Meetings: You'll also spend a good amount of time presenting your findings to other groups and executives and answering their questions.
The percentage split varies, but at some large companies, it might be roughly 25% in each area.
Specific technical knowledge, such as the accounting, valuation, and financial modeling skills required in IB and PE, is less important in strategy roles.
Instead, you need to know your industry very well, you must be able to think at a high level, and you must be good at dealing with vague questions and ambiguity.
Corporate Strategy vs. Corporate Development vs. Corporate Finance vs. Business Development
As mentioned at the top of this article, corporate strategy teams may be grouped with corporate development or even business development teams.
Corporate finance is usually a separate area, but it has "corporate" in the name, so I'm also listing it here.
Here's how these groups differ:
Corporate Strategy: Internal management consulting.
Corporate Development: Internal mergers & acquisitions team (and joint ventures).
Business Development: Sales, with a focus on finding new markets and customers, sometimes via partnerships.
Corporate Finance: Internal budgeting/forecasting, audit, and liquidity.
If you work at a company where the strategy group is combined with one of these teams, you can expect to spend time on one or more of these activities.
That may be a positive in some cases, such as if you want to gain exposure to M&A deals and use it to move into investment banking.
But it might also be a negative if, for example, the strategy and "biz dev" teams are combined, and you get pulled into prospecting for new customers, which you dislike.
The Best Companies for Corporate Strategy Jobs
As with corporate development, it rarely makes sense for small companies to have dedicated strategy teams.
So, you'll find that most corporate strategy jobs are available at larger companies, such as the Fortune 500 or Fortune 100.
Even within these large organizations, however, the dedicated strategy teams tend to be small; maybe a few dozen people at the most.
If strategy is your goal, you can't go wrong targeting the largest few companies in each industry, such as Disney and Comcast for media/telecom or the FAANG companies for technology.
Beyond size, it's best to target firms where the strategy team is responsible for revenue generation and does not act only as "support" for other divisions.
You can't determine this with 100% certainty, but one simple method is to check if the executives listed in the company's annual report are linked to the strategy group.
If so, the strategy team is more likely to be associated with revenue-generating projects.
If not, the strategy team may be more of a "support" function.
The Hierarchy and Career Path for Corporate Strategy Jobs
Corporate strategy is a "transitory role" for many people.
For example, management consultants who want a better lifestyle often end up in strategy, stay in it to keep their options open, and then go back into consulting or complete an MBA.
Even if you want to rise through the ranks to become a senior executive, it's typically better to start in strategy and eventually move to another division (product, marketing, sales, finance, etc.).
That said, there is a jobs hierarchy, but since the groups vary so much, it's less consistent than the investment banking, private equity, or management consulting ones.
The most common levels are:
Analyst
Manager / Senior Manager / Consultant
Director
VP or Head of Strategy
And there are other variations, such as some groups with Associates right above Analysts and splits between Analysts and Senior Analysts and Associates and Senior Associates.
Strategy teams often have middle-heavy structures because they like to hire experienced professionals from consulting firms and other groups.
Also, since there are no external clients, there's less of a need to employ an army of Analysts to crank out presentations.
It might take anywhere from 2-3 years up to 5+ to advance from one level to the next.
As in other finance and consulting roles, you're more of a "doer" at the bottom, and as you move up, you become more of a project manager and supervisor.
The main difference is that the top people do not do external sales in the same way as Managing Director bankers and consultants; their job is "internal selling."
To advance, you need to deliver high-impact projects to the right people, which means, "Expect a lot of office politics."
Corporate Strategy Recruiting and Interviews
The most common feeders into pre-MBA corporate strategy roles are:
Management consulting firms (mostly MBB).
Investment banks (in much smaller numbers).
Other divisions at the company, such as Financial Leadership Development Programs (FLDP), also known as rotational programs in corporate finance.
And sometimes (but rarely) non-MC/IB roles, such as product management at other companies.
A few firms hire directly out of undergrad, but it's not that common, and your chances aren't great unless you've completed several relevant internships and networked extensively.
Industry specificity is huge in strategy roles, so if you've worked in corporate finance at a tech company and done a tech investment banking internship, your chances for tech strategy roles increase substantially.
But it's still difficult to be "useful" right out of undergrad, which is why most groups look for people with several years of full-time work experience.
At the MBA level, you don't necessarily need specific pre-MBA experience to win strategy roles.
Brand-name firms, an industry specialization, and the quality of your MBA program matter the most.
Interviews are quite similar to management consulting interviews, so expect a mix of fit/behavioral questions, market/industry questions, and possible case studies.
If the group you're interviewing with has many former consultants in it, consulting-style case studies are a near certainty.
If former consultants do not dominate the group, you'll probably get more informal questions about how you might pursue a new market, launch a new product, or implement some operational change.
These questions are not this site's core focus, but you can look at the management consulting vs. investment banking article for tips and resources.
Corporate Strategy Jobs: Salaries and Bonuses
Since individual companies pay very different amounts, it's difficult to give universal ranges for corporate strategy roles.
Location also plays a role, so you can expect to earn less in the Midwest of the U.S. than in New York or San Francisco.
If we start with the Big Tech companies (the high end of the compensation range), approximate numbers might be:
Analyst: Base salary of around $100K USD with cash bonuses, RSUs, and equity adding another $15 – $30K, for around $115K – $130K total.
Manager: Total compensation might be in the $150K – $200K range (with bonuses and equity representing 25% – 40% of base salary).
Director: The range might be $200K – $250K.
VP: The range might be $250K – $300K+ depending on the equity granted.
If you stay there for 10-15+ years, potentially you could move even higher – but the cap is probably around the mid-six-figure level.
Most industries pay less than Big Tech, so you might see a progression such as the following elsewhere:
Analyst: Total compensation just below $100K, with a modest bonus that's ~5% of the base salary.
Manager: $100K – $130K total compensation range.
Director: $140K – $160K (mostly base salary with a ~5-10% bonus).
VP: $200K – $220K (mostly base salary with a ~10% bonus).
Corporate strategy roles pay well, but they represent a substantial discount to investment banking, management consulting, and corporate development salaries.
Hours and Lifestyle
In exchange for the lower salaries and bonuses, you do get a much better lifestyle.
Hours tend to be in the 50-60 per week range, but they could extend beyond that in certain groups that also work on M&A deals.
The benefit relative to consulting is that there's far less travel, and it may not be required at all at some companies.
Also, the job itself is less stressful because there are no arbitrary deadlines set by demanding clients.
The one drawback is that even though the hours are shorter, there's not much downtime.
You tend to be busy the entire day, and if you're not working on a new project, you'll be in a meeting or on a call.
Corporate Strategy Exit Opportunities
If you don't want to stay in your corporate strategy job, the main exit opportunities are:
Switch to another division at the same company.
Move to corporate strategy at another company.
Go to business school.
Get into or return to management consulting (or a related field like operational consulting).
With a strategy background, you are not the best candidate for finance roles like investment banking, private equity, hedge funds, or even venture capital.
The main problem is that you don't develop the accounting, valuation, and financial modeling skills required in those industries, so you face an immediate uphill battle.
Also, you won't have M&A deal experience, which is a significant problem for IB and PE roles.
Of these fields, you might have the best chance with smaller, operationally-focused private equity firms that tend to recruit management consultants.
But if you want to make this type of switch, the best idea might be to find a company with a combined corporate strategy and corporate development group and gain the relevant experience and skills like that.
Are Corporate Strategy Jobs Right for You?
My quick summary of the role would be:
Pros:
You get high visibility with senior management because you research what they want to see and present your findings.
Unlike in management consulting, you witness the impact of your project after it ends because you're involved in the entire process, and you stay at the same company.
You get a better lifestyle than in consulting because there's less arbitrary urgency, less travel, and more flexibility.
The compensation is fairly solid for the hours worked and stress levels.
And if you want to return to consulting or move into a different operational role, strategy provides a good setup for that.
Cons:
Especially at the large companies, expect a lot of bureaucracy and office politics.
You're not a decision-maker in most cases, so individual groups that control their P&Ls can do whatever they want with your recommendations.
You often work on smaller-scale projects than in consulting because everything is internal to your company.
The pay is a substantial discount to IB, PE, and consulting compensation and even a discount to corporate development compensation.
And while the exit opportunities aren't terrible, they're also more limited than the ones offered by IB, PE, or even management consulting.
In short, corporate strategy is a good option if you want to be a "consultant with a better lifestyle."
I don't think it's necessarily the best group for a long-term career, but it can be quite valuable – if used strategically.
Want More?
If you liked this post, you might be interested in Management Consulting vs Investment Banking: The Eternal Battle.
Break Into Investment Banking
Free Exclusive Report: 57-page guide with the action plan you need to break into investment banking - how to tell your story, network, craft a winning resume, and dominate your interviews