Impact Investing: The Real Way to Make Bank and Make a Difference?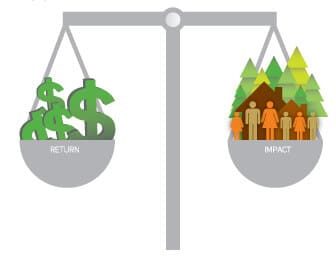 We've covered a few of those "alternate" paths outside of pure finance roles before – everything from working in the government to starting your own company to working in corporate finance at a normal company.
But governments can be corrupt (see: the European Union or the IRS), and even if you start your own company you're still in it for profit.
What if you actually want to make a difference… but still use your finance skills… and do so without joining a non-profit and living like a pauper?
If that's you, then you need to think about impact investing – the perfect way to combine finance and investing with saving the world.
Not a bad side benefit.
Today, you'll hear about how our interviewee left the wonderful world of investment banking in Hong Kong behind to go apply her skills in a slightly more impactful way – and what working in the very new impact investing sector is like.
When in Hong Kong ECM…
Q: You mentioned that you had worked in banking in an equity capital markets role in Hong Kong. How did you get there in the first place?
A: Sure. I was born and raised in Hong Kong, and went to the UK for university. I applied to a lot of internships while there, but this was in the depths of the last recession and it wasn't exactly the best year for the banking industry.
Still, I had good grades and a top school on my CV, so I won an offer at a bulge bracket bank in Hong Kong, started out as a generalist, and was then placed into ECM.
At the time, IPOs were all the rage in Hong Kong and there were more deals than my team could handle. So I ended up staying there for a few years, figuring that it was my best option if I wanted to stay at that bank in that region.
Q: So I've heard some mixed reports about IB and ECM in Hong Kong – we've covered the region and the group separately before, but not together. How would you describe it?
A: The teams in Asia were much smaller and the training was "dynamic," which may seem "disorganized" at times.
As you might have heard, the hours are very, very long (or at least they were when I was there) because of the deal activity and the time zone differences we worked across.
The US team joked that they could call us at any time day or night, and someone would be here to answer the call.
My team was mostly people from mainland China and HK. In addition to ability and qualifications, language plays a huge role and they're almost always looking for native Mandarin speakers who studied in the US or UK.
There were no Patrick Bateman-types on my team or any other stereotypically crazy bankers, so in that sense it was OK, but the infamous investment banking hours and unpredictable workload definitely got to me after a while.
I learned the most on the "soft skills" and "how to handle client requests" side, as you might expect in an ECM group.
Q: Right. So a few years into it, you decided to leave and go save the world instead?
A: Haha, well, I wouldn't put it quite like that. Part of it was that I wasn't interested in the traditional exit opportunities, such as PE firms that only work with companies based in mainland China or corporate investor relations roles.
I had studied politics and economics at university and was always very interested in social issues, so going to the World Bank or other NGOs like that had been on my mind.
At the same time, though, I didn't want to lose the skills I had gained in banking so I wasn't keen to join a traditional non-profit.
Without a clear idea of where I'd be headed, I decided to quit when my 3 years were up – against everyone's advice.
Q: Because you didn't have the time to look for new jobs otherwise?
A: Partially, yes. But the other factor was that sometimes you can't tell what opportunities are out there when you are 100% focused on your job.
I knew that a gap on my resume would be a problem if I went for traditional PE or banking roles, but I wasn't interested in those anyway.
Impact Investing 101
Q: So you quit abruptly and then started looking for something that would interest you… what was your first step?
A: I had heard about companies that invest in search of both social good and profit, so I started learning what I could about them.
This is a VERY small and personal industry, so I started cold emailing people at organizations related to "impact investing" here, and volunteered to organize conferences such as the one that the Rockefeller Foundation hosts.
Q: You just used the term "impact investing," and I'm not sure how many readers are familiar with it since it's relatively new. Can you explain what is?
A: Sure. The idea is to invest in companies that attempt to turn a profit and do good for the community, environment, and world at large.
It's like a cross between non-profits and PE and VC firms.
Examples of companies or ventures that impact investing funds might invest in:
Affordable Housing: We might try to find investors or asset owners that are willing to accept reduced profits in exchange for making house more affordable, or in exchange for enhancing the community by providing other services such as healthcare. Sometimes owners actually come to us and say, "We own land/property – how can we make this more socially friendly?"
Micro-Finance Institutions that lend to Social Enterprises: We might invest in banks or other financial institutions that lend money to social enterprises to get them off the ground.
Environmentally friendly products and energy efficient technologies: There are "green funds" that only invest in companies that promote environmental sustainability.
Products and services geared toward the population at "the bottom of the pyramid" / underprivileged groups: Socially responsible businesses based in emerging markets and products designed for elderly and disabled groups belong to this category.
Another good example is a "social impact bond," where the government raises money from banks and private individuals and ties the payout to the outcome of the organization that borrows the money.
Since the government is paying out bond interest, investors perceive it as "less risky" than investing directly in the organizations.
The government first came up with this concept in the UK, where it used these bonds to finance projects that would lower rehabilitation rates of ex-offenders.
They're willing to do this because the private sector is taking on some of the risk in creating services that help everyone, which might ultimately reduce expenses for the government in the long-term.
Q: So what does the impact investing market look like right now?
A: Here's how you can think of it:
Supply: The foundations, family offices, and high net worth individuals that want to invest in these enterprises (think: the Gates Foundation).
Demand: Social enterprises that are trying to grow and become financially sustainable, but which need capital to get there.
Intermediaries: They connect both parties and sometimes invest along with the foundations and family offices.
It's a bit like the rise of tech start-ups and venture capital decades ago, and we're seeing more and more "investment-ready" opportunities – so these groups actually need ex-bankers and other financial experts.
But the risk is still very high with these investments. It's hard enough to create any type of financially sustainable business, let alone one that is also doing social good.
So you also see people involved with "capacity building," which is sort of like what incubators do in the tech space – the idea is to get these earlier-stage ventures up to speed and advance to the point where professionals can invest in them.
Geographically, most impact investing is still based in the US since there are close to $1 trillion USD worth of foundation assets there (most of which is currently donated to charities and NGOs, instead of being invested in social enterprises).
Q: So based on all that, I'm assuming that investors are willing to accept lower returns in exchange for doing social good?
A: Sort of. On some of the projects I've seen, a 1-2% yield is an acceptable floor for investors.
But expectation management is a huge issue. We need to explain that to potential investors who walk in expecting 20-30% returns, which just won't happen in this sector.
So part of our role is to manage those expectations and get them into more of a "Well, as long as I don't lose money" mindset.
Q: Yeah, that's a tough one for traditional LPs. Anything else you want to add or any recommendations for more reading on the sector?
A: The general consensus is that the industry is growing very quickly, even though it currently attracts less than $10 billion per year.
It's very policy-driven, and you see a lot of initiatives in the UK such as Big Society Capital – an investment fund to grow financial intermediaries for the social sector – that have started due to government policy. Big funds such as the Social Innovation Fund launched by the US government also attract a lot of attention.
If you want to learn more, check out the JPMorgan report "Impact Investing 101," where they predict that it will emerge as a real asset class. Some large banks are even hiring people with NGO backgrounds to work in this area.
Personally, I'm still a bit skeptical about the forecast growth in capital because the returns are unproven.
It's also very dependent on government policy / funding and philanthropic money, which aren't the most reliable sources in the current environment.
Making an Impact
Q: Ok, thanks for sharing all of that – now to get back into how you won the job after you had done all this research…
A: It all came down to networking. There were very few formal interviews, but a lot of quick coffee meetings asking about my background, how we might work together, and what they needed help with.
They never asked finance questions or anything like that – they assumed that since I had worked at a well-known bank, I knew all of that fairly well.
Part of it is also demonstrating that you're actually interested in the field and are not just jumping in because it's the trendy thing to do. I had spent a few months volunteering in India and China and had done other advocacy work in the UK before, so I fit what they were looking for.
Another big factor is proving that you can work in a small, entrepreneurial environment – a lot of people at big companies reach out to these groups, but they still carry the mindset of working in a huge organization and think you need to push all decisions through a committee before acting.
But that is not helpful in these places – it's such a new field that you need to move quickly and figure out things on your own without much direction.
Q: So you just continued with all these networking meetings and won the offer without a formal interview process?
A: Pretty much – I did go into the office to meet with everyone toward the end, but it stayed very "fit"-focused.
They were mostly probing to see how well I meshed with the team and how committed I was.
Q: And is everyone else there also from the world of finance? Or where do they come from?
A: It's a wide range. Many people who founded social enterprises or other intermediaries are here, but you also see quite a few MBAs from top schools and former bankers and lawyers joining as well.
The culture here is quite relaxed – there are experienced people, some with 2-3 years of experience elsewhere, and some who have "retired" after 20+ years working at corporations.
Since there's such a range of backgrounds, it feels much different from the typical bank or investment firm where everyone is pushing ahead 24/7 and never takes their foot off the gas pedal.
Making an Impact On the Job
Q: OK, great. So you haven't been working there for too long, but what are your early impressions of the job so far?
A: So far it has been great.
We do a bit of everything here – direct investing, fundraising, grants to charities, and even "capacity building" for non-profits and social enterprises.
So it's the equivalent of a traditional finance firm that does everything from PE and VC to funds of funds and even operational consulting… but all focused on social enterprises.
Surprisingly, the skill set is quite similar to what you need in banking or PE roles:
We still create "marketing materials" for potential Limited Partners and collaborators.
We still source investments by reaching out to social entrepreneurs and fielding inquiries from them.
We still monitor our "portfolio companies" by seeing how they're performing and what sort of difference they're making – and then we report back on this to LPs and other investors.
These days, we're also seeing a lot of people inside big companies who come to us and ask about how to incorporate a social mission into their businesses.
Q: You mentioned how your firm does a bit of everything – if that's the case, how do you report to LPs?
I'm assuming there are separate funds for charity / grant work vs. profit-seeking investments?
A: Yes, we're split into different divisions and a separate team focuses on the charity and advocacy work.
But the actual division of labor is less clear than you'd think because the two groups find ways to help each other out – for example, a social entrepreneur might start out by seeking a grant from us, but then when the business matures, he might seek a traditional investment from the other team here.
Q: And what do you look at when you analyze these investments? Are there different benchmarks for social investments?
A: Yes, there are some differences. For an affordable housing or education project, for example, we might look at:
What's the percentage of single mothers living there? Has it been increasing or decreasing?
What percentage of tenants have full-time jobs?
Are kids' grades and behavior improving?
The Global Impact Investing Network (GIIN) also provides benchmarks for different projects and they may "certify" certain companies depending on their results.
So far, I haven't done much sourcing on my own – the senior people here are fairly high-profile and are able to bring in a lot of opportunities.
Q: Great. What has surprised you so far?
A: A while back, I worked on some analysis and created a presentation on several different social innovation funds to help our team prepare for a meeting with the government.
It was a very in-depth presentation backed with a lot of numbers, but then when I finished they asked me a simple question: "So what's your recommendation? What should we do and how should we structure this new fund we're considering?"
Working in banking makes you very process-oriented rather than decision-oriented, so you run into the same challenges bankers face when moving into traditional buy-side roles.
Q: The more things change…
And I realize you started recently, but I have to ask this one anyway: what are your future plans?
A: I'll stay for the foreseeable future – I'm still undecided about my long-term plans, but I've had a great time here so far and want to learn as much as I can.
Since this is such a new asset class, it's hard to say exactly what I'll do in the future – if it takes off and keeps growing, I might stay in the field for years; if it doesn't catch on as quickly, I might consider other options, including going to a more traditional non-profit or NGO.
Q: Great. Thanks for your time!
A: My pleasure.
Break Into Investment Banking
Free Exclusive Report: 57-page guide with the action plan you need to break into investment banking - how to tell your story, network, craft a winning resume, and dominate your interviews