Busting the Front Office Analyst Myth: Three Unexpected Truths You Need to Move from Admin to Analyst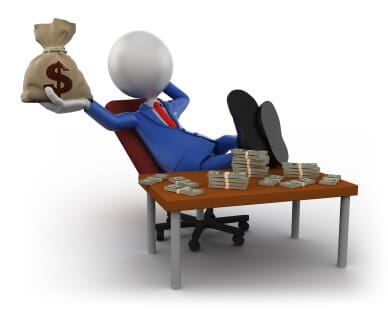 All finance-minded students and professionals are bred to eat, sleep, and think that the "front office" is the only place to be for their first position.
But I'm here to set the record straight – there is no such thing as a "front office analyst." It's an oxymoron.
Especially when you're just starting out (like I was).
And I believed the myth so much that I didn't focus on a lucrative industry and nearly lost job offers over it.
But I ended up in a very different place, using what I learned as a grunt worker to propel me into a full-time position in the world of finance – almost without me knowing.
Bad Grades, Double Major, State University – Ouch?
My story starts as a "hopeless" future IBD candidate. While everyone else was running for the hills during a market meltdown, I discovered a passion for finance and my second major (Economics).
I began researching the industry like crazy, trying to find any edge before recruiting season began… and I realized I was lacking in three critical areas:
My mediocre GPA. Luckily, I still had time to improve my GPA since all of my economics classes were still in front of me.
My state university pedigree. I had no idea that this would later help me get the job.
My lack of internship experience. Not only was I already a junior, but in order to graduate in four years with my new double major, I would need to fill up my summer with extra classes instead of finance work experience.
Fixing My Undergrad Woes
I ended up getting nearly a 4.0 in my economics classes by working hard to fix my grades over my last year in college.
Employers are generally willing to overlook that you got a C in "Intro to Frosh Booze" freshman year if you get an A in "Economic Forecasting" senior year (as long as it fits into the story that you tell recruiters).
And more importantly than the grades – I honestly felt that the state school aspect of my background was holding me back from a lot of opportunities.
But in the real world, few people care where you went to school as long as you can prove that you can handle the job (i.e. you have the experience).
And sometimes, they just want to see someone like themselves.
So when my senior year began, I started pounding the pavement to address the biggest problem of all – my lack of internship experience.
What's interesting is that career centers at a state school can actually be an advantage over those at the Ivy League and other top universities.
The difference at state schools is that while fewer alumni go into finance, the ones that do are more eager to help.
Like other M&I readers, I cold-called firms extensively but found that networking via the few alumni we had was far more effective.
Admin, Intern, Analyst?
Through networking, I ended up landing a small VC internship during the spring of my senior year.
The internship was mostly terrible, mind-numbing admin work, but it looked great on my resume, and it gave me something to talk about for future interviews.
After graduation, I was able to score another internship at a small investment bank, again through a contact at my school's career center.
It wasn't exactly an analyst role, but it still made an impact on my resume.
And then I thought: I've won the battle!
I figured that since I had two internships, the job offers would just start pouring in and soon I'd be sitting at a table with the entire Victoria's Secret catalog.
…which wasn't exactly the case.
But something else also happened as a result of that internship: I realized that the life of a pure investment banker wasn't for me.
I did still want to do something related to finance/business, but I didn't care enough about money/prestige to put in the required hours.
How I Got a Job Referral from an (Almost) Stranger
So a year and a handful of botched interviews later, I interviewed at a real estate private equity firm.
I had blindly sent in my resume for the position on Craigslist and thought, "Yeah right! No way, I'm going to get this job!"
Miraculously, I made it to their final round of interviews, but then lost out to someone with more experience.
Luckily for me, the interviewer liked me enough to give me referrals to a bunch of other firms that were hiring analysts.
One of them was my current firm, a CRE brokerage that deals with investment properties.
The point of networking is to create your own luck.
The job I got wasn't advertised at all, but someone else who was interested in the position had dropped out just a few days before. My timing couldn't have been more perfect.
I had a huge advantage with a referral from the PE firm… and they were desperate to get a warm body at that desk.
I like to think of the job itself as "i-banking-light." We pitch for deals, sometimes win them, sometimes just waste a lot of time, and sometimes go out and sell them if we do win them.
Although the workload fluctuates based on the season, my workweek generally hovers around 50 hours.
Compared to the other positions I was originally considering, I think it's a great balance between getting paid decently while also not working yourself to death.
So I Made It to an Analyst Position – Wait, I Learned Something?
I've been at this job for about a year now, and sometimes I wish I could hop into a DeLorean time machine and tell myself a few things as a student…
1. M&A Isn't the Only Profitable Industry
One of the most important things I learned was that there is money to be made in many different industries, not just Goldman Sachs IBD TMT.
I had been dismissive of the real estate industry at first, but I quickly realized the brokers at my office were pulling down huge commissions and that they work far better hours than bankers.
This opened up the idea that there are tons of financial niches that still make the big bucks, something I wish I had been more open to as an undergrad.
2. State Schools Can Sometimes Get Your Foot in the Door Better Than the Ivy League
As I finally learned, a state school background isn't necessarily a disadvantage.
It's actually an advantage at the right firms.
All of the brokers at my firm are from "unknown" universities.
And they would be much more willing to hire a state school grad than an Ivy grad, just because people tend to gravitate toward what they are familiar with.
3. The Glorified "Front Office Analyst" Position is a Huge Myth
The third realization I made was that the line between "front office" and "back office" is blurry at the analyst level.
I'm not going to reinvent the wheel and explain why it might be more beneficial to work in the front office of a financial firm vs. the back office, but let me reiterate something I said earlier – there is no such thing as a front office analyst.
Until you get to the Vice President level, you are a cost center – just like any other back office employee.
This is why non-performing Investment Banking Vice Presidents get fired and take extended vacations to Buenos Aires.
Until you are pulling in business yourself, you are a cost center.
So don't place too high a value on any "front office" analyst or associate-type role you get – sure, it's great that you won the role, but until you start generating revenue you're replaceable.
But I'll Be Working on Deals That Generate Revenue for the Firm!
While you're technically correct, there's nothing in that statement that a back office employee couldn't also say.
The IT guys that make sure the computers and networks function properly?
They're also making sure that deals get out the door.
Even the janitors can make that claim – they make sure the place is clean enough that business can be done, making it possible to bring clients in.
The presentations center? They might be more useful than analysts at some places…
But There Must Be Some Difference Between Front and Back Office – Maybe Models and Bottles?
The only single thing that separates front office from back is revenue origination – the senior guys at the firm who are pulling in business.
As an analyst, you will be doing none of this. Your job will be to slave away and be at the whims of the people who do.
I know it's hard to see this when you're an undergrad thinking about "models and bottles" (can we please ban that phrase?), but I guarantee you that every analyst, after the first week on the job, realizes just where they are on the totem pole of the investment banking career path.
Sure, it's much better to be in a position that opens you up for revenue-originating positions in the future, but it's dangerous to equate yourself with Ari Gold before that time comes.
The key to really becoming an indispensable asset is to be humble and to remember that you are in a great starting position.
You aren't going to be critical to your firm until you can bring money in on your own, no matter what your role is – whether you're a banker, trader, PE guy/girl, or anything else.
But once you have made that leap – congratulations!
Now you're officially "front office."
Break Into Investment Banking
Free Exclusive Report: 57-page guide with the action plan you need to break into investment banking - how to tell your story, network, craft a winning resume, and dominate your interviews