Got Crystal Meth? The Breaking Bad Guide to Success in the World of Finance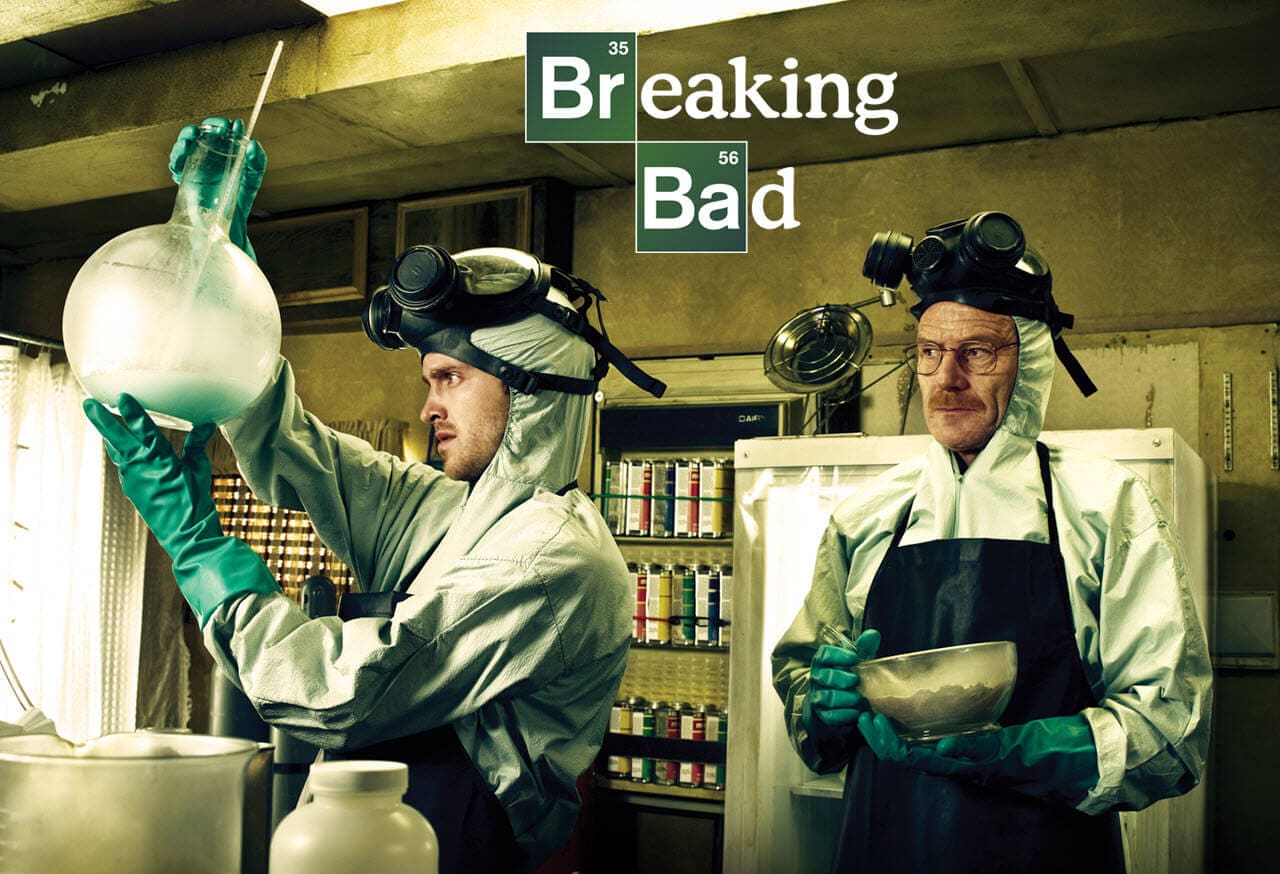 If you want to break in and move up the ladder in finance, two of the most important skills will be killing people and selling crystal meth.
Dissolving your enemies' corpses with hydrofluoric acid might be a close #3.
And the best place to learn all these skills is not from interview guides or training programs, but from watching Breaking Bad – the best-written (and most entertaining) TV drama currently on TV.
Here's why you need to pay attention, and what you can learn by watching:
What's It About?
If you're not familiar with it (what is wrong with you, exactly?), Breaking Bad is about a high school chemistry teacher turned methamphetamine dealer after he's diagnosed with terminal lung cancer and needs to provide for his family.
It's a classic fish-out-of-water story, only with a lot more death, destruction, and estrangement involved.
Oh yeah, and Walter White, the protagonist of the series, could easily kick the crap out of Patrick Bateman.
Bateman was dumb enough to chop up bodies and leave them there, while Walter White at least hides the evidence by melting his enemies' corpses.
And In All Seriousness…
I'm only half-serious above, but what's not a joke is how critics universally agree that Breaking Bad is one of the best TV series ever created, if not the best.
While I love Game of Thrones and Mad Men (and about 30+ others – yes, I am a crack addict and TV is my drug), I must give credit where credit is due: Breaking Bad is better-written, more intriguing, and more consistently high-quality from episode to episode than either of those.
And you can learn a whole lot about success in the world of finance by watching.
Here are the top 10 lessons you can learn:
(SPOILER ALERT: Yes, I'm going to mention things that happen in the series. So if you want to watch at some point, stop reading right here. This is your first and last warning.)
1. Find a Complementary Business Partner and Mentor
So you're a high school chemistry teacher who knows how to make the best crystal meth around, but you have no idea how to sell it.
What do you do?
You find Jesse Pinkman, a former student of yours who failed the class, but who also happens to be a rising star in the drug dealing world.
You (Walter White) make the best, highest-priced meth around and he uses his connections to get it sold and make you both a lot of money.
It's the same when you break into finance: finding a mentor is one of the best things you can do for your career – whether it's someone older with more experience, or someone who has a complementary skill set.
Maybe you're great at analytical work and investing, but aren't so great at the "selling" part of the business and relationship management… but that's a perfect opportunity to partner up with someone who is.
Or maybe you're still in school but you have friends who have already been through the entire recruiting process and can tell you what to expect at every turn.
They may not be quite as lucrative as partnering to sell drugs, but complementary skill sets always produce "synergies."
2. Don't Overestimate the Competition
So you want to become the biggest meth dealer in town, but your main opponent is a criminal mastermind who owns a chain of fast food restaurants that's cover for the biggest meth distribution operation in the Southwestern US… and he's supported by the Mexican drug cartels.
That might seem intimidating, but as Walter White discovered, the "competition" may actually hate each other more than they hate you – and the fact that they underestimate you could work to your advantage as you push them out of town.
The same applies in finance: if there's one lesson I want you to take from this site, it's to never overestimate the competition.
We've had dozens of stories from readers who broke in against all odds – non-target schools, low GPAs, completely random backgrounds, and even making every possible mistake in the recruiting process.
None of them ever overestimated the competition.
And you never should, either.
3. Always Have an Air-Tight Story
So your relatives suddenly find out that you've amassed millions of dollars… even though you've only earned $40K per year as a high school chemistry teacher for decades.
How do you explain it?
You plan it out in advance and spin a story where you explain that you've actually discovered an amazing card counting system that let you make a fortune with gambling.
But you don't plan out every little detail in advance – you leave some of it up to imagination and spontaneity so that it sounds more natural.
And just like Walter White's wife when she did the exact same thing to cover up his actions, you get them all to believe you and buy into your story.
You already know that your "story" is the most important part, by far, in any type of interview – plus, the key points that you need to structure it properly.
But sometimes you'll go too far in the "scripted" direction or too far in the "spontaneous" direction, both of which are doomed to failure.
Outline it, sketch it, do whatever you need, but don't memorize it word for word.
Soliloquies only work in Shakespeare, not when you're trying to genuinely convince people – or win job offers.
So be like Skyler White and use spontaneity in your performance for top results.
4. Don't Let Your Skeptical Family Get You Down
When Walter's wife first finds out about his meth dealing activities, she's just a wee bit… skeptical?
Actually, the better description would be, "Hates him and instantly wants to get a divorce and never talk to him again."
But Walter didn't let that stop him – eventually he got his wife to come around and understand that leaving him would be the worst option in this scenario.
And he even got her involved with his illegal activities by leveraging her accounting background to help launder money (Big 4 Accounting –> Money Laundering – not as prestigious as investment banking, but more profitable?).
It's the same when you first announce that you want to break into finance: everyone will be skeptical at first, especially if you lack credentials and qualifications.
Your family and friends, especially, may not take you seriously – so you have to convince them anyway.
Get them on board, show them how serious you are, involve them with your process, and show them results – even if you're not all the way there yet.
Maybe you haven't won job offers, but you're making progress with informational interviews or weekend trips – or with networking in general.
And never let them get you down – or you'll never succeed in drug dealing, or in finance.
5. Don't Be Afraid to Negotiate
So the drug dealing head honcho has just offered Walter White $3 million for 3 months of his time… does he accept right away?
Nope. Because Walter is the best damn meth cook in town, and he knows he could get even more – so he turns down the initial offer…
Only to use later events to get an even better deal: $15 million for 12 months of meth cooking.
(Wow, don't you wish you could become a drug dealer now? That trounces investment banking pay.)
While you may not be able to negotiate much as an entry-level analyst in investment banking, that changes once you move to another firm, and especially at smaller places where pay is less standardized.
Here's the deal: if the firm is not willing to negotiate at least a little, they don't really want you.
No, you probably can't negotiate for double the pay – but you can easily ask for more time off before starting work, funds to cover moving expenses, and maybe slightly different work assignments (friends have done all of those and more).
So never be afraid to negotiate – once you have the job offer, you are in the position of power and the firm will do anything to get you to accept.
6. Don't Take the Easy Way Out
Early on, Walter discovers that one of his former co-workers has amassed a small fortune and could easily cover his medical expenses.
He would still die, of course, but his life could be extended and he'd have more time with his family.
So what does he do?
He turns down the offer, because he doesn't want to take other peoples' money. He wants to save his family himself and earn his way out of the predicament he's in.
When you're breaking into the industry, you'll be tempted many times by "the easy path" or the easy way out… who cares about getting a front office role, just go to the back office! Or go to an accounting firm!
There's nothing "wrong" with these options, but if you're 100% set on a front office role in finance, you should only use them as backup plans.
So if you ever find yourself saying, "I don't really have much of a shot anyway, I should just aim lower…" – well, you should just give up right now because you'll never make it anywhere by thinking lower.
And neither did our cuddly, lovable drug dealer friend.
7. Always Value Money and Work Over Friends and Family
Walter White gets offered $1.2 million for the 38 pounds (17.2 kg) of crystal meth he's cooked at one point…
Just one small problem: he needs to make the drop-off at a precise time in an exact location, and there's no room for error.
At the same time, his wife is also giving birth to their first daughter.
So what does he do?
He misses the birth of his daughter and takes the money – the only logical choice.
And you know it's exactly the same in finance: you should always value work more highly than friends, family, and outside interests and activities.
After all, all of those will disappear one day – but the money will always be there as long as you don't spend it stupidly.
And seriously, if you think you can make it through years in investment banking without having your weekends ruined occasionally, keep dreaming.
There is no such thing as "work / life balance" – pick one or the other.
And make sure you make the right choice, just like Walter White did.
8. Change Up Your Tactics and Try New Approaches
At one point, Walter and Jesse's plans to start their own meth distribution network fail when a few of their dealers get murdered.
They find out that while making drugs is one thing, selling them is another one entirely.
They could have given up and gotten out of the business entirely… but that wouldn't exactly provide for Walter's family or pay for his medical bills, now would it?
So they do the only thing they can, and find a new distributor: Gustavo Fring, whose Los Pollos Hermanos (The Chicken Brothers) restaurant chain serves as the front for a massive meth distribution network.
And it works out quite well… for a while, anyway.
Similarly, persistence alone is not enough when breaking into finance.
You have to change up your tactics, see what works, see what fails, and figure out what you should really be spending your time on.
So if you have no luck with cold calling, try meeting people at real events instead – even if you have to fly in to get to those events (complaining that it costs too much = you are not resourceful / ambitious enough to figure out a way to do it).
If one person you've contacted has been helpful but suddenly goes MIA, don't keep pushing it when you haven't heard back after 5 emails… move onto your other leads.
Just because a tactic works well for others doesn't necessarily mean it will work well for you – so don't be afraid to experiment, whether you're networking or selling drugs.
9. Always Keep an Ace Up Your Sleeve
When Walter goes to meet with a sociopath drug dealer about distributing his product, he's naturally cautious…
Partially because this dealer has just beaten his partner Jesse to within an inch of his life, and partly because well, meeting with drug dealers is never really "safe" to begin with.
Rather than raising suspicion with a gun, knife, or other weapon, he walks in with seemingly nothing on him.
Only to reveal that he's prepared and brought fulminated mercury, after which he nearly blows up the dealer's building when he doesn't get a positive response.
Maybe a little extreme, but you can't argue with the results: the dealer caved in shortly thereafter.
If you're going to defy the odds and get into the industry with nothing in your favor, you also need an ace up your sleeve.
Maybe it's operational experience that the firm happens to value for some reason; or a connection to an emerging market that's interesting; or something else that sets you apart.
Most interviewers are extremely bored and sometimes stop paying attention after 1-2 minutes just because you're like everyone else they met with already.
So do something interesting and mention at least 1 memorable point that not everyone else will talk about when you're pitching yourself and telling your story.
10. Clean Up Your Dirty Laundry in Private
At one point early on, Walter and Jesse end up with a drug dealer's corpse in their RV – and dumping it is not an option since the police tend to notice things like that.
So they decide to do the next best thing: rather than disposing of it publicly and letting everyone know of their deed, they get several liters of hydrofluoric acid and use it to dissolve the body.
The only problem is that Jesse ignores the instructions to get a plastic container and instead uses his bathtub, which causes… some issues (seriously, search for the clip on YouTube or just start watching the show – I can't make this stuff up).
In the same way, when you work in finance you never want to make your disputes with co-workers and superiors public knowledge.
If you have a problem, figure it out behind closed doors without letting the whole world know about it.
Sure, analysts and associates may want to kill each other, but that doesn't mean that you should actually act on the temptation.
And if you ever find yourself standing in front of a bathtub with your boss's dissolved corpse in the tub, you know you've gone too far.
Break Into Investment Banking
Free Exclusive Report: 57-page guide with the action plan you need to break into investment banking - how to tell your story, network, craft a winning resume, and dominate your interviews