From Nuclear Submarines to Investment Banking: How to Make the Leap from the Military to Finance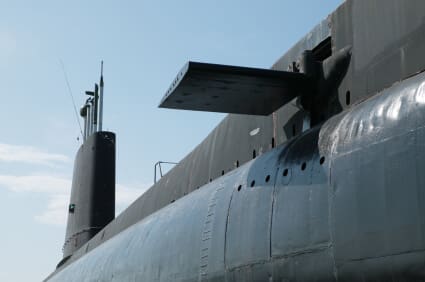 Can you get into finance coming from a military background?
Just how many bankers each year break in from the Army, Navy, and Air Force?
I get a lot of questions on these topics, but up until now haven't had solid answers beyond "yes" and "quite a few."
But that changes today with an interview from a reader who broke into investment banking from a military background – keep reading to find out how he did it and how you can do the same.
Plus, advice on part-time vs. full-time MBA programs and starting in a location that isn't New York.
Nuclear Submarines & Business School: Perfect Match?
Q: Tell us about your background and how you got started operating nuclear submarines.
A: Sure. I accepted a Navy ROTC scholarship right before attending college, because my priority at the time was to serve my country.
At school I picked a highly technical engineering track, but ended up taking a lot of financial math classes on the side – that's how I originally got interested in finance.
After graduation, I wanted to work in a high-impact environment and since I had a technical background, I figured that nuclear submarines would be a good fit for me.
The Navy has a rigorous selection process for this kind of role, but I passed and started operating nuclear reactors aboard submarines.
After a few years there, I decided to attend a top MBA program as my next move.
Q: I guess you had an easy time proving your "attention to detail" in interviews. Coming from that background, why did you decide to go to business school as your next move?
A: I got a lot out of the Navy in terms of leadership, teamwork, and meeting deadlines, but I wanted to hone my financial skills and learn more about business.
I knew that moving into finance directly would be challenging since my background was unrelated, so I decided to use business school as a steppingstone.
I still had a commitment to the Navy, so I decided to attend a part-time evening program at a well-known business school while finishing my obligation of service.
Q: Most people would say that it's very tough to break into finance coming from a part-time evening program – why did you decide to go that route instead of waiting and applying for full-time programs?
A: I could have waited, but that might have cost me 1.5 – 2 years due to my Navy commitment. I figured that I would be more competitive if I made the move sooner rather than later, so I opted for the evening program instead.
If you have the option, though, I would strongly recommend full-time programs.
I had a unique set of circumstances, and I ended up transferring to the full-time program anyway to take part in recruiting – looking back on it, starting out there may have made more sense.
Transferring & Recruiting
Q: You mentioned switching to the full-time program for recruiting purposes. When did you decide to do this, and how did you make the move?
A: In the evening program I couldn't even drop my resume for recruiting purposes – I could still go to events and network with bankers there, but I couldn't formally apply for internships or full-time jobs.
Recruiters also viewed me with a lot more scrutiny coming from the evening program – they would ask, "Was he not able to get into the full-time program? Were his GPA or GMAT scores not up to par?" If you're not in a full-time program, you need good answers to those questions.
So I realized early on that transferring would make recruiting much easier.
As for the actual process, I just applied through the school after going through all the core classes, earning good grades, and developing a competitive profile.
The key is that the school doesn't want you to hurt their average GPA / GMAT scores – as long as you're above the bar there, it's doable.
That doesn't mean it's easy – only a handful of people do it each year – but it is possible.
I would also add that a couple of classmates stayed in the evening program and successfully landed investment banking internships, so switching is not absolutely mandatory.
Q: Right, that makes sense. What about your networking efforts? Once you made the leap to the full-time program, did you just rely on on-campus recruiting or did you also use alumni networking?
A: I used both – early on, I relied more heavily on networking with military alumni. I started months before the school year began, and began by searching for former naval officers who now worked in investment banking, via LinkedIn.
I got around a 40% response rate, and leveraged the responses into phone calls and in-person meetings during the weekend trips I took to New York and other financial centers.
As the school year approached, I widened my investment banking networking and started going beyond naval officers to other "military alumni" and also went through the alumni at my business school.
I waited to speak with the alumni last because they were in the best position to get me first-round interviews. Additionally, they were bombarded with emails from all my classmates so I wanted to ensure that I always made a strong first impression.
Q: What about the networking process itself? What did you do, and how effective was it?
A: In my initial emails, I would usually ask for 30 minutes to speak on the phone – but as I moved further in, I took trips to New York and other financial centers and met with bankers in-person.
Most "target schools" have a pretty regimented process for MBAs, and I used recruiting events to make a better impression on bankers in a social setting. That's a huge advantage of target schools – these investment banking information sessions are the key to receiving first-round interviews.
Because I was aggressive with networking and made a good impression on the recruiting teams, I managed to win first-round interviews with most major banks.
How to Convince Them You're a Financier
Q: So it sounds like you had a lot of practice with interviews, whether they were official interviews or unofficial informational interviews. What were the key challenges you faced coming from a military background?
A: The advantage of a military background is that you can sell your management experience, leadership, and teamwork skills more easily than, say, an accountant looking to break into investment banking.
And since I had operated a nuclear reactor, it wasn't hard to convince bankers of my attention to detail. The same goes for unpredictable hours – going out to sea on a whim's notice or being extended during a deployment were routine in the submarine force.
But there are a couple problems you'll face coming from a military background:
There's the perception that ex-military guys don't know finance.
We also have a reputation for being overly blunt and trying to exert too much control over a situation.
Q: So how did you overcome these problems?
A: For the first one, I pointed to my high GPA and GMAT score as evidence that I could do quantitative work.
I know you've criticized it before, but I also enrolled in and passed Level I of the CFA – which at least showed them that I knew something about finance. Plus, I had all my finance classes from undergraduate.
On the second point – about being overly blunt – you just need examples of how you've compromised and worked successfully in a team without being overbearing.
A lot of this also comes across in your tone and presentation – if you're a direct person, sometimes you have to take it down a few notches.
Regional vs. NYC Offices
Q: You ended up accepting an offer in a regional office rather than in New York – how did you think about this one, and why did you decide to start there instead?
A: Most people tell you that New York is the end-all when it comes to finance, at least in the US – but I'm not completely convinced of this.
For one, lots of regional offices actually do full deal execution themselves – SF is a hotbed for tech and biotech, LA for media and gaming, Houston for energy, Chicago for industrials, and so on.
If you already have an industry you're interested in, going somewhere other than New York could be a good move.
Also, the cost of living is much less in other regions, the lifestyle is not much worse, and the deal teams are leaner which means more experience for junior bankers.
The main disadvantages of not starting in New York:
You do miss out on networking opportunities by being around fewer bankers / financiers.
You're more limited in terms of moving to different regions / groups.
If you're just out of university and you're not sure exactly what you want to do, New York could be a better bet – but if you're older, you have a family, or you have a good idea of what industry you want to work in, there are considerable advantages to starting outside of New York.
Q: Right, I agree completely. The obsession with New York in the US is similar to the obsession with exit opportunities. Thanks for your time – you have a very interesting story, and I learned a lot.
A: My pleasure.
Break Into Investment Banking
Free Exclusive Report: 57-page guide with the action plan you need to break into investment banking - how to tell your story, network, craft a winning resume, and dominate your interviews