Did the FTX Bankruptcy Kill the Crypto Star?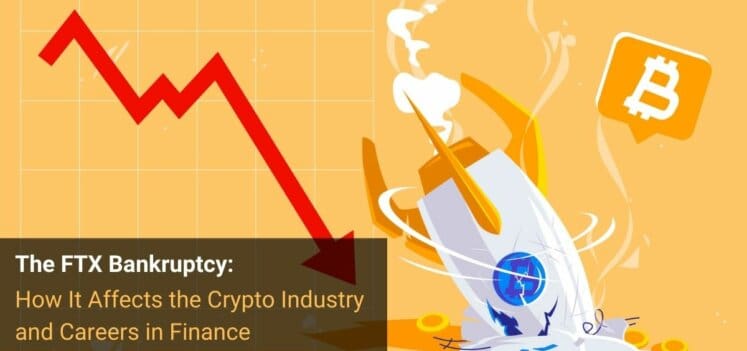 I thought about writing an article on the 2022 U.S. midterm elections, but it's a boring story with a low direct impact on the finance industry.
In the days after the elections, a much more interesting story emerged with the bankruptcy of FTX following massive fraud and a "liquidity crisis" at the company.
It's the biggest financial scandal since Bernie Madoff in 2008, and if you haven't been living under a rock, you've read about it by now.
And if you have been living under a rock, here's a good 99-second summary.
Mainstream news sources have already covered the story extensively, so I want to take a different angle and comment on how "the smart money" fell for this scam and what it could mean for careers in finance.
The direct impact on fields like investment banking and private equity is limited-to-nonexistent, but if you're interested in industries like sales & trading or venture capital, there will be some spillover:
The FTX Bankruptcy: What Happened?
FTX was founded as a cryptocurrency exchange in 2019 and gained over 1 million users by 2021, becoming the 3rd largest exchange by volume and earning over $1 billion in revenue.
It raised over $1.8 billion in these few short years, and one of its founders, Sam Bankman-Fried ("SBF"), became highly influential in political circles as "the adult face of crypto."
He even appeared on the cover of Fortune, joining other business luminaries such as Elizabeth Holmes: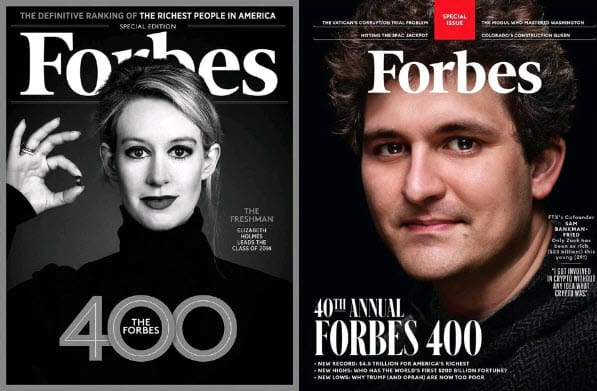 When crypto prices were skyrocketing in 2020 and 2021, FTX, like all crypto companies, seemed to be doing well.
But as crypto prices began crashing in 2022, FTX claimed it was still doing well, even as other platforms failed (see: Celsius and Voyager and the fall of the Terra network).
FTX went around buying up other distressed and bankrupt crypto platforms, prompting Jim Cramer to proclaim that SBF was "the new JP Morgan":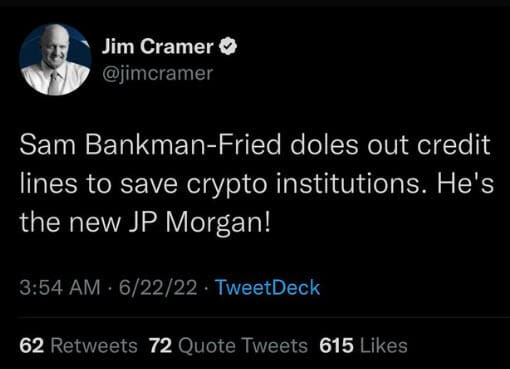 As recently as September, the company attempted to raise $1 billion at a $32 billion valuation, defying the massive drop in the rest of the sector.
Sam Bankman-Fried's net worth grew to ~$26 billion earlier in 2022 but had fallen to only "only" $16 billion by October.
And then everything came crashing down in a few days of November 2022, with FTX filing for bankruptcy and SBF's net worth falling to ~$0 almost overnight.
But these statements are misleading because, in reality, SBF and FTX were never worth that much – it was a giant fraud.
A normal exchange accepts customer funds, earns commissions on trades, and keeps all customer funds available 1:1 to meet withdrawals.
FTX, on the other hand, had taken customer funds and used them to prop up its failing hedge fund, Alameda Research, and make speculative bets on tokens and companies that are now worthless.
It's a bit like if you deposited money into a Vanguard account to buy stocks, and then Vanguard took your money, bought penny stocks without your authorization, lost everything, and said, "Oops, sorry."
It sounds like an insane conspiracy theory, but it happened at FTX.
The specific catalyst was that the CEO of a rival exchange, Binance, announced that his firm would sell all its "FTT" tokens, which led to FTX customers panicking and attempting to withdraw more money than FTX had available.
The FTT token was FTX's creation, most of which belonged to FTX and its hedge fund Alameda Research.
FTX propped up the token's value and claimed it was worth far more than it was, which fell apart as soon as Binance tried to sell its holdings.
As Matt Levine wrote, the FTX Balance Sheet contained mostly junk, including $5.5 billion of illiquid crypto tokens, $3.2 billion of VC/PE investments, and only $900 million of liquid assets… against $9 billion of liabilities.
Visual Capitalist also has a good summary.
Based on these numbers, it seems highly unlikely that FTX customers will recover much of their money.
One distressed asset management firm, Cherokee Acquisition, published these estimates: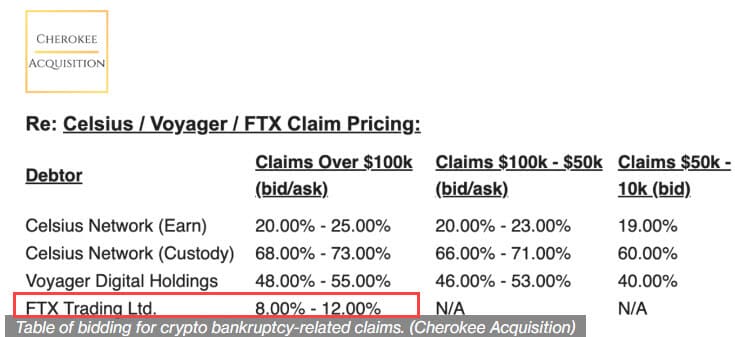 And even this ~10% recovery is questionable because we need to see a "real" Balance Sheet from FTX, not the leaked one that has been circulating.
What's the Next Shoe to Drop?
Since the FTX news broke, various other exchanges and lenders have failed or "suspended withdrawals," including AAX, BlockFi, and now Genesis.
It appears that many of these exchanges were transferring crypto back and forth to each other to make themselves look healthier than they are, so I assume that more failures are looming.
The big one is Binance, which already has many regulatory problems, but another candidate is Bitfinex / Tether, as it might just be a giant scam behind all these other scams.
I hesitate to give "investment advice," but if you still own any crypto after all this, you need to move it off exchanges and into your own wallet ASAP.
Since the entire crypto ecosystem is intertwined, with miners, lenders, and exchanges all propping up each other's tokens and revenue, this contagion could spread far and wide.
The more interesting question is how much this scandal will hurt the venture capitalists and other institutions that invested in FTX and similar platforms.
My answer is "a lot."
They're all going to be hit with lawsuits from their Limited Partners, and a class-action lawsuit has already been filed against celebrity FTX backers like Tom Brady and Steph Curry.
I'll also boldly predict that this may greatly diminish top VC firms like Sequoia and a16z (no direct exposure but tons of other crypto investments).
They won't "die" because they still have active funds and portfolio companies, but they're also not going to do much in crypto anymore and might have difficulty raising future funds.
VC firms that didn't go all-in on crypto might fare better, but there will still be some spillover.
FTX Bankruptcy: How Did the "Smart Money" Fall for This Scam?
The FTX investor list is impressive: Sequoia, SoftBank, the Ontario Teachers' Pension Plan, New Enterprise Associates (NEA), Tiger Global, Third Point, BlackRock, Thoma Bravo, and dozens of others.
If you read the ridiculous, now-deleted company profile by Sequoia, you can get a sense of how "taken" they were: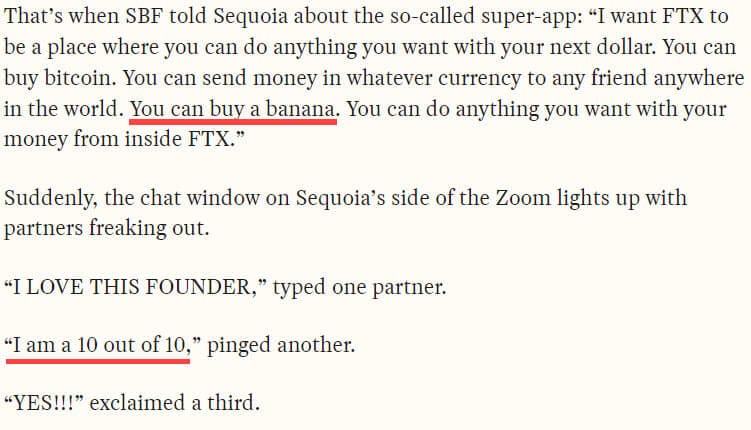 There are a few factors, but FOMO ("fear of missing out") and groupthink are at the top of the list.
This is surprisingly common in finance, where people often assume that if Reputable Investor X puts money into a company, it must be a good company.
Who cares about due diligence when you have to decide on an investment within the next 12 hours or be cut out?
When money is easy, and there are manias in crypto, equities, and startups simultaneously, this gets even worse.
Another issue is that FTX did not necessarily start as a fraud.
We don't know the exact timeline, but the company might have been quasi-legitimate in 2021 when these firms invested.
Sure, VCs need to monitor their portfolio companies, but they don't always do so in much depth.
The real red flag is that no outside investors put independent directors on FTX's Board.
That's just inexcusable, and I'm not sure how firms like Sequoia could justify it; these independent directors specifically act as checks and balances on the company.
Finally, wealthy people such as venture capital Partners are often quite disconnected from reality, and it's even worse when everyone works remotely.
In their world, new technologies like crypto, AR, VR, the Metaverse, etc., are always poised to take over – even when normal people think they're a joke.
FTX Bankruptcy: Takeaways, Industry Outlook, and Predictions
I'll start with the good news:
1) The Direct Impact on IB/PE/HF Careers is Low-to-Nonexistent
There are a few hedge funds with crypto holdings on FTX, such as Ikigai, but for most mid-sized-to-large funds, crypto assets are rounding errors.
Similarly, a few PE firms, such as Pantera, focus on "blockchain technology," but they're tiny, and the larger players do nothing or almost nothing in the space.
Some banks, such as Moelis, have made noise about crypto advisory, but there hasn't been much IB-scale deal activity yet.
2) Institutional Interest in Crypto is Dead or Will Die Soon
After this scandal, institutions like asset management firms and large banks will be very reluctant to touch crypto for a long time.
Existing teams might stay in place while these companies figure out what to do, but don't count on much new hiring.
If you were thinking about crypto as a sales & trading exit opportunity, you should cross it off the list for now.
Governments will almost certainly step in and attempt to regulate or shut down the sector, so the range of outcomes here is wide – but none of it looks good.
3) FinTech and VC Firms Will Also Take a Big Hit
The problem here isn't that FTX "failed"; startups fail all the time, and Limited Partners in VC firms expect many investments to become worthless.
The problem is that this failure directly damaged 1 million consumers, and most will lose 90%+ of their money.
FinTech and venture capital were already having a bad year, and this incident takes it from bad to worse.
Some VC firms did nothing in crypto, and most FinTech firms have nothing to do with crypto – but that's not how human psychology works.
Anything involving "tech" and "finance" will get more scrutiny from now on.
VC will survive as an IB exit opportunity, but its growth will be limited, and there will be fewer spots at the top firms.
4) (Some) Crypto Will Survive, But It's Back to Square One in Proving Itself
Many crypto enthusiasts say that Bitcoin is "different" from altcoins, NFTs, etc., and that the FTX disaster happened because it was a centralized exchange with terrible governance.
They are partially correct: decentralized exchanges/platforms have held up better than centralized ones, and Bitcoin and Ethereum have been less disastrous than altcoins and NFTs.
But let's be honest: crypto – including Bitcoin – is mostly used for speculation or illegal activity.
It has effectively been a levered version of the S&P 500 or NASDAQ for the past few years.
There's nothing inherently wrong with speculation, but digital tokens built for gambling will never take over economies or displace fiat currencies.
The biggest problems with crypto as a whole are:
Most Transactions Do Not End Up on the Blockchain – Even if you think you are trading something decentralized, you're probably not. To see this, look at the Bitcoin blockchain transactions since 2017 vs. the trading volume on Coinbase over the same time frame. Transactions are recorded on the exchange but not necessarily on the blockchain.
There's No Floor or "Buffer" – With fiat currencies, central banks can take specific actions to defend the value if someone tries to crash the currency. And with precious metals like gold and silver, there's industrial demand, so even if no one used them as "value stores," they would still be worth something.
It Doesn't Scale for Payments – Again, see the transaction chart above. There is an inherent tradeoff between security and speed, so solutions that make Bitcoin more efficient also make it less secure. Visa can process 24,000 transactions per second, while Bitcoin does… 7. And yes, the Lightning Network "fixes it" – but only by moving transactions off the blockchain! (see point #1)
These issues don't mean that crypto is doomed, just that it will keep going through speculative boom-and-bust cycles without much real-world adoption outside of niche use cases.
Things might change if the underlying technology advances significantly, but I don't see it happening anytime soon.
I've been wrong about other topics, and maybe I'm wrong about this one – so  if you disagree with my assessment, feel free to keep hodling.
But no matter what you do, avoid the exchanges, and keep everything in your own wallet.
Losing money is bad, but ending up as one of the 1 million creditors in a large bankruptcy case is even worse.
Break Into Investment Banking
Free Exclusive Report: 57-page guide with the action plan you need to break into investment banking - how to tell your story, network, craft a winning resume, and dominate your interviews