The Perfect Sales & Trading Resume Template?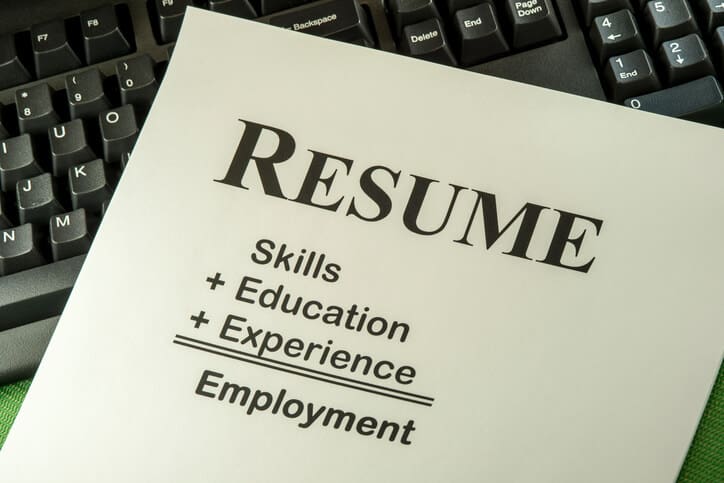 This is a guest post from a reader who broke into Sales & Trading (S&T) coming from a non-target school. In Part 3 of this series, you'll learn all about how to write sales & trading resumes and how to use them to win interviews and offers.
I still remember the beginning of my freshman year and my first visit to the career office…
I was eager and determined to craft the perfect resume that would land me a summer internship in Sales & Trading at a bulge bracket bank.
After spending hours and days working with an advisor going back and forth, I sent it over to a buddy of mine who was a trader at Citi, who had promised to help me with it…
In less than 5 minutes, he emailed me back with his assessment: "This is sh*t."
And that was my welcome to the world of trading – blunt, rude, and to the point.
Ultimately, I completely revamped my resume and used it to land an offer at a bulge bracket bank – coming from a non-target school with absolutely 0 on-campus recruiting.
Here's how I did it, and how you can do the same:
The Template & Tutorial
Let's jump right in:
Sales & Trading Resume Template [Download]
Note: You should always submit your resume in PDF format unless they tell you otherwise.
Here's the tutorial video:
Your Resume Template Starting Point
Let's not waste time with the basics: you need to use the existing resume template on this site as your starting point.
Yes, it says "investment banking resume" but it works equally well for Sales & Trading, and you save time by eliminating the need to format everything.
Forget about multi-page resumes (unless you're in Australia, maybe), and resist the urge to write a laundry list of halfhearted experiences: still focus on the top 3-4 work/leadership experiences you have.
You still use the same sections: Education, Work & Leadership Experience (or "Professional Experience"), and then the section at the bottom with your Skills, Activities and Interests.
And the same advice about quantifying experience and going into the details and results of what you did still applies.
What's different with Sales & Trading is the input to this resume template.
Above all else, S&T recruiters look for these 3 characteristics on your resume:
Quantitative Ability
Analytical Skills
Passion for the Financial Markets
Note the contrast between what they're looking for in IB vs. S&T: in investment banking they care more about your ability to work long hours, leadership / teamwork skills, and general passion for business and finance rather than the markets specifically.
Those characteristics can still be important in S&T since it's far from a 9-to-5 job, and since you do interact with salespeople / traders.
But the overall focus is more on quantitative / analytical ability and passion for the markets.
It's trickier than it looks to convey these skills on your resume, but you must get them across if you want a good shot at winning interviews and landing offers.
Quantitative Ability
This is one of the most important skills required to land a job in S&T. Whether you're in fixed income or equity, you must be able to work quickly and efficiently with numbers.
You're constantly calculating prices to quote to clients, and one tiny little error can end up costing your firm or your client millions of dollars…
…and in some cases even your job (I'm looking at you, fat finger traders).
So you should emphasize anything related to math on your resume:
Math or math-related major or minor
Quantitative coursework
High math SAT scores (750+) or math A-Levels (if you're in the UK)
Math club / Math-related competitions
Previous internship or experience where you did a lot of quantitative work – think number-crunching, engineering, anything with spreadsheets, and so on.
If a trader glances at your resume and sees that you're an English major with no math-related coursework and no quantitative work experience, he'll (rightfully) be skeptical of whether you can do the job.
So if that's you, get relevant experience right now: take a more quantitative class and write about an extended project you worked on, or get a part-time internship doing something that involves numbers.
It doesn't even have to be finance-related: it just needs to demonstrate that you're comfortable working with numbers.
Analytical Skills
Wait, isn't this the same as quantitative ability?
No, not quite.
"Quantitative ability" refers specifically to numbers, whereas "Analytical skills" refers to any type of analysis you do, whether it's quantitative or qualitative.
If the central bank raises interest rates, what does that mean for your positions or your clients' positions?
You may not be able to answer that with a number, but you can come up with qualitative guesses for what might happen and how you should react.
If you're from a liberal arts or mixed background you might be tempted to demonstrate this one via your analysis of Moby Dick or Hamlet, but that would be a mistake: find something that's more relevant to business, even if it's qualitative.
The best way to demonstrate this is via coursework or previous work / internship experience:
Write about how you analyzed a company's strategic position vs. competitors as part of a case competition or a business class.
Write about how you analyzed your firm's marketing efforts and found ways to save money and improve the ROI of their spending.
Write about how you analyzed a stock and decided to invest via your personal account based on valuation metrics and value investing criteria.
There's no such thing as over-using the word "Analyze" when you write your bullet points for this one (Ok, maybe keep it to one mention per bullet point…).
Passion for the Financial Markets
If you don't have some experience with the financial markets, don't even bother applying for S&T roles.
You might be able to get into IB or PE without trading or following the markets very much, but it's almost impossible to do that here.
Unlike bankers, most traders actually enjoy what they do – at least when they first start out – so they want to see that you will also enjoy it.
You could demonstrate this passion with:
Your major – Being a finance major helps.
Previous work experience – Anything where you traded or dealt with the markets.
Clubs in school – Think of any type of finance or investment society where you present your ideas, talk about possible investments, and so on.
If you have absolutely nothing in these categories, you could list a mock trading account or personal trading account – but beware that many professionals don't take these seriously, so doing so could hurt you.
Also, realistically, you will not win S&T offers at large banks if all you have is mock trading experience. You need a sequence of previous finance internships to maximize your chances.
Got Education and Work Experience?
That covers the main points for your Education and Work & Leadership Experience sections on your resume.
But traders like to have a good time, too, so the last section of your resume is also important.
Skills, Activities & Interests
Not too much is different here from what you see on IB resumes: note any language skills you have, any organizations or activities beyond what you've already written about, and any certifications such as the CFA (no, it won't help much for S&T, but it's worth noting especially if you don't have much experience).
The most common question here: should you list "Interests" like gambling and poker?
Short answer: yes, they can definitely help because sales & trading is all about risk management, probability, and keeping your emotions in-check… just like gambling.
I know an analyst who made a deal with his boss that he could use the boss's money to play poker and take 25% of the profit…
Sounds crazy, but it's true – anyone on the public markets side of a bank loves to take calculated risks, or they wouldn't be working there.
Just make sure that you don't come across as overly obsessed with gambling / poker – don't devote huge portions of your resume to it, and don't spend half your interview talking about your poker winnings.
No firm wants to hire a rogue trader that will lose them a billion dollars.
Putting It All Together
As I mentioned in the beginning, the same resume template still applies for S&T, so there's nothing new there.
What's different is how you write about your experiences and what you emphasize.
More Questions?
I know, you still have a few lingering questions so let's go through them…
What's the Difference Between a Sales Resume and a Trading Resume?
Nothing! Or at least, very little.
When you apply, you apply for S&T, not a specific group… during the interview you can stress your preference for one or the other.
So you still need to write about your quantitative and analytical abilities and your passion for the financial markets…
…but if you're more interested in sales, you must also be a "people person," a good communicator, and a team player.
Sales is all about making your client feel special and making sure that they are sending your bank business.
You take your clients out 3-5 times a week, and you're on the phone with them all day.
So you should emphasize a few points more strongly if you're planning to join the sales side:
Social Clubs (fraternities/sororities).
Sports Teams – S&T recruiters love athletes (it shows you are a team player, and that can handle stressful situations).
General involvement in extracurricular activities / non-work-related activities.
What About High School / Secondary School Experience? Can I List It If It's Really Impressive?
Normally it's not a good idea to write about high school, especially if you're already several years into university or you've already graduated.
If it's something truly amazing – placing well at the International Math Olympiad, a national math competition where you placed well, etc. – you can make an exception and list that.
But if you've already been working full-time for several years, you should not devote much space to it unless you have absolutely nothing else to demonstrate your math skills.
No, Seriously, What About Certifications, Degrees, and Series Licenses?!!
Sure, list them if you want to but don't kill yourself getting them.
It's far better to spend that time 1) Networking or 2) Getting experience trading / investing on your own.
Series 7 and 63 and so on are more helpful for S&T than they would be for banking, but they still won't make or break your chances of winning interviews.
What If I Really Have Nothing Related to the Financial Markets?
Then you have a problem. You need to get some experience ASAP, and the fastest way to do that is to join a student-run fund or professional organization, or to start trading your own personal account, whether simulated or real.
Of course, this begs another question: if you don't have any markets-related experience, are you sure Sales & Trading is even right for you?
It's like aspiring to become a novelist but having no writing experience.
What About S&T Resumes for Those with Full-Time Work Experience?
To be blunt, you don't have much of a chance of getting into S&T at a large bank if you've already been working full-time in another field.
There are fewer spots available, and traders rarely even hire from the MBA pool, let alone experienced professionals elsewhere.
If you have your heart set on this, your best bet is to aim for a sale role instead (experience elsewhere is more transferable), or to go for prop trading or something else where results are valued more than pedigree.
Your actual resume will not be much different: focus on all the points above, but put your Education section at the bottom, keep your experience to work-related experience, and leave out student clubs and activities.
You should still list professional organizations and your own investing track record, but you can't eliminate real work experience in favor of those.
Anything Else?
The floor is yours. Ask away.
This is a guest post from a reader who broke into Sales & Trading (S&T) coming from a non-target school. In the upcoming features in this series, we'll continue to explore the sales & trading recruiting process with coverage of interviews and more.
Still Need More Help?
Introducing: Premium Investment Banking-Specific Resume/CV and Cover Letter Editing Services
We will take your existing resume and transform it into a resume that grabs the attention of finance industry professionals and presents you and your experience in the best possible light.
When we're done, your resume will grab bankers by the lapels and not let them go until they've given you an interview.
Specifically, here's what you'll get:
Detailed, line-by-line editing of your resume/CV – Everything that needs to be changed will be changed. No detail is ignored.
Your experience will be "bankified" regardless of whether you've been a student, a researcher, a marketer, a financier, a lawyer, an accountant, or anything else.
Optimal structuring – You'll learn where everything from Education to Work Experience to Activities should go. Regional badminton champion? Stamp collector? You'll find out where those should go, too.
The 3-point structure to use for all your "Work Experience" entries: simple, but highly effective at getting the attention of bankers.
How to spin non-finance experience into sounding like you've been investing your own portfolio since age 12.
How to make business-related experience, such as consulting, law, and accounting, sounds like "deal work."
How to avoid the fatal resume mistake that gets you automatically rejected. Nothing hurts more than making a simple oversight that gets you an immediate "ding".
We only work with a limited number of clients each month. In fact, we purposely turn down potential clients in cases where we cannot add much value. We prefer quality over quantity, and we always want to ensure that we can work well together first.
Break Into Investment Banking
Free Exclusive Report: 57-page guide with the action plan you need to break into investment banking - how to tell your story, network, craft a winning resume, and dominate your interviews