My Life Story, Part 5: What Do You Do When You Start to Hate Your Business? (2013 – 2016)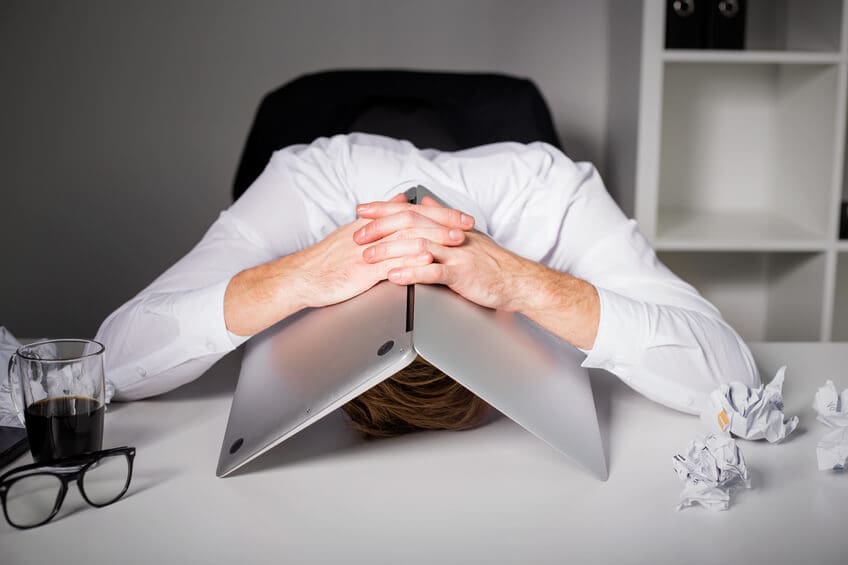 Have you ever read an amazing autobiography?
They're rare.
Most famous people aren't great writers.
But when a stunner comes along, it can electrify you.
My favorite is Andre Agassi's Open, where he recounts his journey to become one of the best male tennis players of all time – and how it made him hate the game.
When I was younger, that sounded ridiculous: How could you spend your entire life on something but also hate it at the same time?
But then it happened to me.
Not so ridiculous anymore.
Part 5 of my life story explains how your passion could turn into your prison.
And how you might escape, even when the only "exit opportunity" looks like a leap off a cliff.
Plus:
Why you should be very careful of hiring "outside consultants."
Why listening to your customers can be a HUGE mistake.
The #1 reason why you should not start a business, and why no one ever tells you this dirty little secret.
The most powerful strategy for success in sales, marketing, and dating, and why it's the opposite of what you might expect.
And yes: Korean girls. A lot of Korean girls. OK, at least one Korean girl.
Recap – Previously in Brian's Life Story
In Part 4 of my story, which covered 2011 through 2012, I had conducted a series of experiments in the Laboratory of the Absurd:
I released a web series that had great production values but which failed to reach beyond the M&I audience or get us a deal with HBO.
I hired ~10 guest writers that, despite making some great contributions, ended up making my job more time-consuming and stressful.
And I started dating the craziest girl I've ever met, who asked for a $6,000 gold bracelet within three months of meeting her.
By the end of 2012, I had come to my senses.
I didn't continue with the web series, I scaled back the guest articles, and I defeated Crazy Girl and her boss, Sauron, by tossing the bracelet into Mt. Doom: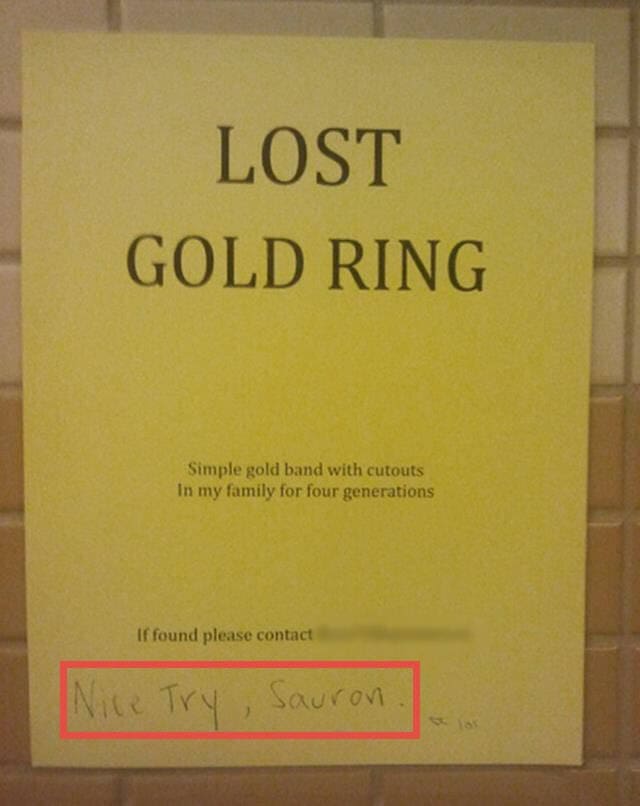 I planned to refocus 100% on business, partially by working with "Yoda," the founder of a marketing agency I had hired (They'll be known as "The Marketers" in this story).
He recommended increasing my prices, encouraging more up-sells and cross-sells, and dropping all my side projects.
My goal was to grow sales by 10x within 2 years.
Revenue in 2012 was up only ~35% over 2011, so I had a lot of work to do – quickly!
Sleepless in Seattle
I started 2013 by leaving New York and moving to Seattle.
I needed a change of pace, and Seattle is nearly the opposite of NY.
Also, several friends had moved there to launch eGraphs, a startup that let fans get autographs and personalized messages from athletes and celebrities.
I put my plan into action as well: I would raise the prices of our main modeling courses in April, and before that I would revamp the Excel course, which badly needed a facelift.
And then I would revamp all the other courses, re-launch them, and raise their prices as well.
Meanwhile, The Marketers were helping me with new sales and marketing strategies, email campaigns, and paid advertising on Google and Facebook.
This first launch in April 2013 went very well, but then I got blindsided by fate.
Startups: Survivorship Bias
Within weeks of my launch, eGraphs ran out of money and shut down, and most of my friends returned to NYC or California.
I stayed in Seattle because I didn't want to move yet again.
So I tried to enjoy my free time there, but I found myself increasingly bored.
You can easily meet new people and mingle with random groups in cities like London and NYC, but Seattle requires a lot more time and effort.
So I decided to go away for the summer and spend a month visiting friends in Asia.
Back to Drug Dealing in Korea
On a whim, I contacted the original Korean girl who drew me to Korea ("The Drug Dealer").
In Part 2 of my story, we met at a speed dating event in Beijing, and then I followed her to Seoul… where she ditched me upon arrival.
But I figured things might have changed in the past few years, and you miss 100% of the shots you don't take.
Within a day of meeting, we started dating again.
For the rest of 2013, I alternated between the U.S. and Korea before finally moving back to Seoul in 2014.
From the start, this relationship was like a Korean drama: constant ups and downs, lots of melodrama, and full of illogical plot twists.
Not only did the long distance make it awkward, but she changed her mind on major issues approximately 10-20x per day.
One day, she would propose marriage; the next day, she would try to jump off a balcony because of "depression."
There were no gold bracelets, but her constant mood swings consumed a lot of energy.
Match of the Century: Product vs. Marketing
Meanwhile, a conflict started brewing between myself and The Marketers.
They were happy that I raised prices and re-launched the products in April 2013, but they wanted me to keep doing that and spend 100% of my time on marketing.
From their perspective, the BIWS courses were "good enough," and it was silly to improve them when no one had explicitly asked for it.
They wanted me to write elaborate email sequences, create new package deals, spend more money on Google and Facebook, and even use postal mail to advertise.
Some of their suggestions were reasonable, but it seemed short-sighted to focus 100% on marketing.
For one thing, the hiring market was changing, and case studies and modeling tests were becoming more important.
And while our courses were "OK" for case studies, they also had some shortcomings:
They didn't explain how to use financial modeling to make investment decisions and advise clients.
They were too focused on investment banking and didn't have enough coverage of private equity, equity research, hedge funds, etc.
They were too S.-centric and too focused on technology companies.
But I didn't want to jump into a multi-year project without testing my ideas first.
So I experimented with the Dell case study and the NAV model case study for Ultra Petroleum.
I felt they were far better than the older material, but they also took ~5x more time to create.
That meant that I would have minimal time for marketing if I wanted to go all-out with this effort.
So I had to make a decision going into 2014: Should I listen to The Marketers or my instincts?
Never, Ever, Ever Getting Back Together
After I moved back to Seoul in early 2014, The Drug Dealer "lost interest" in me within a few months.
It felt a bit like déjà vu.
I could have left the country, but I wanted to stay for at least a year and make the most of it.
Plus, without the relationship drama, I'd have more time for work.
I might even be able to spend a good chunk of time on marketing and new courses!
2014 Begins: To Infinity and Beyond
But as 2014 began, I decided to spend the bulk of my time on product development, with maybe 15-20% devoted to marketing.
The Financial Modeling Fundamentals course was our most important product, so I started there.
The new version would include 10 case studies, each based on a different company in a different industry and region.
Even with 2-3 team members helping me with the Excel and research, it would be a stretch to finish by the end of the year.
The Marketers weren't exactly happy, but I own 100% of the business, so "activist revolts" aren't possible.
A flurry of work followed.
Throughout most of 2014, I worked 14-hour days to finish the course.
I dated a few new girls on my occasional off days, but I was so busy that nothing went anywhere.
A Tempting Proposal Arrives
That summer, The Drug Dealer returned and asked me how to buy and use a round-the-world plane ticket (it's quite tricky).
She wanted to quit her job and travel through English-speaking countries while working on a Master's Thesis on second-language acquisition.
I told her to quit and do it, and then… she quit and did it.
We met up a few times before she left Korea, and then toward the end of the year she asked me to travel with her through Southeast Asia and Australia.
But I was so busy that it was out of the question.
"Sorry, have to work. Have fun!"
Launching the Fundamentals 3.0 Course
December was approaching, and so was my deadline.
The Marketers were finally happy because I was getting back to marketing: a big product launch.
And I was happy because I was almost done with the new course, though I had to postpone 2 case studies due to lack of time.
The launch went remarkably well, and sales for the year increased substantially.
We had grown about 3x in 3 years vs. the original goal of 10x in 2 years.
While that was far short of the goal, it was an insane goal to begin with: 10x growth in 2 years is impossible for almost any company.
Getting there still seemed plausible; it would just take more time.
Meanwhile, things with The Drug Dealer were as stable as the average relationship in a Korean drama: She had arrived in Australia and seemed to be making friends there.
She was going on a lot of yoga/meditation retreats, which I brushed off as a symptom of boredom and funemployment.
I planned to visit her in the next year.
Leaving Korea… for Good
As 2015 began, I decided to leave Korea.
I had a better time there in 2014 than in 2009-2010, but I also had no reason to stay.
So I headed back to the U.S. and planned my next trip: Australia.
My work plan was to continue revamping and expanding the courses, including a private company and IPO case study, three real estate private equity case studies, and a new PowerPoint course.
Nothing was as major as the new Fundamentals course, but I was too tired to work crazy hours for another year.
Another issue was that many of the changes I had implemented with The Marketers required significant maintenance time.
For example, I spent months writing extended email sequences that would encourage customers to use the courses and sign up for more in the future.
If you're selling diet or exercise guides, and the information never changes, this is a reasonable strategy.
But it created a lot of maintenance work here: I once spent an entire month rewriting emails, updating PDFs, and changing links because the case studies had changed.
These strategies might have boosted sales, but were they worth the time and effort?
Lost in Australia: The Smoke Monster Attacks
In April 2015, I finally went to Melbourne to visit The Drug Dealer.
Within 5 minutes of meeting her, I could tell something was wrong.
Within an hour, I could tell that many things were wrong:
She was now a hardcore vegetarian.
She wanted to meditate all day and convert to Buddhism.
She looked down on the concept of "money," and didn't seem to think it was necessary.
In short, she had become a hippie.
And then she uttered the worst phrase that any significant other could utter: "I've changed so much."
That could mean only one thing: she's found another guy.
My friends encouraged me to leave immediately and cancel everything.
But I didn't see the point – I would only be in Melbourne for a few weeks, and I would be working most of the time anyway.
Korean Drama, Episode 20
Since everything up to this point had resembled a Korean drama, I decided that it had to end that way as well.
And there was only one proper conclusion: a dramatic confrontation when you wait until the last possible moment to say something important.
It was the middle of May, and we were both headed to the airport to part ways.
Right before she left, I told her I knew everything, and that I knew it early on. We had both changed so much that there was no point in continuing things.
She didn't deny anything, but she was surprised that I waited so long to say anything.
And then she made one last comment before leaving:
"I am different. But you've changed more than me. You no longer smile, laugh, or do anything fun; it's like you're not a real person anymore."
She stepped through the gate, and I never saw her again.
This relationship had lasted almost 7 years, off and on, across multiple countries.
And now it was over.
About Those TPS Reports… Growth Numbers
My favorite methods for getting over personal trauma include burying myself in work and drinking excessively, and I intended to use both here.
I decided to start with burying myself in work, but the news went from bad to worse when I reviewed business results from the first half of 2015.
For the first time, annual growth for the year would be close to 0%.
Growth had varied in past years, but it had never dropped below 30-40%.
Just like a company reporting "non-GAAP financials," I could come up with excuses for the lack of growth:
In past years, I had always done 1-2 product launches, but I wasn't doing one in 2015.
The pricing changes made it hard to make an apples-to-apples comparison.
Deal activity was slowing down, and banks were reducing their hiring.
The market was saturated; everyone who wanted to work in finance knew the sites and had my guides and courses.
You can create all the "pro-forma" trickery you want, but the GAAP numbers don't lie.
So what explained the poor results?
Was it related to the market or deal activity?
Had The Marketers and their suggestions backfired?
Was it a waste of time for me to revamp our main modeling course?
D. All of the Above
The truth is, it was a bit of everything.
I had made a critical mistake because I listened too closely to customer feedback.
For years, a vocal minority consisting of 2 people wearing pajamas in their basement complained that our courses were "too short" or "too simple."
And now, after I had spent thousands of hours revamping them, people said they were too long and complicated.
These weren't just "idle complaints"; people were violently angry over free updates.
Here are a few representative comments and emails that illustrate the absurdity: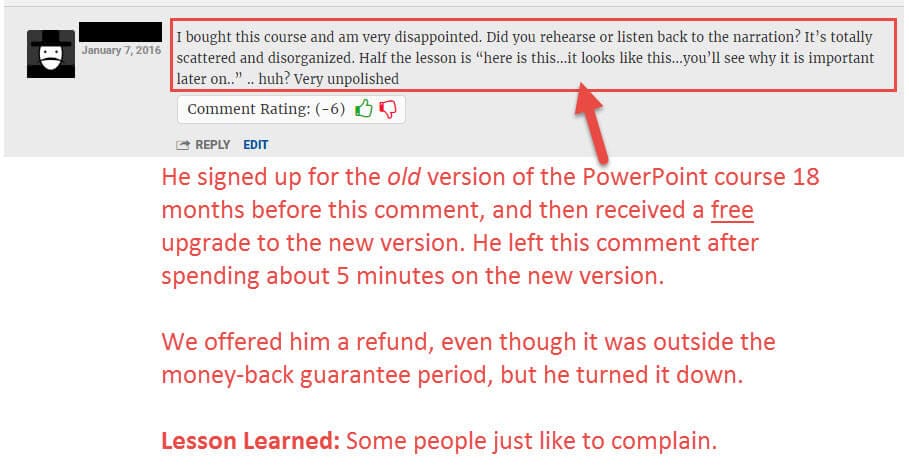 It was like my dating history and customer history were the same: the other party kept changing its mind and complaining about one thing, but wanted something else the whole time.
Revamping the courses was fine, but I should have made the new case studies shorter and simpler.
And then The Marketers, after proving useful as a voice of reason in the early years, were adding less value over time.
Say What?
You might be wondering what "marketing consultants" do.
Here are a few examples:
They might improve your branding and USP (unique selling proposition); if you don't have one, they'll come up with one.
They might look at a page where 2% of visitors buy something and test variations of the page that boost the purchase rate to 4% or 5%.
If the average customer is spending $100, they might find ways to boost the average order size to $150 or $200.
If you're not using certain advertising methods, such as Google AdWords or Facebook, they might start campaigns there.
These changes sound small, but when taken together over a long period, they can make a big difference.
And in the early days, they did.
Optimizing your sales prices or pricing can make a massive difference with very little work.
But the 80/20 rule very much applies to marketing.
If you've already tried 10 versions of a sales page and spent 4 years optimizing it, outside consultants can't do much more.
But few people like to admit this fact, so consultants start suggesting more complex strategies after a point.
These strategies may seem reasonable on paper, but they may not always work in real life.
For example, we implemented a complex sequence where readers would receive a free report, then get an offer for a $7 guide, then an offer for a $97 guide, and then an offer for a $347 or $497 course.
This strategy might work in some markets, but there were a few problems here:
If someone is going to spend $347 or $497, why bother selling them a $7 guide first?
Are there people who want to win $150K-$200K jobs in IB/PE and who are willing to spend only $7 on their initial recruiting efforts? If so, they should give up right now.
For someone to jump from a $7 guide to a $347 or $497 one, that $7 guide better be amazing. Most $7 guides are not amazing.
Our systems aren't set up for a high volume of purchases at low prices, so this campaign caused a lot of technical glitches. Read that as: "I had to stay up until 3 AM putting out fires more than once."
So outside consultants can be helpful, but they also yield diminishing returns over time.
And they will never know your market and customers as well as you do.
How to Drown Your Sorrows with the Hobbits
A business is supposed to get easier over time as you hire more people.
But mine was getting harder as I hired more people.
Ironically, I had quit investment banking to give up money for more free time, but the exact opposite had happened. Maybe I should have just continued!
I felt like Andre Agassi in Open: I hated the business that I had spent much of my life on.
I had already tried burying myself in work, but that backfired, so now it was time for my other "personal trauma coping method": excessive drinking.
So I went to New Zealand and spent the week in a drunken stupor, hoping to find a few hobbits to share whiskey with me.
No one stepped up, but I did find some good whiskey in Auckland.
What Are You Doing with Your Life?
After my trip, I came back to the U.S. and faced some harsh realities:
I had created a business that was impossible to sell or hand off to a partner, and which also required a massive amount of work.
I was behind all my friends in non-work areas – most of them were already married, and some already had kids. I had a string of failed relationships and no hobbies/interests.
And while growth had been a solid motivator in early years, we weren't growing anymore.
So all I had going for me was money.
But did that matter?
Just like marketing consultants and Korean girls, money yields diminishing returns after a point.
You start to value free time and options more than another 10% increase in income.
And that's the biggest problem with starting your own business: you end up trapped.
If you run it for only a year or two, sure, you could downplay the experience and get a normal job once again.
But if you've been running it for 10 years, it's exceptionally difficult to go back to the corporate world.
So you pretty much have to keep running it, or, if you want to quit, start something else.
Yes, potentially you could sell the business, but 99% of businesses sell for very low multiples: think 1x – 3x annual profits or cash flows.
So unless you've built a massive company, this option just takes you back to the "start something else" alternative.
There was no easy way out, but I decided to start with something I've recommended before: changing my environment.
To Faraway Lands
Back when I lived in Korea, one incredibly cynical acquaintance who hated the country always asked me the same question:
"You could live anywhere in the world. WHY have you spent so many years here? WHY?!!!!!"
He was right.
Sure, I had reasons, but mostly it was a self-limiting belief.
I was repeating the same behavior over and over again… because I had already repeated the same behavior over and over again.
So in June 2015, I planned out the next 6-12 months with the goal of going to all new places:
Europe (Finland, Sweden, and Estonia)
South America (Argentina and Chile)
Africa (South Africa)
I didn't know anyone in these places, I did almost no research, and I didn't have a plan or goals.
I just said, "Time to leave!"
A Breath of Fresh Air
These trips turned out to be exactly what I needed.
Meeting new people was easy because there are so many apps, sites, and events for doing just that.
"Not having a plan" didn't matter because I was still working the entire time, so if I ever got bored, I went back to Excel.
But I became less of a workaholic because it seemed like a waste to sit on the computer for 14 hours per day after traveling halfway around the world.
I wasn't exactly working less: instead, I just re-allocated my down time from TV shows and reading to activities and socializing.
But the most important shift was in my mindset.
In the past, I had always been chasing something.
I set goals, such as 10x growth, and did everything imaginable to pursue them – even when the goal made no sense.
And then I followed females around trying to make relationships work, tried to keep business partners satisfied no matter what, and tried to stay in touch with "legacy friends" when there was no reason to do so.
I dropped all that and stopped caring.
My dating success rate skyrocketed.
There's no better way to achieve success than to put yourself out there as an attractive option, but then not care about convincing anyone to do anything.
Or even better: take the opposite approach and tell them not to do something.
In sales, this is called "the takeaway close," and it works remarkably well because people always want something more when you explain why they shouldn't want it.
This new mindset actually worked too well.
I started getting distracted by too many text messages and emails, so I had to cut back a bit.
And dating had become so "paint-by-numbers" that I disabled all the apps and websites a few months after starting this experiment.
Cutting the Non-Core Assets and the Non-Core Habits
I started implemented similar policies in this business.
If someone emailed us at 3 AM, sent a 100-spreadsheet Excel file, and asked me to balance the Balance Sheet by 8 AM, I did not spend the next 5 hours fixing it.
If someone was annoyed that we wouldn't draft a 20-slide presentation for them, we issued a refund.
If someone left an angry comment or response, I ignored it.
In short, I became more detached.
Cutting my non-core habits was a good start, but I had to do something more painful next: cut my non-core assets.
Slash and Burn
The best companies are the most focused companies.
This principle explains why Yahoo floundered and failed, while Google and Facebook are now worth hundreds of billions of dollars: they focused on 1-2 things and did them really well.
Working with The Marketers, guest writers, freelancers, and other companies over the years had created a lot of non-core assets and obligations.
People wanted me to promote their products/services, publish their articles, and in some cases, even run their marketing for them.
So I dropped many of these efforts.
I used to promote the NY School of Finance every quarter, but I cut back on that.
I wanted to make the podcast into more of a regular series, but I put it on hold because of the low ROI.
I wanted to publish more regular infographics, but I stopped because they were incredibly time-consuming to review and edit.
And then other guides and services were all put on hold or cut.
I didn't like saying "No," but it was now more important than saying "Yes."
Even after all these cuts, there were still two big tasks remaining:
Deciding what to do with The Marketers.
Deciding what my long-term plan
Marketing vs. Ego
When it became clear that growth was slowing down and that the more complex strategies didn't work so well, I knew I'd have to change my agreement with The Marketers.
But I made my typical mistake: I waited too long to make the change.
Almost a year later (May 2016), I proposed a lower-priced plan where they would be responsible for "maintenance" tasks.
They responded with a counter-proposal for a higher-priced plan, and they pointed out how some of their strategies had, in fact, generated sales.
They were correct, but it was also tough to argue that it made a big difference relative to my spending.
All that work had generated maybe 1.2 – 1.5x what I had spent on it.
But if I factored in my own time putting out fires, editing and revising documents, and fixing technical problems, it fell into "break-even" territory.
Still, I leaned toward accepting their counter-proposal at first: I wasn't losing money, and something new might work well in the future.
BUT one thing bothered me.
On a conference call to discuss this change, one person kept probing me on why I wanted a less-expensive plan.
My reasons were crystal-clear: diminishing returns and a desire to save time/money.
But that explanation wasn't good enough: he started asking about my long-term plans for the business and how I had been "spending more time traveling lately."
They didn't directly state it, but the implication was clear: I wanted to cut back on marketing because I was lazy and didn't want to work as much anymore.
Yes, really. Me.
This one rubbed me the wrong way.
First off, personal matters shouldn't impact business planning.
Second, yes, I was "spending more time traveling," but I was still doing a ton of work at the same time.
It wasn't "Now I'm in Buenos Aires; time to spend 10 hours a day drinking wine!"; it was "Now I'm in Buenos Aires; time to work all day and go check out a new restaurant for 1 hour at night."
And finally, this implication didn't address the real issue: growth.
So I stuck to something closer to my proposal and went with a reduced rate that included mostly maintenance tasks.
Long-Term Survival
On the other hand, The Marketers had raised a good point: What was my long-term plan?
Could I keep things running for decades if the business was dependent on me and required non-stop work?
Or would I just have to wind things down at some point?
These were broad questions, but two main factors influenced the answers:
Lifetime support obligations. In other words, a big "unfunded liability."
The need to update and revamp the courses over time.
The Worst Business Policy Ever
When I first launched BIWS back in 2009, I made a bold decision: I gave customers free lifetime access, updates, and support.
There's a reason why almost no other company in the world offers this: it's a bad idea.
Most customers don't even value it highly: it's a nice bonus, but it's not the main reason anyone signs up for a product or service.
But if a lot of people start taking it seriously, the economics can quickly break down: an upfront payment of $97 might result in $1,000 of support costs over time.
This point doesn't matter if you only have 10 customers, but with 30,000 customers the risks increase significantly.
PayPal has also had major issues with lifetime access – they almost banned us several times for offering it.
And any acquirer or investor would be very hesitant to put in money into a business that had this kind of massive, unfunded liability.
But it was difficult to change this policy because doing so would affect every single account retroactively.
I knew that people who had signed up 5 years ago and barely used the site would start demanding refunds if their accounts stopped working.
Some team members argued that we should bite the bullet, change it to a 2 or 3-year access period, and issue refunds to anyone who complained.
Others said we should leave lifetime access in place, but limit the support obligation to 2-3 years.
And then others thought we shouldn't change anything because doing so would lead to fiery Armageddon.
But none of these changes would solve the core problem: a small number of students abusing, or potentially abusing, the support services.
Sure, we could limit the support to 2-3 years, but people would say they didn't know about it, claim they signed up before we changed the policy, etc.
So I just started limiting our responses and saying "No" more often.
I started giving shorter, more direct responses instead of writing detailed treatises.
If someone asked for something we couldn't help with, we politely said, "No," and offered a refund if it didn't match their expectations.
I don't know if this will work forever, but it's more sustainable than our old approach.
The Course Creation Conundrum
While the newer courses and case studies were much better, I also realized that this practice of completely re-doing courses wasn't sustainable.
If a product takes 2 months to create, it's reasonable to release a new version every 2-3 years.
But if it takes 2 years to create, that stops being reasonable.
So was it necessary?
Putting aside questions of depth and quality, would the content start "looking too old" at some point?
Or did it not matter that much?
I would put this one in the "Vocal minority cares, but few others do" category.
Yes, some people will complain if something seems old, but most people just want something that works.
There is probably some upper limit on age; maybe 10-15 years?
I doubt it's as high as 50 years because things change a lot over that much time.
But in theory, I could keep things running forever by constantly re-doing courses:
Year 1: Delete and re-do Course A to make it look newer.
Year 2: Delete and re-do Course B to make it look newer.
Year 3: Delete and re-do Course C to make it look newer.
[Repeat for Courses D – J through Year 10]
Year 11: Ten years have passed; time to delete and re-do Course A once again.
Year 12: Delete and re-do Course B.
But that seemed like a miserable existence.
I don't mind creating new material or new courses that cover new topics; I actually enjoy it.
But redoing everything to make it look "newer" each year would be like torture in a Soviet labor camp.
So I made my biggest mindset shift yet: I realized that I might have to shut down everything if it came to that.
And I accepted it.
I would still revamp the older courses and guides, not to boost sales, but because I want to create the best products possible.
And I would still release at least 1-2 new courses in the future.
But I wouldn't get into the "Do 1-2 years of repetitive work just to keep things going" game.
If complaints started piling up about a specific course, I would turn off sign-ups and make it bonus content.
And if that happened everywhere, I would have to find a new profession.
It would be a big change.
But maybe it was about time.
Goals, Purpose, and 10x Growth
We're now close to the present day (July 2016), and Part 5 of my story ends here.
I don't have a long list of takeaways, but I will leave you with one message.
The biggest mistake I made was the original goal I set: growing by 10x within 2 years.
The problem wasn't the size of the goal.
The problem was the purpose of the goal: nothing.
It sounded like a big goal, and it was, but there was no reason for it beyond "getting bigger" or "earning more."
Even if I had gotten there, it wouldn't have impacted my life in any way.
But more importantly, it wouldn't have helped you in any way.
Yes, dream big.
Aim high.
Do the impossible.
But make sure your goals have a purpose behind them, and if not, re-think them.
And even if your goals are big and have a solid purpose, don't get too caught up in the chase.
Make yourself appealing.
Become the best option.
Put yourself out there.
And then, let them come to you.
The Rest of the Series:
[catlist name=brian-life-story numberposts=-1 orderby=title order=asc]
Break Into Investment Banking
Free Exclusive Report: 57-page guide with the action plan you need to break into investment banking - how to tell your story, network, craft a winning resume, and dominate your interviews