The GameStop Short Squeeze: Why Almost Everyone is Wrong About It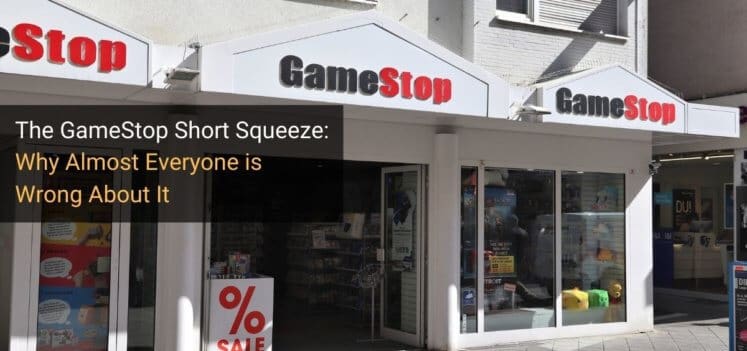 NOTE: This post was written at the time of the GameStop short squeeze in January/February 2021. I don't agree with everything here 100% – for example, some evidence later emerged of collusion between Citadel and Robinhood – but I stand by my assessment that the media got this story wrong. GameStop's price is also down ~80% from its peak during the short squeeze. No, I'm not going to write an "update" on this story, but I wanted to add this note to provide more context.
I rarely write about current events on this site, but in the past year, I've already broken that rule multiple times due to the (government-imposed) coronavirus "crisis."
And 2021 seems to be off to an even crazier start in terms of geopolitical, health, and financial events, so why not go deeper down the rabbit hole?
This past week's big news was the massive GameStop short squeeze and how it represented a "populist revolt" against evil Wall Street firms such as hedge funds.
The only problem is that this narrative is completely wrong, and the clueless mainstream media was even more clueless about this story:
What the Media Claims vs. What Actually Happened
In case you've been cut off from the internet for the past week, the NY Times offers a version of the commonly accepted narrative.
The main points seem to be:
The evil hedge fund Melvin Capital, representing a combination of Sauron, Voldemort, and Thanos, aggressively shorted various companies, including GameStop, believing these companies' share prices would fall.
Then, "an online army of investors" on Reddit joined forces like the Avengers to attack Melvin Capital and other hedge funds that bet against these companies. They were doing this to "challenge the dominance of Wall Street."
This army of Redditors bought tens of millions of GameStop shares to force the price up. Then, Melvin Capital had to cover their shorts by buying shares at much higher prices, which pushed the share price even higher.
Next, Point72 and Citadel had to step in and bail out Melvin Capital for $2.75 billion because the fund lost so much money on its short positions. The firm was also down over 50% in January.
The Redditor army destroyed the Death Star! Victory for the populist rebellion!
But then Voldemort convinced the government to let the hedge funds win, so Robinhood temporarily blocked buys of GameStop shares. But then Robinhood caved to public pressure and re-enabled trading but restricted the number of shares per account. Collusion!
Robinhood squandered all the trust it had built up in a single day. The company is over.
And now politicians should regulate Reddit, Robinhood, and hedge funds. They should also ban short-selling because short-sellers are evil; they may even be Voldemort's accomplices.
There's so much wrong with these points that I'm not sure where to begin.
But let's start with the most important one: this was not a "populist revolt" against Wall Street.
Yes, retail investors on Reddit acted as the catalyst, but the order volume and sizes of share blocks traded do not support this narrative.
This was primarily an institutional battle, and while some day traders made money, the vast majority will lose money.
The real winners are Citadel, Silver Lake, and various other trading firms.
This Was a Hedge Fund vs. Hedge Fund Fight
It's fairly easy to verify that retail investors did not do much to boost GameStop's share price beyond the initial stages.
Just look at the buy and sell data from Citadel Securities (the market-making arm of Citadel):

Robinhood routes more than 50% of its orders through Citadel, and Citadel pays Robinhood for this "order flow" (see our coverage of prop trading and market-making for more on this).
Citadel does not process all retail trades, but according to its own website, it is responsible for "39% of all U.S.-listed retail volume."
Therefore, if ~39% of retail volume in GameStop last week – and probably more than that – showed an even mix of buys and sells, day traders were probably not the primary force behind the stock's increase.
I don't have data on trading volume by firm, but given that many of the trades were for 5,000 to 10,000 share blocks (worth $500K to ~$3-4 million), I'm going to take a wild guess and say that it was mostly institutional.
Most likely, some combination of hedge funds and high-frequency / momentum / algorithmic traders saw this activity and started following the trend… in much bigger quantities.
Some "professional" day traders who don't trade via retail brokers may have also been involved, but I doubt their volume alone could account for the bulk of this move.
Robinhood Cannot Restrict Trading Activity! It's Unjust! Collusion!
No, Ken Griffin did not call Janet Yellen and ask her to order Robinhood to shut down speculative buying.
It's a nice conspiracy theory, but it's not the reason for the trading restrictions.
When traders buy and sell stocks, the trades do not settle right away.
In the U.S. markets, it takes two days for trades to settle ("T + 2"), which means that Robinhood is taking some credit risk while they wait to pay or receive cash.
The National Securities Clearing Corporation (NSCC) handles the exchange of cash for securities, and the Depository Trust & Clearing Corporation (DTCC) sets the rules for brokers.
To reduce the credit risk if brokerage firms like Robinhood fail to produce the cash upon settlement, the DTCC requires brokers to post clearing deposits (the Dodd-Frank rules also require it).
In "normal times," these clearing deposits are a non-issue.
But when trading volume spikes, firms like Robinhood quickly assume higher credit risk and most post higher deposits – and they may not have enough cash on-hand to do so.
Furthermore, buying activity affects the clearing deposit calculation differently from selling activity – which is why Robinhood disabled buys, but not sells.
I'm not going to delve into all the details here, but this blog post and this Twitter thread cover the more technical aspects.
Essentially, Robinhood had to post a deposit that it didn't have, so it had to restrict buying activity until it could raise another ~$1 billion of cash.
You can say this is unfair, but you shouldn't blame Robinhood. The company was following the existing laws and regulations.
But Robinhood's Business Model is Still Quite Shady
If you want to be outraged at Robinhood, direct your outrage at the right aspect of the company: the fact that they make most of their revenue from selling "order flow" to market-makers like Citadel.
In case you've forgotten, the SEC already charged and fined Robinhood $65 million for deceptive pricing.
Yes, trades on Robinhood are "free," but in exchange for the $0 commissions, you're getting worse prices on each trade.
And that's all because retail traders are not Robinhood's customers: market-makers like Citadel are.
To learn more about why this is a problem, check out this article on How Robinhood Misled the Poor and Rewarded the Rich.
Hint: If a product or service is "free," you are not the customer. You are the product!
Short-Selling is Evil! Ban It!
Short-selling, i.e., borrowing stock to sell it and then buying it back at a lower price, is a healthy market activity.
Short-sellers have uncovered massive frauds like Wirecard that idiotic politicians and regulators protected, and they allow other investors to hedge their trades.
Melvin Capital almost collapsed not because it was short-selling but because it was doing so in a very stupid and risky way.
If short interest already represents 140% of a company's float, and the company's share price is down nearly 10x over the past ~5 years, it's a terrible idea to short the stock even more.
Sure, GameStop's business doesn't have a great outlook and will die or have to change (eventually), but it's still worth something.
So, Melvin Capital deserved the loss. This is what is supposed to happen when an investment firm makes a poor decision and doesn't properly hedge itself.
If the government had bailed out the firm, I could understand the anger.
But since the capital came from two private firms – Point72 and Citadel – I'm not sure why people are "mad" at this hedge fund.
Silver Lake and Citadel Won the GameStop Short Squeeze
When these meme stocks finally melt down – and they will – retail investors who bought at the top are going to feel the pain.
Meanwhile, Citadel has earned a fortune from all this trading activity, even after accounting for their bailout.
Remember that a market-maker does not care if the stock price goes up or down – the market-maker wants as much trading activity as possible to make money with the bid-ask spread and commissions.
The other big winner was the tech private equity firm Silver Lake, which owned convertible bonds in bankrupt movie theater company AMC.
It made a nice $713 million after another short squeeze made AMC's stock price rise 10x, which allowed Silver Lake to convert its bonds into equity.
The Ontario Teachers' Pension Plan also made close to $500 million selling stock in a shopping mall owner (Macerich Co) following a similar squeeze.
But if you want, please ignore all the evidence and keep believing that these short squeezes represent David beating Goliath.
What Happens Next? What Does All of This Mean?
I'd summarize the sequence of events like this:
Central banks run irresponsible monetary policy for decades by printing money and giving it to the wealthy, driving up asset prices and increasing wealth and income inequality.
Young people lose hope for the future because they realize they'll never own homes or start families unless they can win hyper-competitive jobs. That's where I enter this story!
Coronavirus comes along, and governments worldwide enact lockdowns and shut down the economy… for a virus with a 99.7% survival rate (Edit: OK, OK, more like 98-99% depending on the data you believe) that represents almost no risk to people below the retirement age.
Companies use the crisis as an excuse to fire or furlough many employees, further depriving the younger generation of hope and meaning.
Governments then bail out large corporations so that CEOs can become even richer while giving a few crumbs, such as $600 stimulus checks, to the peasants.
The peasants cannot find any jobs, so they turn to day trading to survive.
A few savvy investors realize that GameStop is heavily over-shorted and is ripe for a squeeze. They notify the peasant army on Reddit.
The peasants start buying shares, and the big financial firms realize what's happening and take advantage of peasant anger to make even more money – mostly at the expense of other big financial firms that made stupid bets.
The final step will likely be the stocks crashing and the peasant army losing their money, further driving desperation, suicides, and a declining birth rate.
Of course, politicians are too stupid to understand the bigger picture, so they will likely try to "fix" this problem with solutions such as:
"Let's ban short-selling altogether! Short-sellers are evil."
"We should require all broker-dealers to accept all orders, even if it violates our own laws that we wrote after the last crisis."
"Let's bail out all Robinhood users who lost money on GameStop! And then forgive student loans. No relationship."
There is room for sensible regulatory change here.
For example, I don't think firms like Citadel should act as both market-makers and hedge funds because of the obvious conflicts of interest.
Yes, technically, they're "managed separately," but the firm has been fined repeatedly for acting against clients' interests.
Also, consider something like the rules in the Indian capital markets, which limit the maximum net position in any stock to 20% of its free float and also limit the sizes of positions that individual clients can take.
But since politicians are the dumbest humans on the planet, we'll probably get a "solution" that makes the problems even worse.
GameStop Short Squeeze: Key Takeaways
In conclusion, we should continue the lockdowns and money printing forever.
Government policy worldwide should have three main goals:
Ensure that all real businesses die and that all employees lose their jobs.
Make as many young people as possible commit suicide.
And for the ones who survive, give them enough stimulus money to become full-time day traders.
Trading stonks is more important than finding a good job, building products or services, raising children, staying in good health, or starting companies.
That's because children, for example, eventually grow old and die.
But stonks can only go up forever in a straight line until the end of time.
Things that go up forever are good, but things that die are bad.
If you don't have enough money to trade stonks full-time, one good option is to sell extra body parts, such as your second kidney (why do we have more than one, anyway?).
I recommend following Elon Musk on Twitter and the Wall Street Bets subreddit to get tips for the next meme stock or meme cryptocurrency.
Memes now drive intrinsic values because concepts such as "cash flow" are outdated.
Also, we are not in a bubble because the world's richest person is pumping a fake asset in an unregulated asset class based on a dog's meme.
And that's a sign of a healthy underlying economy because all progress should be judged by memes, stonk prices, and fake assets.
Risk on!
NOTE: This post was written at the time of the GameStop short squeeze in January/February 2021. I don't agree with everything here 100% – for example, some evidence later emerged of collusion between Citadel and Robinhood – but I stand by my assessment that the media got this story wrong. GameStop's price is also down ~80% from its peak during the short squeeze. No, I'm not going to write an "update" on this story, but I wanted to add this note to provide more context.
Break Into Investment Banking
Free Exclusive Report: 57-page guide with the action plan you need to break into investment banking - how to tell your story, network, craft a winning resume, and dominate your interviews